If you've ever struggled with the challenge of juggling numerous social media accounts all at once, Postfity is the game-changing solution that steps in to revolutionize your social media management experience.
Crafted with the aim of simplifying your life, this powerful tool serves as your ultimate all-in-one platform, empowering you to effortlessly manage your social media presence, engage with your audience, and gain invaluable insights into your performance.
Intrigued? Let's take a closer look at what Postfity brings to the table and discover how it can transform your social media management game.
Postfity is Suitable for: Social media managers, small businesses, marketing agencies, and freelancers.
Postfity Ratings
Postfity is one of the lesser known social media management tools, however, newer alternatives with more advanced features have emerged, and RecurPost has emerged as an outstanding option.
When comparing RecurPost to Postfity, it becomes clear that RecurPost offers significant advantages in terms of advanced features and seamless social media account management.
With RecurPost, users have access to a wide range of powerful tools, such as recurring schedules, an AI assistant for curating engaging social posts and captions, white-label reports, and more. These features surpass what Postfity provides, making RecurPost a compelling choice.
Now, let's briefly compare the ratings of Postfity and RecurPost, as RecurPost stands as an excellent Postfity alternative.
| Feature | Postfity Rating | RecurPost Rating |
| --- | --- | --- |
| Meets Requirements | 8.1 | 9 |
| Ease of Use | 8.5 | 9.1 |
| Ease of Setup | 8.9 | 9.2 |
| Ease of Admin | 8.7 | 9.7 |
| Quality of Support | 8.2 | 8.3 |
| Product Direction | 6.5 | 9.5 |
Postfity user ratings compared with RecurPost
Postfity Reviews
Positive Reviews
Postfity makes scheduling social media that little bit easier, there are built in images and a platform you can use to make the posts. I like that you can filter accounts, as I schedule for 4 companies, this is a great feature to be able to see just that companies future or past posts in a daily or monthly view.
The extra functionalities such as facebook cover scheduling, post ideas, tweet snapshot generator, etc.
Very easy to use and affordable. I like that I am able to to see analytics and see what posts resonate to the audience.
Easy drag and drop / fairly easy to track posts.
Read Reviews on Capterra
Negative Reviews
I dislike that it can not automatically schedule to instagram, This has to be individually 'pushed' to the platform, but this is a problem that is unique to that software. Another feature that I dislike is when posting for more than one company, it only brings up that last company you were posting against, for instance i could schedule instagram for company A, push that post through to the platform and then wish to post another on instagram for company B, the software will not select company B, even though I am logged into that profile on the platform. I have to recreate the post manually and post without the postfity software.
Sometimes it cannot share facebook page. Also it still can't share videos.
There isn't an API available so I can't connect this service with external tools (zapier, integromat for example).
Some of the rules, like you can't post to two twitter accounts at the same time, but not huge.
Read Reviews on Capterra
Postfity: Pros and Cons
Pros
Post scheduling:
Postfity offers an intuitive and user-friendly interface for scheduling posts. Users can easily select the date and time they want their content to be published, allowing them to optimize their social media strategy for different time zones or peak engagement hours. The ability to schedule posts in advance also makes it possible to maintain a consistent posting frequency, even during busy periods or when users are not available.
Content calendar:
Postfity provides a content calendar view that allows users to see an overview of their planned posts. This feature helps users visualize their content distribution, ensuring a well-planned and organized social media strategy. By having a clear overview of the scheduled posts, users can easily identify any gaps or overlaps in their content and make necessary adjustments for better consistency and variety.
Bulk scheduling:
For users with a large amount of content to manage, Postfity offers the ability to upload and schedule multiple posts simultaneously. This bulk scheduling feature simplifies the process of managing and publishing a high volume of content. Users can create a batch of posts, upload them in one go, and set the desired scheduling for each post, saving significant time and effort.
Analytics and insights:
Postfity provides basic analytics and performance insights to track the engagement, reach, and other metrics of social media posts. Users can monitor the performance of their content and evaluate the effectiveness of their social media efforts. While the analytics may not be as comprehensive as dedicated social media analytics tools, it still offers valuable data to assess the impact of the content and make informed decisions for future campaigns.
Collaboration features:
Postfity allows users to collaborate with team members by assigning roles and permissions. This is particularly useful for businesses or organizations with multiple individuals involved in social media management. Team members can work together on content creation, scheduling, and monitoring, ensuring a coordinated and efficient approach to social media management. Assigning roles and permissions also helps maintain control over the posting process and ensures the right individuals have access to specific accounts.
Cons
Instagram limitations:
Due to Instagram's API restrictions, Postfity has limitations when it comes to direct posting and automated publishing for Instagram. Users may need to manually post their content on Instagram or use alternative methods to schedule posts, such as receiving a reminder to manually publish the content at the scheduled time. These limitations are not specific to Postfity but are imposed by Instagram's API policies.
Third-party tool:
Postfity is a third-party tool that relies on the APIs of various social media platforms. Any changes or updates to these platform APIs can impact the functionality or features provided by Postfity. In some cases, certain features may become temporarily unavailable or require adjustments due to changes in the APIs. Users should be aware that relying on third-party tools always carries some degree of dependency on external factors.
Lack of advanced features:
While Postfity offers essential features for social media management, it may lack some advanced features found in more comprehensive social media management tools. For example, advanced analytics, social listening capabilities, or audience targeting options may be limited or not available in Postfity. Users with specific or advanced requirements may need to explore other tools that cater to those needs.
Learning curve:
Like any new software or tool, Postfity may have a learning curve, especially for users who are new to social media management or scheduling platforms. While the interface is generally user-friendly, users might need some time to explore and understand all the features and functionalities of the tool. However, Postfity provides tutorials and support documentation to help users get up to speed and make the most of the platform.
Customer support:
Some users have reported issues with the responsiveness and quality of customer support provided by Postfity. This could include delayed responses, difficulty in reaching support, or unsatisfactory resolutions to inquiries or issues. It's important to consider the level of customer support you expect and do some research on user experiences with customer support before committing to a social media management tool like Postfity.
Postfity Pricing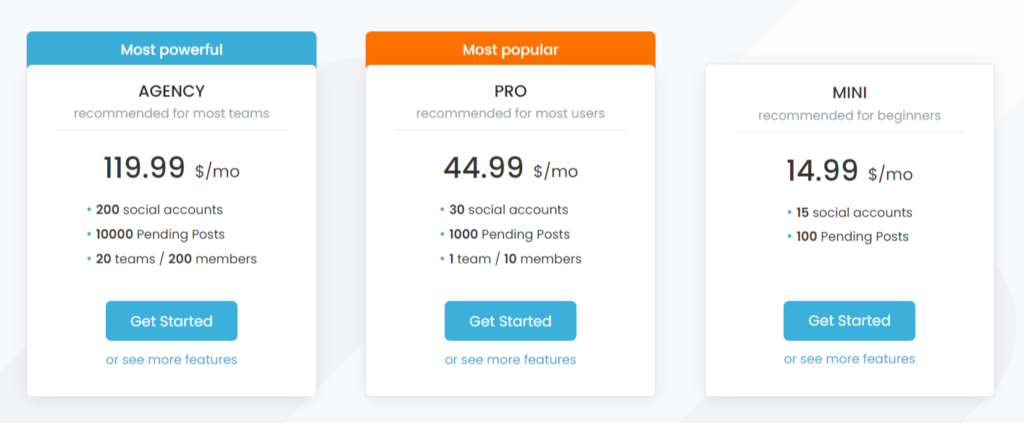 The basic plan recommended for beginners is priced at $14.99 per month, which lets you manage 15 social accounts and plan 100 posts in advance. Businesses that have a social media team working to manage their profiles can opt for the Pro or Advanced plan according to the requirements.
Postfity Features
Post Preview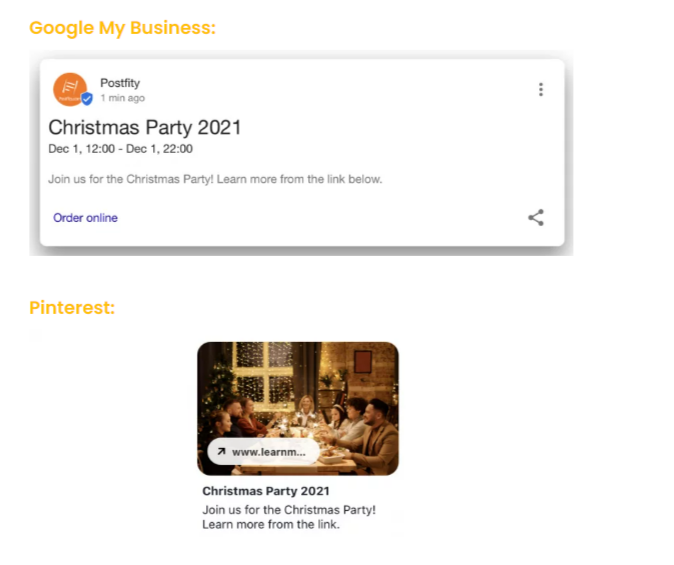 The post preview feature in Postfity is designed to provide users with a visual representation of how their posts will appear on various social media platforms. When creating a post, users can utilize this feature to see a real-time preview of how the content will look once published on platforms like Facebook, Twitter, Instagram, LinkedIn, and more.
The ability to preview posts is crucial for optimizing content for each platform's specific formatting and visual requirements. Different social media platforms have distinct display characteristics, such as image sizes, character limits, and text truncation. By utilizing the post preview feature, users can ensure that their posts appear as intended, avoiding any unexpected cropping, distorted visuals, or cut-off text.
Hashtag Suggestions
The hashtag suggestions feature in Postfity is designed to help users enhance the visibility and reach of their social media posts by suggesting relevant and popular hashtags. When composing a post, users can utilize this feature to discover hashtags that are related to the content they are sharing.
By suggesting hashtags, Postfity assists users in leveraging trending topics, industry-specific keywords, or popular tags that are currently in use by the online community. This helps users tap into conversations and discussions happening around those topics, increasing the chances of their posts being discovered by a wider audience.
Image Editing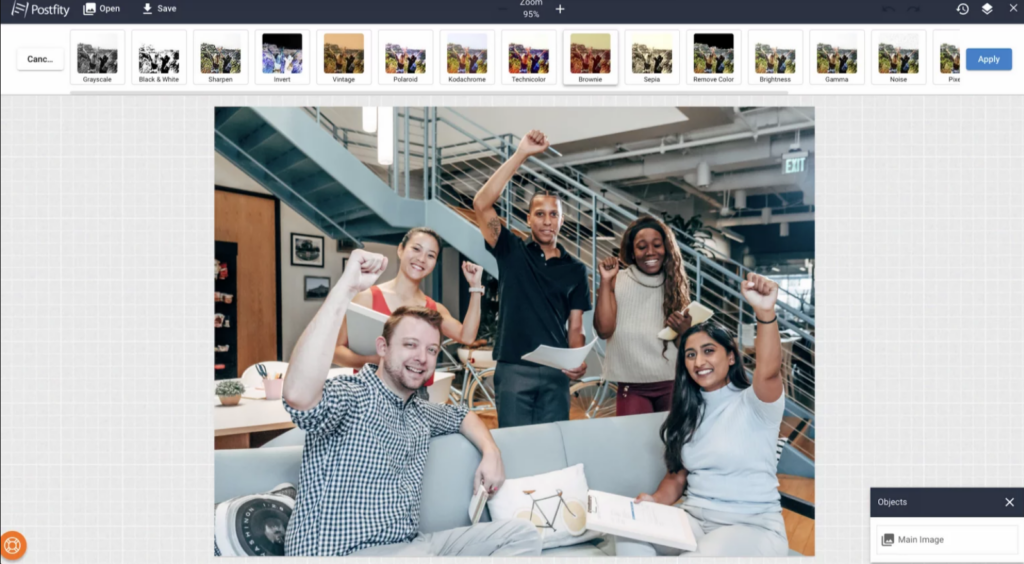 Postfity offers basic image editing tools that allow users to make adjustments to their visuals directly within the platform. This eliminates the need for users to rely on separate image editing software, streamlining the content creation process.
With Postfity's image editing tools, users can perform various adjustments to enhance the quality and appearance of their images. They can crop images to focus on specific areas or to resize them for optimal display on different social media platforms. The ability to add filters allows users to adjust the overall tone or mood of the image, creating a consistent aesthetic or conveying a specific visual style.
Watermarking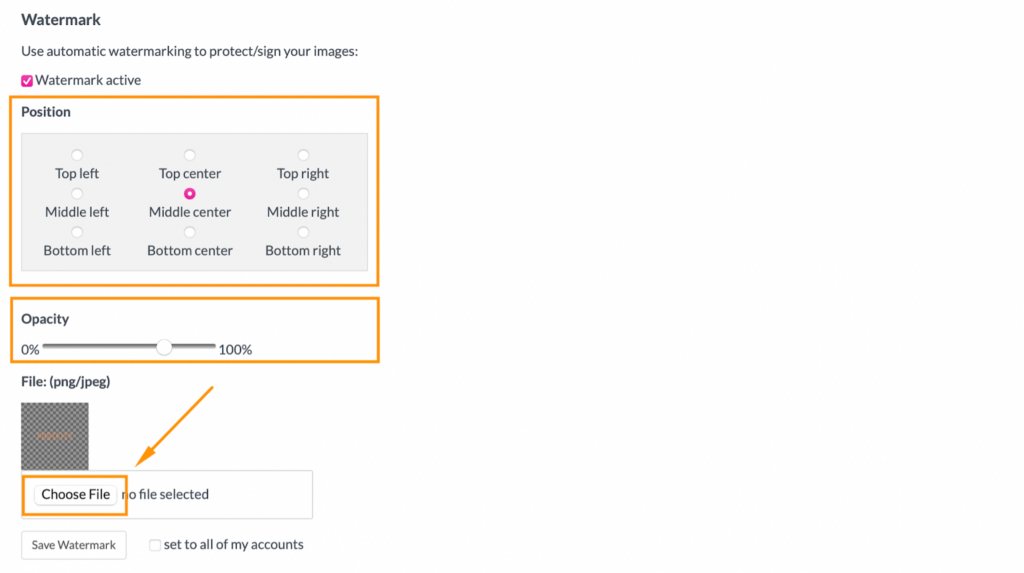 With Postfity, users can add a watermark to their images before scheduling or publishing them. This feature is beneficial for branding purposes, as it allows users to protect their visual content and maintain brand identity. Users can customize the watermark with their logo, website URL, or any other branding elements, ensuring that their images are easily identifiable and attributed to their brand.
RSS Feed Integration
Postfity offers RSS feed integration, allowing users to automatically share blog posts or articles from their websites or favorite sources. By connecting their RSS feeds to Postfity, users can automate the process of sharing new content on their social media accounts. This feature helps users stay consistent with content distribution, saves time on manual sharing, and keeps their followers updated with the latest blog posts or articles.
Conclusion
While Postfity offers a range of useful features for social media management, RecurPost emerges as the superior Postfity alternative. With RecurPost, you gain access to a more comprehensive feature set, transparent pricing, and advanced functionalities such as AI content generation, social inbox management, and white label reports.
Whether you're an individual content creator or a business seeking efficient social media management, RecurPost provides the ultimate solution. Elevate your social media presence and achieve outstanding results with RecurPost today! Sign up for the free trial now.
Frequently Asked Questions
1. Which platforms does Postfity support?
Postfity supports posting on Facebook, Instagram, Google my Business, LinkedIn, Twitter, Pinterest, and Vkontakte.
2. What are alternatives to Postfity?
One of the best Postfity alternative is RecurPost, which offers advanced features like evergreen content marketing, tailored posts, ChatGPT for content generation, Canva integration, and much more at a competitive pricing.
3. Does Postfity provide a free plan?
No, Postfity doesn't provide a free plan. After the trial period, you can choose from plans starting at $14.99 per month.
4. What are the limitations of Postfity?
The limitations of Postfity include lesser features due to changes in social media platform APIs, limited direct posting and automated publishing capabilities for Instagram, and the lack of advanced features found in more comprehensive social media management tools.