SCHEDULE GOOGLE MY BUSINESS POSTS
ACROSS MULTIPLE LOCATIONS
Schedule Your Google My Business Posts as you do natively on multiple business locations at once. Add an image, a video, or a link and choose your CTA. We support Offers as well.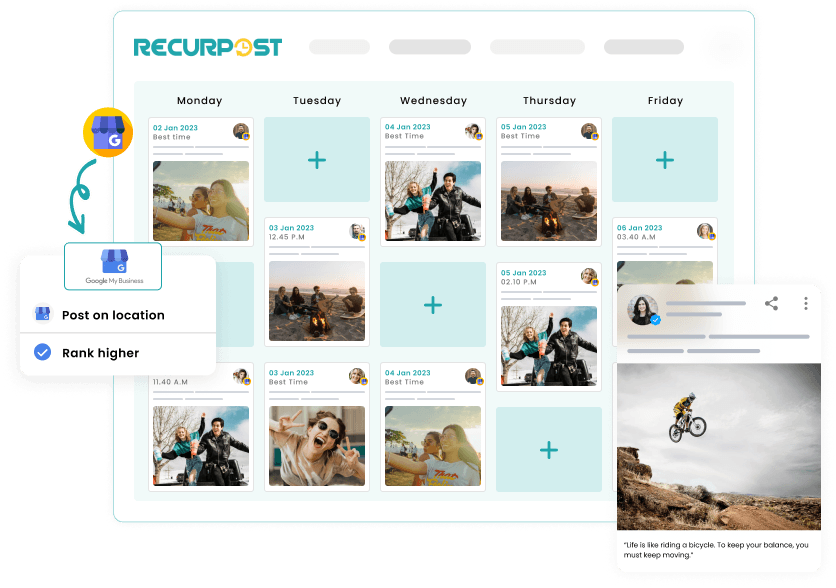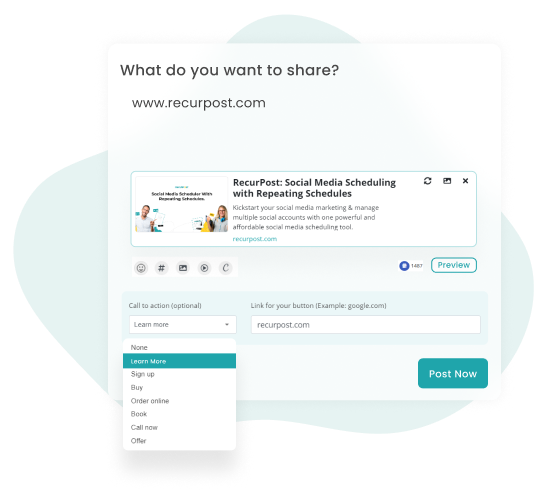 Drive Visitors to your page
Always keep your listing active with our GMB post scheduler
Add the right call-to-action (CTA) button to engage your potential customers the right way. We support all of the CTAs including Book, Order, Buy, Learn More, Call Now, Custom Offer, and Sign Up. 
Customize what happens when they click on the button on your Google My Business Post.
Get better reviews and use them as a tool to win more customers.
Share your videos on your Google My Business location.
Customize the Image that goes with your posting. You can create eye-catchy images within RecurPost.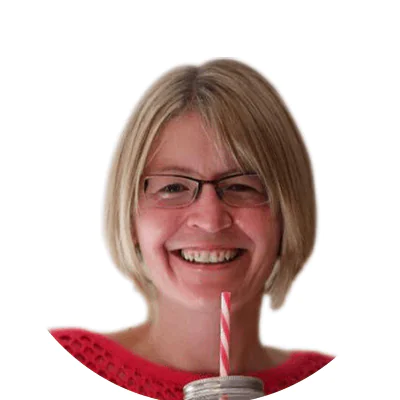 " I have been a huge fan of RecurPost. The customer service is fantastic. I'd absolutely recommend RecurPost to everyone looking for a top-quality, low-cost scheduling tool. "
Charlotte Moore
Smoothie PR
Maintain a Consistent and Active Presence on Google
Regularly Schedule Your Google My Business Posts Automatically
A Google My Business Post expires in 7 Days. RecurPost's recurring schedules can fix this.
Using RecurPost's Google My Business scheduling and automation tool, you will be able to create recurring schedules and automate Google my business posts that go out on your profile in a loop.
Even by adding a handful of evergreen updates, you can sort out months of your GMB posts!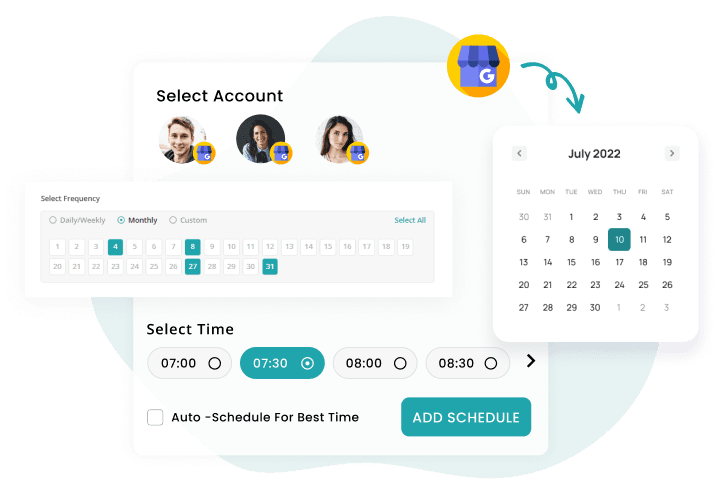 Keeping Your Google My Business Listing Busy Shouldn't be Tedious!
Create Engaging Updates with Images and Videos
Schedule Google my business posts with attractive multimedia
Add pictures of your store, products, or happy customers to your posts to attract more views on your Google My Business page.
When people see what your store looks like, they get a look-and-feel before visiting.
Sharing pictures and info on products will make them take a purchase decision before actually seeing it at your store.

 

If possible, try to collect video feedback from customers and then upload them to your GMB listing.
Our google my business post scheduler lets you do all of this super easily!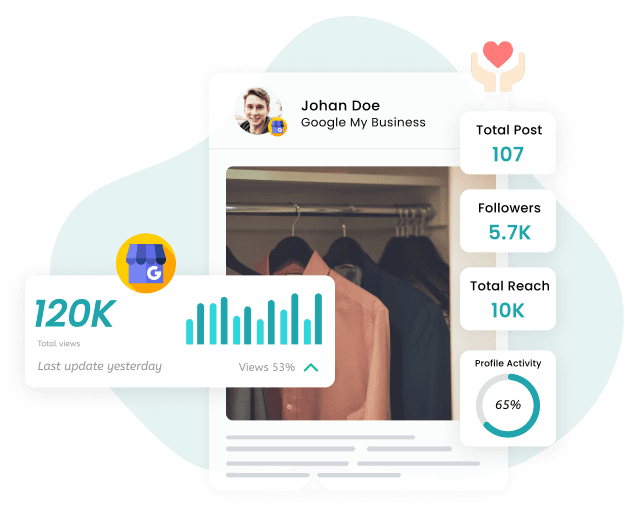 Rank Higher on Google Search Results
Post frequently and get loved by Google
Posting regular updates on your Google My Business listing makes Google rank your business higher on its search results pages.
Ranking higher leads to more visibility, which further leads to more inquiries in the form of calls, direction requests, and website visits.
Consistent posting increases your chances of winning that local pack to get a lot of new business.
With RecurPost you only need to upload your content once and reap benefits forever.
Promote Your Content the Right Way
Categorize and schedule each library on a custom schedule
Categorize your posts into different libraries such as blog posts, videos, marketing material, etc.
Set up a custom frequency of posting for each library, such as marketing material should go out twice a day but the blog posts twice a week.
Your potential customers are searching for products and services like yours. You get seen before your competitors.
Don't just spray and pray, get consistent results with RecurPost today.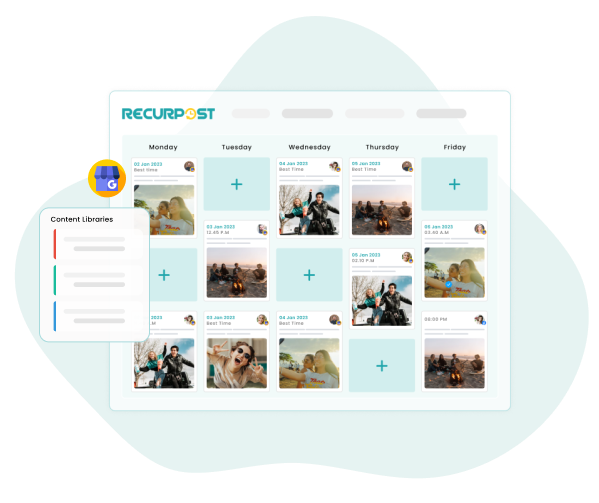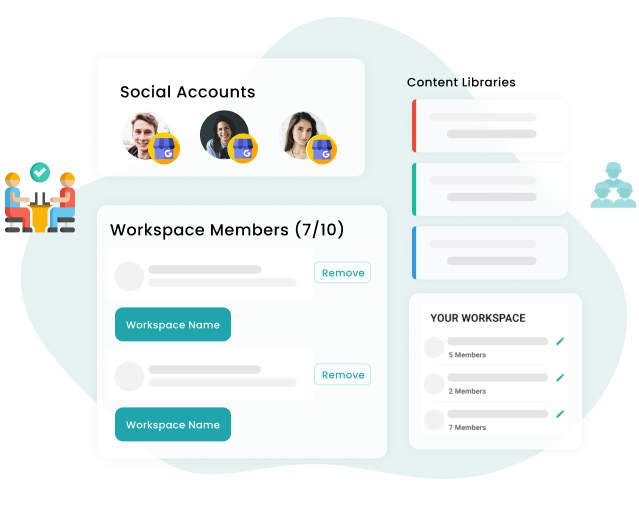 Get your team members onboard
Collaborate with your team without sharing credentials
With RecurPost, you can invite your team members to work on your GMB listing.
Effectively delegate the management of accounts of different clients to dedicated team members.
Your dream team can take charge of your Google My Business posts without the need of sharing credentials.
They can create and schedule Google my business posts on your behalf and you can then accept or decline posts via post approvals.
You can always make changes to the social accounts or libraries that your team members can access.
You control access to your account completely and add or remove team members from one or more social accounts as needed.
Keeping Your Google My Business Listing Busy Shouldn't be Tedious!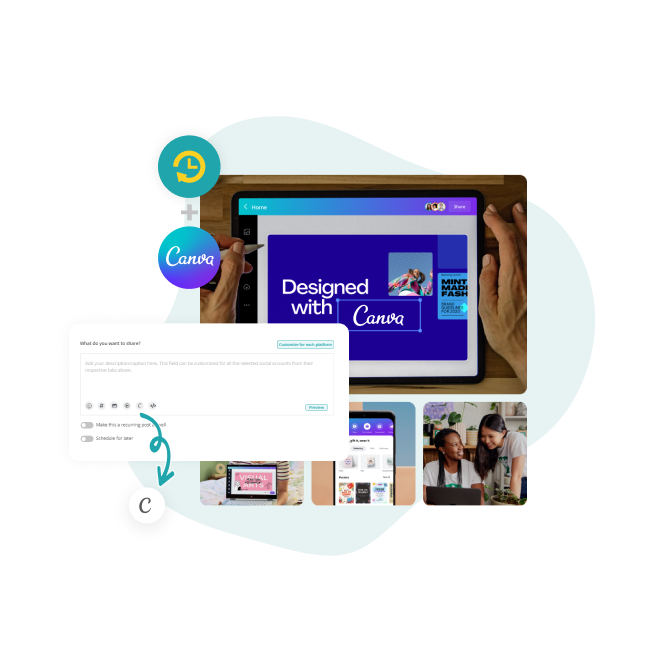 Create eye-catching graphics with Canva integration
Design and schedule Google my business posts at once using RecurPost
RecurPost's social media scheduler offers an in-built Canva editor, which is a simple, drag-and-drop-based intuitive graphic design tool.
With Canva integrated into RecurPost's interface, you can create eye-catchy images without leaving RecurPost's dashboard.
You can create, design, and schedule your social media graphics with Canva from right inside RecurPost.
You can also make use of the stock image library while creating GMB posts. We have integrations with Unsplash, PixaBay, Giphy, etc.
Divert your traffic to the correct places
Schedule Google my business posts with a call to action
Inform people about the latest updates and offers, and improve local search engine optimization using our Google My Business post scheduler.
When using Offer as your CTA, we show you additional options to bring people to your product page.
When you schedule Google my business posts with RecurPost, you get the same ability that you get when posting natively.
You can control how many offers stay active and for how long quickly.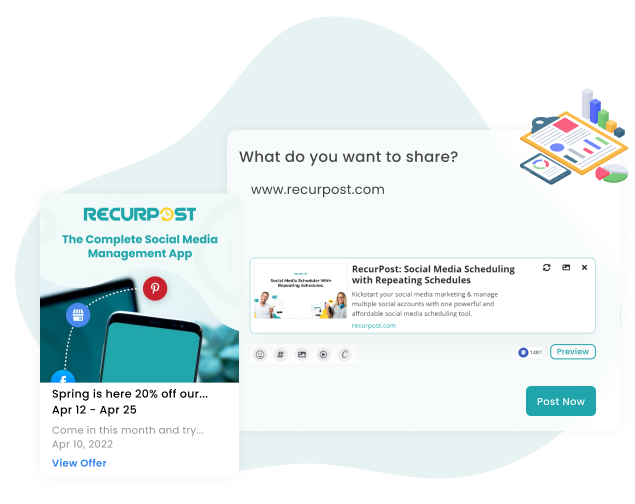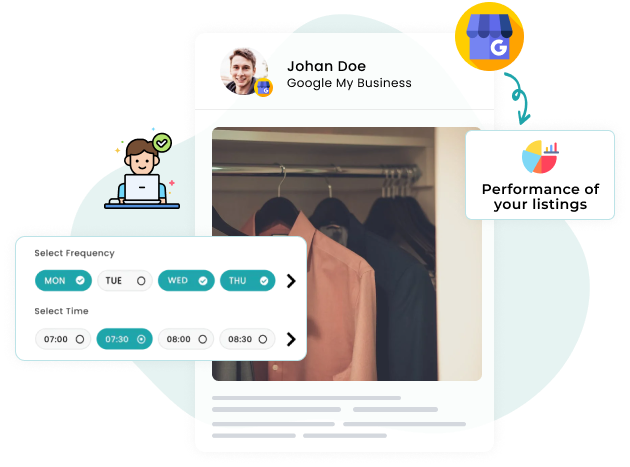 See what's working and what's not
Get access to detailed reports on the performance of your listings
When you schedule Google my business posts, RecurPost collects the data on how they perform on the web.

The reports provide a wealth of data including reach, engagement, views, and clicks, as well as audience demographics and engagement rates.

You can also track how your GMB posts perform over time, and compare the performance of different posts against one another.

This makes it easy to see which posts are resonating with your audience and which ones need to be tweaked.
Other platforms supported by RecurPost
There is no doubt in the fact that RecurPost is a fabulous tool for scheduling Google My Business posts. But its functionality is not limited to just that. It is also excellent if you want to schedule Facebook posts, schedule tweets,  schedule LinkedIn posts, and schedule Instagram posts. Not to forget,  RecurPost is a great Pinterest scheduler.
Comparing RecurPost with other social media scheduling tools
There are a lot of tools available out there offering the feature of scheduling posts ahead of time. However, the role of a social media scheduler doesn't stop here. Apart from the features that we talked about in the above paragraphs, RecurPost has got a lot to offer. Some of them include white-labelling reports, simplified content categorization, Chrome plugin, URL shortener, social inbox, etc. You can check our detailed comparisons to know how RecurPost is the best free Hootsuite alternative, one of the top Mavsocial alternatives, Planable alternatives, Meetedgar alternatives, Smarterqueue alternatives and also a great Promorepublic alternative.
Check out RecurPost's Google my business post scheduler now by signing up for the free trial period!
Frequently Asked Questions