Are you confused about how to create a video marketing strategy that incorporates all the latest social media marketing trends and helps increase conversions using social media scheduler to post your videos in advance?
Owing to the advancements in technology and digital behaviors, it's not strange that video creation and consumption had massively increased in 2020. It is estimated that users will spend an average of 100 minutes a day watching videos online in 2021. As compared to 2019, this number has an increase of 19%. The intake of online videos is rising exponentially, and the everyday user is expected to spend half as much time watching online videos as they spend watching traditional television shows in 2021.
Online video consumption is rising faster than TV because of its multichannel nature. Nowadays, users consume online videos on the go through their mobile devices for bite-sized entertainment. Thus, it is not surprising that every single video marketer is going to continue using video in their marketing strategy and is even planning to increase the budget spent on video marketing on social media.
How to build a video marketing strategy?
1. Set your video content marketing goals
Outlining the goals of your video content strategy is definitely the first step to getting started. You must create dedicated videos for all the stages in your marketing funnel. To begin creating videos, decide which stage is the most important to target first.
When you want to attract new customers, create videos that focus on raising awareness of your brand's products or services. When you want to engage your audience, focus on the consideration stage. If you're looking to close sales and want to nurture the leads, create videos for the decision stage. And for the people who have already made a purchase, you can create videos to delight them.
2. Find your target audience
All successful video marketing campaigns start with the right research. You need to find the answer for "Who are you targeting? What kind of video content would they like to see?"
The key to finding your target audience is developing a buyer's persona. Because the people who are interested in buying your products will also want to watch your videos. While finalizing your best video marketing campaigns, simply make sure that you know who the video is for, what is the purpose of the video, and where your target audience is (the social platforms).
3. Decide on a budget
Planning and creating a strategy are all important, but without deciding upon a budget, it's going to be difficult to get exactly what you want from your video marketing campaigns.
Many people think that putting in a lot of money will automatically make the video successful, while others are not spending enough to make the video reach the desired number of people. You need to find a fine balance between both of these cases.
Plan for the money and resources available at your disposal. Plan for the videos that you will be able to shoot in-house and the ones you would need to outsource from a production company. Also, see what kind of campaigns you can spend most on and the ones you can save on.
4. Focus on showcasing your brand through videos
It is important that the people watching your videos know who is speaking to them. Companies that have consistent branding receive 20% more success than those that don't. For example, the videos that you post on social media should link to your website or landing page, with a clear on-brand messaging that's unified across every channel.
When the video that people see on Facebook is different from what they see in email communications, it will not consistently reflect your brand and will hurt more than it will help. The videos that you post should be able to tell a story for your brand.
In your videos, you must address the pain points of your target customers, introduce them to your products or services, and show how your products can solve their problems. These elements will take the viewers on a journey that aligns with your brand mission.
With this in mind, it is ideal to talk about the hottest trends in video marketing this year. In 2021, the most popular video-sharing platforms are going to be Instagram, TikTok, and YouTube, which you need to include in your marketing strategy.
What's the big deal about these 3 platforms?
TikTok has always been the talk of every town since the day it launched. It made short-form video content explode like anything, especially among youngsters. Seeing its massive user base, Instagram copied the concept and released 'Reels', which allows users to create and edit short videos from the app itself. Jumping into the trend, YouTube also started 'Shorts' to attract its own audience. Thus, apart from long-form video content in the form of IGTV or YouTube videos, these platforms are also focusing on short videos that can be consumed on the go.
Given the huge success of all these short video showcasing platforms, it is safe to say that your target audience is already using these social media sites. So, they can prove to be a powerful way to promote your business and reach potential consumers.
Using TikTok in Video marketing strategy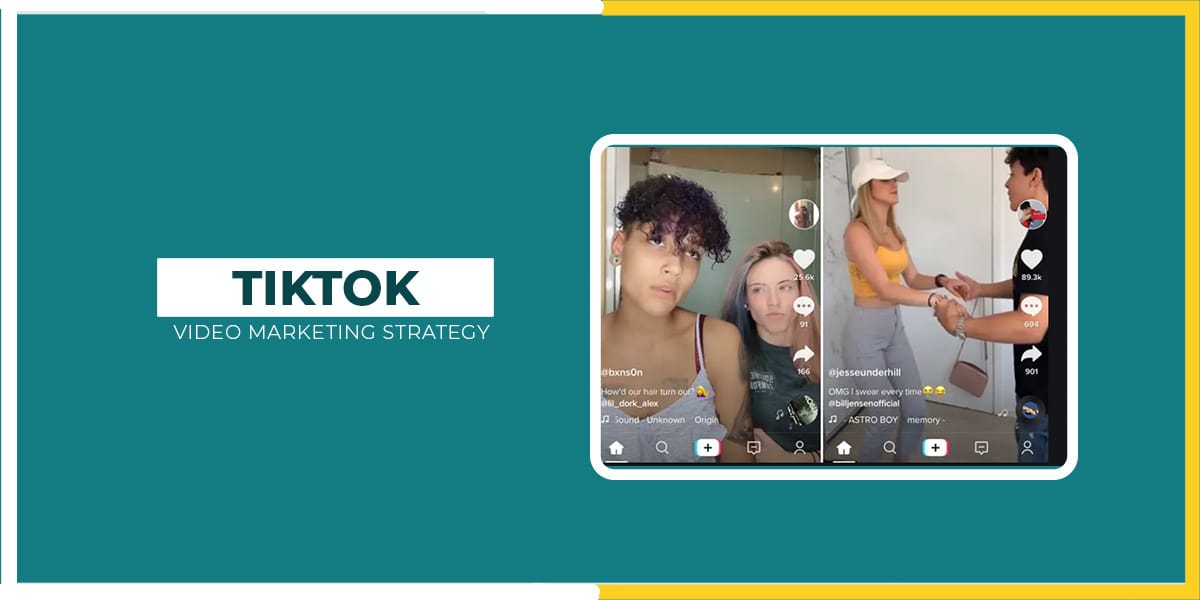 A majority of business owners have not taken the chance and time to find out how they can include TikTok in their video marketing strategy, along with the video sizes as per the strategy. Maybe because they perceive it as a social media site with a young user base. However, you are going to find all ranges of people on TikTok. In fact, nearly 38% of the US audience on the platform is above the age of 30.
If you wish success on TikTok, you must work on creating exciting content. If you manage to do that, users will watch your content and engage with it. It will make the platform's algorithm work for you and put your content in front of more users.
1. Find out interesting topics:
One of the easiest ways to create effective business-related content on TikTok is by implementing the same strategy in video marketing that you would use while finding out ideas for your blog. You should first think of all the problems and issues faced by your target audience and the other topics that interest them. Ask your existing audience about what they'd like to know or the problems encountered with your products or services. Google's auto-suggest feature is also a good way to come across content ideas.
You can also use a tool like UberSuggest to search for ideas using your target keywords. Along with creating informational content, you should also work on providing humorous content to your audience. Funny content works well on TikTok, as a majority of people are on the platform to have fun.
2. Use the right hashtags:
Hashtags play a very important role in increasing your content's reach on any social media platform. Thus, if you want people to discover your content, you need to work on improving TikTok SEO. It simply means that you need to optimize your content in a way that it gets placed right in front of people's eyes. And the best way to do this is by using the right hashtags every time you post a video. In TikTok, there isn't a number specified for the hashtags that can be used. But, the hashtags appear in the caption itself, and the caption character limit is 100.
3. Collaborate with other creators:
If you are not having a considerable follower count on TikTok, you can think of collaborating with other creators in your niche that have more followers. Find relevant people and approach them for partnering. It can take some time initially, but people will be more willing to collaborate as your follower count grows. Creating content this way will increase the creators' reach and help come up with fresh ideas.
4. TikTok influencer marketing:
Influencer marketing is probably the fastest way to generate traffic and get results from social media. However, it can be difficult to go through the profiles of different influencers and find the one that suits your needs. TikTok has created a space called the TikTok creator masterpiece to address this issue. Here, you can see the statistics related to every influencer's audience. This data can help you decide whether a creator is right for your business or not.
Read More: How to go Viral on Tiktok?
Using Instagram reels in video marketing strategy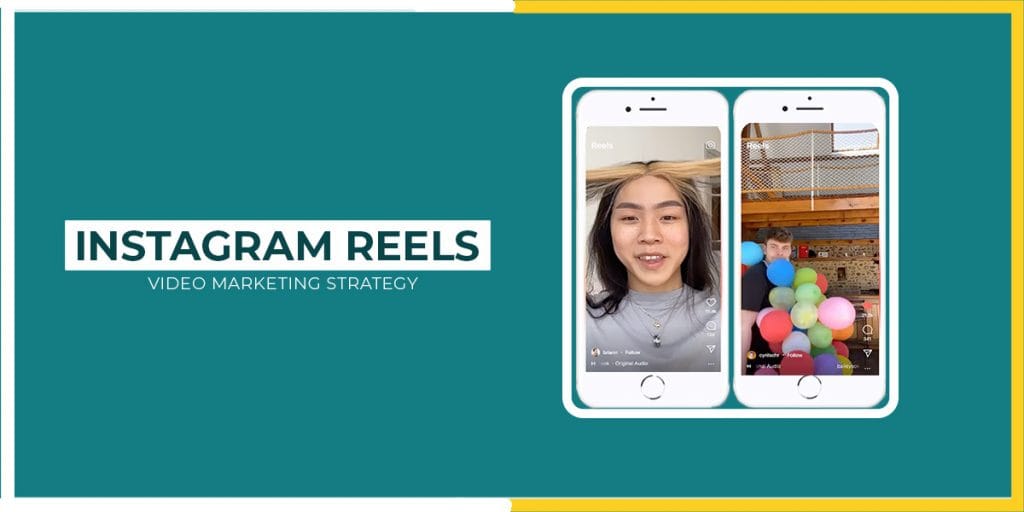 Even though Instagram reels is a replica of TikTok, it has become insanely popular in a very less time. Not only individuals, but businesses too are jumping on the Reels bandwagon. As the concept of reels is so fresh in the market, there is a higher possibility of your content being visible to more people. The content that you create on reels appears on your Instagram feed, profile page, explore page, and the reels tab. You can create either 15 second or 30 second videos on reels.
1. Create educational content:
Creating educational content is a great way to use Instagram reels for business. There are a number of creators as well as businesses who are already sharing educational content and gaining immense popularity. If you also think that sharing educational content will be appreciated by your target audience, you can create reels explaining how-tos, hacks, tips, or resources.
2. Showcase your products:
Showcasing your products in the form of videos can prove to be very effective in attracting customers and generating leads. And by that, we mean showing your products, whether you are dealing with physical or digital products. Show people demos of your product. Share videos of customers actually using your product. Make tutorials on how to use the product effectively. You can easily show all angles and aspects of your products using Instagram reels. If you manage to nail this, your sales will boost in no time.
3. Share behind-the-scenes videos:
Give your followers a sneak peek behind the scenes through reels. They will love having a look behind the curtain a bit. Try making reels that show how your product is made, some fun moments while shooting, or a normal day-to-day office routine. Sharing moments from your production house or office is an excellent way to provide customers a glimpse of your work lifestyle. It can also help in highlighting how a particular product or service can become part of someone's daily routine. Whether you are providing a backstage peek into your podcast preparation, the excerpts from influencer taping, or highlighting team members; these kinds of videos will make your viewers feel like a part of your work culture. You can post the video at the right time to get maximum views using social media scheduler or opt for sprout social alternatives if you are looking for the best scheduling tool.
4. Make it fun and personal:
Whether you are a small company, a personal brand, or a large corporation, you need to make sure that your audience feels a personal connection with you. Thus, while you should have some professional updates on your feed, having fun and engaging content is also necessary. Happily share your favorite morning routine or holiday spots, any conference or meeting that your team attends, or some 'oops' instances that your audience can relate with and find funny. If you find a trending meme that can match your brand voice, give it a try and make content around that topic. Share bloopers or outtakes to make your audience engage even more. While including all this in your video marketing strategy, make sure that the fun content blends with other content that you post.
Using YouTube in video marketing strategy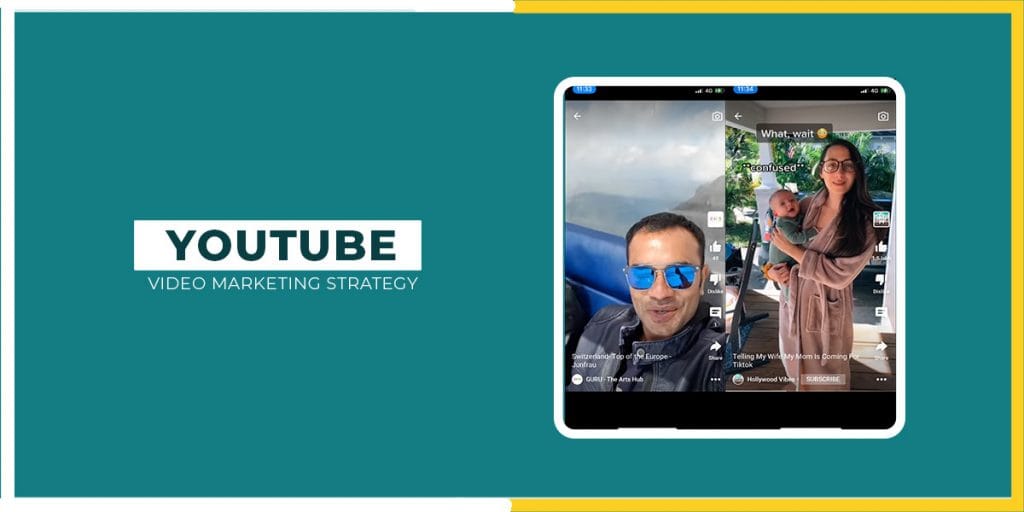 Even though YouTube is a platform for creating and consuming long-form video content, it is also testing the short-video saga in the form of 'Shorts'. It is currently accessible only through mobile phones. Now YouTube creators can also create short and captivating content using only their smartphones. If used correctly, it can help boost the subscriber count of your channel. If you are a business owner, you must think of new and innovative ways to make people take notice of your products and services, by using a combination of Shorts and long-form videos.
1. Decide upon a format:
YouTube is a hub of resources and tips. There are a lot of topics around which you can create content that resonates with your audience. YouTube is not only about watching entertaining videos. A majority of people come to the platform to find a solution to their issues. Thus, educational and informational content has a lot of scope. You can try out different forms such as Talking heads, interviews, screenshares, tutorials, product reviews, vlogs, etc. If you run a physical store, you can also do behind the scenes, videos of production, and TV style product commercials.
2. Focus on keywords:
Yes, keywords play an important part in YouTube videos too. Keywords are related to what your video is about. If you are making videos on photography, some keywords might be 'photography tricks', or 'editing hacks'. Now you need to identify your keywords and use them in the video title, description, and tags. Including keywords in these fields helps the search engine know what kind of content is there in the video and when people search for a video like yours, they'll find them. Google's keyword planner tool can help you in finding the hot keywords in your field.
3. Create a standout thumbnail:
Even before reading the titles of videos, thumbnails of the YouTube are the first thing that people notice. Ninety percent of YouTube's best-performing videos have one thing in common when it comes to thumbnails: they are custom-made. Using a custom design, your thumbnail is expected to stand out. Another benefit is that you can guarantee that the thumbnail and title fit in harmony.
Make sure your thumbnail is as high res as possible (2MB is the max size). Specs are: 1280 x 720 pixels (16:9 ratio).
4. Include an effective call to action:
The entire point of including YouTube videos in your video marketing strategy is to draw viewers who then take some kind of action that brings them closer to being your consumer and close sales. In general, you don't sell anything specifically through a YouTube video. Instead, you're creating leads that can help you constantly sell. You can have a link to your website, forum, or any landing page in your video description. You can also inform viewers what web address they need to access at the end of your video. Wherever you send them, make sure that you have a way to collect their contact information. Also, keep a close check on your YouTube analytics to find out important information about your audience and the videos that they like.
How RecurPost can help you in improving your video marketing strategy?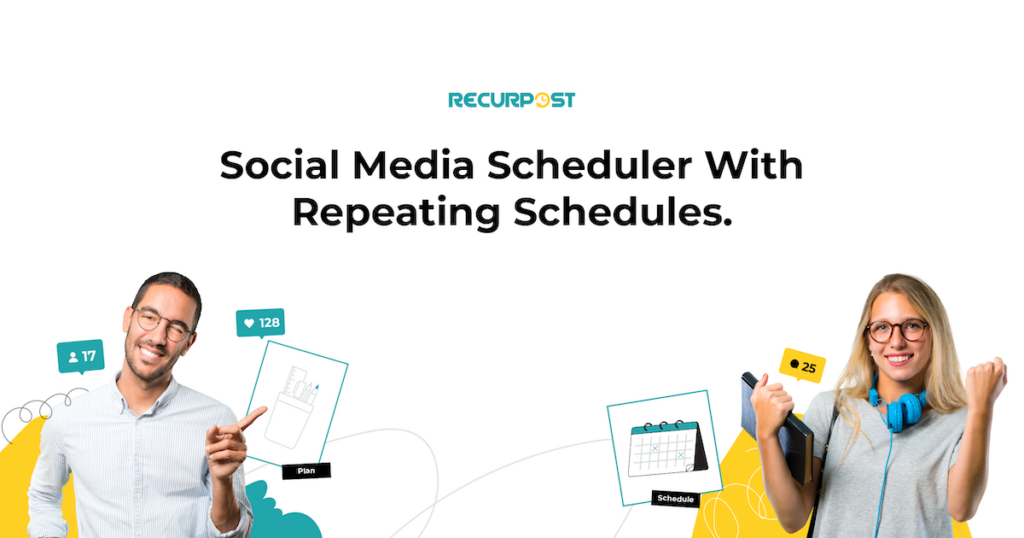 Boost your video content's reach with RecurPost, a social media scheduling tool. The tool supports all popular platforms and provides features. It allows you to choose the right audience and the best time for making the highest engagement.
Use RecurPost to schedule Facebook posts on your profiles, pages, and groups. You can increase the engagement of your brand by sharing entertaining posts. It is possible to schedule Instagram posts on your personal and business profiles, including images, stories, and reels.
You can also schedule tweets with RecurPost with variations for posting repeatedly. With RecurPost, you can schedule LinkedIn posts on your personal and company pages to build a network of industry leaders on the professionals' platform.
RecurPost is a robust Pinterest scheduler to brand through the visual platform. RecurPost allows you to schedule Google Business Profile posts with your choice of a call to action button to improve walk-ins and SERP ranking.
The Bottom line
Short-form video needs a more real, ethical, and innovative marketing approach. You will have a good laugh or learn something new at TikTok or Reels in a minute or less. Also, it's still pretty easy to make, which means that there are more users who can share their jokes or perspectives. Because of this, brands should be able to find out what their particular point of view is and how they can stand out from the noise.
Whatever platform you include in your video marketing strategy, focus on catering to your niche and staying authentic first. Never be scared to do something entirely from scratch. After all, trends have to start somewhere!
P.S. To manage your social media, schedule posts in advance, and save loads of time spent on uploading posts in bulk with social media bulk scheduling, try out RecurPost! It is a social media scheduling tool that will help you schedule social media images and videos and create libraries and recurring schedules; it also allows posting on all the popular social media channels, making it one of the perfect free hootsuite alternatives. Auto-schedule posts for the best time for more engagement, generate white-label reports, and a lot more! Click here to try it out for free for 14 days.
Frequently Asked Questions
1. How to use video marketing?
Video content marketing can successfully promote your brand and raise awareness about the products or services you offer. Social media holds a lot of potential to implement video marketing. Video content is the easiest to consume and more and more people are spending time watching videos across different platforms. 

To successfully use video marketing for your brand, utilize the below tips:
– Create a video marketing strategy and define your goals
– Know your style and decide the kind of videos you'll be creating (informational, educational, inspirational, funny, etc)
– Start creating videos (in-house or outsource)
– Team up with influencers to promote your videos
– Use social media ads to their full potential
2. What is a video marketing strategy?
A video marketing strategy is a forward-facing marketing strategy that integrates engaging videos in your marketing campaigns. Video marketing strategy can include anything from promoting your brand's products or services to building a rapport with your customers.

It can also include how-to videos, customer testimonials, live streams of events, or fun content. A video marketing strategy works pretty much in this way: You create videos that promote your company, raise awareness of your products or services, drives sales, engage and retain your customers.
3. How do you create a video content strategy?
Your video marketing strategy will be the one that guides you – your budget, your timelines, your production processes, your conversion metrics, and more.

– Set your video content marketing goals
– Find your target audience and decide the story that you want to tell them
– Find out their pain points and show how your products can solve the issues
– Decide the budget of your video marketing campaigns
– Focus on showcasing your brand through videos
4. How can I make my video effective?
Here are some simple tips to make your videos more effective and drive more conversions:
– Shoot your videos in natural light and clean background
– Edit your videos using a professional editor
– Use noise cancellation to clean up any background noise
– Don't use shaky footages
– Focus on telling stories, not selling products
– Include relevant call to actions
– Use keywords in the video title and description
– Collaborate with influencers to promote your videos
5. How do I make the best video marketing strategy?
Experts have claimed that videos are one of the most important developments in the marketing world, and they are here to stay. And videos are effective too – they can increase your conversion rates by 80%. To create your video marketing strategy, follow the below process:
– Set your video content marketing goals
– Find your target audience and decide the story that you want to tell them
– Find out their pain points and show how your products can solve the issues
– Decide the budget of your video marketing campaigns
– Focus on showcasing your brand through videos

Apart from this, the below tips will help you in making the most out of your video marketing strategy:
– Stay consistent and create a posting schedule
– Include tutorials and demo videos
– Tell stories and showcase your brand personality
– Incorporate user-generated content
– Optimize videos for SEO
– Track your success and keep improving
6. What makes a video successful?
When it comes to creating a successful video, you need to bring your stories to life so that people stop scrolling and take interest in what you have to show. At the beginning of the video, give clarity about what your video is about and let people know that the video will be worth their time.

Use an interesting and eye-catching thumbnail to grab the attention of people. Both YouTube and Facebook allow you to add a custom thumbnail to your videos. Great thumbnails can begin to tell a story and give people an idea about what they are going to see in the video.

Keep your target audience in mind while creating videos. Their age, gender, location, languages, interests – everything needs to be considered while creating a video. Use keywords in your video title and description to optimize it for search and add relevant call to actions at the end.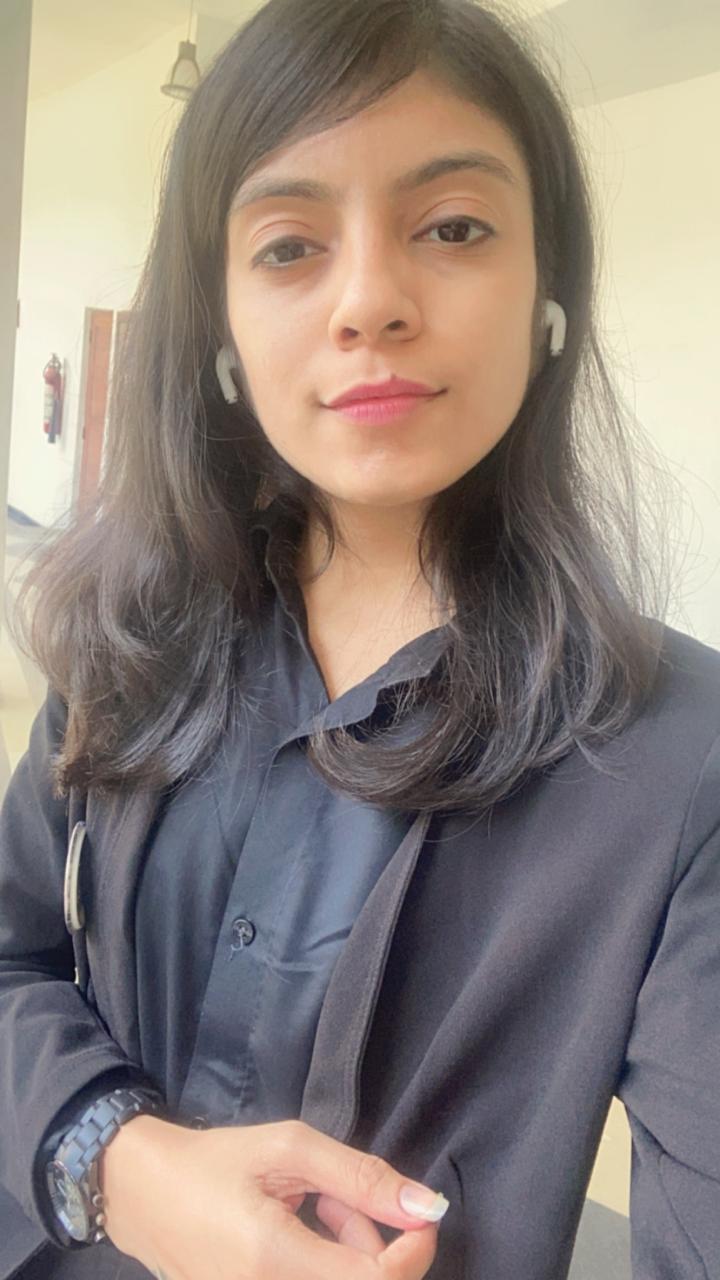 Amaiya Rathi is a Senior Content Writer at RecurPost. She helps RecurPost communicate with their readers in their own language. Whether it is the web copy, social media posts or blogs, Amaiya has worked on all aspects of copywriting. You can reach out to her at [email protected].