For many businesses today and age, social media profile is key to wooing their customers as they first encounter them on social media.
Be it a Small Local Shop around the corner or a Large MNC – every business should be creating a strong presence on Social Media by using social media scheduler for two reasons:
4.38 Billion people are on the Internet
3.48 Billion people are actively using a social media platform
Source: statista.com
Business leaders have understood the fact that if they don't evolve with time, their businesses will cease to exist.
Every business needs to create a strong social media profile to establish an online presence to update its customers on leading platforms.
A strong social media profile will help the business to attract and connect with its potential customers and create awareness about products or services.
But every platform has a different outlook and requirements. Don't worry, you don't have to be a social media professional to get started; we have created an ultimate guide to creating profiles on social media.
Why do you need a social media profile?
Social media has both pros and cons, but the pros for a business weigh in far more than its cons.
So before diving into how you should make a social media profile, let's see why you should make a profile on social media.
Brand Awareness
In early 2019, over 3.48 billion people were on social media globally. This simply means you can connect with around 3/5th of the world's population without any barriers.
Can you imagine its power?
This is why ensuring your business presence on social media platforms with relevant content has become a necessity.
Also, social media has proven to boost brand presence and brand recall by increasing reach and engagement.
Increases Sales
Promoting and sharing your product through appropriate channels can lead to conversions, and these conversions bring in more sales which means more revenue for the businesses. Social media offers one of the highest RoI compared to other media platforms.
Provides Connectivity
Social media is nothing but a chance for you and your business to become more social, it allows you to communicate and build a strong network of fans, customers, and vendors.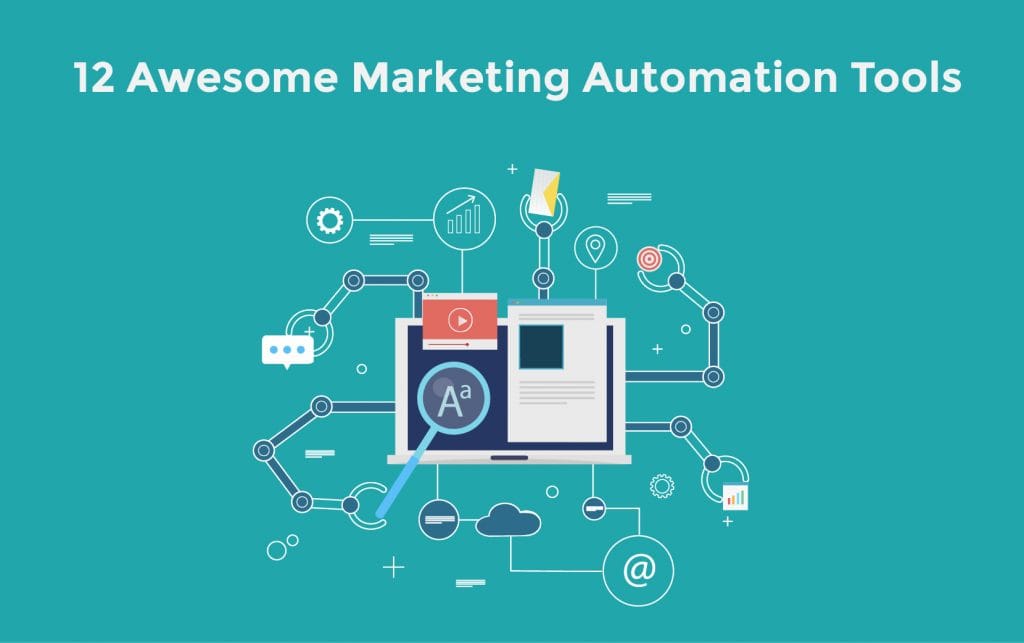 Learn from competitors' social media profiles
Social media is a great way to keep tabs on your competitors, whether in the form of their social media tactics or how they promote their products online by studying what is and isn't working for them.
You can then review your own profile and re-plan things accordingly, thus reducing your chances of failure.
How to set up your Social Media Profile?
There are many platforms that businesses can choose to create a profile on. However, it should be kept in mind that the platforms should be chosen based on your audience and buyers' persona.
A business can choose multiple platforms according to its goals and objectives.
Now let's see how to set up a profile on the four most popular platforms on the internet.
Facebook

Facebook lets you promote your brand through Facebook pages.
For that, you need to set up a business profile since it's a violation of Facebook's policy to use a personal profile to conduct your business activities. Set up your profile before you start to schedule Facebook posts to populate content out there.
Social Media Profile for Facebook?
Profile and Cover Image: Once you have set up the profile, the next thing you need to do is choose a photo for your profile and a cover photo too. You can even choose a video for your cover picture.
Company Details: Then, fill out details about your company with regards to its location, type of business, website, official email, phone number, and hours of operation.
Fill out the company description, a brand story on the timeline, and a detailed description.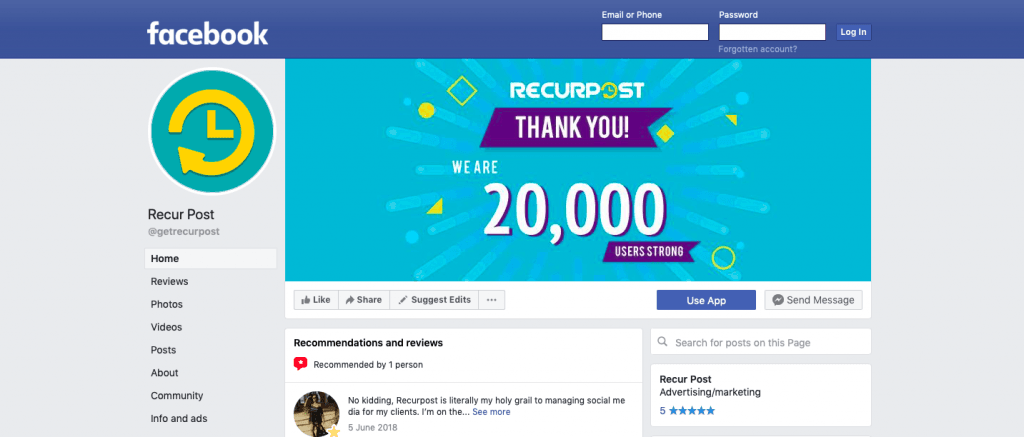 Create an offer: You have the opportunity to create a CTA with Facebook's "create an offer" tool at the top of your business page.
CTA: What action do you want visitors to take when they land on your page?
Will you offer a product discount or a free ebook in exchange for an email signup?
Create custom tabs: You can also create custom tabs on your profile that can be used to show almost any content that you wish to show to your audience. It works as an iframe and allows you to showcase content using a URL.
Instagram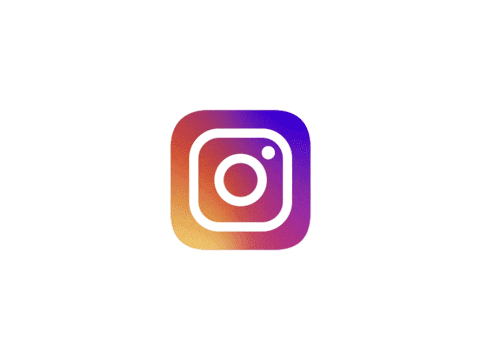 To set up a profile on Instagram make sure that the details you filled on your Facebook page are correct as you'll need to connect both the accounts.
Again, if you don't set up your profile on Instagram right you will not be able to benefit a lot even if you regularly schedule Instagram posts.
Social Media Profile for Instagram
Profile Details: For your Instagram profile you again need to select a profile photo and fill out your details about your contact and address and your website because this is how customers will communicate with you. Read our guide on Instagram marketing as well.
Instagram Bio: Also, provide a brief description of your business in the bio part of the platform. Make use of relevant hashtags in your Bio, for example – A social media agency can use #socialmediamarketing in their bio.
Business profile: Make sure to change your Instagram page to a business profile and make it public so that everybody has access to whatever content you share.
Story Highlights: Add Story Highlights to your profile; it will help your profile visitors to know more about you.
Instagram Grid: While posting on Instagram, you can also organize your posts into a grid that makes your profile look more vibrant and aesthetically pleasing.
LinkedIn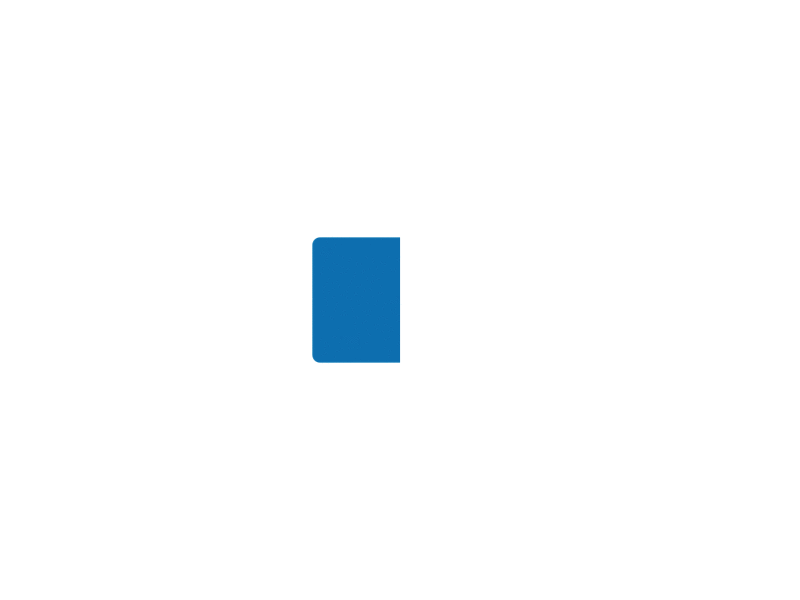 LinkedIn is a professional networking platform. It is primarily used for B2B interaction rather than B2C.
You can create a LinkedIn profile for your company there, and it is called a company page. You can have multiple company pages under one personal LinkedIn profile.
Again, if you schedule LinkedIn posts regularly, it will bring you better results when your profile is attractive to your visitors.
Social Media Profile for LinkedIn
Creating a LinkedIn Company Page: You can create a LinkedIn company page by selecting the "Work" tab in the top right corner. At the bottom of the list, there is the option to "Create a Company Page."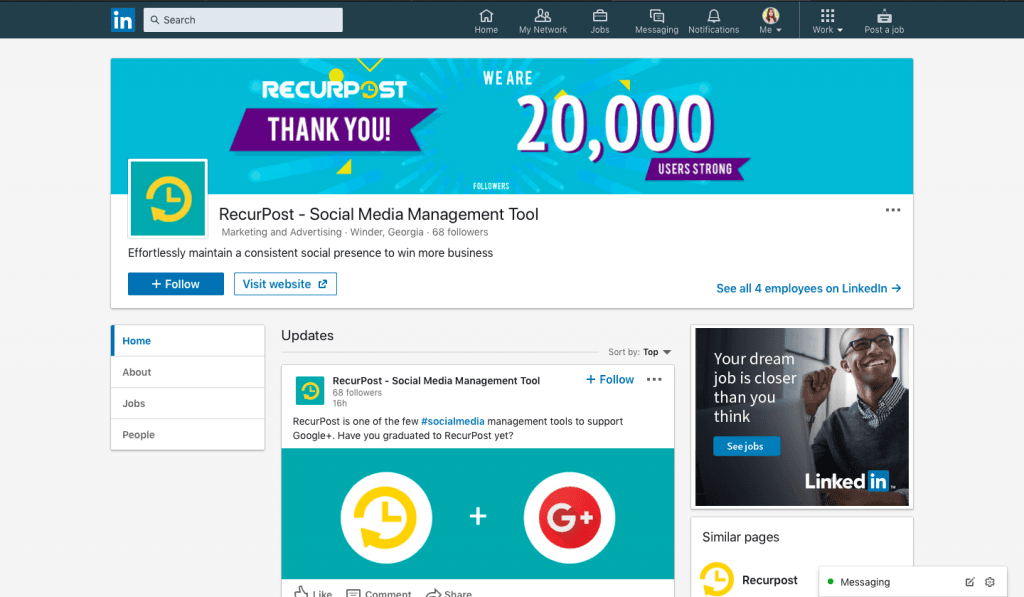 Logo and Cover Image: Add your company logo in the profile image section and add a cover image that resonates with your brand's message.
Description: This must be between 250-2000 characters, including spaces. Make sure to include all the necessary details about your company.
Add a short description or a catchphrase about your company page in the tagline section.
Profile Details: Add your team strength to your company page.
Select the right Industry for your business. If you cannot find your industry from the list, select one of the closest matches to what you do.
Add your company website.
Don't forget to check out our guide on LinkedIn marketing.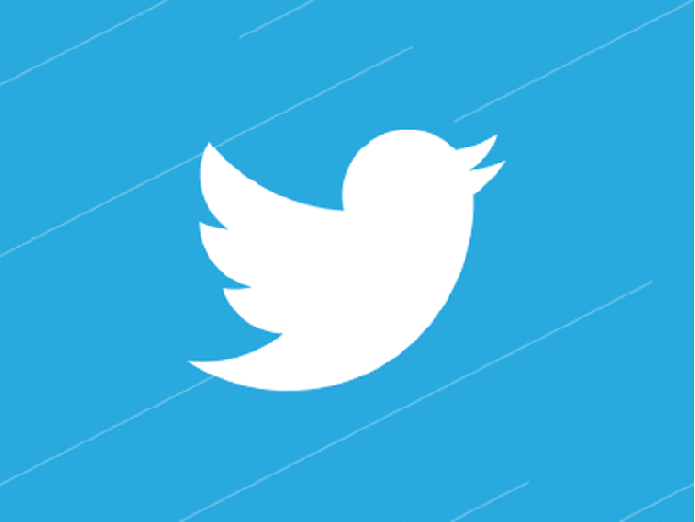 Twitter is a trendsetter platform. A single tweet had forced Elon Musk and Tesla to pay fines to the tune of $20 Million each.
We sure hope you schedule Tweets that earn you that kind of money. It's time for you to create a bunch of tickets in your favorite Tweet scheduler.
RecurPost is a social media scheduling tool that allows you with unique features, such as social media bulk scheduling to build a post with the necessary description, links, photos, videos, and Canva customizable options. Also suitable for visually inclined marketers, RecurPost is a perfect Pinterest scheduler. It is possible to schedule Google Business Profile posts with a call to action buttons to attract local buyers and grow business. As a result, RecurPost is one of the top free Hootsuite alternatives & Statusbrew alternatives available.
Social Media Profile for Twitter
Description: You have 160 characters to describe your company. Consider whether you want to include a second URL and/or your SEO keywords here.
Profile Details: Select a profile photo and header name and username, like @yourcompanyname, add your website, and your business location.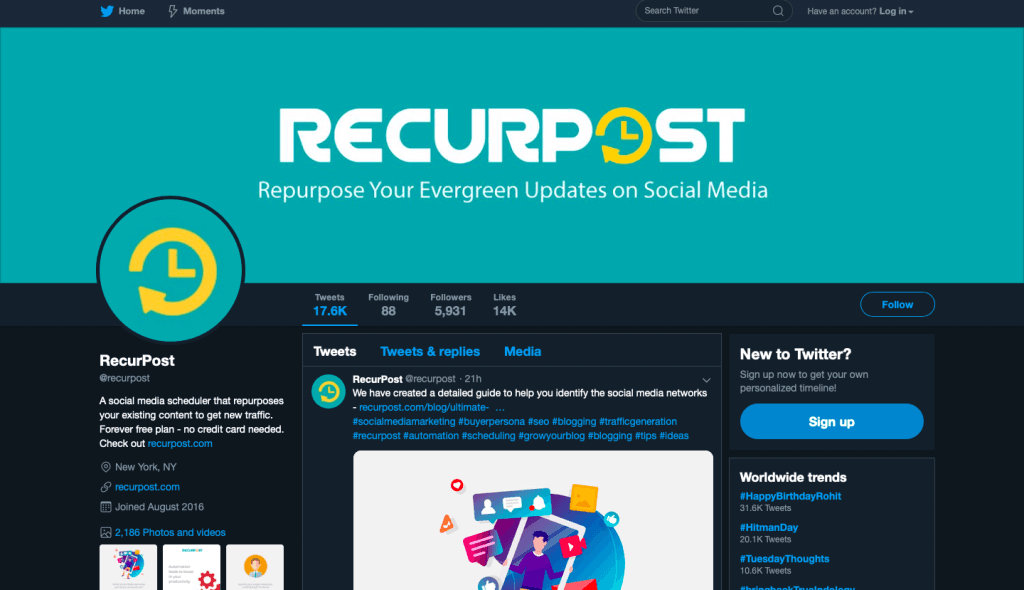 Let your first impression last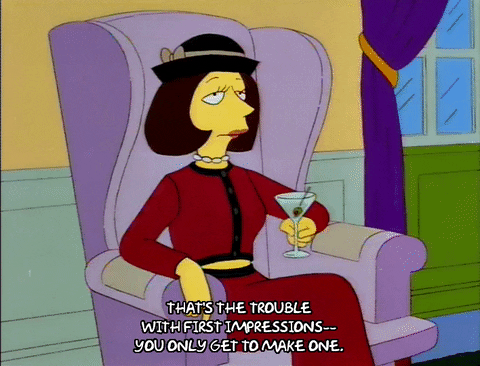 Your social media, as well as your Google Business Profile, will be your company's first impression, and it will turn your prospective customers into actual ones.
Currently, it is important not only to create a social media Post Schedule profile but also to handle it efficiently. This is what distinguishes a successful business from an unsuccessful one. No matter how old, all businesses have learned to use this technology to their profit, and those who haven't continue. RecurPost is one of the best social media schedulers with unique features, such as social media bulk scheduling, making it the best Statusbrew alternative.
So take your time, and fill out as many details as possible to help strengthen your reputation as well as your product packaging to increase sales and set up your social media strategy for better growth.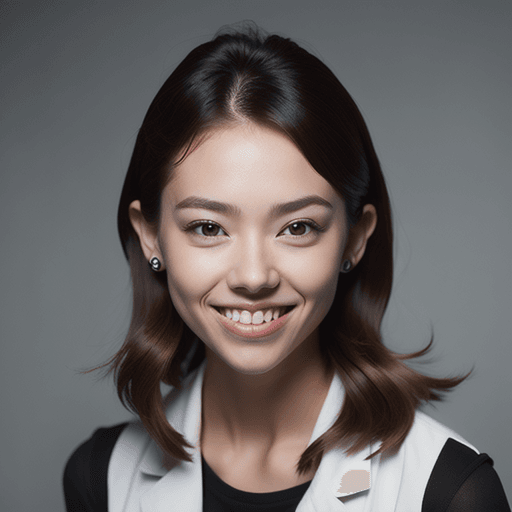 Debbie Moran is a Digital marketing strategist with 5+ years of experience producing advertising for brands and helping leaders showcase their brand to the correct audience. She has been a part of RecurPost since 2019 and handles all the activities required to grow our brand's online presence.