Suppose you think the real estate industry depends on traditional marketing. In that case, we'll be glad to shed some light on the fact that the real estate market is officially online and thriving on social media. What used to be a field that relied solely upon cold calls and conventional marketing is now heavily dependent on social media and content marketing. Crafting a social media for real estate & posting using social media scheduler can sound a bit more difficult than in other industries, but the efforts are worth it.
If you are a realtor, social media can hugely impact building trust with your customer base. Social media can prove to be a significant platform for generating leads for the real estate business; however, many real estate business owners fail to work on their social accounts, which leads to losing a lot of potential clients.
Thus, here are some tips and tricks that you can use to create as well as tweak your social media content strategy and obtain great results for your real estate company. Whether you are just starting from scratch or reforming your existing strategy, this guide to social media for real estate has got you covered.
Social media for real estate brands
1. Create consistent high-quality content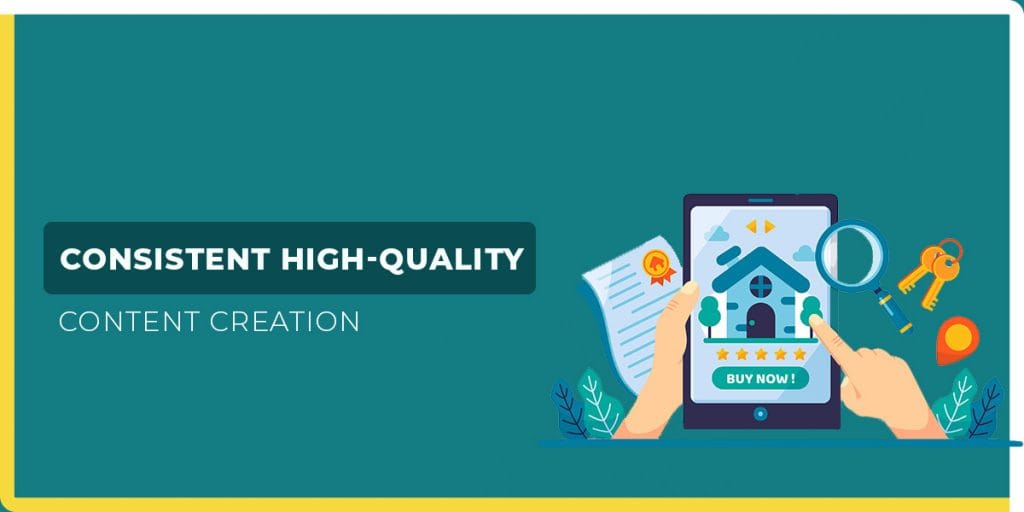 This goes beyond saying that you need to produce high-quality content in order to grab the attention of people. Social media for real estate is highly visual in terms of content. Churn out professional images and videos showcasing properties. This can include video content of houses and other properties, high-quality photos, as well as 3D tour elements. If possible, try shooting drone shots of properties that reveal the surroundings of properties. They are insanely popular at the moment and drive a lot of engagement on social media for real estate owners.
Along with creating high-quality content, it is also necessary to be active on social media. You cannot just post once in a while and expect to get results and engagement on your accounts. You need to be consistent and post frequently so as to keep your presence fresh in the minds of your audience. Every social media platform demands different levels of posting – On Twitter, you can post twice or thrice a day. On Instagram, posting once a day or once in two days can produce ideal results. While on Facebook, you can get away with posting once a week.
If you find it difficult to post consistently on multiple social media platforms, you can use a social media scheduling tool to plan out content in bulk. A tool like RecurPost can help you in scheduling months' of content in advance. Your social media will always stay active without the need to manually upload content every now and then. There are a lot of other features provided by this social media scheduler. Click here to know more.
2. Focus on providing variety in content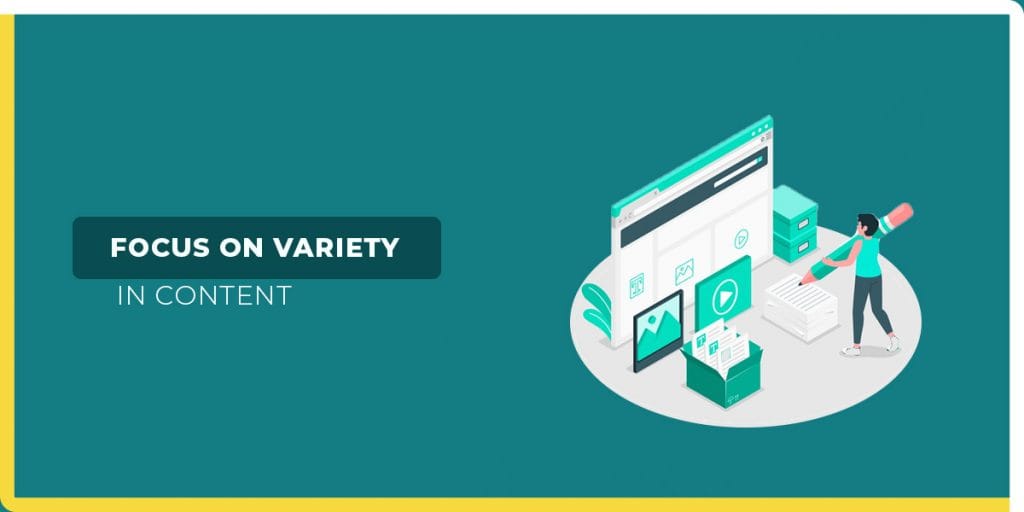 When developing content, be sure to incorporate a variety of or a good churn out professional images. People don't just want to see boring facts or property listings one after the other. You must create a balance between life, interests, and real estate. Provide your followers an insight into who the real estate business owner/agent is as a person. Along with photos of real estate, including tips as well as behind the scene videos. These can consist of doing a house tour, staging a house, talking to your clients, etc.
When you produce content, be your authentic self. Forget about being perfect, and include yourself in the videos you create. Show off your personality as a brand in your content. Show that you are an expert in what you do. It is the cheapest and most effective way to build trust. You can also consider going live on social media accounts and showing people how you deal with your real estate business. Holding Q&A sessions is also a great way to give people an opportunity to ask away their doubts while showing that you hold the right knowledge related to your field. Share your content naturally by including an RSS feed on your blog or news page.
3. Maintain a balance between professional and personal content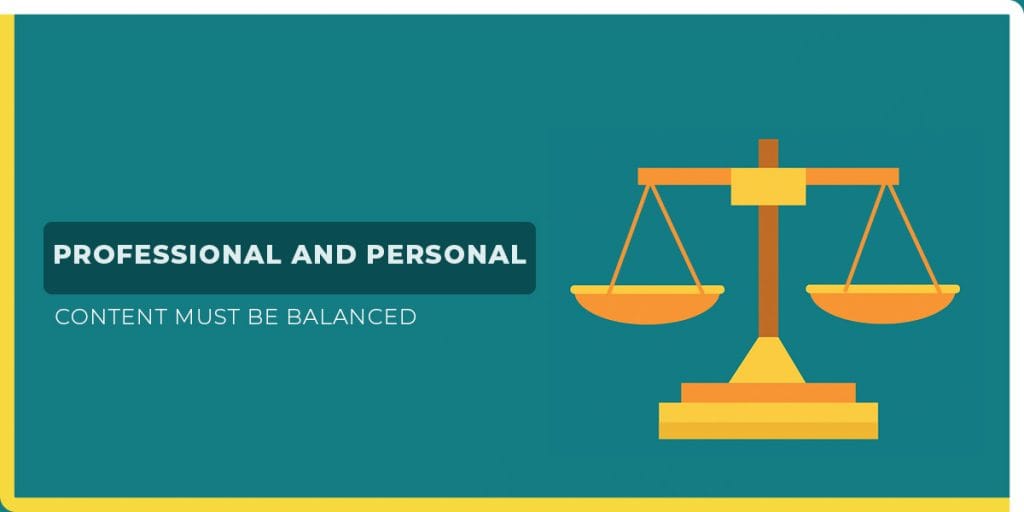 Unlike a majority of the industries, social media for real estate doesn't require you to be diffident about what you're marketing. Thus, you can maintain a 50/50 ratio of professional and personal stories. Professional and business-related posts will help you to sound prolific, whereas personal posts will help you to sound relatable. Think aspirational and celebratory – but don't end up being boastful and self-focused. It will not be appreciated by the audience and they'll stop engaging with your content.
Don't just create content at your own open houses – approach other agents and create content at their open houses. While sharing them, tag the agents too. They will appreciate this kind of credit and are much likely to do the same for you in return. When you post professional content, hyperlink it to your website's property page. This will help in generating leads, increasing traffic, and boost brand exposure.
4. Focus on Authenticity, Engagement & Thought Leadership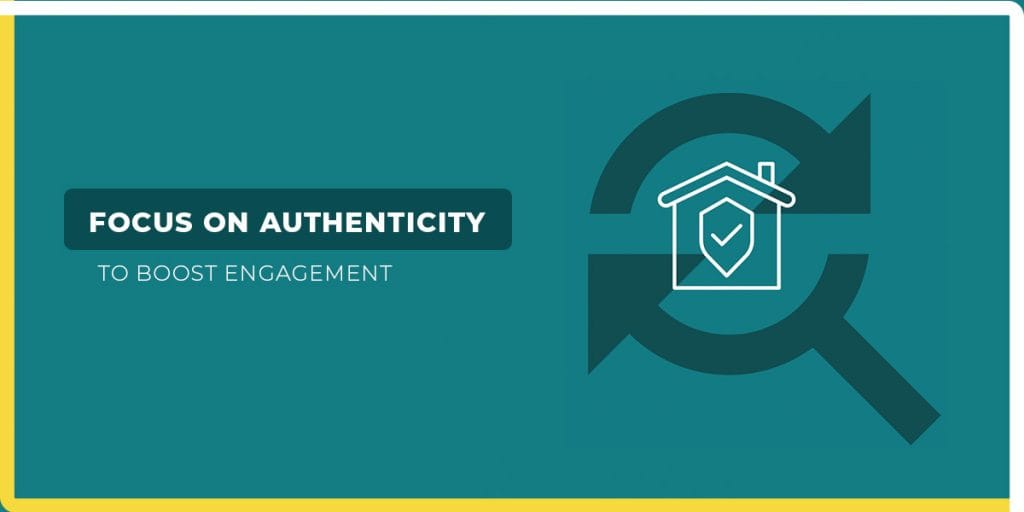 To maintain authenticity, you need to do much more than posting pretty pictures of properties. As discussed earlier, you need to strike a fine balance between polished images and behind-the-scenes details. Show videos of sweeping the floors to prepare for an OH, painting walls, etc. This helps in telling a story and letting people know how you arrived from point A to B. It makes people feel like a part of the inner circle and makes them interact with your content.
To boost engagement, reply to every single comment on your posts. Create polls on Instagram stories and ask people to choose between two options. This way, they'll know that their opinion matters and help you in understanding what kind of content to post in the future.
Show your expertise by sharing things that your followers won't get elsewhere. Tell them why a specific layout is better than the other. Tell them about the unique points of your neighborhood. Let them know about the perks of staying in a particular area – make people feel informed and provide them a reason to follow your real estate business on social media.
5. Use the right social media hashtags for real estate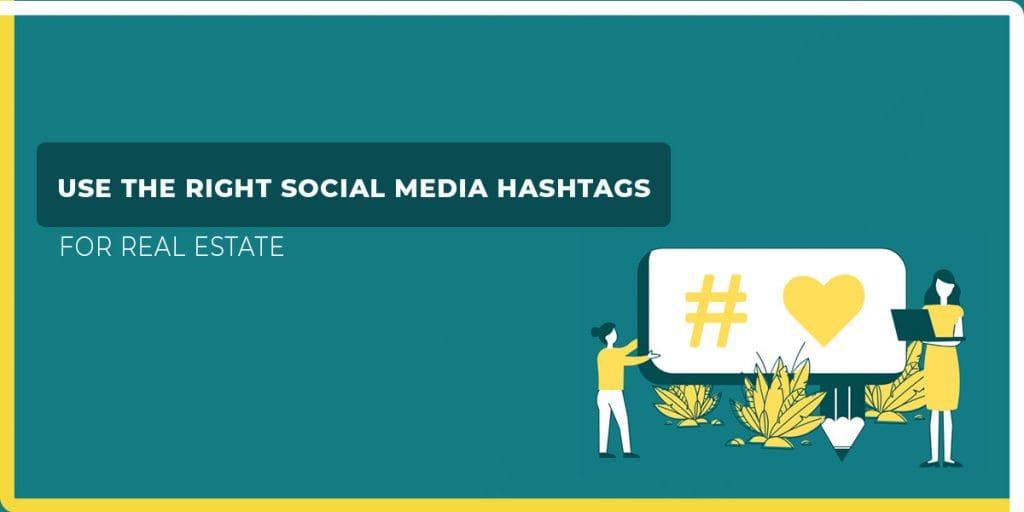 Hashtags are a great way to increase the reach of your social media posts, not only for real estate, but for every industry. They are often misinterpreted as a ploy to simply get more likes on your posts. While hashtags do increase your likes, they are also a way of being discovered by potential customers.
Every platform has different limits for using hashtags in a post. Instagram allows using up to 30 hashtags in a post. Facebook has not officially defined a limit, but two-ten hashtags work the best. On Twitter, it is ideal to use one or two hashtags in a single tweet.
It is recommended to do some keyword research and choose hashtags that are relevant for your brand and business location. Experiment with your hashtags and keep making changes depending on what works and what doesn't. You can also use a tool like Ritetag that provides suggestions for images or text on any site, based on real-time engagement data.
6. Utilize the best social media tools for real estate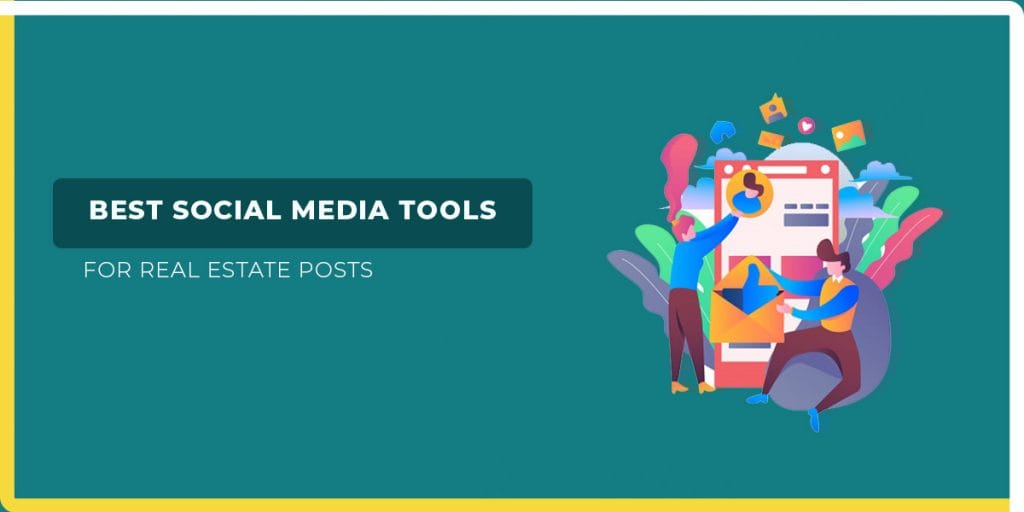 With the number of resources available today, you can easily simplify social media marketing for your real estate brand using real estate video marketing. You can generate great results for your social media accounts by investing little to no money in your financial services. Free stock images are one of the great resources that you can use. Getting professional photos can be expensive, and that's where stock imagery can help you out. Many websites offer free images, including Stocksnap.io, Unsplash, and Pexels.
Once you have the right images to post, you need to create customized social media graphics for your real estate brand by adding text, icons, shapes, etc. You can use tools like Canva, where you'll find hundreds of ready-made templates. After your posts are ready, you need to prepare a regular posting schedule. Tools such as RecurPost, which is amongst the best free hootsuite alternatives, are great to schedule your social media posts for your real estate business. You can prepare a whole lot of content ahead of time and keep your posting to a regular schedule, even if your schedule fluctuates.
7. Share your success stories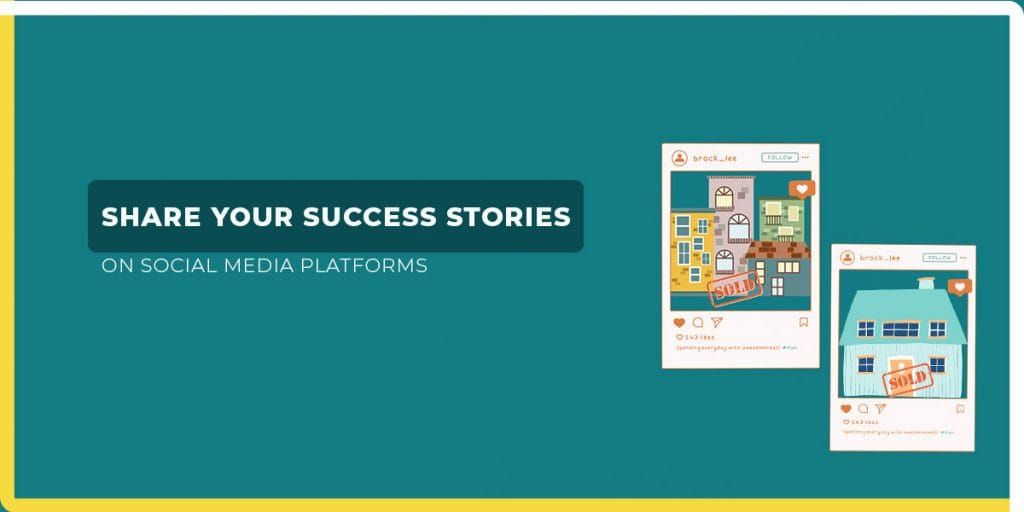 Posting every time you close a property deal may seem like boasting about your achievements, but it actually helps people in developing trust and confidence in your brand. The more users see you both purchasing and selling properties, the more they'll trust you when the time comes for them to get your assistance.
Whenever you close a deal, try taking a picture of your clients with their new home and share it on your social media accounts. Show off the milestones you achieve, the rewards that you get, the conferences that you attend, and everything that you achieve in your professional career.
8. Start marketing on Zillow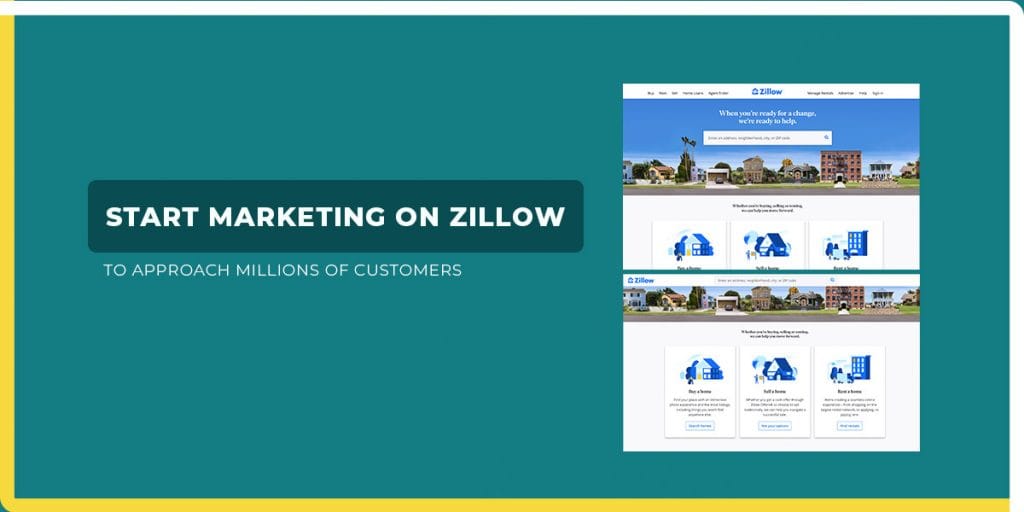 Social media for real estate isn't all about pulling in clients. It's also about being proactive and approaching them out yourself. If you are in the real estate industry, you need to know the importance of Zillow. It is one of the primary platforms for a majority of people looking to deal in properties. With around 200 million monthly active users, make sure that you are on the platform. You'll get a majority of leads from Zillow, and many will become your loyal customers.
As a matter of fact, agents who market themselves on Zillow tend to 2close 2x as many properties per year as agents who don't. So, create a profile today and ask your clients to leave a review. Next, thank them on your social media channels. Take a screenshot of some great reviews, tag the reviewer, and write them a heartfelt thanks. This will give a boost to the trust that people hold for your real estate brand and also send potential customers to your Zillow profile directly from social media.
9. Post at the right times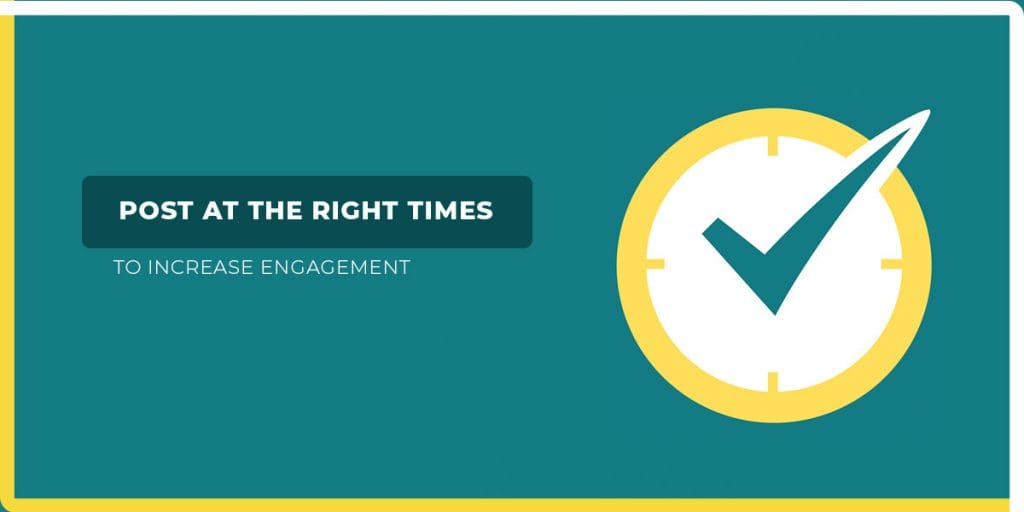 The engagement received on your social media accounts depends greatly on the time at which you post your content to grab the attention of people. You need to post at the times when your audience is the most active on social media. This is when they are most likely to see and interact with your content. You can check the analytics offered by social media channels to know about your audience. Check out this in-depth guide on how you can find out your unique best times to post on social media.
If you are still confused about how to figure out the best time or don't have the time for it, you can try out RecurPost. Along with social media scheduling, RecurPost has the option for 'Auto-schedule for best time to post.' This feature studies the engagement received on your past posts, find your unique best time, and schedules your updates accordingly. making it the perfect facebook creator studio alternative.
10. Collect reviews on your FB page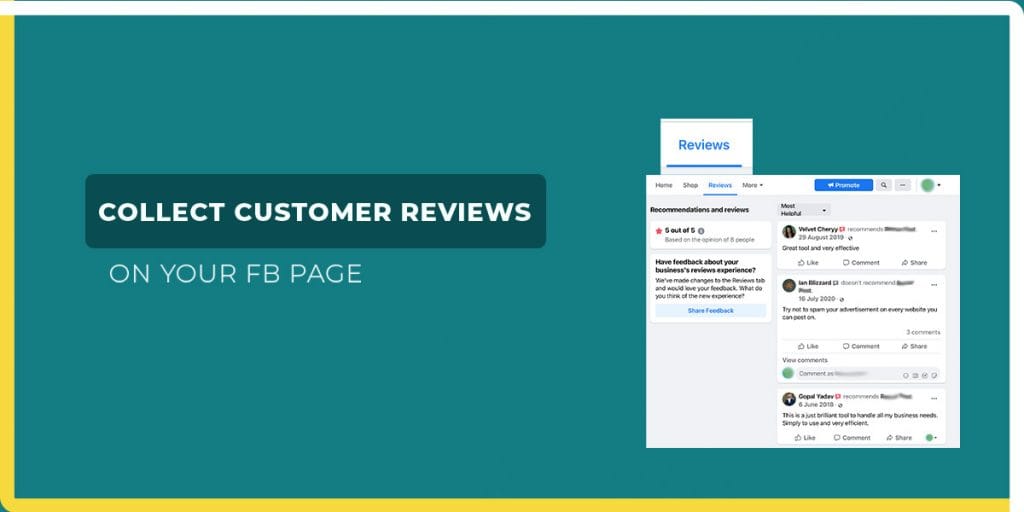 These days, people don't hire anyone for anything, or buy products without reading a few good reviews. Thus, you need to collect some 5-star reviews for your real estate on social media. Amongst all the social platforms, your FB page is a place where you can collect and showcase reviews.
On Facebook, the Reviews tab is located to the left, and you can send a direct link to customers after working with them and ask them to leave a feedback. You can find this link under the Settings section of your FB Page once Reviews are enabled. These testimonials provide a clear picture of what working with you can look like.
11. Create the right ads to generate more leads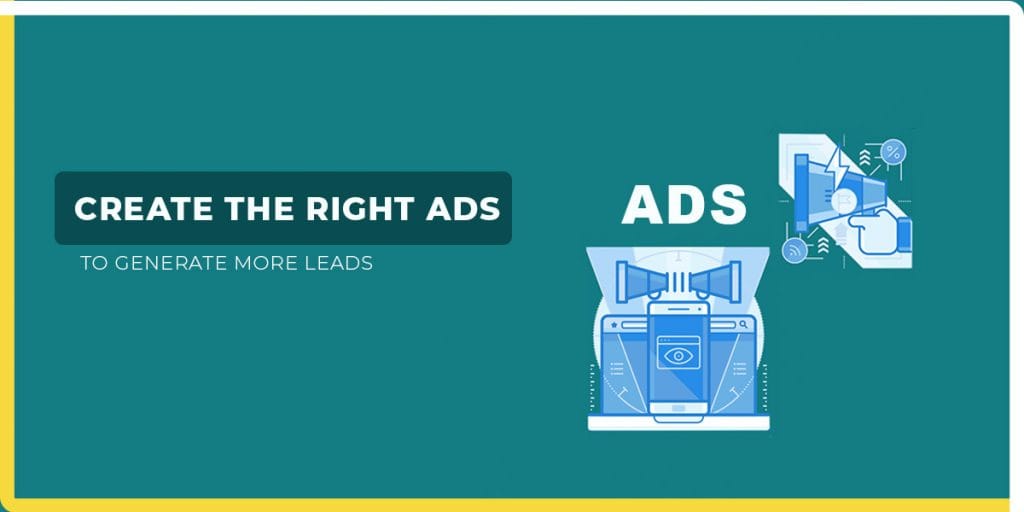 Your current followers have the rarest possibility of getting converted into clients, as people actively looking to deal with real estate are fewer. Thus, for generating leads for the real estate business, running ads will be a great way. As a real estate business owner, you can target your ad to an audience in a very specific area with specific interests. Additionally, you can choose to target an audience on the basis of their spending habits, annual household income, marital status, and much more.
RecurPost lets you schedule posts on all the popular platforms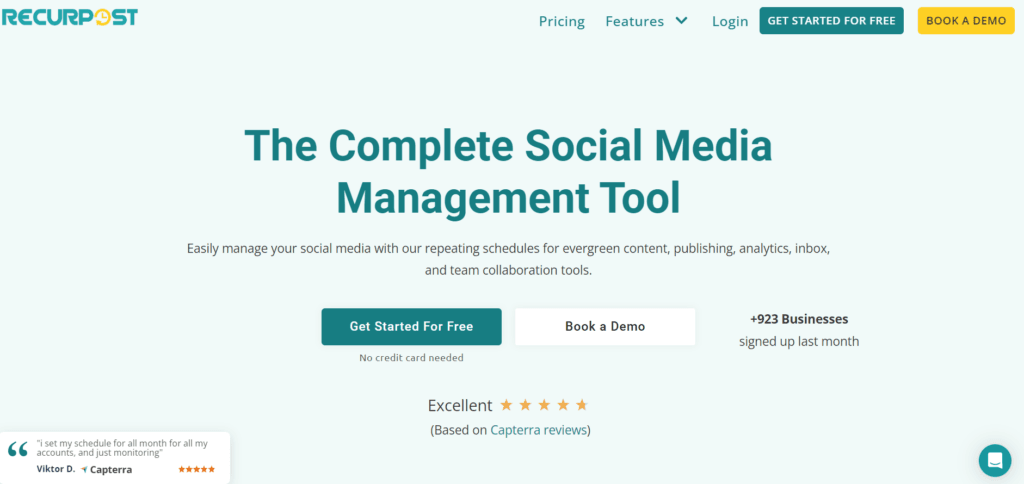 RecurPost helps you create content and schedule posts in advance on multiple platforms. RecurPost allows you to schedule Facebook posts on your profiles, groups, and pages.
To share your business success stories through reels and short stories, you can schedule Instagram posts on personal and business profiles. You can schedule tweets on your Twitter account with a set of variations for repurposing the same content multiple times.
RecurPost allows you to schedule LinkedIn posts on your personal and business pages to connect with business professionals in your industry.
To brand your products and services, you can schedule pins using RecurPost as a Pinterest scheduler. To target your local audience, you can schedule Google Business Profile posts with a call to action using RecurPost.
To sum up,
In 2023, social media will remain a primary advertisement platform for real estate businesses. You will be able to expand your following, build a commitment and improve your market growth by developing your overall approach well in advance by taking advantage of the current developments. What's your take on social media for real estate? Which strategies will you use? Let us know in the comment section!
P.S. Manage your social media for real estate brands using RecurPost's social media scheduler. Check out the free 14-day trial period now!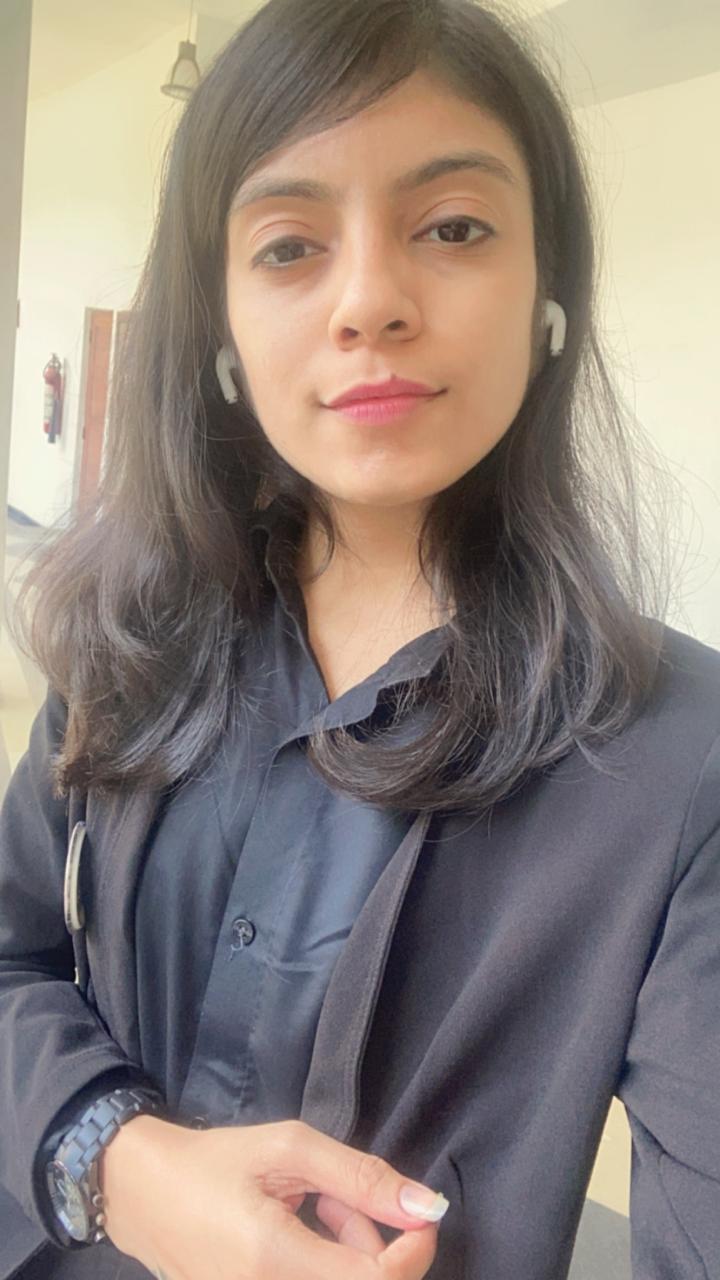 Amaiya Rathi is a Senior Content Writer at RecurPost. She helps RecurPost communicate with their readers in their own language. Whether it is the web copy, social media posts or blogs, Amaiya has worked on all aspects of copywriting. You can reach out to her at [email protected].