Scheduling Facebook and Instagram posts is an essential strategy in today's digital landscape. In a world where social media platforms like Facebook and Instagram serve as critical marketing tools, maintaining a constant presence in the digital space is crucial for broadening one's reach.
Consistency in posting is the surest way of retaining the attention of your audience and expanding your network. While it is possible to manage several social media pages, it can, in some instances, prove to be hectic and stressful. This is where scheduled Facebook and Instagram posts become important.
Setting up times for publishing on Facebook and Instagram will make sure that there is a steady flow of relevant posts across platforms. As such, it saves you time and effort while enabling you to stay on-brand and communicate with your consumers when they are most receptive.
Everybody should be able to time-schedule posts, whether you are a business owner, a social media expert, or anyone else who needs to leverage their online profile.
Why Schedule Your Posts?
Scheduling on social media platforms is akin to having a superpower. It's about moving smart, not just fast. Here's why you should consider scheduling your posts:
Time-saving: Scheduling posts in advance is akin to having an extra set of hands. It frees up valuable time that can be utilized to craft more engaging content or interact with your audience.
Consistent Engagement: When you schedule Facebook and Instagram posts, you ensure that your audience receives regular content, keeping them engaged and connected to your brand.
Better Content Management: With scheduling, you can plan your posts meticulously, ensuring a balanced mix of content types and topics. It's about quality and not just quantity.
Ideal for Multiple Accounts Management: If you're juggling multiple accounts, scheduling is your ally. It streamlines the posting process, making social media management a breeze.
Gearing Up for Scheduling Posts
Before diving into the actual scheduling process, some groundwork is essential to ensuring a smooth sail:
Creating a Content Calendar:
A well-structured content calendar is your roadmap. It helps in organizing what to post and when to post.
It's advisable to plan at least a week ahead, though a month's plan can provide a better perspective and more breathing space.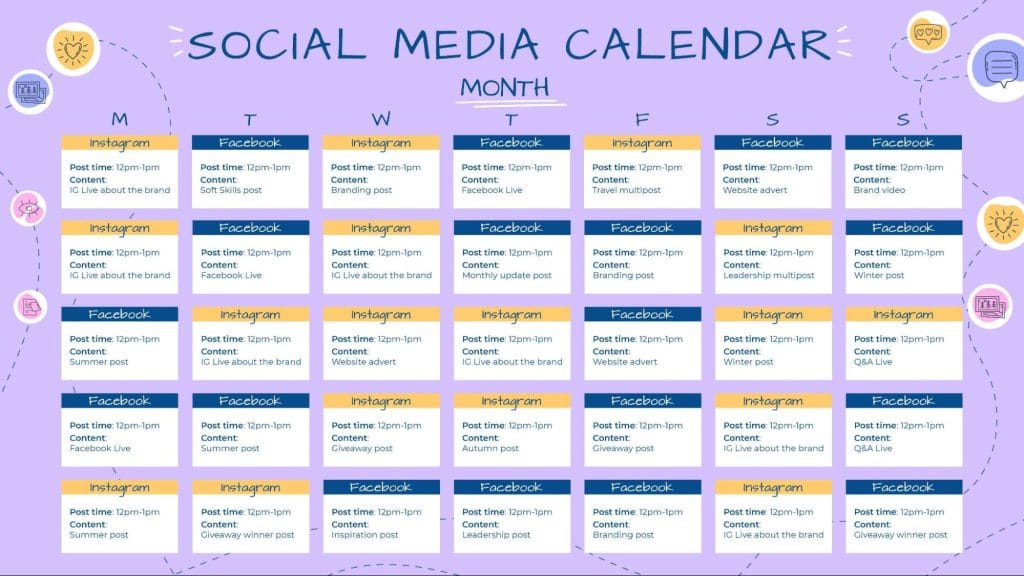 Designing Captivating Posts
Your posts should resonate with your audience.
Utilize compelling visuals, catchy headlines, and engaging captions.
Ensure your posts align with your brand's voice and message.
Choosing the Optimum Posting Times
Knowing the best time to post on Instagram and Facebook increases the likelihood of higher engagement.
Analyze your past posts' performance to understand when your audience is most active.
Scheduling Posts on Facebook
Utilizing Facebook's own scheduling tool via the Business Suite is a straightforward process that streamlines your social media management. Here's how you can schedule Facebook posts effortlessly:
Navigate to the Facebook Business Suite.
Select the "Create Post" option located typically at the top of the page.
Craft your post with engaging text, images, or videos as required
Instead of clicking "Publish", select the "Schedule Post" option to choose a future date and time for your post to be shared.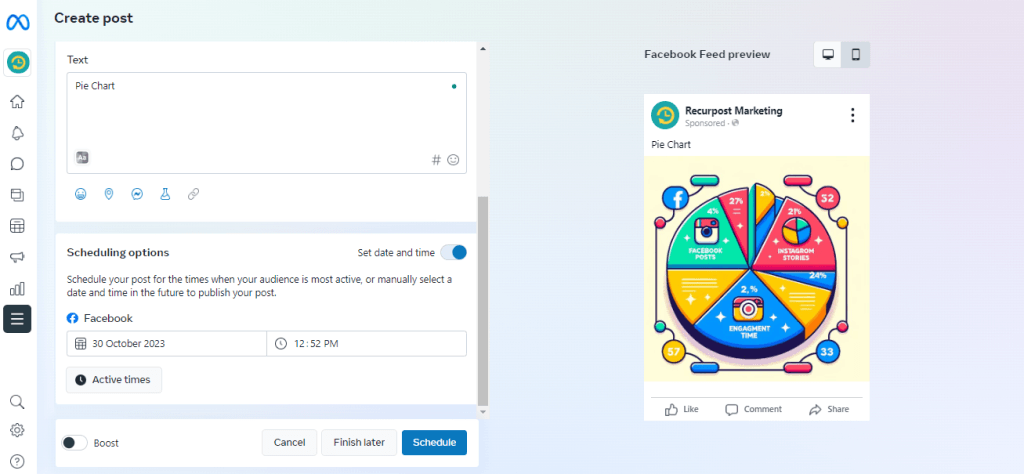 This method ensures that your posts are shared at the desired times, fostering consistency and enhancing engagement with your audience.
Helpful Tip: Don't limit yourself to just text-based posts. Incorporate a mix of visual content, such as images, videos, and infographics, to capture attention and enhance engagement. Experiment with different post formats to identify what resonates best with your audience.
Scheduling Posts on Instagram
Scheduling Instagram posts has become an essential strategy for individuals, businesses, and influencers looking to maximize their social media presence. With the ability to "schedule Instagram posts," you can effectively plan and organize your content, ensuring a consistent and engaging feed for your followers.
Here's a step-by-step guide:
Head over to the Facebook Business Suite, as it also manages Instagram posting.
Select the "Create Post" option and choose "Instagram Feed" or "Instagram Story" based on where you want your content to appear.
Craft an engaging post with captivating visuals and compelling captions.
Instead of selecting "Publish", opt for the "Schedule Post" option to set a future date and time for your post.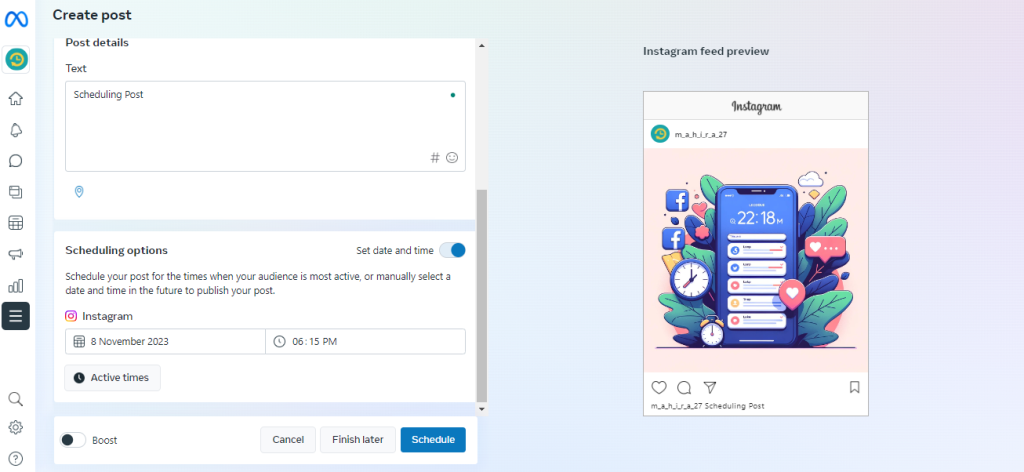 Scheduling your Instagram posts in this manner ensures that your content reaches your audience at the right times, fostering better engagement and keeping your Instagram feed lively and engaging.
Helpful Tip: Hashtags play a crucial role in Instagram's search algorithm. By incorporating relevant hashtags that align with your content and target audience, you increase the chances of your posts being discovered by users who are actively searching for content related to your niche. Research popular hashtags in your industry and use a mix of high-volume and niche hashtags to optimize your reach.
Cross-Platform Scheduling: Facebook and Instagram
Handling both Facebook and Instagram can be streamlined by utilizing the cross-platform scheduling feature provided by Facebook Meta Business Suite. This integrated tool allows you to schedule Instagram posts from Facebook, making the process of managing both social media platforms more efficient and convenient. With this feature, you can maintain a consistent online presence on both Facebook and Instagram, ensuring your content reaches a wider audience while saving you time and effort. This seamless integration simplifies your social media management, enhancing your ability to engage with your audience and expand your digital reach.
Here's how you can schedule Facebook and Instagram posts simultaneously:
Navigate to the Facebook Business Suite and click on the "Create Post" option.
Craft your post and under "Post to", select both Facebook and Instagram.
You can tailor the post for each platform by clicking on "Customize for each platform" if needed.
Instead of clicking "Publish", select "Schedule Post" to pick a future date and time for your post to go live on both platforms.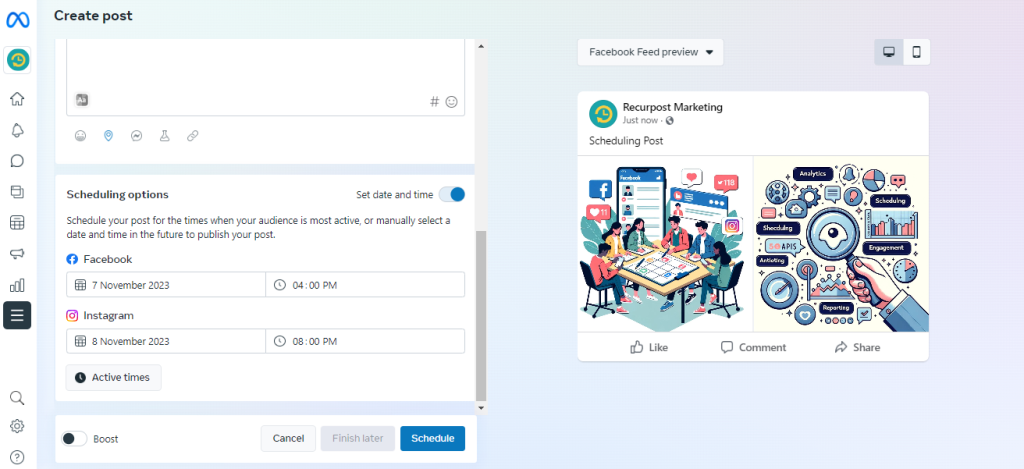 With cross-platform scheduling, managing your social media presence becomes a seamless task, ensuring consistency across the platforms while saving precious time.
RecurPost: The Best Way for Scheduling Facebook and Instagram Posts
For those seeking additional features or a different user interface, RecurPost offers a viable alternative to schedule Facebook and Instagram posts.
Here's how it works:
Connect your Social Accounts: Connect and manage as many accounts as you want. You can share access to a set of social accounts with your colleagues to manage them better.
Create Posts in No Time: Get free access to millions of stock images and GIFs to attach to your social media posts. Our calendar view makes it easy for you to see what is going on.
Set your Evergreen Posts to go out Regularly: You can create evergreen content in the form of blogs, courses, recipes, memes, images, etc. Create libraries of your content and set posting time slots for each library.
Upload Content in Bulk: Drag and drop images, get data via RSS feed, or just upload a CSV. Import your existing posts from your social accounts and make them recurring posts in RecurPost.
Control how Frequently you Post: You set your frequency as per your needs. For example, one blog post needs to be posted on Twitter every day, and two posts about your courses need to be posted on LinkedIn per week.
Meaningful Reports to Act On: See engagement on each post as well as a summary report. We also tell you what kinds of posts get better engagement so that you can create the right kind of content.
Collaborate with your Team: Manage, monitor, and delegate work to your team effortlessly. Create workspaces for your clients so that when you are working on one client's account, you don't even interact with someone else's content or social profiles.
Manage your Account on the Go: Our apps are full-featured tools to get your social media strategy going. Our Chrome extension helps you add content to your account as you surf the Internet. Our Zapier integration helps you send content to RecurPost from over 2000 apps, including Google Drive, Pocket, RSS feeds, etc.
RecurPost is a robust tool that not only schedules your posts but also aids in better engagement and analysis of your social media performance.
Conclusion
In the bustling space of social media, keeping your audience engaged with regular posts is paramount. The ability to schedule Facebook and Instagram posts empowers you to maintain a consistent and engaging online presence while alleviating the manual chore of posting. Whether you opt for the native scheduling tools provided by Facebook Business Suite or venture into alternative options like RecurPost, the path to streamlined social media management is within your grasp. As you embark on this scheduling journey, the benefits of saved time, consistent engagement, and enhanced content management await. Embrace scheduling and witness a transformative ease in your social media endeavors.
Frequently Asked Questions (FAQs)
Can I edit my scheduled posts?
Yes, editing scheduled posts is possible in both Facebook Business Suite and RecurPost before the scheduled publishing time.
How can I track the performance of my scheduled posts?
Utilizing the analytics features in Facebook Business Suite or RecurPost, you can track the engagement and overall performance of your scheduled posts.
Can I schedule Facebook and Instagram posts for a whole month?
Absolutely! Both platforms allow for long-term scheduling, making it feasible to schedule Facebook and Instagram posts for an entire month or even longer, aiding in better content management.
Is it possible to schedule the same post for different times on Facebook and Instagram?
Yes, when you schedule Facebook and Instagram posts, you have the flexibility to choose different posting times for each platform, allowing for a tailored approach to engage your audience on both platforms.
Do I need a business account to schedule posts?
Yes, to schedule posts on Facebook and Instagram through the Facebook Business Suite, you would need a business account. Similarly, to utilize RecurPost or other third-party scheduling tools, a business account is typically required to access the scheduling features.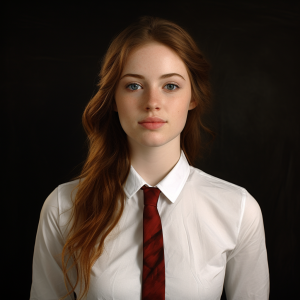 Debbie Moran is a Digital marketing strategist with 5+ years of experience producing advertising for brands and helping leaders showcase their brand to the correct audience. She has been a part of RecurPost since 2019 and handles all the activities required to grow our brand's online presence.