Are you struggling to develop Instagram content ideas that align with your business goals? Looking for a way to create more engagement on your social media accounts? If YES, you must try eye-catching, mind-dropping Instagram content ideas to post.
While pretty photos and curated feeds help catch the eye of potential customers using Instagram content ideas, great content is the key to generating engagement and reaching a larger audience on Instagram. But coming up with high-quality posts on a regular basis is no easy task.
Managing an Instagram brand account or any business account isn't easy. It's an ongoing juggle of posting at the perfect time, engaging on the fly, and coming up with new ideas to beat the algorithm. Of course, you don't need to break what's working for you, but if you need a little extra inspiration to refresh your approach, it's always a good idea to try out some new types of Instagram content ideas for posts and Stories. Moreover, using a helping hand like a social media scheduler to organize your posting stuff can be easily manageable.
Below, we give you some fresh content ideas to try for your Instagram brand account. This article is for you if these are your worries as a small company owner. We will discuss top Instagram content ideas for business that you can steal right now and boost engagement to your Instagram account.
Table of Content for Instagram Content Ideas:
1) Can your small business do well using Instagram Content Ideas?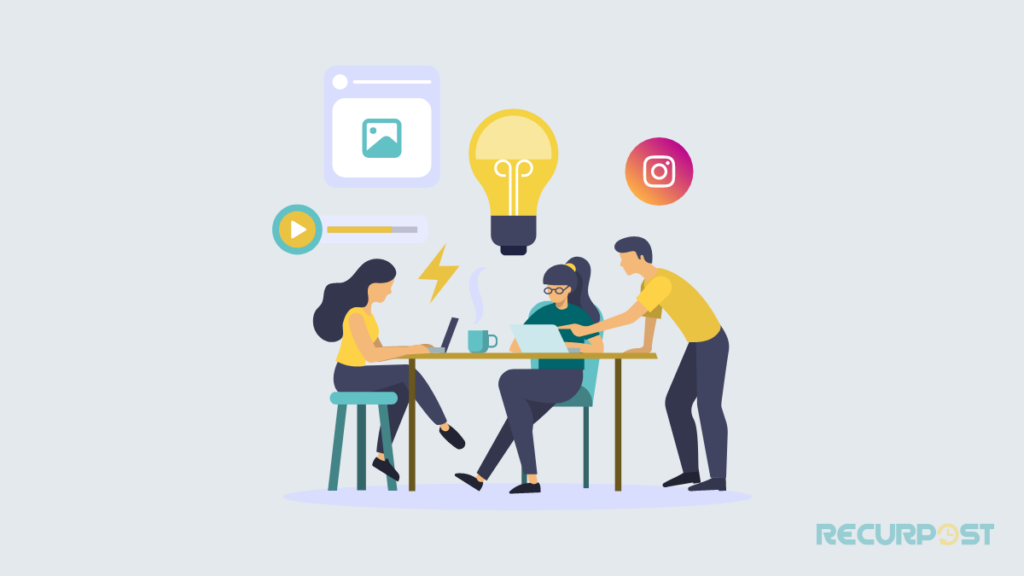 Any business can do well on Instagram — whether you own a local book shop, e-commerce store, landscape business, auto repair shop, or yoga studio. If your customers are on Instagram, you can be successful on Instagram.
But, if you only have time to invest in one or two social media platforms, then you must ensure that Instagram is popular with your prospective customers. Here are a few ways to find out.
Ask your customers
If you want to know if your customers are active on Instagram, the easiest thing to do is just ask! If you already have an email list, send a quick survey to your customers to ask about their social media habits. For example, ask what channels they use most frequently and where they like to follow brands.
Compare your target audience to Instagram's audience.
Different kinds of people are more active on certain social media platforms than others. Compare your target audience's demographics (things like age, gender, income, geographical location, etc.) and psychographics (psychological traits like interests, personality, and values) with the social media platforms you're considering.
Look at your competitors.
Your competitors' customers are also potential new customers for you. So if businesses like yours are doing well on Instagram, your people are likely on Instagram. You just need to start posting!
If your competitors aren't on Instagram, it might not be the right platform. But if multiple customers have told you they'd follow your brand on Instagram, go ahead and create an account. Instagram could have untapped potential, and you'll be the first brand in your niche to discover it.
1.1)Importance of Effective Instagram Content Ideas for Businesses
Instagram is a social platform that works great for any company, regardless of its size. Why? It's one of the most-used platforms, easy to learn, has highly engaged users, and is free! Since it's an exclusive photo-video-sharing channel, visual content is undoubtedly king. A large budget may be an advantage in helping businesses, but in social media content, the amount you pay isn't the only determining factor for success. Many viral posts and influencers of today started off with great Instagram content ideas and a lot of effort with fantastic blogging tools.
Where can you post?
Instagram (Main) Post
Instagram Stories
Instagram TV
Instagram Live
With its genius features, Instagram content themes have allowed us to be creative on the platform. Don't only focus on the style or design of a single post but on the context of how your whole feed will be viewed as a profile. An Instagram profile can be styled by how and what you post in a specific order. Give your profile a personality through text, photos, videos, tones, colors, shapes, sizes, layouts, structures, or all combined. Be creative and see which Instagram content ideas for businesses may be applied to your account.
2)What are the 15 Instagram Content Ideas to Grow your Small Business?
To create brand awareness and simultaneously develop opportunities to nurture leads, you need to provide valuable content geared towards the target market.
Content relevance is also a vital parameter to consider. Besides, with each emerging trend, you need in-depth analytics and precision to drill down your best-performing content and incorporate popular Instagram trends to enhance content visibility. Still in a dilemma? We have got you covered. Below you'll discover 15 content ideas for Instagram you can put to work today to grow your audience and sales.
a. Take followers behind the scene
People love behind-the-scenes content because it makes them feel related to you. As a result, your business seems more transparent and trustworthy. Also, you do not need to put in a lot of effort to "polish" the post; it can be in raw format.
Shoot a small video on your product photography session when you make a product, packaging scenes, or anything related to your business.
b. An inspirational quote
Occasionally sharing something inspiring related to the niche of your business. Create a quote template with your brand fonts and colors. For this, you can use a simple graphic design tool like Canva. Don't forget to include your handle or website's URL at the bottom because posts like this get shared often.
c. Repost user-generated content of your product
The consistency of your posts will make it simple for your intended interest group to know when they can discover new content on your Instagram page content ideas.
Find posts by your customers with your product and re-share them to your feed. This is an excellent way to show your followers that your brand engages with the community, which is very important. Also, it's helpful if you have very few products in your store. Re-posting such content encourages more user-generated content, which leads to word-of-mouth marketing.
Rescheduling or publishing old content might be exhausting at times. However, the best option is a scheduling tool that provides an advanced feature for recycling your evergreen content. For that, RecurPost, a social media scheduling tool that helps schedule Instagram posts, Facebook posts, and all other social media accounts, will be the best choice to choose among the rest of the tools or later alternatives available in the market.
d. Post about your best-selling product
With all the fun content you post, do not forget to discuss your products! After all, your ultimate aim is to get sales through Instagram. However, posting about what your small business offers can be done in a non-sales way.
e. Spotlight a Product Line
Posting product photos is a great way to show followers what your business sells and keep your brand top of mind. A single image can highlight a single product but a carousel post with a series of images or videos is better for showing off a more extensive product line.
f. Discount sales and coupons
A proven and tested marketing technique, offering discount sales is sure to bring you more sales. But be sure to do it at the right time. Festive seasons are the best times to put up sales offers. Then, make an eye-catching post tempting your followers to make a purchase before the sale ends.
g. Giveaway post
In case you don't know, a giveaway is a kind of lucky draw contest where you ask your followers to tag people in the comments, and then you pick a winner randomly. It's a simple technique to increase your reach and gain more potential customers. Put up a tempting giveaway post with one of your products every once in a while. Make sure you mention the rules clearly and when the contest ends. The example above does it right.
h. Tips and tricks — a helpful post
Create a post that solves the problem of your target audience. Make sure that it's related to the products or services you offer. For this, you can create a carousel post on tips to do something, a tutorial video, or even do an IGTV video.
Some brands make suck posts a regular part of their content marketing. It's the best way to gain the trust of your audience and establish your brand as an authority.
Pro tip: Ask your audience what problems they face or what kind of content they want to see from you. For this, you can use your stories. You will get a lot of content ideas.
i. A relatable meme, according to your Instagram Content Ideas
Nowadays, memes are more than just a funny piece of content — they're a powerful content marketing tool. Posting memes on your feed as a business will make your audience feel connected to your brand. Because who can resist a good meme? Memes are the kind of posts that get a lot of re-shares. So make sure you mention your brand name in the post. Make sure that the meme is related to your niche or business in some way and not randomly.
j. Break Up Long Educational Posts With Carousels
Instagram is the ideal platform for sharing information in small, easy-to-process amounts. First, think about the message you want to deliver to your audience. Maybe you want to show how you source materials, or perhaps you want to drive home the benefits of a critical ingredient in all of your products. Then break your message into short snippets that fit on an image or in a video frame.
Instagram carousels work well for this post type because they hook readers with an introductory image and keep them swiping with up to nine additional images or videos. In addition, the Instagram algorithm can place as many as two different posts from a carousel in followers' feeds, increasing impressions and opportunities for engagement.
k. Give Consumers Helpful Product Info
Once you educate your Instagram followers about something important to your business, why not help them get started with your products or services? For example, you could provide tips to help them make a purchase decision or show them the very first step they'll have to take before using your product or service. Not sure what your audience wants to know more about? Take a look at the FAQs on your website, review past comments and DMs, or ask your audience directly to find out how your business can help.
l. Deliver Tutorials and DIY Posts
Do you want to give your audience an even deeper look at what your business sells? With a product demo, you can give people a 360-degree view of your product and let them see it in action. Using Instagram Live, you can connect with your audience in real-time as you walk them through your product's features and functions when you Livestream, field questions, and give viewers all the information they need to purchase.
How-to content works well with every Instagram format. For example, you could create a carousel post and explain one step per panel or publish a multi-part story with a combination of images and videos. Another option is to create an Instagram reel that walks followers through the entire tutorial in a minute or less.
m. Show the Before, Reveal the After
Does your company's product or service change how something looks or completely transform someone's appearance? Sometimes showing the end result alone doesn't make a sufficient impact. Instead, contrasting the before with the after can convey the difference more effectively. Revealing before-and-after images works particularly well for fitness, makeup, and hair-care brands. This type of content is also a great idea for realtors, builders, and interior designers.
Although you can position the before and after side by side, a more dramatic reveal in a carousel post tends to be more exciting. Therefore, when publishing this type of carousel, be sure to place the after image first, so it displays in your feed and has a greater chance of appearing in your followers' feeds.
n. Remind Customers About a New Things Launch
Whether you want to generate buzz weeks before a big launch or you're planning to drop a new product tomorrow, the right Instagram content can get your audience excited and ready to buy. Instagram's Reminder feature is ideal for product launches. You can add reminders to feed posts or scheduled lives and create countdowns in stories.
For example, @shopbando uses the Reminder feature in the Instagram post below, which showcases the brand's new goodie bags and mentions upcoming live highlighting top items from the company's warehouse sale. Followers can tap the Reminder button to get notified when the live start so they won't accidentally miss it. Now, last but not least.
o. Jump on a Trend
In late 2021, Instagram announced a significant push toward Reels, suggesting that short-form video is one of the most important types of content to master. If you're looking for ways to get traction with Reels, it's helpful to take a look at the daily or weekly trends and then put your own spin on them.
For example, this @hellomissmay and @helloplantlover Instagram reel features a unique take on the pointing trend, which involves sharing information by gesturing to text overlays. The content ideas for Instagram reels start by quizzing followers about non-toxic plants that are great for pets before pointing to the best options highlighted in text overlays.
3) What will be the Best Practices To Build Your Audience Through Instagram Content Ideas?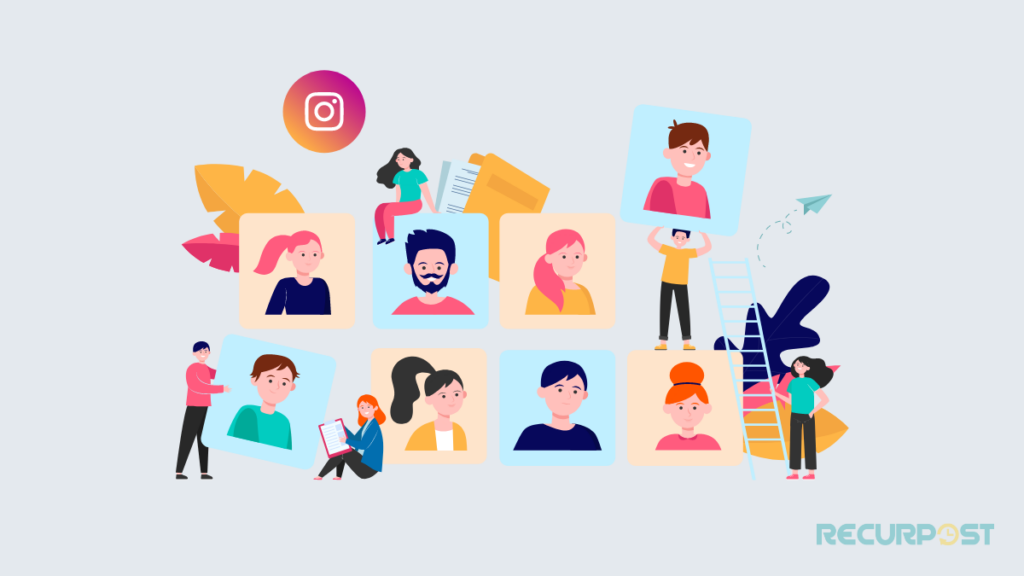 To build your Instagram audience, you must adhere to certain best practices. Following are the best practices for business on Instagram. Consider these practices as a definitive guide to your amalgamating them with Instagram content ideas to boost your brand visibility and nurture leads. So let's roll down to it:
1. Define Your Goals
To leverage Instagram to its best, you must understand what you are willing to build. Social media automation act as a tool in your marketing efforts, and for effective use of these tools, you must align the device usage based on the goals you want to achieve.
Marketers use Instagram marketing for different purposes; you can think of what you are looking for, such as building an online presence for your business. Enriching brand visibility and awareness? Is your goal to get new leads or enable yourself as an industry leader, or are you planning to sell your products directly from the app?
You may also have several different outcomes. But you should know what outcome you are looking for from your Instagram strategy. The best way to clear your goals is to research your brand's current status, assess your marketing efforts, discuss with your team, assess the competitors, and plan a playbook.
2. Assess Your Audience
When you plan your Instagram content, doing preliminary research is a good practice that helps figure out who you can be your ideal audience. Besides, when you strategize on how to market on Instagram, assess your target audience, demographic, age, gender, interest, locations, social behavior, etc.
As per data, the Instagrammer are between 18 and 29 are the most active. But it doesn't necessarily mean that you only should create content targeting this age group. Instead, drill down the audience data to define your target market to create Instagram content directly related to your audience.
3. Optimize Your Instagram Profile
Profile optimization is a crucial part of building your audience on Instagram. Your Indategam bio has to create the impression and have to be enticing enough to hook the visitors. In the 150 characters, you have to creatively make a brand personality and help people understand why they follow your brand's Instagram account.
To fit into that small space, you have to be creative enough. Besides, optimizing the profiles helps your audience to find you in the internet sphere. Add your website, contact info, and CTAs to your profile, along with your name and username. If you are searching for Instagram bio ideas, we have a massive list for you.
4. Establish Your Brand Style
Instagram is a visual storytelling platform. Hence, along with creating content, you should also focus on how the content will look in your profiles—aesthetic content with color cohesiveness or influences buying decisions and brand recognition.
Hence, your Instagram content should be across your posts or stories so followers can recognize your content in their feeds. A wise step is to focus on developing a consistent color scheme, look, and feel to enhance your Instagram stories.
Besides, the permission-based approval workflow on Statusbrew helps you review your content following a review here minutely. It ensures that no content goes out violating the brand's guidelines which can negatively impact the brand's
reputation.
5. Plan Your Captions
Like your content, captions are also essential to creating your brand voice. Instagram captions allow you to use up to 2,200 characters long. You can use captions to share quick tips or for detailed storytelling.
Note that 125 characters appear in the first two lines in the news feed without tapping more. So share all crucial information of the post in the first two lines. Then, while preparing content, follow a content repository and align with the post plan your captions before chance.
However, if you seek examples of long Instagram caption ideas, National Geographic is a great example to take inspiration from. Your Instagram captions should be relevant, informative, compelling, entertaining, and on-brand to draw the audience's attention.
6. Choose Hashtags Wisely
Instagram hashtags are a great way to boost content visibility and discoverability. Even though Instagram allows you to use 30 hashtags in a post, the recommended use is between five to nine hashtags per post.
Adding more hashtags in a post makes the content looks spammy and results in hashtag stuffing. Besides, avoid using irrelevant or repetitive hashtags. Instead, select Instagram hashtags that are relevant to your content and which are specific to your niche.
Suggested Article: How to change background color on Instagram Story?
4) How can you Spice up your Account using Instagram Content Ideas?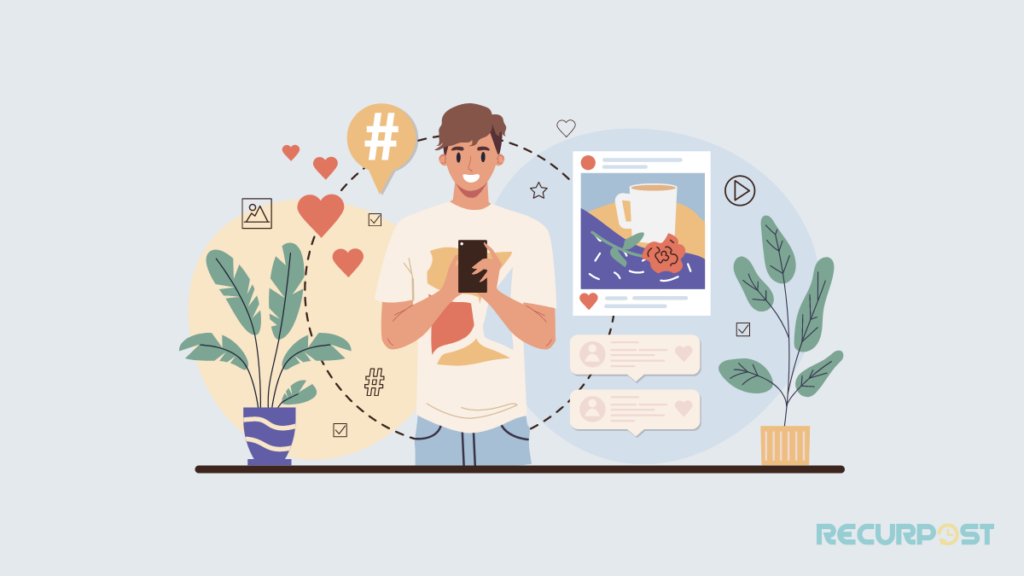 Instagram is among the most popular social media platforms, especially among younger generations. The beauty of Instagram is that it's highly visual – the focus is on images and videos rather than text posts. Try to put everything on social media with proper social media image sizes. Of course, Facebook still dominates the game, but Instagram still holds a strong place on the global list for the highest engagement. Below are the points on how you can spice up your accounts by using content ideas:
1. Give your audience a mental break with a puzzle
We're often so busy in our lives, rushing from one thing to another, that our self-care routine can be relegated to the back burner. So instead of posting the usual photo, create one that makes your audience pause and think a little.
Pro tip: Don't want to put effort into creating a puzzle? Remind your audience to take quick breaks instead via slow breathing exercises or a 5-second video with soothing music. Whatever you choose, the idea is to make your audience pause in the scroll or tap.
2. Take on a recurring challenge
This can be a daily, weekly, or even monthly occurrence. How often you want to tackle the challenge is up to you. To execute this, you'll need to either look up pre-existing challenges or create one that makes sense for your brand. RecurPost's recurring feature can help you post your stuff at a given time interval. When you use RecurPost to publish content on your Instagram via Zapier, you can connect the two applications and use data from one to produce content from the other.
3. Write a caption first, then find the photo
For brands with a distinctive voice, challenge yourself to write captions first, then find or create the photo to match it. You may find it easier to map out your content when you know exactly what message or mood you want to evoke instead of writing a caption specifically to the photo.
4. Show off product posts
High-quality pictures and attractive video content of your products will likely be one of the easiest (and most expected) places to start on Instagram. Sharing content featuring your products in all their glory will help you drive sales and promote your business on Instagram.
When photographing products for your Instagram content ideas for the clothing brand, you want to avoid making them look like ads. Ideally, you're showcasing your products in an aspirational yet relatable setting where your audience can picture themselves.
You'll also want to include rich, exciting captions, not just a product name and a few trending Instagram hashtags. Instead, you can consider creating a post as an opportunity to pitch a product, discuss features and benefits, or highlight what makes it unique for Instagram content ideas for small businesses.
Conclusion
The best way to propel your Instagram content ideas strategy is to learn from experience. Besides, be experimental rather than locked into just one type of content format! Adding Instagram marketing to your plate is no small task for small business owners. As an entrepreneur, you have dozens of projects to manage as it is.
Save time by using a social media marketing tool like RecurPost, which is one of the best free Hootsuite Alternatives to schedule your posts in advance. For example, you can set up posts weeks in advance, so you never go dark on Instagram.
Not only Instagram but RecurPost also helps to maintain your brand presence on all major social media platforms. You can schedule Facebook posts on your profiles, groups and business pages. Schedule tweets on your Twitter account to start conversations with a business professional.
Schedule LinkedIn posts on personal and business pages for connecting with global leaders. Schedule pins on Pinterest to reap the benefits of visual platforms. Schedule Google My Business posts with a call to action button to attract local customers.
The best part? RecurPost is giving a 14-day free trial so that you can schedule posts in advance on each platform. That's plenty for any small business to get started on Instagram. Check out RecurPost pricing to know more about the plans offered.
Growing your Instagram business is a crucial task for online business entrepreneurs. Learn How to add multiple photos on Instagram Story for your business which could help you increase your sales and brand recognition!
Hope you found this Instagram Content Ideas useful for your business? Do share your thoughts if we missed some on this in the comment section below.
Frequently Asked Questions related to Instagram Content Ideas.
1) What content should I put on Instagram?
High-quality pictures and videos of your products will likely be one of the easiest (and most expected) places to start on Instagram & works excellent as Instagram content ideas for clothing brand. Sharing content featuring your products in all their glory will help you drive sales and promote your business on Instagram.
2) What to share as Instagram content ideas for Restaurants?
Make it easy for your guests to connect with you on Instagram – it shouldn't be difficult for them to find your Instagram profile. Your Instagram game will be stronger if you involve more bright minds in it – specifically, your staff. Ask your employees which brands have recently caught their eye on Instagram and how they did it to gain inspiration for your own content.
3) What Instagram content ideas do followers want?
Your fans and followers will love getting your personal recommendation on other blog posts, videos, or resources that are helpful and relevant to them. Make your posts more engaging and original by adding a short note about why you think a piece of content is worth the look.
4) Which type of Instagram content ideas are most viewed on Instagram?
Instagram photo posts continue to be the most popular form of content on Instagram because they're easy to create and edit and super versatile.
5) What creative things can I do on Instagram as Instagram Content Ideas?
– A peek behind the scenes.
– Ask a question.
– Share an inspirational quote.
– Post a tutorial.
– Make people laugh.
– Conduct an AMA.
– Host a contest or giveaway.
– Enlist an influencer.
6) Do Hashtags Work in Instagram as Instagram Content Ideas?
Yes, they do. According to Instagram, hashtags in the comments section work the same as in the caption. So schedule your first comment on Instagram with RecurPost to reap the benefits of Instagram hashtags without crowding your caption.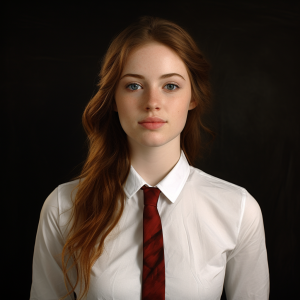 Debbie Moran is a Digital marketing strategist with 5+ years of experience producing advertising for brands and helping leaders showcase their brand to the correct audience. She has been a part of RecurPost since 2019 and handles all the activities required to grow our brand's online presence.