Agencies and freelancers need a refined social media proposal to convert prospects into clients. Writing a compelling social media proposal is crucial as it can win as well as lose the client. Though challenging, creating a ready template of social media proposals is feasible, as it is part of the workflow. Going through this article, you can create a persuasive social media proposal for your agency that will give your prospects a professional touch and create a positive impact. For your social media marketing services, You can create a customized version or modify the existing one to make it more convincing.
The RecurPost tool is an excellent social media scheduler for scheduling social media posts. You can be sure that your clients will get the best service possible with this tool.
Complete guide to write a winning social media proposal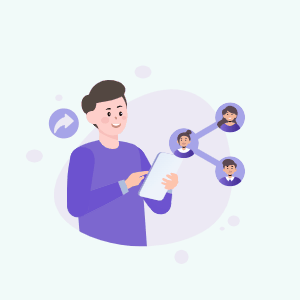 Want to share a performance report with your clients?
RecurPost generates white-label reports and tracks social media activity.
What is a social media proposal?
A social media proposal is a document you share with the prospect to show how your expertise and skills can benefit them to grow their brand.
Communication is the key to turning the prospect into a customer. A social media proposal is your chance to communicate effectively with your prospects and create the first valuable impact. Your goal is to build trust, so they feel your agency is worthy of their business growth.
Drafting a social media proposal starts with acknowledging your prospect's challenges. You need to consult them and understand their needs and business goals.
Once you know your prospects' needs, fears and doubts, you can well outline the social media proposal that solves their problems. You can better frame the strategy that meets milestones within the timeline and in their affordable budget.
What role does a social media proposal play in your workflow?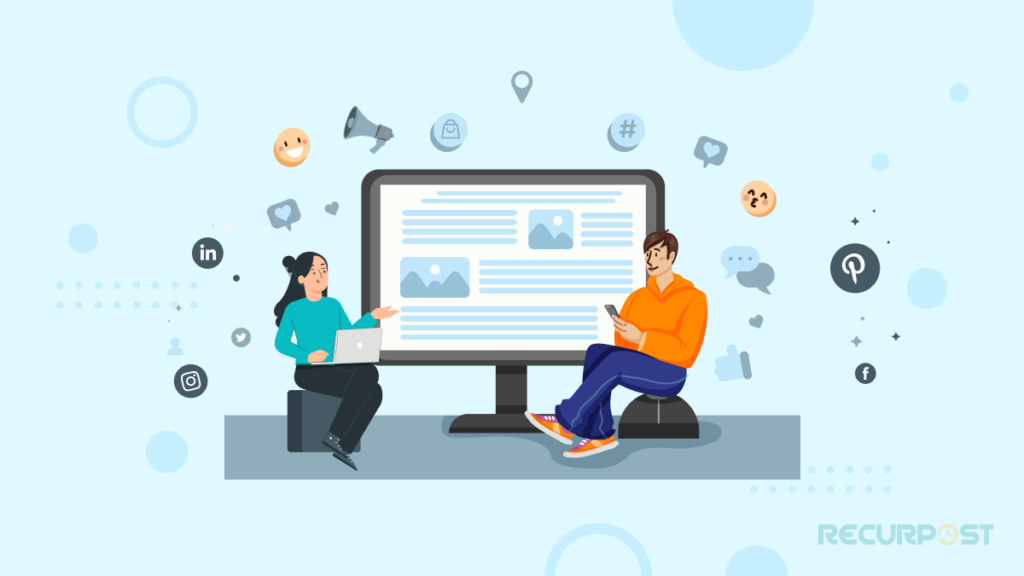 Social media proposal is a crucial part of the sales process. According to a survey article, companies having clearly defined sales processes grow faster.
What is a sales process?
A sales process is a repetitive step that a salesperson takes to convert the prospect from the awareness stage to a closed sale. Depending upon the company, the sales process consists of 5 to 7 stages. The stages are – Prospecting, preparation, approach, presentation, handling prospects' doubts, closing sales/loss of the prospect, and follow-up.
Also known as the buyer's journey, it starts from their need for a product to solve the problem to make an actual purchase. As this is a prospect's buying journey, it is a road map for the salesperson. Another way to represent it is through the funnel, a visual representation of the sales process. A funnel represents all the active sales activities between the prospect and the salesperson.
The number of stages for writing a social media proposal could be
Write the proposal
Send the proposal
The client reviews the proposal and comes with questions
Your reply to the client's questions and, if required, modify the proposal
Client agrees on proposal
Make a contract
The client signs the contract
Following a clearly defined sales process makes you look professional. It will not only become easy for you to manage the workflow, but you will be able to understand at what stage your prospect is.
How to write a winning social media proposal?
Social media proposals must prove that you clearly understand the prospect's needs and how to solve them using your expertise in the subject. The proposal must include the following nine components. Let's explore each in detail.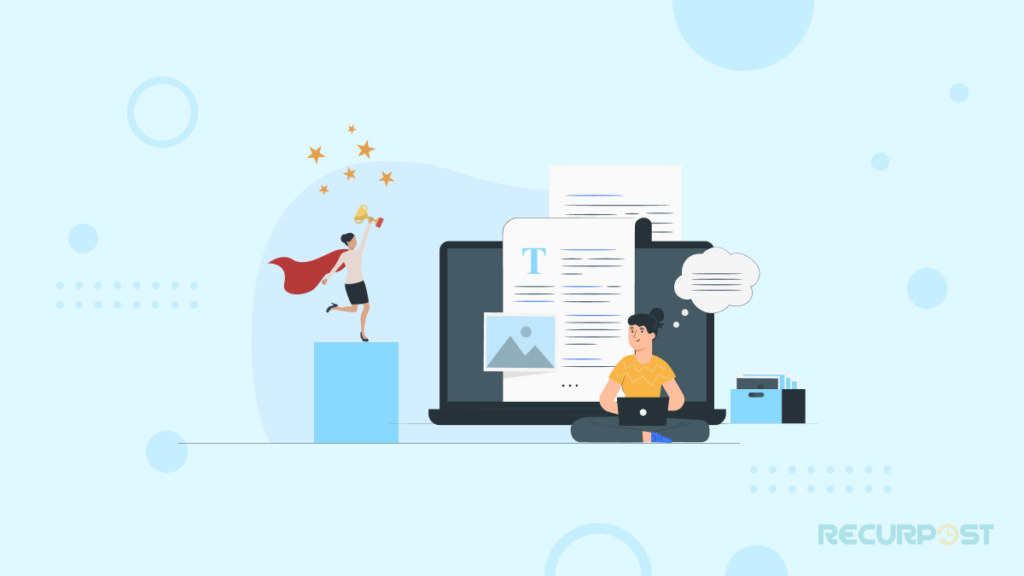 1. Problem Analysis
The key to building a valuable relationship with your client is to meet their expectations. You can lead with an analysis that identifies the needs or problems they are facing. Social media marketing strategies are only as good as their research, so don't skip this step.
Additionally, doing a competitive analysis will give you a fair idea about their industry trends, competitors, and where they stand on the social media frame in the current competition. Considering every part of the analysis will also help you outline the next steps of the social media proposal.
Often, companies don't know why they need social media management and for what goal they can utilize social media. For example, if a client wants to increase sales, you should include the current social media strategy and the sales metrics in your proposal by stating why it's not working.
Ask clients as many questions as possible to reach accurate answers. The more info is better. This approach works when you directly connect with your prospects. So always prefer to get the standard intake from the client. If you have to respond to the "Request For a proposal," you must thoroughly read and digest all the information in the document.
2. Define business goals and objectives
In this section, you will show your prospect that you clearly understand their needs and business goals. Make it as specific as possible, without any discrepancy. Define the company's challenges and goals derived from your analysis. Your listed objectives must be based on the specific project and should match the company's overall mission.
"Request The Proposal" should use language that resonates with the company's document and identifies the client's needs.
3. Determine measurable social media goals
The objectives you listed above will create a platform to define measurable social media goals. Goals must be SMART (Strategic, Measurable, Attainable, Relevant, and Time-specific).
Each objective in your social media proposal must define the following:
A social media platform
The metrics
An end date
For every objective, it has to be clear by what time the goal will be accomplished, what metric is to be considered as a success and how it participates in the company's overall business goal. For example, increase traffic by 30% by the end of the second quarter via schedule Instagram Posts.
RecurPost allows posting on all the popular social media channels, making it the perfect socialbee alternatives.
4. Set the scope of work
This is the central part of your social media strategy proposal, where you will declare all you will do as part of the service for your prospects. Since this is a large part, we will break them into smaller pieces.
Selecting an appropriate platform: Explain why you selected the specific platforms. Like it is the appropriate platform for their products or services or because their competitors are social on it.
Scheduling posts: Specify how frequently you post on each selected platform. For example, you can say we will post reels twice a week with the best Instagram ideas and post one image with an appropriate size and one video on Facebook to create more engagement and increase traffic to their website.
Boost engagement: Define the strategy you will employ to increase engagement with the brand. For example, you will respond to relevant comments or spend an hour twice a week sharing user-generated content or schedule Facebook posts or schedule Google My Business posts to attract local traffic.
Achieving milestones within the timeline: Mention what you describe as a milestone and the time allocated.
Analytics and reporting: This is the most important for any client. They want to know the result of their spending. State in the proposal how often you will send them a report and what the information will convey about social media marketing.
RecurPost is an excellent social media scheduling tool that allows you to accomplish all the above-listed processes effortlessly and efficiently handle multiple clients' accounts.
5. Define project milestones, budget, and deadlines
This part of your social media proposal will say how you define the project's success. For example, you will increase the reach or more followers. Once you pitch your client, now is the time to outline when and how you will achieve it.
The work includes development, analysis, and testing. It's a timeline of each of your deliverables. It depends on how your prospect wants it to be. You can include milestones and check-ins for the schedule so that everyone can track the project status.
This section also discusses how you will utilize the client's money and the fee format best suits your clients. Either flat or hourly rate. RecurPost has the best pricing plans and the best social media scheduling features, making it one of the best free Hootsuite Alternatives.
6. Proof of past work
Clients receive multiple proposals for the same project. You are not the only one whom the prospect asked for the proposal.
The query is, why should the client choose you over your competitors?
Simple, it's time to showcase yourself.
To prove you or your agency the best fit, you should share the results of past clients who had similar requirements as theirs. It can be in the form of case studies or testimonials. Examples with more relevance have a higher chance of converting prospects. For example, you can show that your client ROI grow by 15% after your agency schedule tweets, schedule LinkedIn posts and schedule pins on Pinterest.
7. Terms of Agreement
This part communicates how you work and what the agreement's terms would be. You put it in your contract templates. It includes
Fees: How do you charge? On an hourly basis or per project.
Billing: This part is to mention social media proposal pricing. How do you generate invoices, and what are your payment terms? Whether a client has to pay part of the money in advance? Everything is mentioned here.
How do you work?: Whether you go to the client's palace or work remotely? If a client has queries, how will you answer them?
Termination: How to decide the end of the project if any of you two decides to? Termination goes both ways. Clients can decide to end if they find it's not working for them or they don't wish to spend more.
It is possible to manage large postings on multiple accounts using RecurPost, a social media bulk scheduler. Compared to other social media tools, RecurPost pricing is affordable to charge your clients. Sign up to RecurPost now and start with 14 days free trial.
8. Taking the client to the next step
This is an essential step after sending a social media proposal to your client. To avoid unnecessary delay and confusion, it's a good practice to mention in the proposal what is the next step after sending a proposal. Whether you take follow-up after certain days or ask clients for revisions if they want. You can also specify the expiry date of the proposal to ensure that the budget and tactics are up-to-date.
9. Prepare an executive summary and analysis
The last part of the proposal gives an overview. Include essential points of the social media proposal, and it's better to write this part using bullet points. Think of a busy executive. They will prefer to read this section. Make this part short compared to other steps. However, it must specify the client's needs, anticipated results, budget, and requirement of resources.
How can marketing agencies efficiently manage multiple client accounts using a single platform?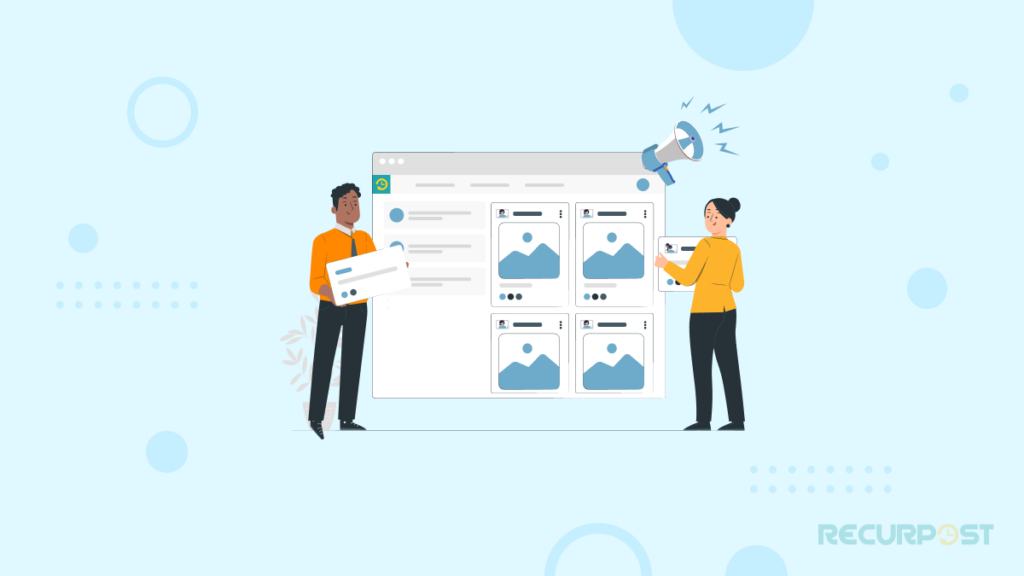 Running a social media marketing agency is to manage multiple client accounts. Each client has their own goals and objectives. As an agency owner, it becomes your responsibility to achieve the metrics within the denied time. With clients, the strategy differs. So you need a tool that helps you manage multiple accounts quickly and efficiently.
As a social media management tool, RecurPost lets you separate multiple accounts and simultaneously allows you to switch between client accounts, monitor social media activities across various platforms, and generate white-label reports that can be shared with your clients.
Benefits of using social media proposal template:
The prime advantage of creating a template is that once created, you can customize it for every new prospect. The other benefits are
Makes your agency look well-organized
It is time-saving
You can't miss anything important
With the clearly defined social media proposal, you and your client both remain on the same page
It Helps you become consistent by following the same process for Sales Process.
An example of an excellent social media proposal template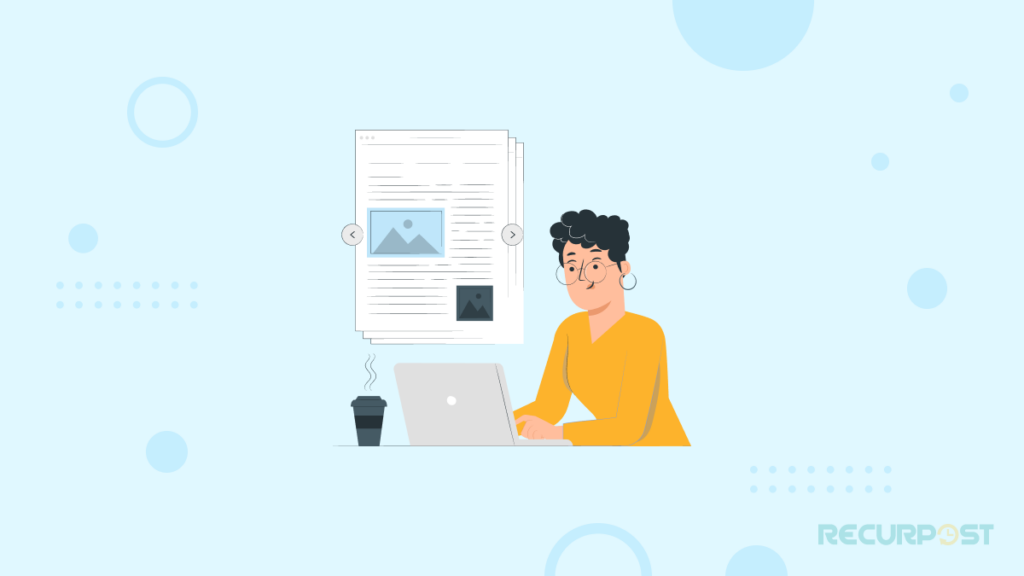 Let's say you want to renew your pet insurance. You have a general idea about it but know it is not your subject. So, you will approach a few insurance agencies to get pet insurance at the best price. You will ask everyone to give proposals. After verifying different metrics, services, and offer prices they give, you will decide whom to hire.
An effective proposal aims to convince prospects by establishing trust and providing something that not everyone offers. Similarly, your agency should have a social media advertising proposal that stands out from your competitors and build valuable relationships with prospective clients.
The best example of a social media strategy proposal includes clients' pain points, challenges, fears, and doubts and how well you can convince them that with your skills in the subject, you can turn it into more engagement, traffic, and sales growth.
Why is a social media proposal template necessary for marketing agencies?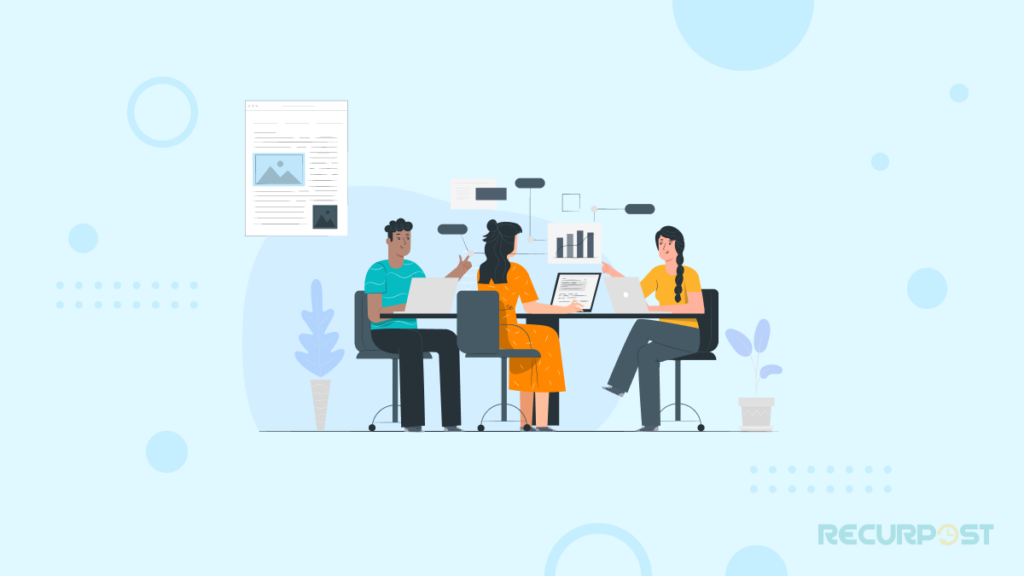 Social media proposal is a great communication tool, locally and globally. Every client has different needs and expectations. With social media proposals, you can follow the same sequence of processes and still differentiate them from each other.
With a well-structured document, you can outline and share how your expertise can benefit the client in growing their business. Confirming the social media marketing proposal is mutual and helps the agency and the client as both have clarity on listed goals and result metrics.
Summary
The proposal gives you a chance to win your prospect by showing yourself capable of solving their problems and hiring you for business growth. You can create a proposal of your own regarding social media or use a social media proposal template and customize it per your prospects' requirements. The stronger the proposal, there is more chance of winning the prospects. So it's wise to spend dedicated time creating a social media proposal that keeps attracting more clients for your agency.
What process do you follow to create appealing social media proposals and convert prospects in a client? Let me know in the comment below.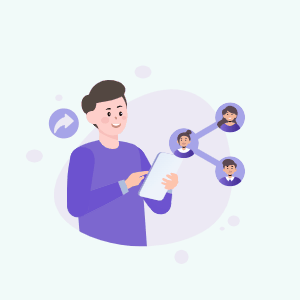 Want to share a performance report with your clients?
RecurPost generates white-label reports and tracks social media activity.
FAQs
What is a social media proposal?
Social media proposal is a document that tells the client how your expertise can help them to solve their problems and help them grow their business.
What Does a Social Media Proposal look like?
A professional document outlining social media strategy, addressing clients' problems, budgeting for the project, planning and analyzing the results, and sharing information in reports.
What is a social media marketing pitch?
It's a presentation that informs your client about the marketing services you offer. It gives an overview of your agency's social media strategy and describes why you are the best to hire for their services.
How can you write a proposal?
The above listed steps will help you to create a client's winning proposal.
How do you start a proposal?
The best way to make your proposal interesting and make it read till the end is to start with addressing clients' problems. If you demonstrate how well you understand their problems, they will be more likely to read the solution that you offer.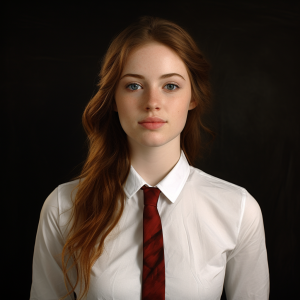 Debbie Moran is a Digital marketing strategist with 5+ years of experience producing advertising for brands and helping leaders showcase their brand to the correct audience. She has been a part of RecurPost since 2019 and handles all the activities required to grow our brand's online presence.