Knowing how to schedule tweets can prove to be a game-changer for your brand. Twitter is one of the few social media platforms that can help spread your message to a vast audience quickly. It is such a popular site that approximately 500 million tweets are made every day! Owing to such a huge ocean of tweets, the average shelf life of a tweet has come down to just 18 minutes.
This means that if you want your profile to be discovered, you need to be active on the platform by posting your tweets by using social media scheduler. Posting a minimum of 3-4 share-worthy tweets a day and constantly engaging with your audience is what it takes to go viral on Twitter. It is not advisable to automate the engagement, but you can at least take care of the former part.
How to use Twitter post scheduler to avoid the possibility of spending too much time uploading them and being able to drop while you're working, sleeping, or eating? Scheduling multiple tweets ahead of time can bring you this relief. You can create schedules for a month in advance which leaves you with abundant time to concentrate on other things.
Using the native Twitter web app, you can only schedule one tweet at a time. This can be time-consuming, especially as a brand. To schedule multiple tweets in advance, you need to take the help of a social media scheduling tool that lets you schedule multiple tweets on multiple accounts at once.
RecurPost is one such tool that will suffice for all your scheduling needs. Let's see how you can use RecurPost as a Twitter scheduler in a jiffy and also post natively on Twitter.
What You'll Learn in This Blog:
Why should you automate tweets on Twitter?
To get the most out of tweets, you should post when your targeted audience is active. Posting at the best time brings the highest engagement. It results in more likes, shares, comments and an increased reach.
Per the survey, the best time for Twitter to post is between 8-10 am and 6-9 pm. So if you want to improve engagement, post before one or two hours daily. No one can remain online every day to catch the audience.
Investing your efforts in a Twitter scheduler is a great idea. Scheduling ensures that your tweets are posted when your audience is active. The automation tool drops your tweet at the time you choose while scheduling them. It significantly improves your brand engagement and number of followers.
How To Schedule Twitter Posts
Yes, it is quite possible to schedule Twitter posts natively from your Twitter account. If you are managing only one or two accounts for your brand, this option can be feasible. However, it is only possible to schedule one tweet at a time. Thus, if you want to schedule 3-4 tweets a day, you will have to upload and schedule them one by one.
Let's see how to do it:
1. Compose Your Tweet
When you open your Twitter account, you'll see a blog blue 'Tweet' button on the left-hand side panel. Click on it and a pop-up window will appear where you can compose your tweet. Add a description, images, video, or gif, or share a link.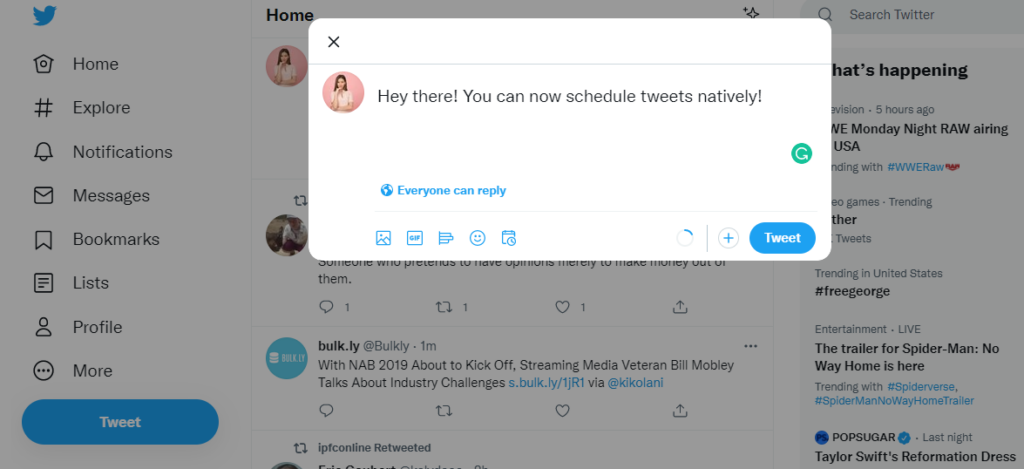 2. Click on The Calendar Icon
After adding all the details of your tweet, click on the calendar icon. This is the fifth and final icon in the toolkit at the bottom of the Tweet composer, next to the emoji icon.
3. Select The Date and Time For Publishing
Set the day and exact time you want the Tweet to go live and click on 'Confirm' to schedule multiple tweets.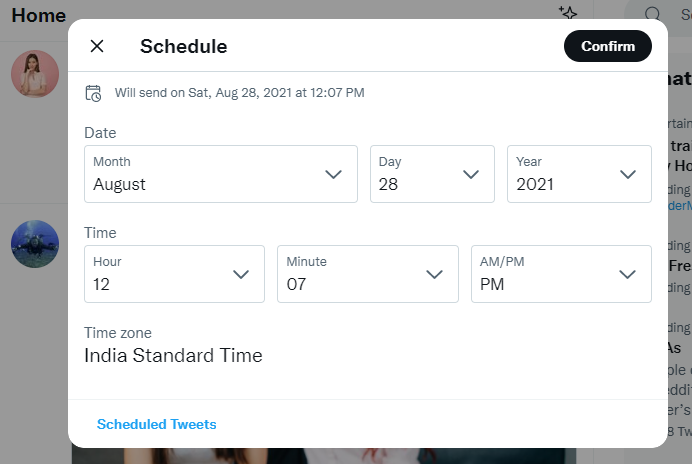 4. How to schedule Twitter threads
Twitter launched the exclusive feature of Twitter threads to improve engagement with your tweets. You will see a '+' sign next to the tweet button when you try to schedule a tweet on your Twitter account.
You can add the following tweet in the thread by clicking this plus button and adding one more tweet to the queue. You can add a maximum of 20 consecutive tweets in a single instance.
You can create stories, share tips, add a how-to-do list, or use earlier content to repurpose. The reader will click on the following link to see what's next on the list until they find it interesting and feel it is worth spending time on it.
5. How to find scheduled posts on Twitter
To view the scheduled posts on Twitter, you have to toggle the drop-down option from "Promoted-only Tweets" to "Scheduled Tweet." The selected option will list all the scheduled tweets at present.
How to automate Twitter posts using RecurPost
Scheduling weeks' worth of tweets using RecurPost is just a matter of a few minutes. Let's see how to do it.
1. Sign up for RecurPost and Connect Your Twitter Accounts
In order to automate Twitter posts, the first step is definitely to sign up for a RecurPost account. Go to RecurPost, click on the sign-up button, and enter your details to create an account. After signing up, you will be taken to the dashboard. Here, you will see the button saying 'Add social accounts'.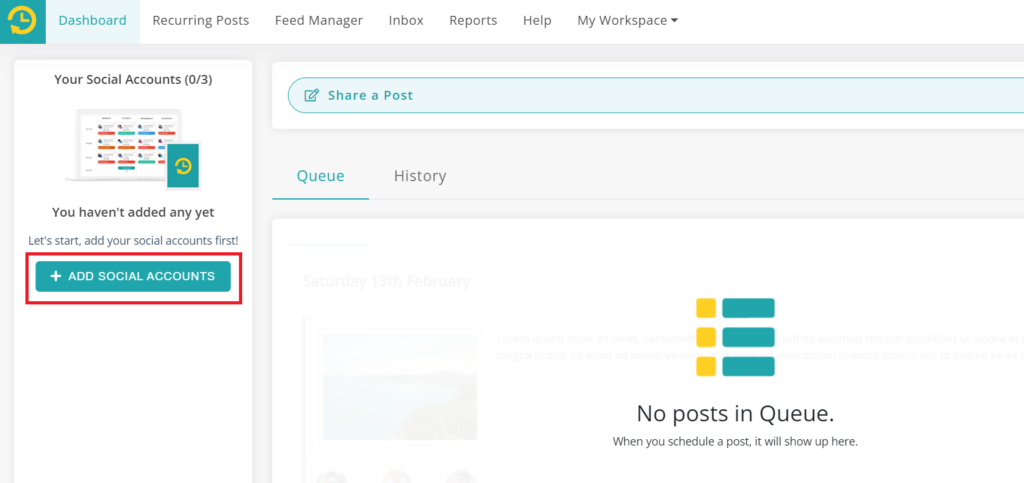 Click on it and a pop-up will appear. Under the Twitter section, click on 'Add profile'.

If you aren't already logged in to your Twitter account on the same browser, you will be taken to the login screen. Enter your Twitter account's credentials and the next screen will ask you to give certain permissions to RecurPost in order to post on your account.
Don't worry, no personal information or login credentials will be saved or used by RecurPost. Click on 'Continue' and you'll be directed back to RecurPost, where you will see your accounts connected.
2. Create a one-off Post
One-off posts are helpful when you want to schedule a single tweet on multiple accounts. These updates will be shared on your accounts just once. To create a one-off post, click on the 'Share a post' button on the dashboard.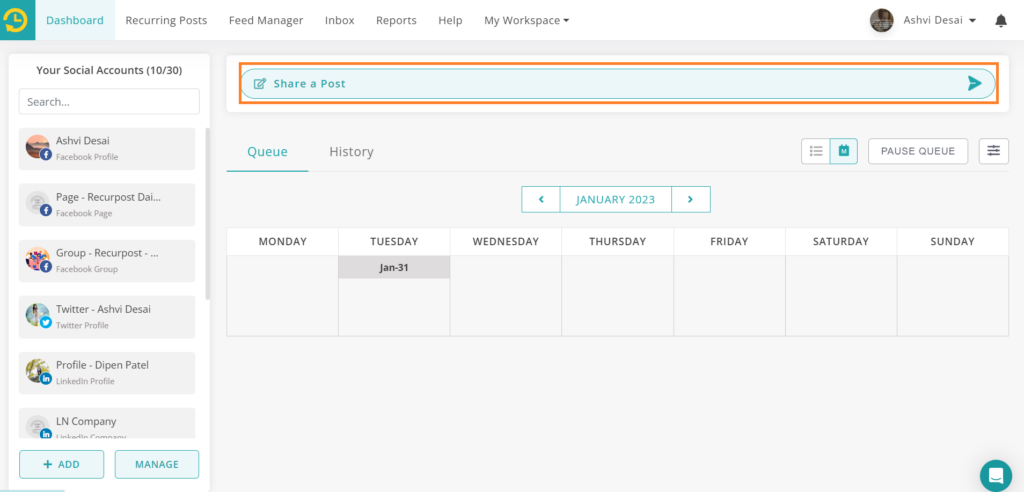 In the pop-up that appears, you will be able to add all the details of your tweet. Add description/caption, attach images/video or create a graphic directly from Canva, add hashtags, include emojis, insert a link (a preview will be automatically fetched), and select the Twitter account that you want to post on.
You can either schedule this post for a later date or post it immediately. Before scheduling or posting, you can also see the preview by clicking on the little eye button. To schedule your post, simply toggle on the 'Schedule for later' button and select the date and time according to your preference.
RecurPost provides one more exciting feature here, which is 'Auto-schedule for best time'. When you select this feature, RecurPost will study the engagement level received in your previous posts, find out your unique best time to post on Twitter, and schedule queue tweets accordingly. After adding all the details, your post will look something like this: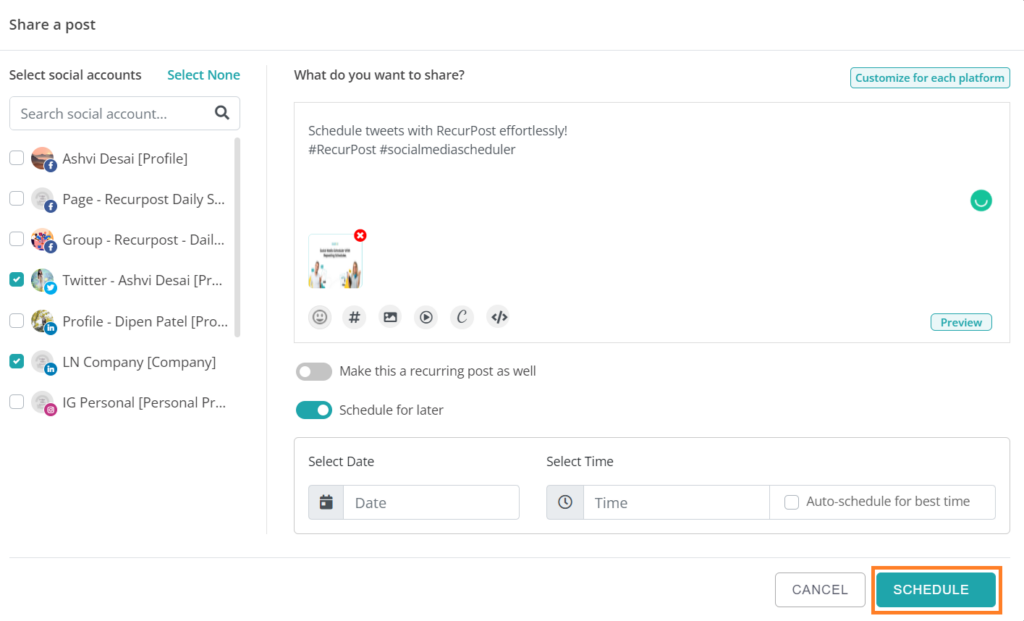 When you're done checking all the details, hit the 'Schedule' button and your post will be uploaded to your accounts when the scheduled time comes.
3. Add Content in Libraries
Libraries allow you to categorize your posts neatly into different spaces. You can fill them up with awesome content and schedule recurring tweets to make all that content go out in a loop on your Twitter accounts and other social platforms too. Your libraries can be found under the 'Recurring Posts' tab.
When you sign up, 3 libraries will be created by default. You can edit or delete them or create as many new libraries as you want. In these libraries, you will find many options to add recurring updates. You can add a single update, add images/text/link posts for social media bulk scheduling, add content through a CSV/excel file, import content from a social account, or set up an RSS feed.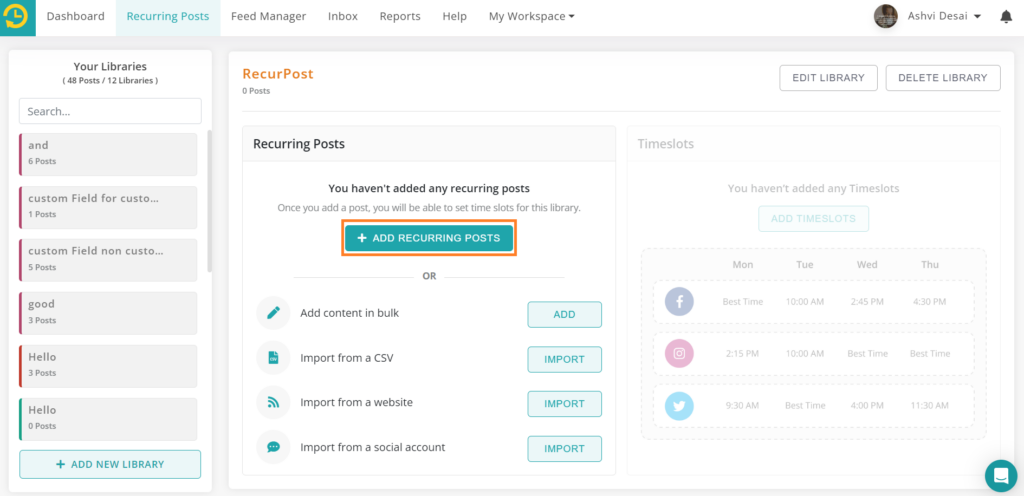 4. How to schedule Recurring Tweets
After adding content to your libraries, you need to schedule recurring tweets to let the posts go out on your social accounts. To set a recurring schedule, go to the library and navigate to the 'Recurring time slots' tab. Then click on 'Add recurring time slots'.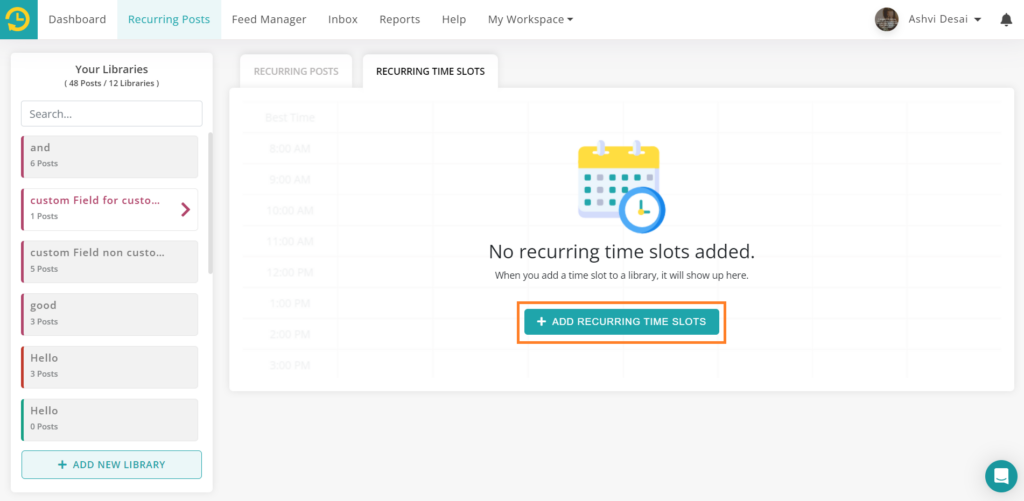 RecurPost is a free tweet scheduler. Here, you can select the frequency at which you want the updates to go out. Choose an option between weekly or monthly cycles, set the time, and hit the 'Add Schedule' button.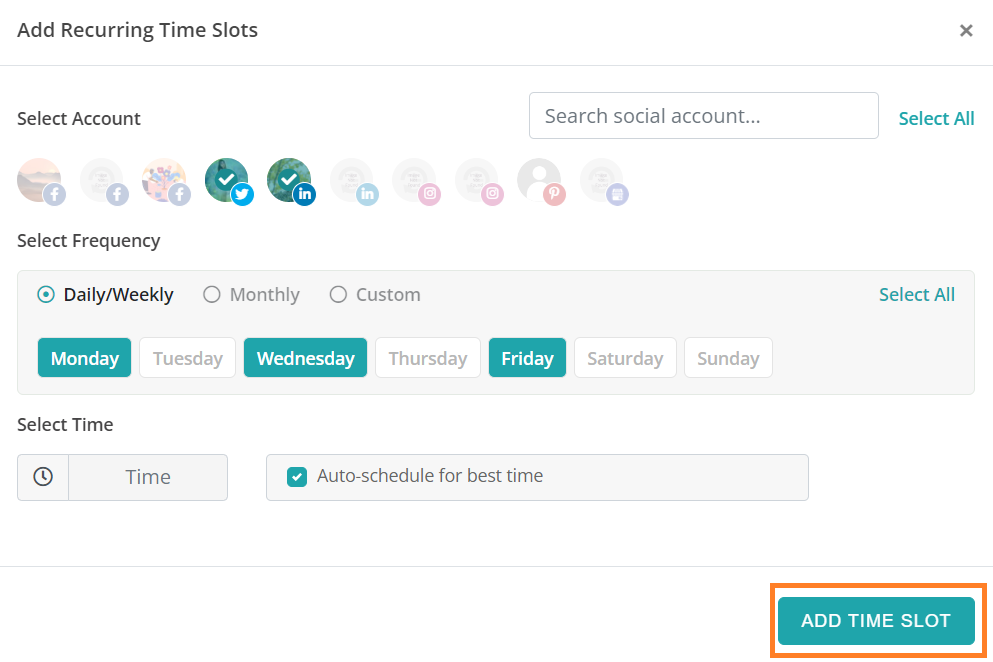 That's it! The content added to your libraries will be uploaded to your Twitter account as per the selected frequency. That's all you need to do to schedule Twitter posts using RecurPost's social media scheduling tool.
5. How to schedule multiple Tweets at once
RecurPost allows you to create as many posts as you want and schedule them as tweets on your Twitter account at once. When you schedule multiple tweets, it can be recurring or one-off posts scheduled for weeks or months. You can manually set timings for every tweet or allow RecurPost to use its AI-based software to post at the best time to maximize engagement with every tweet.
6. How many scheduled tweets can you have
RecurPost does not limit users by the number of scheduled tweets. You can schedule as many tweets as you want. You can schedule them as either one-off posts or recurring posts.
7. How to see scheduled posts on Twitter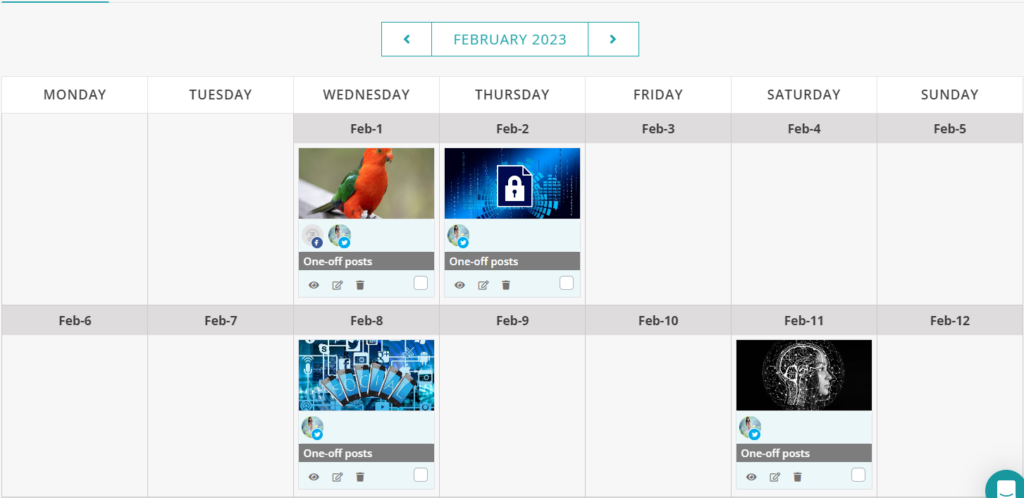 RecurPost enables users to see scheduled Twitter posts in the calendar view. You can see your scheduled one-off and recurring posts on your Twitter account from your calendar view. As I told you, RecurPost allows you to schedule any number of posts; however, you can view up to two months of posts in advance.
Is RecurPost effective in preventing Twitter bans?
To serve people with credible and authentic information, Twitter has limited the visibility of duplicate tweets since May 2022. It implies that you cannot repeatedly post the tweet with the same text, link, image, and hashtags.
At RecurPost, we allow you to create variations of the same tweet by changing content in every post. Creating variations fits you in the Twitter policy and helps you prevent your Twitter account from getting banned. At the same time, you can tweet the same message multiple times and get the most engagement out of every content you create.
RecurPost also allows you to add a tweet as a recurring post.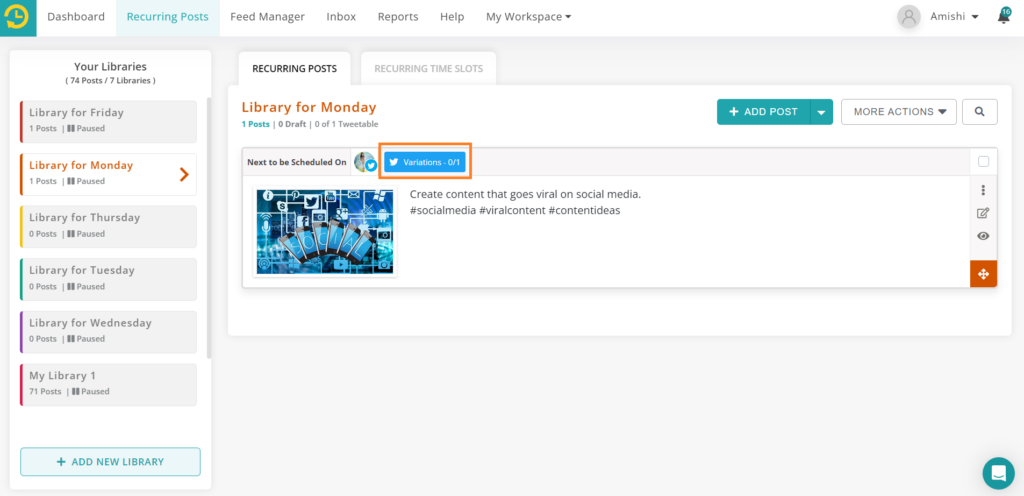 You can choose to add multiple variations by modifying one or more content out of the text, images, hashtags, or even a dot or a comma. RecurPost allows you to make variations of your choice.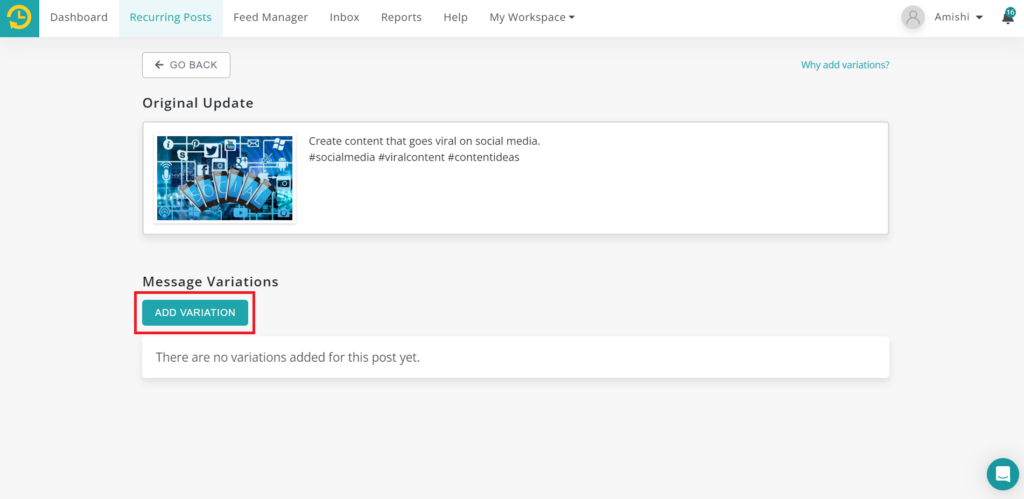 Click the button "Add Variation" and RecurPost will open the box where you can add content and add new hashtags or remove the old ones. By clicking the "SAVE" button you can add a new variation of tweets to the list.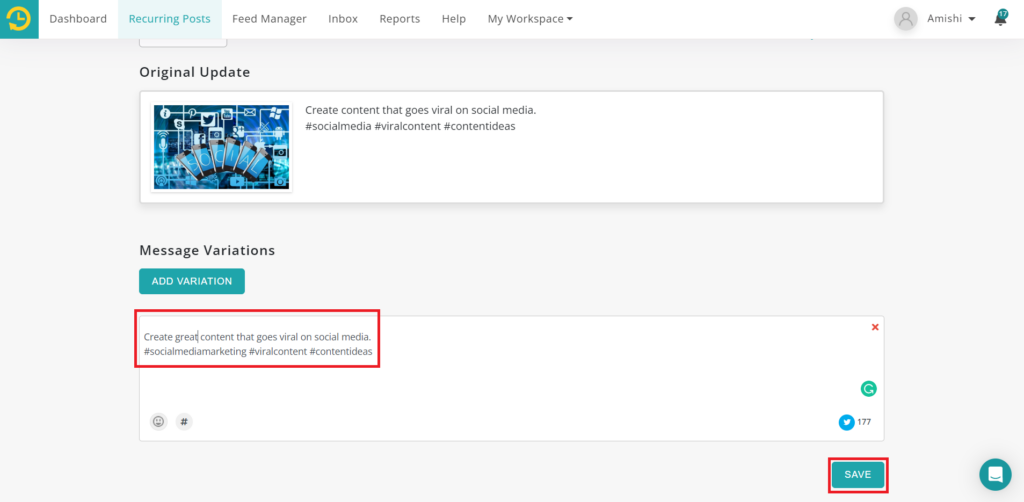 You can add as many variations as you want. While adding variations, if by chance you added identical content, RecurPost will disallow you to "SAVE" it and inform you with a message.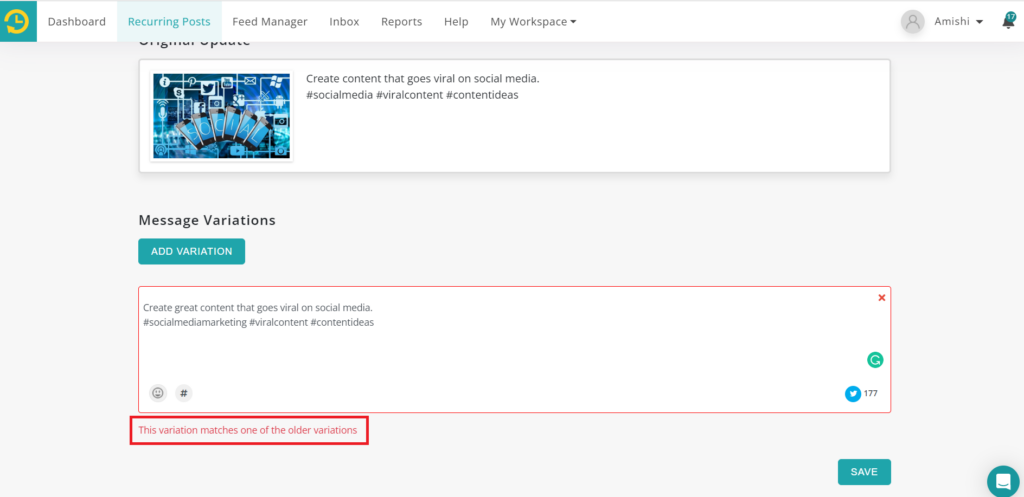 RecurPost will show you the list of tweet variations in the sequence you created them.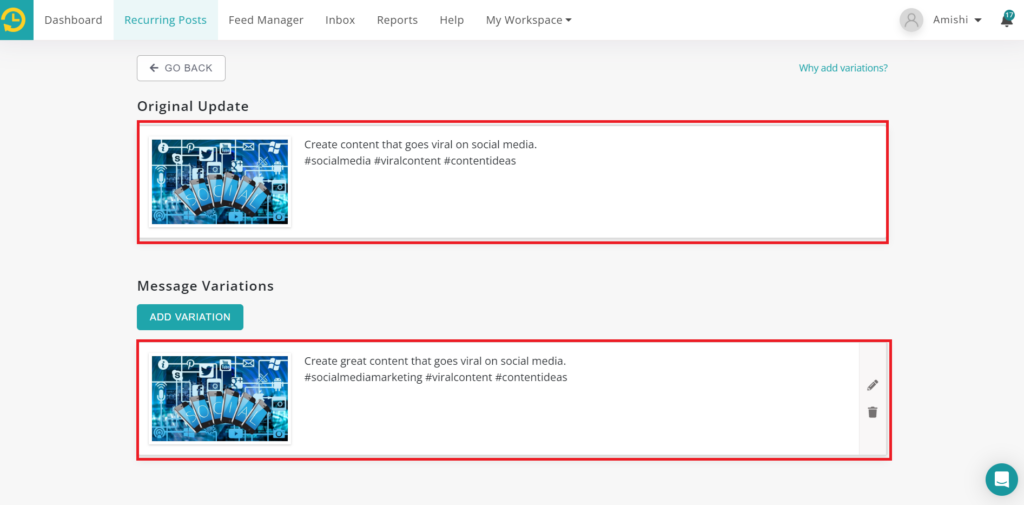 Once you created a list of variations, you can also edit or delete them if you want.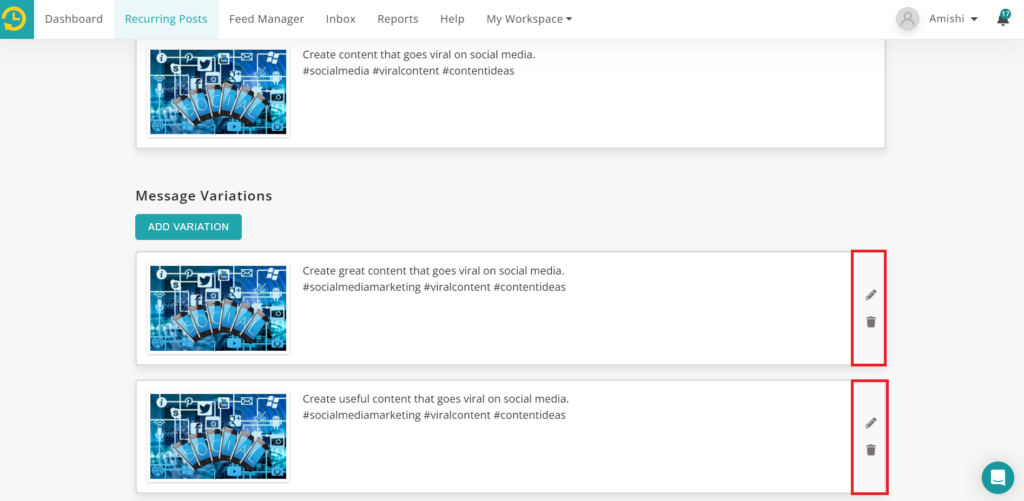 By clicking on the pencil icon, you can change the content and update it.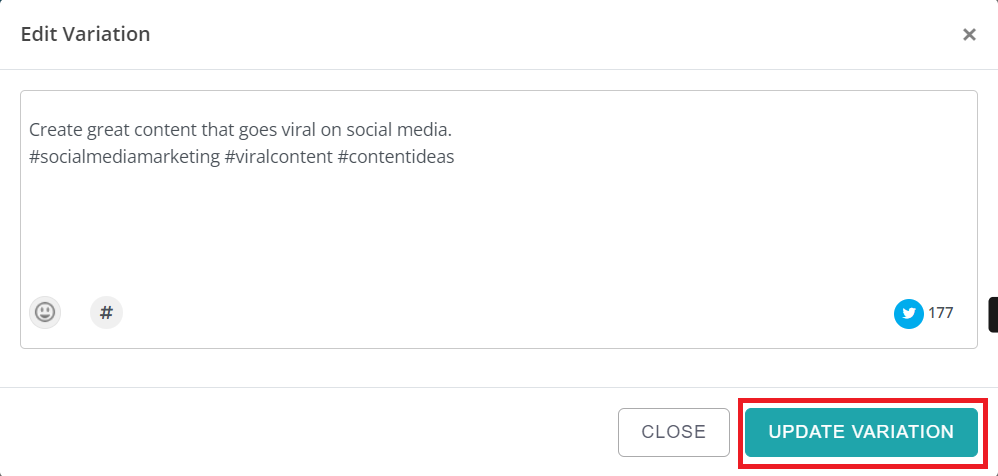 After creating variations, when you go back to the RecurPost dashboard, it will show you the number of variations for the scheduled tweets.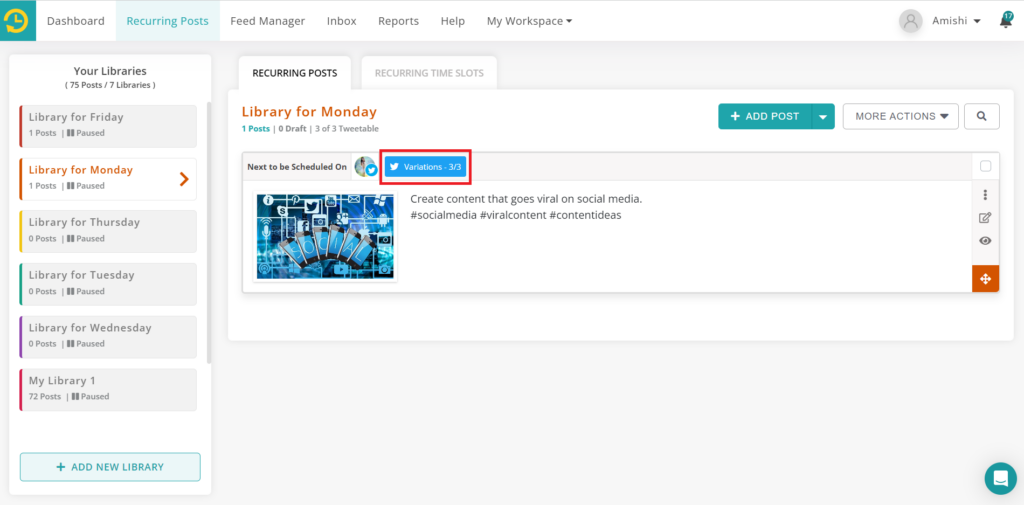 RecurPost allows you to schedule Twitter posts repeatedly by following Twitter guidance. Using RecurPost, you cannot post completely identical content. So you don't have to worry about your Twitter account getting banned.
7 Tips to automate tweets on Twitter
Here are the winning tips on how to automate tweets on Twitter.
#Tip1– Improve Productivity
You will save lots of time and increase your productivity as a result. What if you have to post every tweet manually? When the repetitive task is replaced with automation, it makes a difference in taking your posting to the next level of engagement. To make the best out of automation, you should know two things. One is what to automate, and the second is selecting the right tool.
#Tip2– Grow Followers
You can significantly grow your Twitter audience using tweet automation on Twitter. In addition to scheduling, following and unfollowing your Twitter accounts create impacts brand engagement. Effective automation of tweets helps you in boosting traffic and increase followers.
#Tip 3– Post at the right time
The right time to post makes a huge difference in engagement. While automation helps you select the best time to tweet, you should not blast out randomly. Instead, it would be best if you looked for the opportunity of the best time and then adjusted posting schedules accordingly.
#Tip 4– Use content more than product promotion
You should avoid tweeting only your content. Every time you tweet, you need to think about the content. No one likes to see the information that contains your product promotion. Whenever you post, you should mix up content that people want to indulge in.
#Tip 5– Drive meaningful results
You should keep a strategic approach to driving more traffic using Twitter automation. Extend your thinking beyond scheduling posts. Put your efforts that give meaningful results for your business.
#Tip 6– Track your tweeting efforts
It's essential to track your tweeting efforts. Once you start using Twitter automation, you should see whether it works for you. Once you identify what's working, you can get a better handle on your Twitter account.
#Tip 7– Use popular trends on Twitter
To make your tweet go viral, use the latest trend or associate your brand with some popular event. It would help if you tried to tweet to start a conversation with your audience. It helps your brand to build a solid presence on Twitter.
Tips To Go Viral on Twitter
Whenever a message goes viral on multiple social media channels, Twitter is always a huge part of the process. Newsworthy content spreads like fire on Twitter which makes it the perfect tool to create viral campaigns. Thus, if you also have content that has the potential to go viral, here are a few tips to set the momentum.
1. Create Content That Matters
Feeding your target audience with rich and valuable content is the key to going viral on Twitter. This valuable content can be anything that relates to your audience – news, product updates, memes, industry updates, etc. News and current affairs are the most shared content types on Twitter.
From current holidays and the weather to scientific studies and politics, people love to share about anything newsworthy. People engage a lot with such content and tend to retweet it often. In short, help your audience discover good content, and they will help you in making it viral.
2. Be Consistent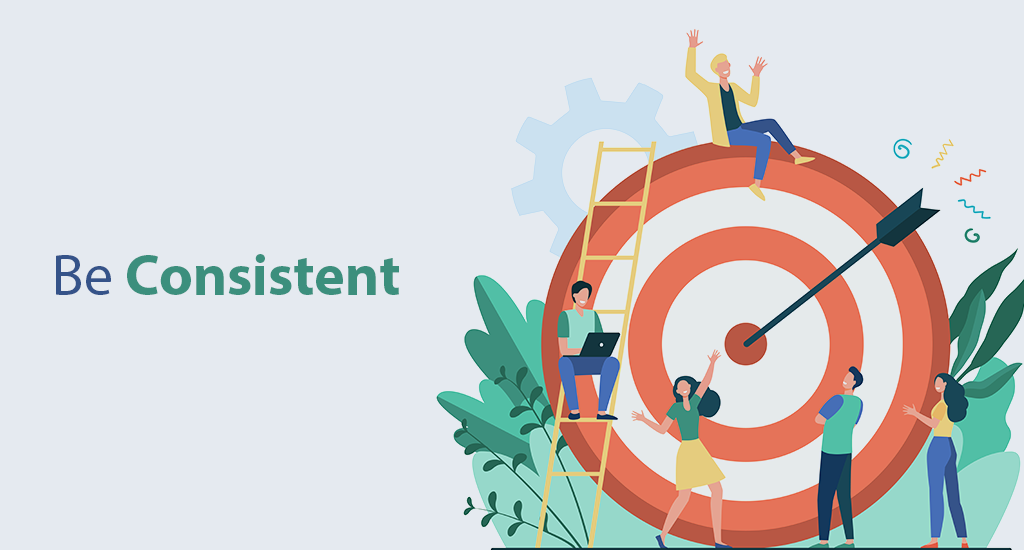 One of the most important factors for increasing engagement and attracting new followers is to stay consistent. You can't just post deep Twitter quotes once in a blue moon and expect your content to go viral. Twitter is a fleeting platform where on average 6000 tweets are tweeted every second! Thus, to make yourself noticeable on the platform, you need to tweet at least 3-4 times every day.
We know this can seem like a lot, to begin with, but once you figure out what to post, you will be able to fill up your content calendar easily. To avoid manually uploading multiple tweets throughout the day, consider using a Twitter scheduler beforehand. It will help you keep your profile always active without actually opening your Twitter account.
3. How to automate Twitter posts For The Best Times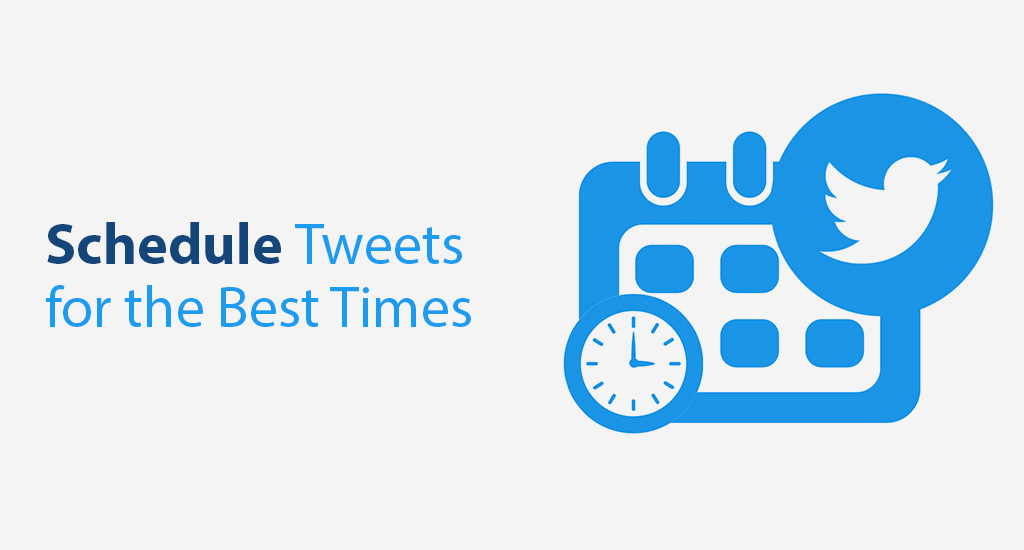 The time at which you post your tweets plays an important role in making your content discoverable by the right audience. Imagine coming up with killer content only to find that it doesn't even get a couple of likes. Well, it can happen if nobody is actually online to interact with it.
From your Twitter analytics, you can get some insights into the times when your followers are the most active. You can then run A/B tests and experiment posting at different times. If this seems like a lot of work, you can use RecurPost's free tweet scheduler which lets you auto-schedule for the best time to tweet. It's also amongst the great free Hootsuite alternatives in the market.
4. Inject Humor into Your Tweets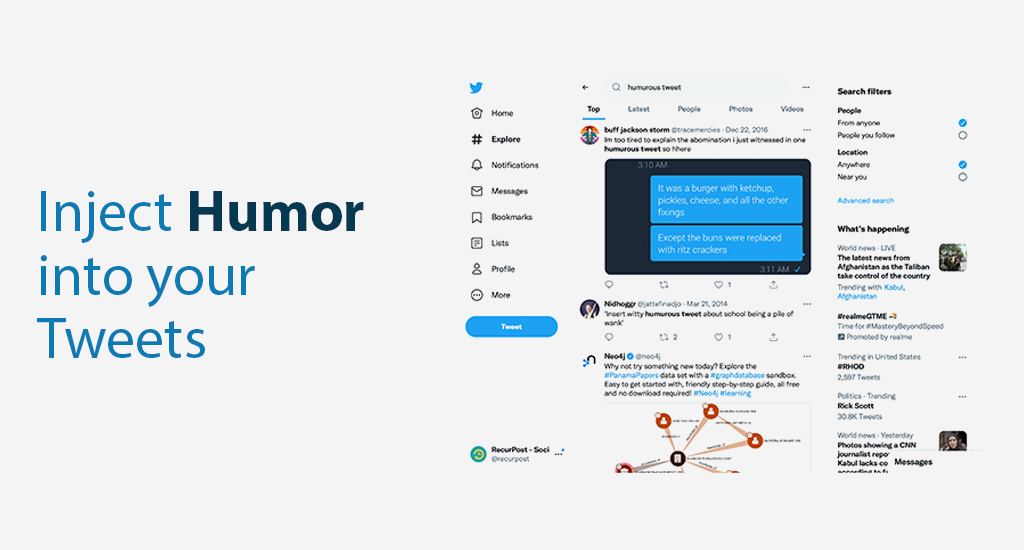 Not everyone is naturally hilarious, but try to incorporate some humor into your Twitter content strategy. Memes get shared like crazy and if you can create fun content that relates to your target audience, that can work wonders. If people appreciate your comedic gold, your content can go viral overnight.
As a matter of fact, some of the most viral threads include an element of humor. You don't have to scratch your head to craft out the perfect meme, it can be subtle and still catch the attention of thousands of people.
5. Use Relevant Hashtags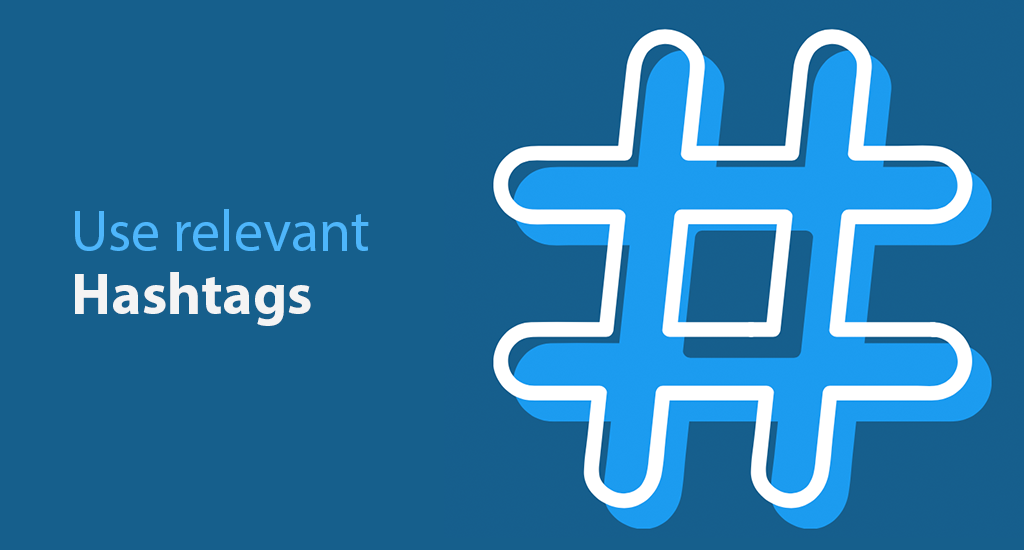 Hashtags are a sure-shot way of reaching a wider audience. They can improve the reach of your tweets and the power to go viral. Hashtags group tweets around a certain topic together in order to make tweets easier to find. Using trending hashtags can get more people looking at your content and engaging with it.
Trending hashtags can be found under the 'trending' section of Twitter. However, make sure that the hashtags you use are relevant to your content. Also, remember this isn't Instagram. You simply can't stuff too many hashtags in one post. Include 2-3 relevant hashtags per tweet at the most.
6. Engage with Your Audience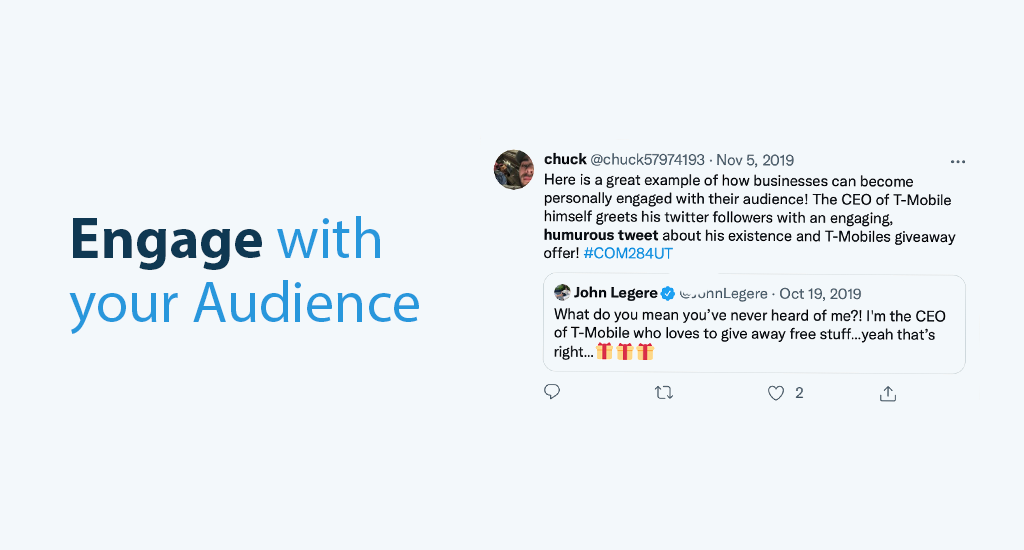 Social media, including Twitter, is a two-way street. You can't expect people to engage with your content if you don't interact with theirs. Like and comment on the tweets of your followers. If you come across a good piece of content, retweet it. These actions are most likely to be reciprocated by your followers.
Ask questions to people, conduct polls, host a Q&A session, share pictures with them, and offer rewards for retweets and favorites. This will encourage people to respond and interact with your tweets. Also, reply to each and every comment as well as DM that you receive. It gives out a sign that you're genuinely interested in building a connection with your followers. Along with that, Find at least 10 rivals and research their daily tweeting habits, responses to comments and retweets, sharing of personal experiences, etc. This will also provide you with a clear notion of how to get Twitter followers.
How to schedule tweets on Mobile
Currently, the Twitter app doesn't allow scheduling Twitter posts in advance. However, it is feasible to schedule posts using mobile from anywhere worldwide. RecurPost is an advanced Twitter scheduler offering modern scheduling features to access from your mobile platform.
How to Schedule tweets on iPhone
RecurPost allows you to upload a mobile app for iPhone through the Apple store. All the features you can access on a laptop can also be easily operated on the app.
Using the RecurPost app on your iPhone, you can create a post and schedule it at your convenience without needing a laptop. You can access prime scheduling features and a social inbox to communicate with your audience in real time and generate reports.
How to Schedule Tweets on Android
Using an Android mobile, you can download a RecurPost app through a Playstore. Using an app on an Android phone, you can do everything possible on a laptop.
You can schedule Twitter posts for the best time, targeting the right audience using appropriate hashtags. The RecurPost app enables you to create content, schedule them, and analyze the outcome of your posting.
How to use the Twitter tweet scheduler on Tweetdeck
You can go through the following steps to schedule Twitter posts on Tweetdeck.
First, sign in to your Tweetdeck account and click on the tweet option.
Select the Twitter account from the list you want to post a tweet.
Create a tweet
Schedule the day and the time you want to publish your tweet.
Click schedule tweet
Why can't I automate twitter posts?
If you cannot schedule a post on your Twitter account, maximize your draft window if it is in a minimized view. You should select the day, month, and year with a specific time in the calendar. While scheduling from Tweetdeck, it provides you a default time if you want to continue.
How to maintain social media presence other than Twitter using RecurPost?
RecurPost is a powerful social media management tool. It allows you to schedule Facebook posts on your profiles, pages, and groups. You can schedule LinkedIn posts on your personal and company pages for extending your reach on your professional network.
You can schedule Instagram posts on your personal and business profiles for posting reels, stories, and images. RecurPost is also a Pinterest scheduler that allows you to reuse the same images by scheduling pins.
List your business on GMB and schedule Google My Business posts using RecurPost to target your local audience and improve your ranking on google.
To sum up,
When you schedule Twitter posts, you can provide your audience with a constant stream of content to engage with, just like Clubhouse lets its clients take over. When people engage with your content and retweet it, new people discover your profile, thus increasing the chances of going viral. Twitter scheduler gives you the ability to multitask without making your content suffer, Making RecurPost the best out of Postfity alternatives.
You can keep up with your social media calendar without spending odd hours sitting in front of your desktop, and you simply won't forget to post on a busy day. In other words, when you queue tweets, you can uplift your Twitter Viral content marketing strategy.
So, what are you waiting for? Sign up for RecurPost's 14-day free trial today and automate Twitter posts in advance! Along with scheduling, you will be able to experience many other advanced features like social inbox, in-depth analytics, white-label reports, tweet variations, unlimited workspaces, team management, and more! Click here to sign up.
Frequently Asked Questions
1. Can I Schedule multiple Tweets?
Yes, you can schedule both, natively and using a Twitter scheduler. From Twitter, you can schedule only one tweet at a time. To schedule multiple tweets to create recurring schedules, you can use a social media scheduling tool like RecurPost.

Scheduling multiple tweets in advance can help you keep your profile always active without the need of logging in every now and then to post. With your tweet calendar sorted, you will be able to get plenty of time to engage with your target audience.

2. What is The Best Time To Post on Twitter?
In order to get the most out of your efforts on Twitter marketing, you need to know the best times to post on Twitter. Well, to be very clear – There is no 'one-time-fits-all' best time to upload a tweet. There are a lot of factors that will affect this timing including your audience, type of business, objective, and more. 

However, there are some general guidelines that you can follow to know your unique time. People tend to engage more throughout the weekdays and less on weekends as they're busy with personal activities. The overall best time to post on Twitter is from 9:00 AM to 4:00 PM and the best days to post on Twitter are Wednesday and Friday.

3. How Do You automate Tweets on Mobile?
Sometimes, you work on the go and occasionally have to schedule Twitter posts from your mobile phone or tablet. While the official Twitter app on iOS and Android doesn't allow you to schedule posts on Twitter, there is another way. RecurPost provides a tweet scheduler that lets you schedule multiple tweets both from your desktop and mobile. Its application is available both for iOS and Android users. 


It acts like a mini scheduler that you can carry in your pockets. You can upload content, schedule them as tweets, modify or delete schedules, and manage your Twitter accounts on the move. It lets you perform all the activities that you can do on the desktop.

4. How Many Times a Day Should I Tweet?
On Twitter, approximately 500 million tweets are made every day and the average shelf life of a tweet is just 18 minutes! These numbers practically scream that you need to post very frequently in order to make your content visible on your audience's feed. If you want maximum engagement per tweet, aim for 1-5 tweets per day. The sweet spot for growth is between 6-7 tweets per day on weekdays, and 3-4 tweets a day on weekends. 


You can experiment with different frequencies and find out what works for you the best. Twitter analytics can help you see which days are getting the most engagement. You will be able to know how many tweets you've shared on certain days which will help in easily correlating your frequency to engagement.

5. How can I get 1000 followers on Twitter?
To get your first 1000 followers on Twitter, follow the below tips:
– Choose a Twitter handle close to your real name
– Set a clear profile picture, cover photo, and fill in all details in bio
– Tweet quality content that includes something informative, educational, or entertaining
– Be consistent and tweet multiple times a day
– Use the right and relevant hashtags
– Tweet at times when your audience is the most active
– Aim for retweets by posting relevant content like words of advice, creative inspiration, or a funny feeling
– Run contests and giveaways
– Don't spread negative information
6. Can You Automate Tweets For Free?
It is possible to schedule Twitter posts for free using the native Twitter platform. However, you can only schedule one tweet at a time. Thus, if you want to schedule 3-4 tweets together, you need to compose them and schedule them separately. If you are a business or individual who manages just one or two Twitter accounts, this option might be feasible for you. Simply go to Twitter, compose your tweet, click on the calendar icon and schedule them for your desired date and time.
7. How Many Tweets Should I Schedule on Twitter?
You can always schedule posts on Twitter but there is no official limit announced yet. However, when Twitter thinks you're crossing the tweeting limit, it will send out an error message. Then, you will be allowed to try again later. At least Twitter doesn't suspend us for this one, yet! It is ideal to tweet 3-4 times or a maximum of 6-7 times a day. Anything beyond that would probably be considered spamming and irritate your followers.
8. Can I automate Twitter posts for free?
Yes, you can schedule one or two tweets natively straight from your Twitter account. If you have to manage multiple Twitter accounts, you need to invest in a Twitter scheduler like RecurPost to schedule multiple tweets in advance, which adds convenience and freedom. Marketers can use saved time in other tasks.

9. Can you queue Tweets?
Yes, you can queue tweets using RecurPost, a social media scheduler. Using RecurPost, you can schedule them for the best time or add them to an existing queue.
10. How many Tweets can you schedule on twitter?
Twitter's native platform doesn't have a built-in feature for scheduling tweets on Twitter. However, there are third-party tools and applications like RecurPost. RecurPost enables users to generate an unlimited number of posts for Twitter and schedule them collectively.
11. How to see scheduled Tweets?
If you are using scheduling tool such as RecurPost then it enables users to see scheduled Twitter posts in the calendar view. You can see your scheduled one-off and recurring posts on your Twitter account from your calendar view.
12. How to schedule recurring Tweets?
To schedule recurring tweets, follow this steps;
1. Sign up: Click sign-up, enter details, and access dashboard.
2. Connect Twitter: Click 'Add social accounts', choose Twitter.
3. One-Off Post: Click 'Share a post' on dashboard.
4. Recurring Schedule: In library, select 'Recurring time slots'. Add weekly/monthly time, click 'Add Schedule'.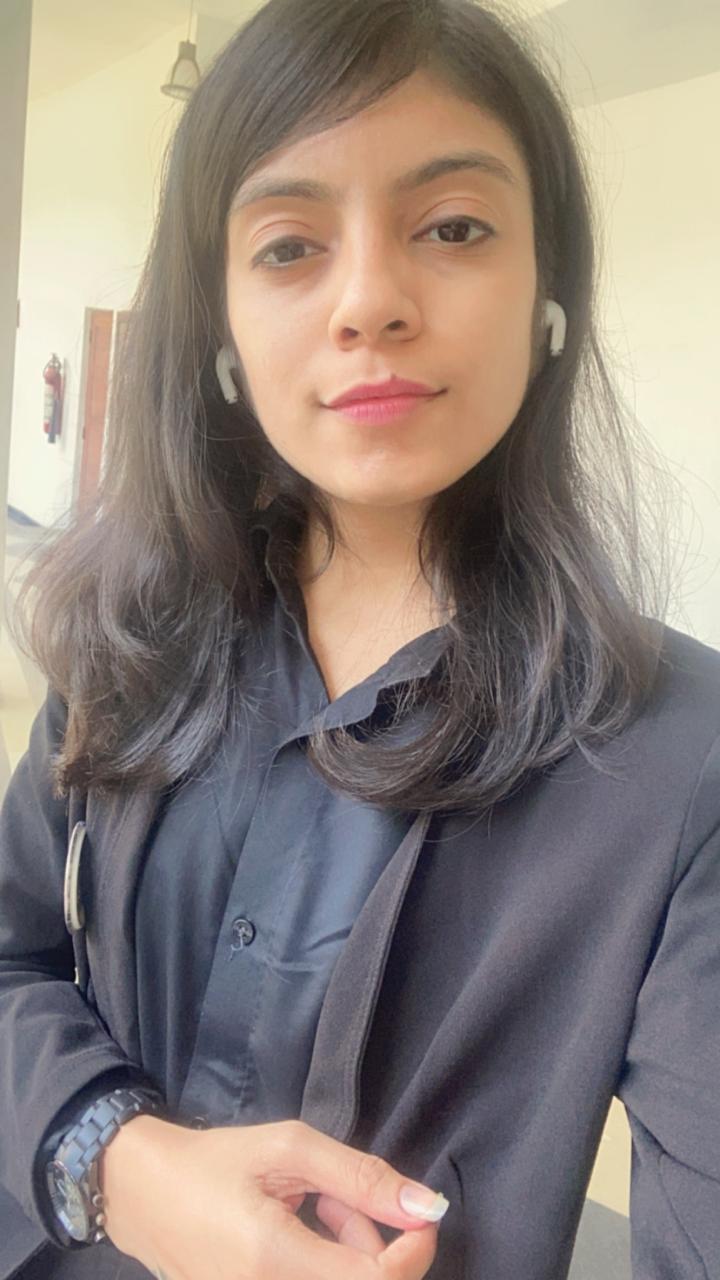 Amaiya Rathi is a Senior Content Writer at RecurPost. She helps RecurPost communicate with their readers in their own language. Whether it is the web copy, social media posts or blogs, Amaiya has worked on all aspects of copywriting. You can reach out to her at [email protected].