Do you want to know how to schedule tweets and boost engagement? You have come to the right place!
Any regular person would know how difficult it is to create a Twitter account that has momentum regularly. Much time and effort is involved in tweeting, retweeting, responding, and adding value or executing Twitter's Marketing Strategy. Now, if you are a social media manager, things become all the more difficult because you clearly won't have ample time on your hands.
Additionally, as per the Twitter algorithm, most tweets we see on our timeline are displayed in reverse chronological order. This implies that there are optimal times to post that help you attain higher engagement figures. Since you won't have time to wait around for the best time to post on Twitter, you should go for a social media scheduler, so that you can schedule tweets at once.
This blog will run you through the following questions
How would Tweet scheduling help you

How to schedule Tweets to boost engagement?

Best practices to follow for Twitter tweet scheduling
How would Tweet scheduling help you?
Scheduling tweets for multiple Twitter accounts in advance can make your engagement figures sky-high. Isn't this what you want? Isn't this what everybody wants? One might wonder why it is important to pre-schedule because the content itself is enough to drive engagement. This is true only to a certain extent. To get maximum engagement on your tweets, you need to make sure the maximum number of people see them. That means you will have to figure out the best & worst time to post on Twitter and pre-schedule accordingly. These are some additional benefits of using a Twitter tweet scheduler:
You will tap into

global

masses
The number of users that Twitter has is a whopping 260 million across the globe. It is a gem of a platform to tap into potential international clients or customers.
You will save more time to be effective on important tasks
Automation of any kind frees up the extra hours for productivity. This stands no different for scheduled posts on Twitter. When you choose to Automated Twitter Tweet Scheduling, you will have to plan social media content well ahead in time. This will free up the hours that you would have to spend on research otherwise. You can always use automation tools like RecurPost to be more efficient. This tool will list out the Best Times To Tweet and schedule accordingly.
You will attain consistency in your content
If you have studied social media patterns, you would know that staying consistent will take you miles in driving organic traffic to your page. You cannot afford to go on and off because that will reduce trust and engagement among your Twitter community. Try to post consistently to have a uniformly filled Twitter feed and build trust among your followers.
How to schedule Tweets to boost engagement?
If you want the engagement numbers coming your way and if you are serious about driving content goals, your best bet is a social media automation tool. RecurPost is a platform that will give you all automation services under a single umbrella and at a good price point. The scheduling process will be easy and upfront. Your Twitter handle will literally be handled by RecurPost. Additionally, you can use RecurPost's feature social media bulk scheduling for automation, as it provides all the features you might need for posting to all different platforms at a low cost.
You can even create recurring schedules and schedule tweets from multiple accounts. Here is how to schedule tweets with RecurPost in the simplest manner:
1. Connect your Twitter profile from the dashboard
The first thing that you will have to do is add your Twitter account or connect it to the RecurPost app. For this, you will have to log in to your account and go to the dashboard. You will see an option to add your social accounts on the left-hand side panel. Click on that.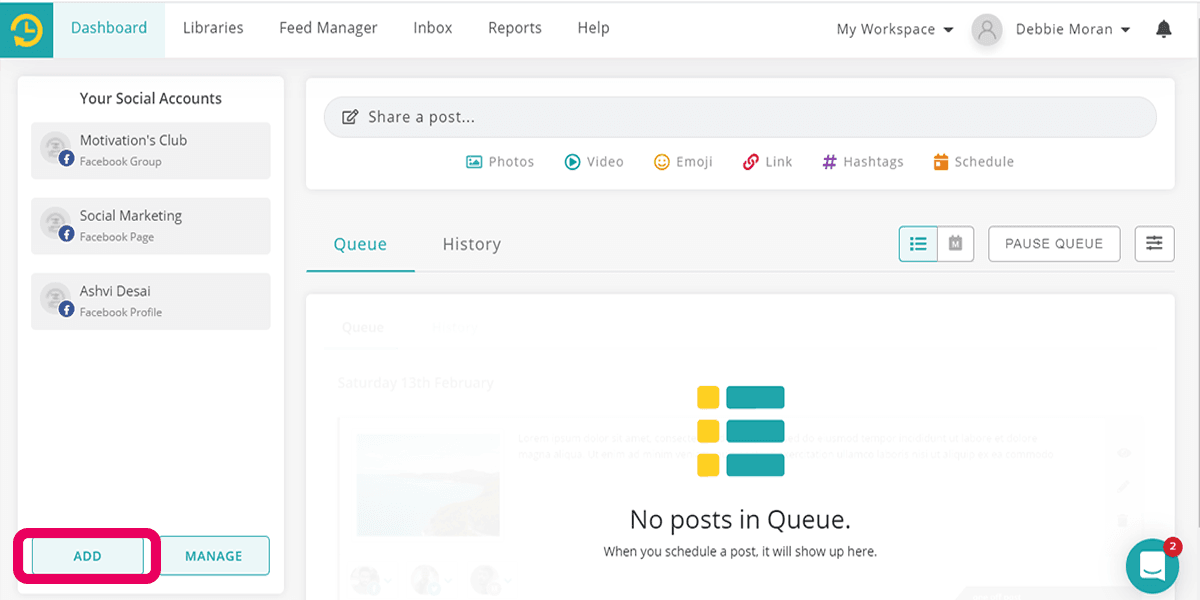 2. Select the Twitter profiles you want to add
After clicking on the "Add" button, you will see a pop-up on your screen wherein you can choose from the platforms that you want to add. For now, you have to click on the page button under the Twitter category. Once you do that, you will get the option of adding account details and granting permissions. You will be done adding your account post and it will be connected to the RecurPost app.
3. Create a Tweet
Select the profile that you want to schedule the Tweet for. Note that you won't be able to schedule the same tweet for all your Twitter handles as per the latest Twitter policy. But worry not, RecurPost creates tweet variations to tackle that.
Once you select the profile, you can click on the option that says "Share a post". Add in your Tweet content where the description box asks you to.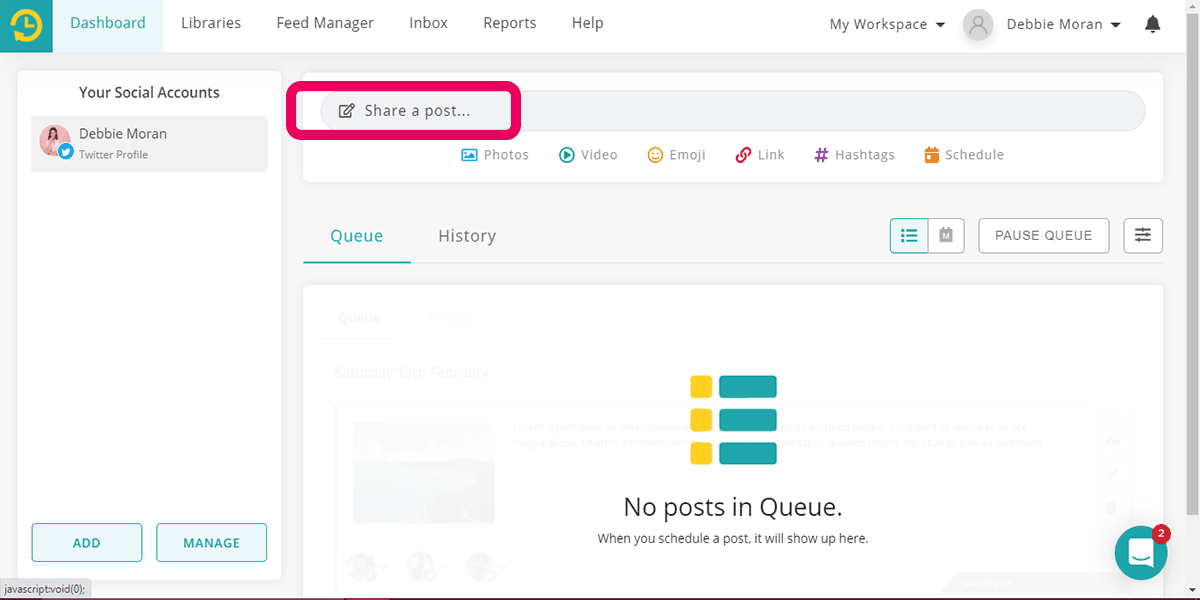 You have the following options to add to your post:
Photos – Tweets that have an element of graphics are likely to stand out and get more attention than plain text. They get more clicks, likes, and retweets according to a study by HubSpot.

Videos – Twitter says that videos are likely to get 6 times the retweets that photos get. Video Marketing is the trend that dominates today.

Emoji – Emoji have a way of perking up plain text. They make your piece interesting to read and even add life to it.

Link – adding links to your business pages or website landing pages is a great way to drive traffic.

Hashtags – Using hashtags will take you forward in your SEO game. They can let you reach an untapped audience and make your piece highly and widely visible.
4. Time to put it on schedule
Once you are done crafting your content for tweeting, you are ready to put it on schedule for publishing. Here is your answer for someone who has wondered about how to schedule tweets. You have the following options when you choose to know how to post on Twitter to automate your scheduling tweets:
Post now – If you want the tweet to be posted just when you create it, you can choose the option that says "post now"

Schedule for later – If you want your tweet to be posted on a later date, you choose the option that says "schedule for later". Add in the date and time of posting.

Create a recurring update – If you want that your tweet schedule repeats itself, you can select the option that says "Repeat this update".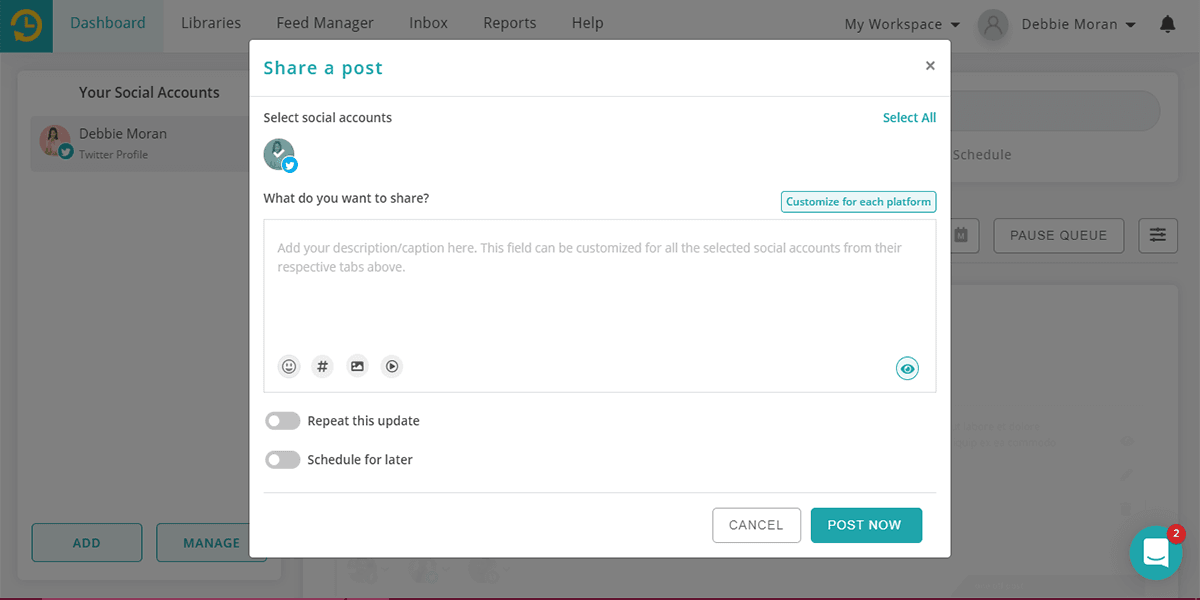 You make it to the end of all these steps and you are done! Your tweets are scheduled and ready to roll out.
Read More: How to Use Twitter For Business: 17 Tips to Promote Brand
Best practices to follow for Twitter tweet scheduling
Checking the frequency of tweeting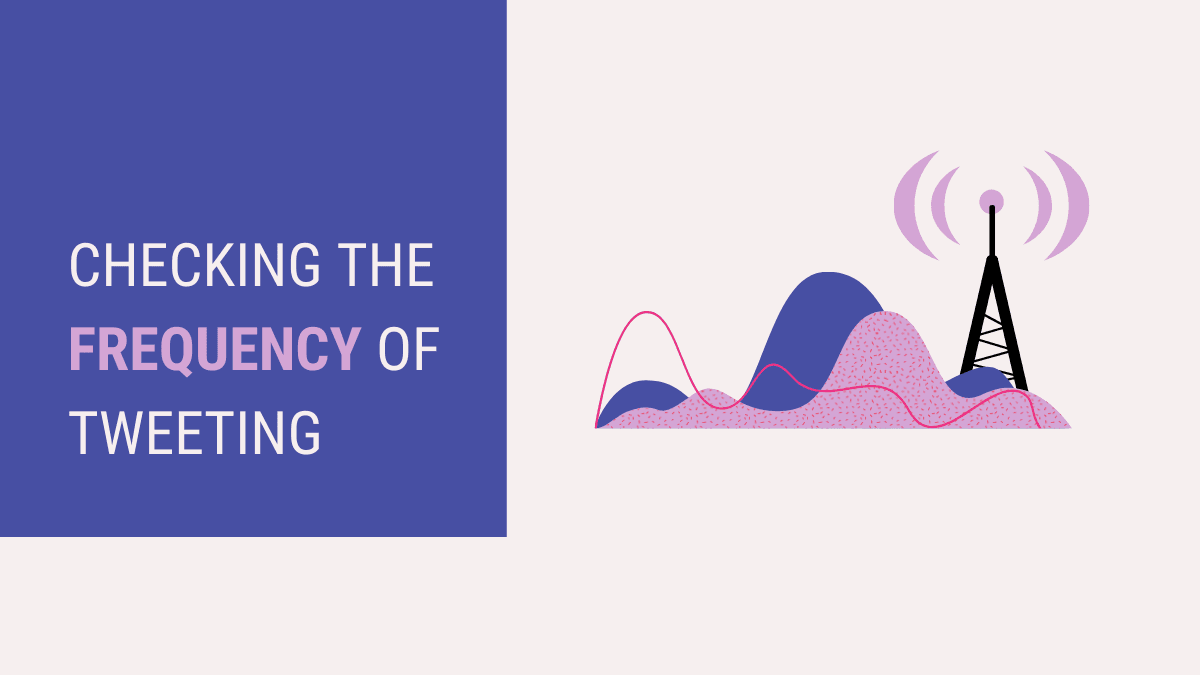 Many studies say that the optimal frequency for tweeting is about 3 tweets a day and even went up to 50 tweets per day. However, there are a few things you should consider while deciding on the frequency of posting.
Your goal for Twitter marketing – You should be clear about what you want to achieve. It could be engagement or impressions. Your frequency of tweeting will depend on that.

The hours you have on your hand – A specialized social media person would have all the time one could need for tweet scheduling. But if you are a business owner with limited time for social media, your tweet frequency will be less with regards to the time you have.

Do you want to publish good content? You could have set a certain frequency of posting goals. But you should never post blindly just for the sake of that goal. Make sure that the content you tweet is of good quality and capable of holding user attention.
Study the best times for posting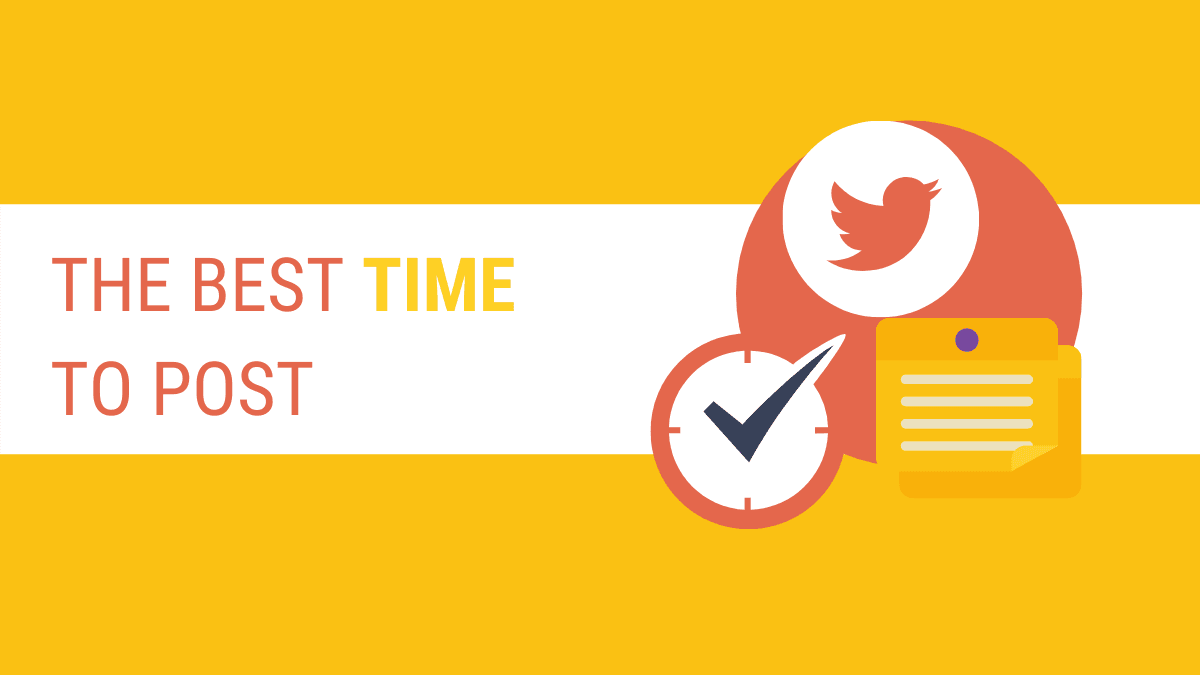 There are always the best and worst times to post on social media. Thankfully, RecurPost gives you a report of your best-performing tweets and you can see what time they went out. The app also suggests the best time for posting of course. These are the times when your followers are most active and likely to engage with your posts.
Monitor your tweets after scheduling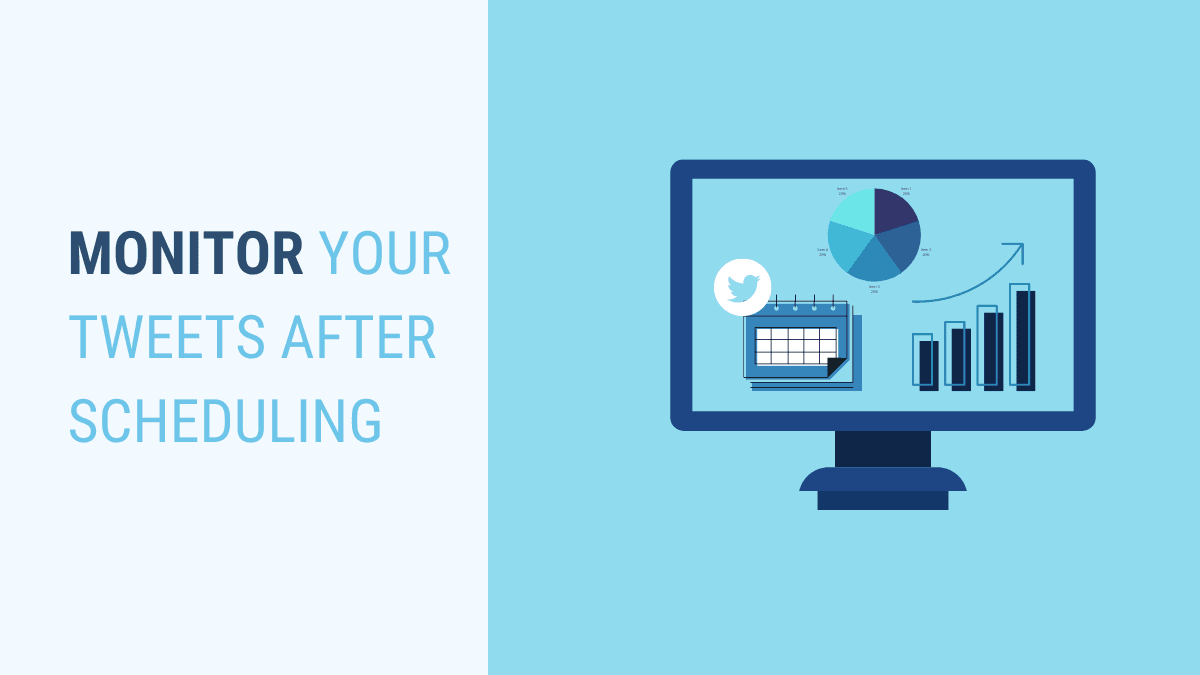 Yes, automation will take off a huge load off your shoulders. But that does not mean you leave control over what you post after it is scheduled. As per social media algorithms, responding to your audience is the best way to increase engagement on your tweets. Also, being active in real time is very important. If there is a tragedy or disaster that your scheduled tweet can deem insensitive, you need to pull it out immediately.
Conclusion
This was your guide on how to schedule tweets for gaining higher engagement numbers. Getting good engagement on Twitter is a dream that many social media marketers take on. The key to this lies in gaining a thorough understanding of your target audience and serving what they desire.
Automating the scheduling of your tweets will allow your content to be on the frontline when the audience is most responsive. And just as we mentioned in the blog, it will free up those extra hours that can be used for strategy building. Social media scheduling tools like RecurPost can take you forward in your pursuit of higher manage multiple Twitter accounts engagement.
It allows you to schedule Facebook posts on your profiles, multiple groups, and pages. You can schedule Instagram posts with reels and stories to entertain your audience by sharing information with fun.
You can also schedule LinkedIn posts on your personal and business pages to build your network of professionals related to your industry. Also suitable for visually inclined marketers, RecurPost is a perfect Pinterest scheduler. It is possible to schedule Google Business Profile posts with a call to action buttons to attract local buyers and grow business.
You can also check how RecurPost happens to be one of the best eClincher alternatives and free Hootsuite alternatives with a detailed comparison. They have very attractive plans and pricing about which you can learn here.
Frequently Asked Questions
1. How to create scheduled tweets?
Here is an excerpt taken directly from Twitter's help center: (Source: https://business.twitter.com/en/help/campaign-editing-and-optimization/scheduled-tweets.html)

– Log in to ads.twitter.com.
– Navigate to the "Creatives" > "Tweets" tab.
– Click on "New Tweet" in the top right corner.
–You'll be redirected to the Tweet Composer, where you can create your Tweet. Add your copy, photos, videos, and cards here. 
– Choose "Promoted-only" or not. Selecting "Promoted-only" will deliver your Tweet only to users targeted in a Promoted Ads campaign, not organically to your followers. Unselecting this will schedule an organic Tweet.
–You can only unselect "Promoted-only" when logged into your ads account.
– Once you're finished, select the down arrow button next to "Tweet".
– Choose "Schedule" from the drop-down menu.
– Select the date and time you want your scheduled Tweet to go live. 
2. How do you automate a tweet?
It is very simple to automate tweets. All you have to do is take up a plan with a third party tool like RecurPost. You can link your Twitter account with the app and begin scheduling tweets. You can choose your schedule of posting and RecurPost will take care of the rest.
3. Where can I schedule tweets?
You have the option of scheduling tweets directly from the Twitter portal or you can use a third party app like RecurPost. This social media scheduling tool will let you manage all your tweets and notifications, retweets and sharing, via a single platform. You can create tweet variations with RecurPost.
4. Can you schedule post on Twitter?
Yes, it is very much possible to schedule posts on Twitter. You can pre-schedule content directly through the website or by using a social media scheduling tool.
5. How to schedule tweets via the Twitter app?
Here are the steps to follow for scheduling tweets on the Twitter app:
– Open the Twitter app on your phone and ensure that you are logged into the right account.
– Create your tweet and add in the media you would like.
– Click on the calendar/clock icon to open scheduling options.
– Select the date and time as per your time zone.
– You are all done. Click the "confirm" icon on the top right corner and your tweet is scheduled.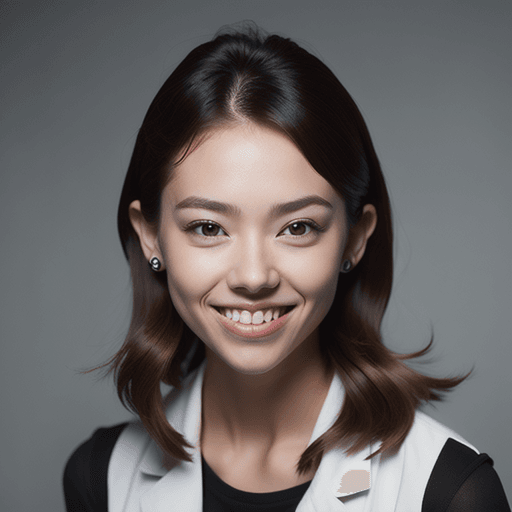 Debbie Moran is a Digital marketing strategist with 5+ years of experience producing advertising for brands and helping leaders showcase their brand to the correct audience. She has been a part of RecurPost since 2019 and handles all the activities required to grow our brand's online presence.