Facebook repeating posts can save you a great deal of time and energy while scheduling content for Facebook.
With the massive popularity that social media giant Facebook has gained, it is vital to have a social media presence on the app. To remain active in the game, one should know how to manage and schedule Facebook posts in advance with any social media scheduler.
Scheduling posts on Facebook will ensure that your content gets published on time and that it gets absorbed by a diverse set of audiences belonging to varied time zones.
Multiple social media scheduling tools are available in the market to help you with this. These will ensure that you remain efficient instead of focusing just on closing a sale. These will also help you create Facebook repeating posts that will further your efficiency or time management.
Let's say you want the same post to go out on Monday, Wednesday, and Friday every week, and you want to automate the posting. All you have to do is pick a scheduling tool that lets you automate repeated posting on Facebook and you're good to go.
The best pick for Facebook repeating posts?
RecurPost is a great option that provides an amazing basket of features at a reasonable price point. It is a social media scheduling tool that allows you to share updates automatically at the best time, saving you abundant hours and boosting your social media engagement every week.
As a Facebook Post Scheduler, RecurPost allows you to schedule content for a future date and also create recurring schedules.
You can schedule recurring Facebook posts on your profile and your Facebook groups using RecurPost's automation services. The automation tool will help you out with the best time to post on Facebook, and then you can schedule posts accordingly.
The steps to follow for scheduling Facebook repeating posts on a group
1. Adding your social account (Group)
The very first step that you will have to take in order to initiate automatic posting to Facebook groups will be to add your account to the RecurPost.
For this, you will have to login to your RecurPost account and go to the dashboard. On the left-hand side, you will see an option on a panel that says "Add", click on that.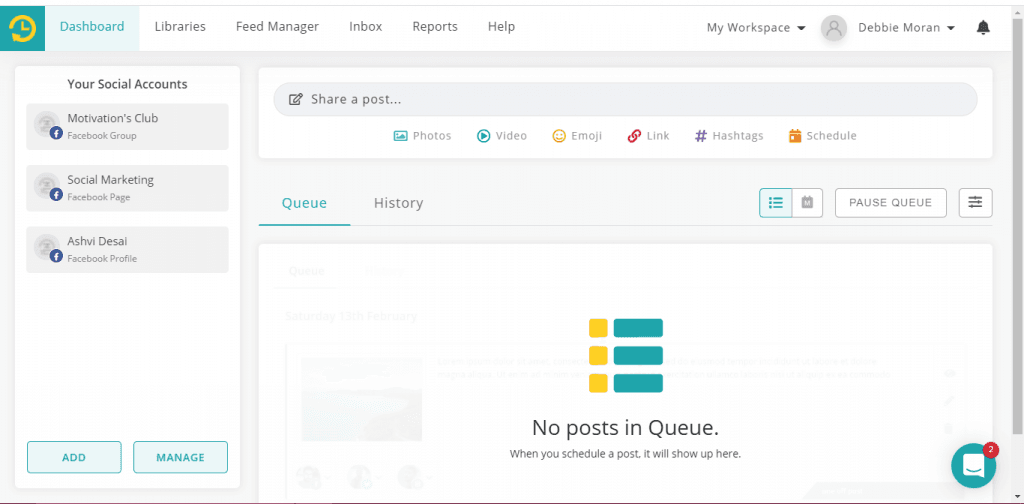 The following pop-up window will appear on your screen. Under the Facebook section, select the option that says "Group".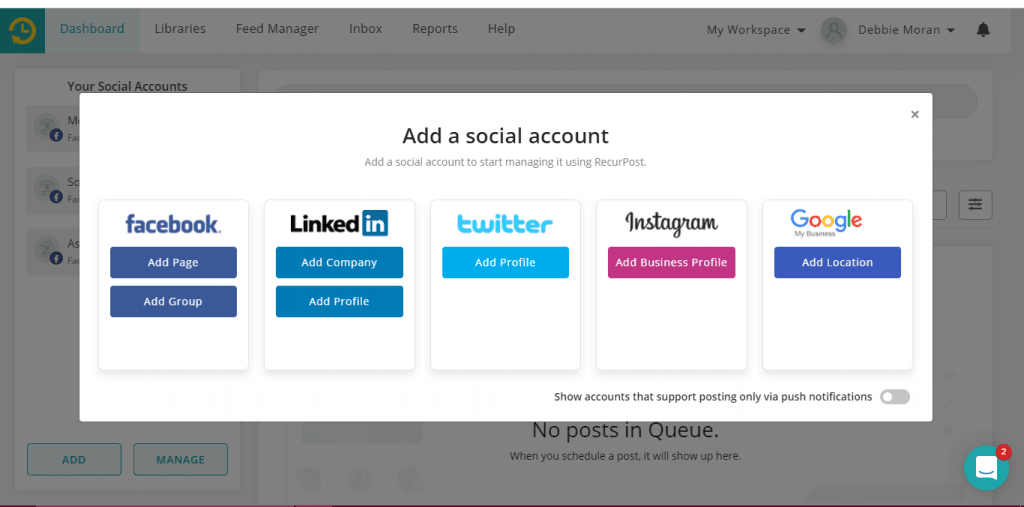 Now, a list of groups that you administer or are a member of will appear on your screen.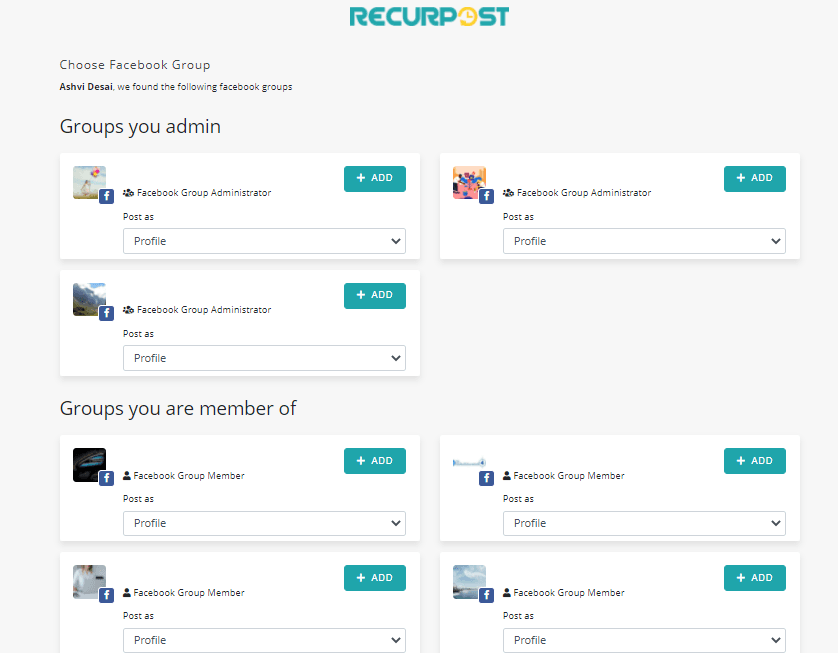 Select the group that you wish to add and meet all requirements posed by the app and you will find it added to your RecurPost account. You are now ready to begin scheduling posts on it.
2. Create content libraries
In order to add content or create Facebook repeating posts, you will have to create your content library first. These will store all your content from which you can create repeating updates.
Go to the libraries section on the dashboard. On the left-hand side, you will see a panel that will give you the option of "Add new library". Click on that and you will the following window: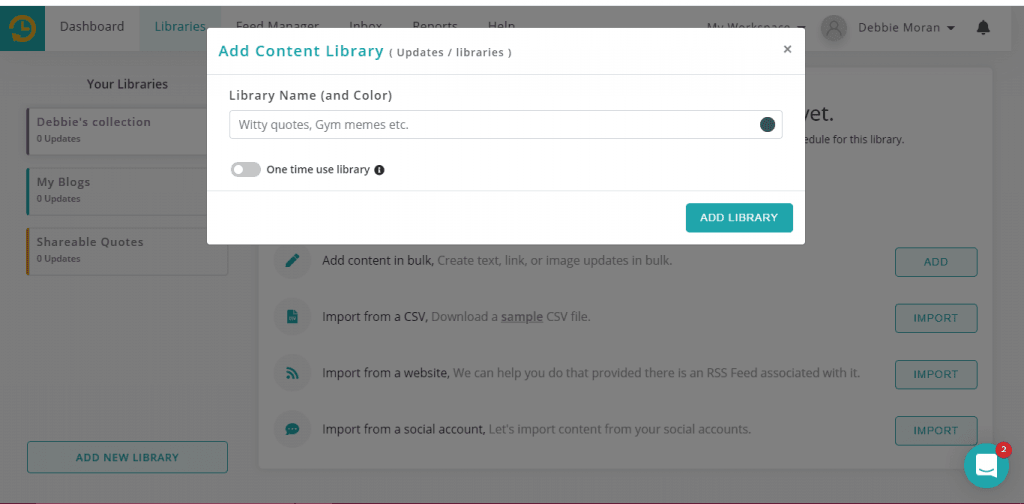 Add in your preferred title for the library you want to create and associate a color tag for it. Do not push the slide on the option that says "one-time use library" because you want to create Facebook repeating posts. Click on "Add Library".
3. Add the content to your chosen library
After adding a library section, select it and you will see multiple options for adding content in it. This is what it will look like: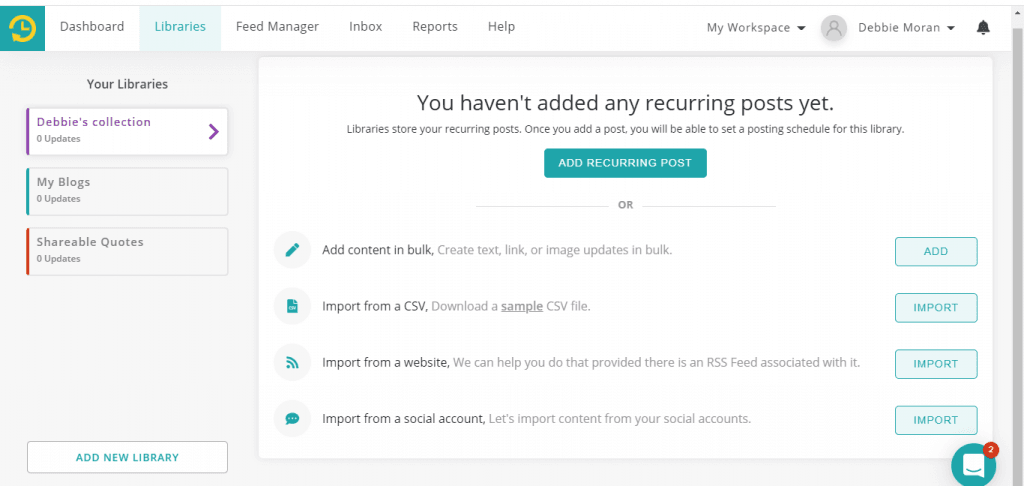 If you choose to add a recurring post, you will see the following window on your screen: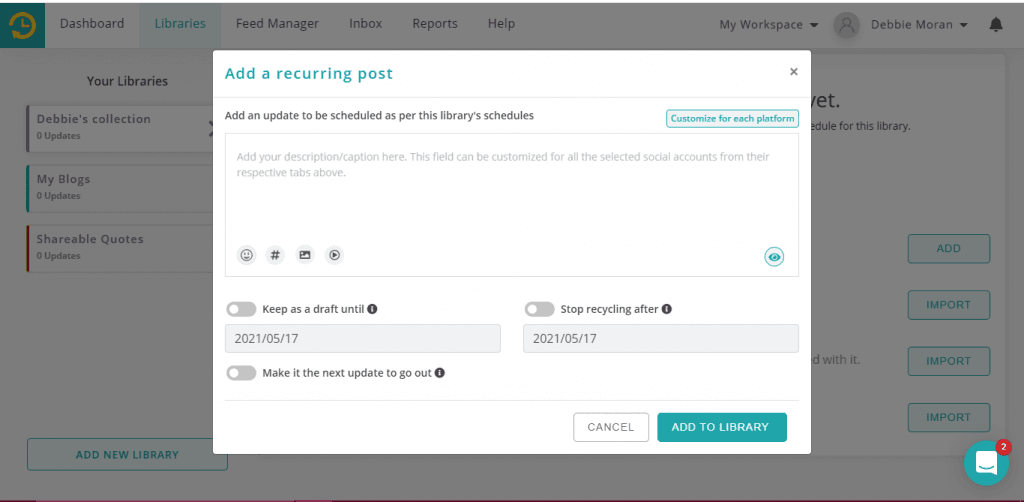 You can add the content here along with your choice of media. Also, there is the option of customizing it for each platform but here we will focus on automatic posting to Facebook groups.
You have three more details to fill in where you can add a date till which you want the content to remain as a draft and not get scheduled, add a date on which you want the final update to go out and not any post that, and you will have an option to make it the next update to go out on your chosen platform.
Once you are ready with these details, you can select "Add to library".
You also have the option of adding content in bulk. Here you can upload content by importing from a CSV file, importing from a website, and importing from a social account.
4. How to post on the Facebook group as a page
When you add a Facebook group, you will publish or repost posts through your Facebook profile by default. But, if you wish to post on the group as a page, you can do so. This can be achieved when your Facebook page is connected to your RecurPost account, and you are the admin of that page.
While adding a group, you need to choose the desired page from the drop-down window and add the group.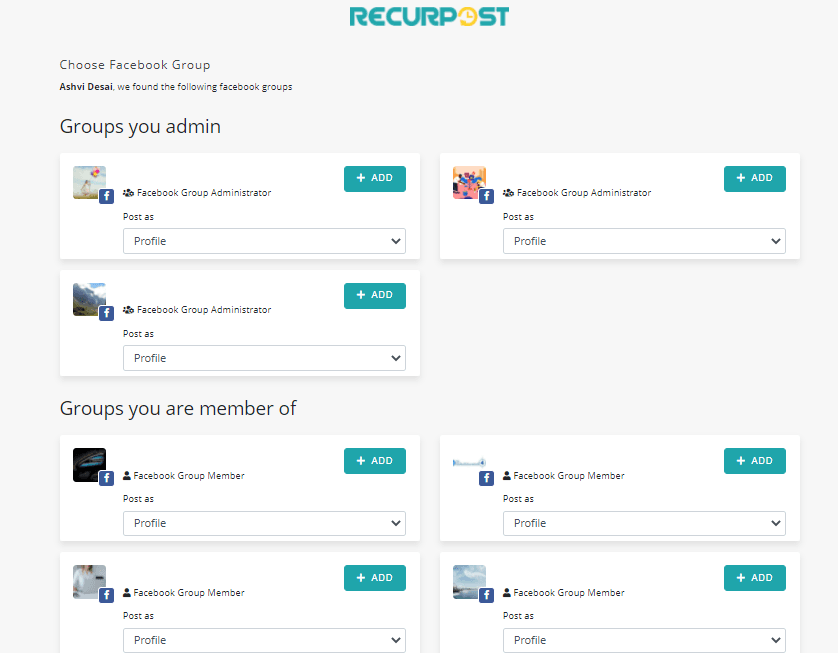 You have the liberty to make changes to these settings anytime you want. For doing so, you can go to your dashboard and click on the manage button.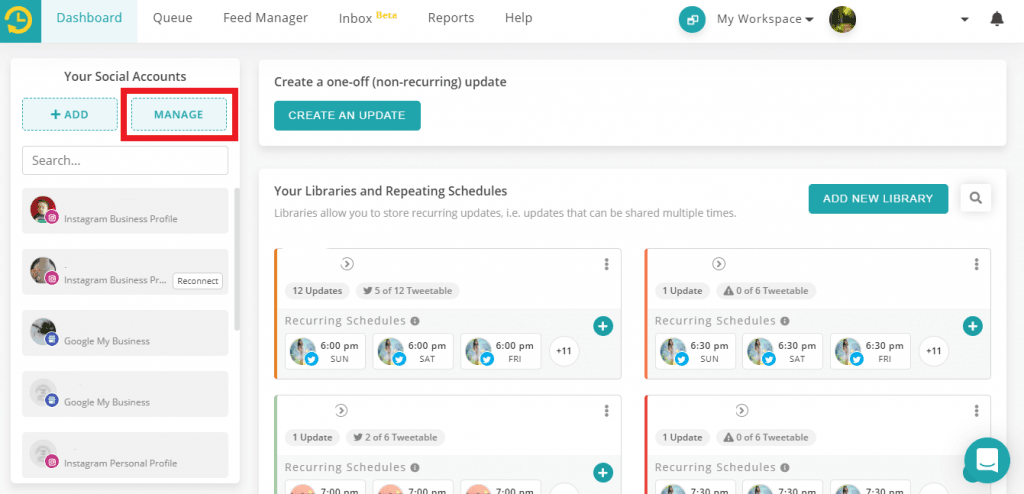 You will see the following pop-up on your screen from where you can select the Facebook group you want to make changes to, do the needful, and save.
You are done here! This is all you need to schedule Facebook group posts as a page.
Read More: How to Make a Post Shareable on Facebook?
Scheduling posts on Facebook profile
Facebook Inc. has made some changes in their policy lately and posted that, most social media schedulers stopped supporting Facebook profiles as a platform to share posts. However, RecurPost has managed to navigate around this limitation and found a way to support posting on Facebook profiles.
With the influx of fresh changes, we have enabled posting via push notifications. We can't say it was just as before but maybe a little better in the sense that you don't have to post manually. We make sure that you post the right content at the right time by sending push notifications on your phone. Once you click on that notification, RecurPost will copy your message into your phone's memory and take you to the Facebook dialog. Your link will also be copied to Facebook automatically. 
Conclusion
Social media automation techniques have revamped the digital marketing space. A current-era digital marketer or content creator or Meme Marketing would know how valuable their time is. Every saved hour can be put to use for strategy building. A social media scheduling tool can change your game in such a scenario.
Social media platform giants like Facebook demand diligent efforts and dedication of time for content planning & knowing how to repost on Facebook work best as a user. Creating Facebook repeating posts can be helpful for attaining that. When you create repeating posts for Facebook, you allow yourself to create more value for the content you create with social media bulk scheduling.
RecurPost offers a 14-day free trial offer, too; you can create an account and test the waters with this before you enter into a very promising commitment with RecurPost's service plans.
Frequently Asked Questions
1. What is the difference between a closed group and a private group on Facebook?
The groups on Facebook will be labeled as "Public" and "Private" (which was previously called closed group). 

A private group allows only added members of the group to see the content that has been shared on the group. 

A public group is open to all users of the platform. Members of a public group can be seen by everyone and the content shared by them can be accessed by everyone on the platform.
2. Can you make a Facebook post recurring?
Yes, it is very much possible to have Facebook repeating posts. You can select a third party tool like RecurPost to automate your posting. 

You can link your Facebook accounts with the application and create libraries of your choice. Content can be added to those and schedule recurring updates for Facebook posting.
3. Does Facebook penalize scheduled posts?
Not at all. Facebook supports third party tools for content scheduling entirely.
4. Is there an app to schedule Facebook posts?
There are many social media scheduling apps available in the market to help you with scheduling Facebook posts. RecurPost app is one of the best choices in terms of the features provided by it and the price-point that it offers. You can create recurring updates with RecurPost.
5. How many Facebook posts per day is too many?
Most studies say that posting once per day on Facebook will get you optimal results with a maximum limit of two posts per day. Pages that posted more than once per day saw a drop in engagement numbers. At a minimum, you should post on your Facebook pages three times a week.
6. How do I edit scheduled posts on Facebook?
With Recurpost's Facebook post scheduler, you do not have to worry about last-minute alterations. There are no restrictions on editing a post after it is made live.
7. Which are best social media scheduling tools to manage Facebook repeating posts?
The best social media scheduling tools to create and manage Facebook repeating posts are:
– Recurpost
– Agorapulse
– Loomly
– Sendible
– Contentcal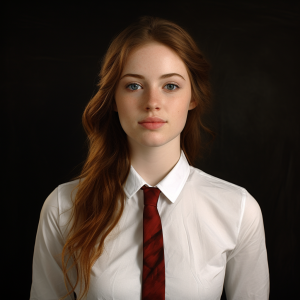 Debbie Moran is a Digital marketing strategist with 5+ years of experience producing advertising for brands and helping leaders showcase their brand to the correct audience. She has been a part of RecurPost since 2019 and handles all the activities required to grow our brand's online presence.