Facebook reigns the domain of social media even today.
With about 2.80 billion monthly active users and a whopping 1.84 billion daily active users under its belt, Facebook is the king of social media. Without any doubt, Facebook has the ability to connect more people than any other company has ever achieved. Having a Facebook publishing tool in that regard would give an edge to businesses in the market.
The popularity of this social media giant has forced businesses to rethink their marketing strategies and work on customer interactions. Automating Facebook posts using social media scheduler can be your business's strongest weapon in churning returns on marketing investments.
How Will a Facebook Publishing Tool Help Your Marketing Campaigns in 2023?
Marketing through Facebook will surely bring you attractive returns. However, the process of executing your strategies can be complex and time consuming. Therefore, a Facebook Publishing Tool should be considered for aiding such challenges.
Here is how these tools will help you out:
The tools will help you with content creation or curation.

You will be able to put your content on schedule for posting at a later date.

Ability to analyze the performance and returns on your marketing efforts.
Want To Elevate Your Facebook Marketing Campaigns?
Here are 15 Facebook Publishing tools to help you achieve that:
1. RecurPost – The Best Value For Money Facebook Publishing Tool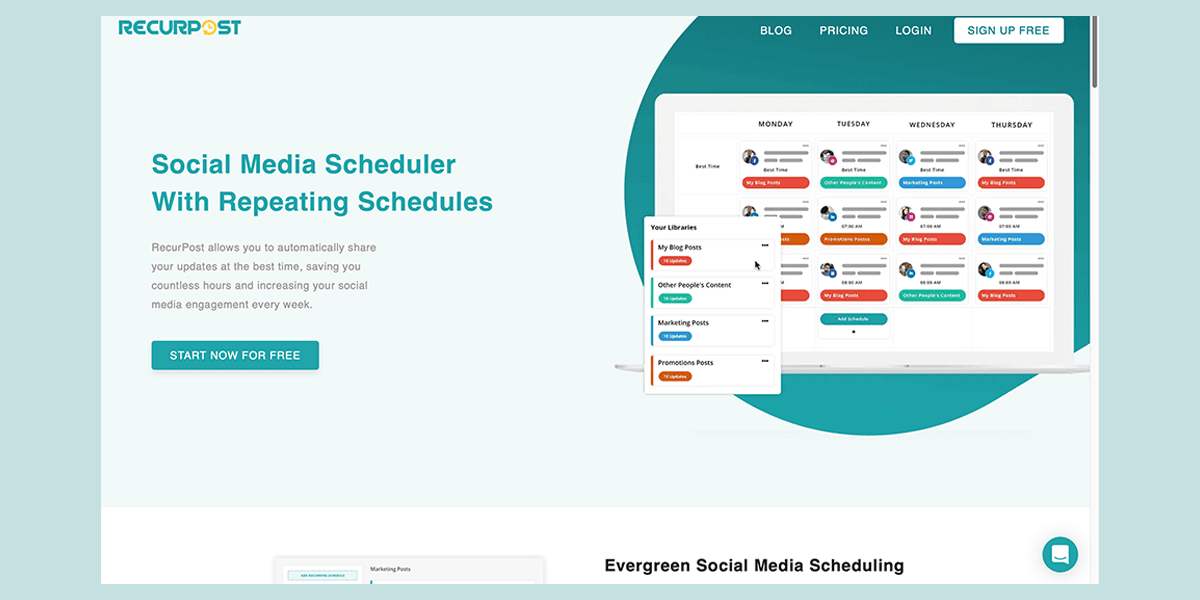 Looking for a Facebook Post Scheduler that does it all? RecurPost would salvage your search for the same with all On-page SEO.
It is an all-comprehensive platform that allows you to seamlessly create, schedule, publish, and analyze posts. You can create and manage content across all major social media platforms. But if you are specifically looking to schedule Facebook posts, RecurPost has a splendid bunch of features.
You can manage Facebook profiles, groups, and pages all at once. There is also the ability to repurpose your content to keep it evergreen.
Schedule tweets using the same content without violating Twitter rules. Schedule LinkedIn posts on personal and business pages for connecting with professionals around the world.
RecurPost is an excellent Pinterest scheduler that helps in scheduling pins on images. You can schedule Google My business posts with a call to action for attracting local audience.
It features a special integration with Canva that will allow you to schedule designed posts directly from the app. Additionally, you can generate white-label reports, track the performance of your posts with the analytics features, create a bag of hashtags, manage your team with the workspace feature, and much more. #LearnwithRecurPost to know more about what are the trendiest Facebook publishing tools & how you can use them to increase your blog engagement via adding content marketing strategy to your plan.
2. Fanpage Karma – For Someone Who Is Just Starting Out With Facebook Publishing Tools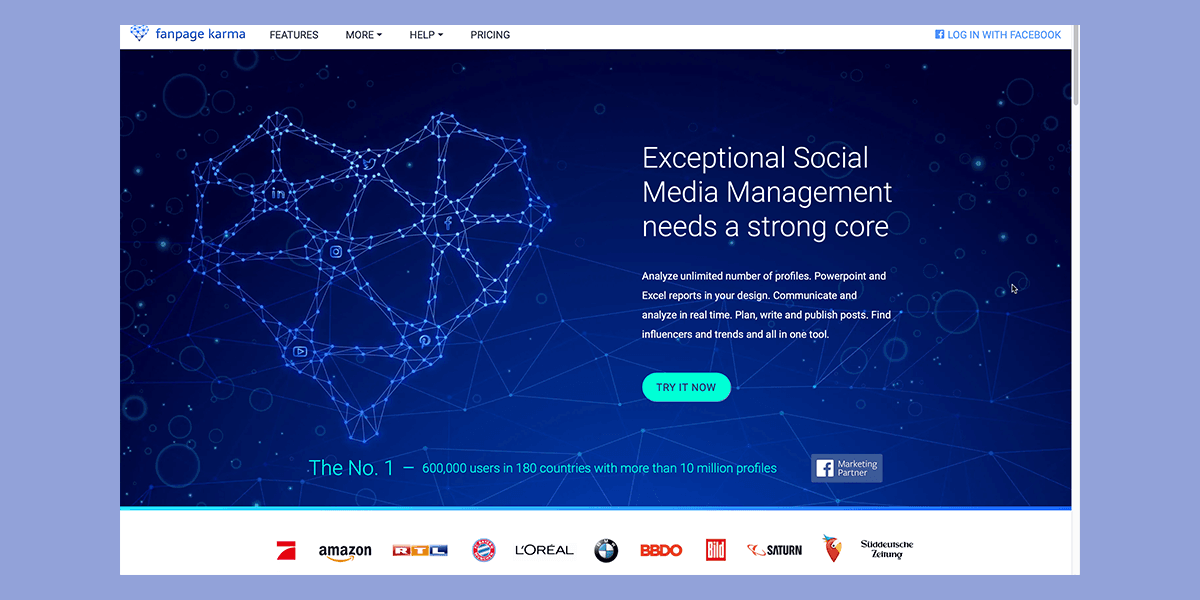 This Facebook publishing tool focuses on real time monitoring. Just like other social media scheduling tools in the same stride as Fanpage Karma, you can curate, publish, and analyze content for Facebook. It offers real time monitoring and alerts of your competitors' actions.
This application offers a free tier that allows for managing content on any one social media network. That network can be Facebook for you if you are looking for a social media scheduler on a budget.
Pros:
Get weekly reports and alerts

Gives you the ability to identify winning Facebook promotions

Get your page's strengths and weaknesses with charts and graphs
Cons:
It lacks data range settings for analytics
3. Iconosquare – A Tool For Facebook Publishing With Powerful Analytics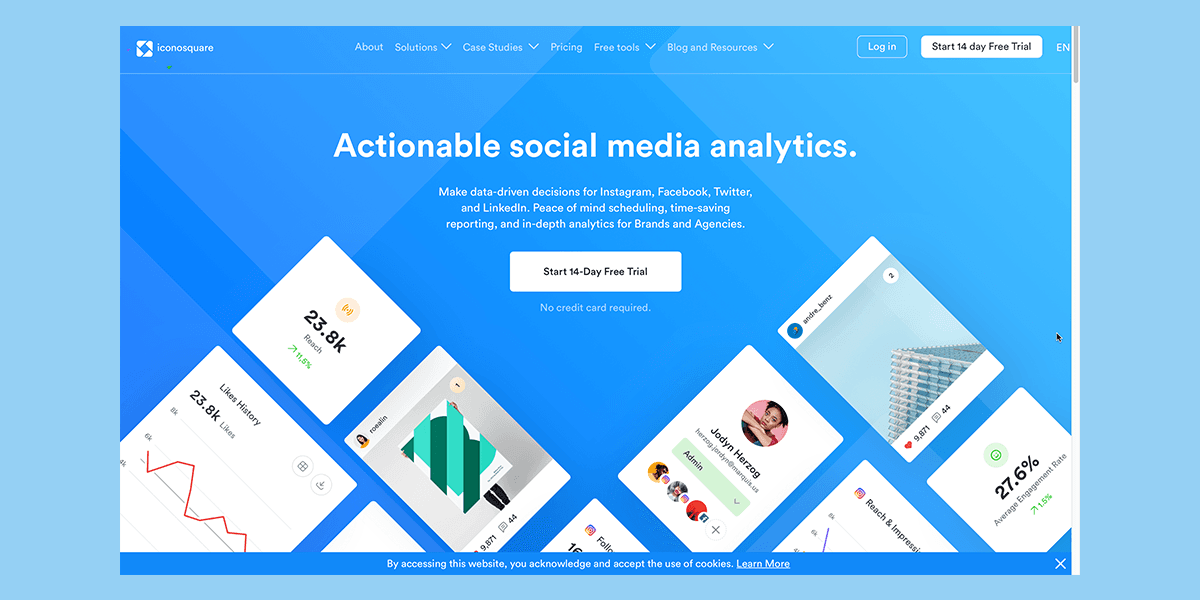 For automated Facebook posting, Iconosquare is a good choice. It offers a complete package of social media management services like scheduling, managing, and analyzing of content. This app renders advanced scheduling solutions for brands as well as agencies and is very easy to work with.
They offer a 14-day free trial, so if you want to try it out before committing, you can do so easily. You can also schedule a single image and video post on Facebook.
Pros:
You can see the performance of your social media copywriter's

posts through conversion tracking.

You can bulk schedule content and import from other websites through RSS.

Ability to monitor competitor activity and engage with target audience
Cons:
This tool does not let you set up an account immediately to get started when you join the platform.
It does not have a social inbox and so you won't be able to manage notifications from a single dashboard.
4. Skedsocial – A Clean And User-Friendly Facebook Publishing Tool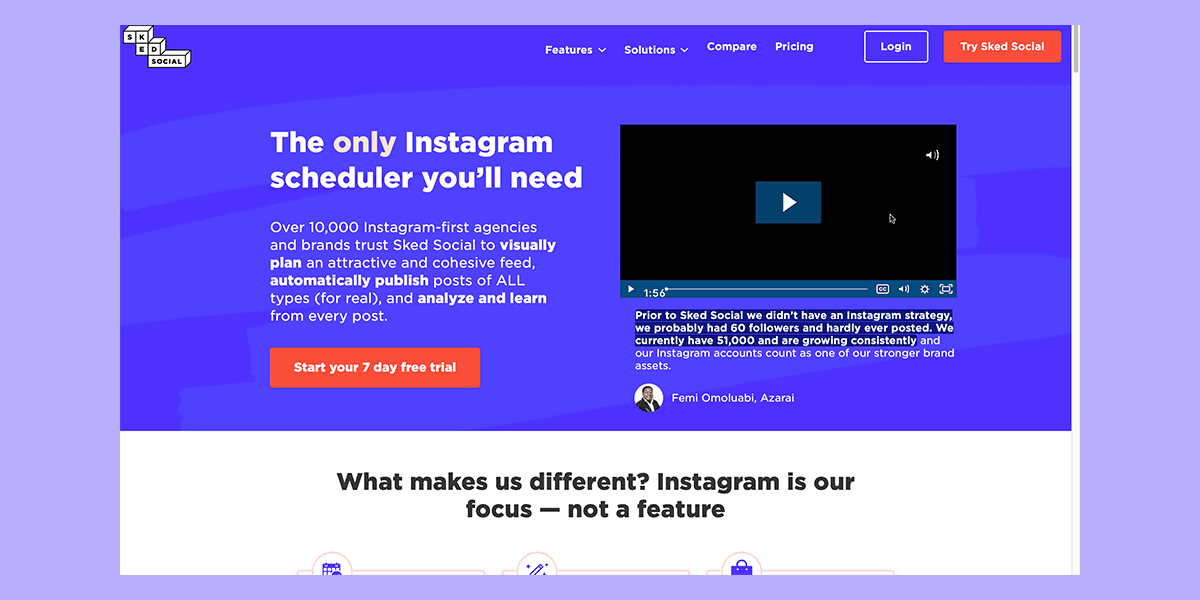 With the tools from Skedsocial, you will be able to automatically post videos, images, carousels, and more. This particular tool probably would not be at the top of one's list of Facebook post schedulers because its main focus is to schedule Instagram posts. However, this tool automatically posts on your content through posts or stories across Instagram, Facebook, or Twitter.
Its interface is very speedy and user-friendly and it also provides a very neat social media calendar for your publishing plans. So, you can go for this when you schedule a post on Facebook.
Pros:
Templates are easy to use.
Huge variety of features.
Loyalty and performance analytic features.
Cons:
A lot of work has to be done manually.
No ability to make custom reports.
5. Inosocial – A Super Organized Facebook Post Publisher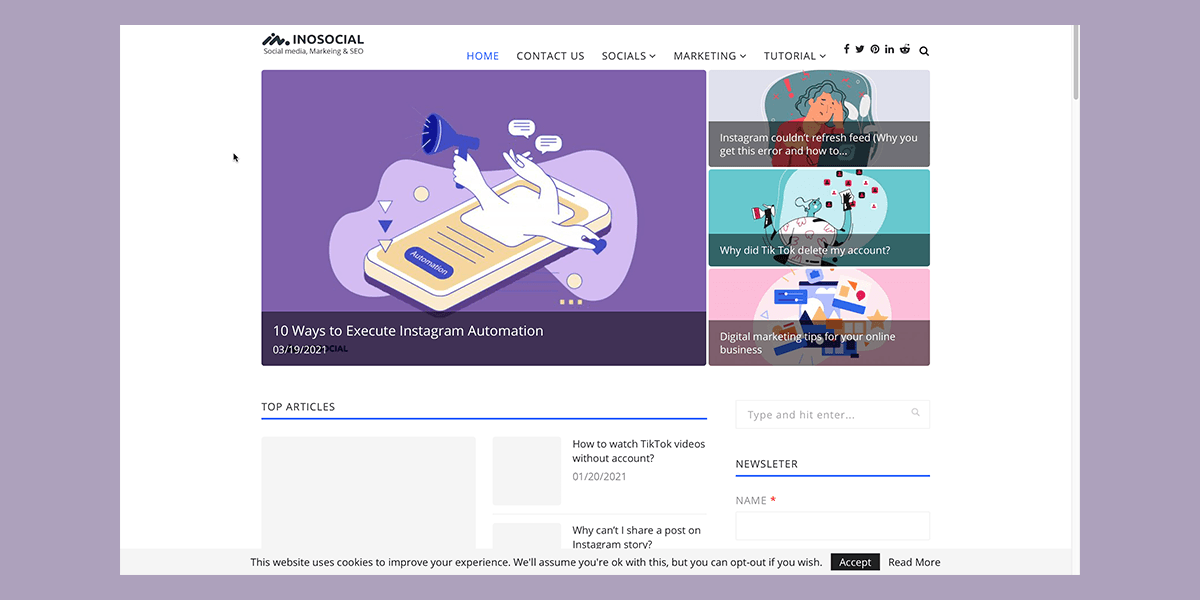 It is a great Facebook publishing tool that can manage and publish social media posts across different platforms at the same time from a single dashboard. Additional features include data analytics and performance reports.
This app has a crisp and clean social media content calendar that will help you remain super organized and in sync with your scheduled social media posts. The dashboard is a little complex in usage because of the amount of services offered. Although one can get used to it over time.
Pros:
It works with personal social media accounts.
Offers 7-day free trial period.
The social media calendar is great.
Cons:
The dashboard is a little complex to use when getting started.
6. Hootsuite – A Popular And Trusted Tool For Facebook Publishing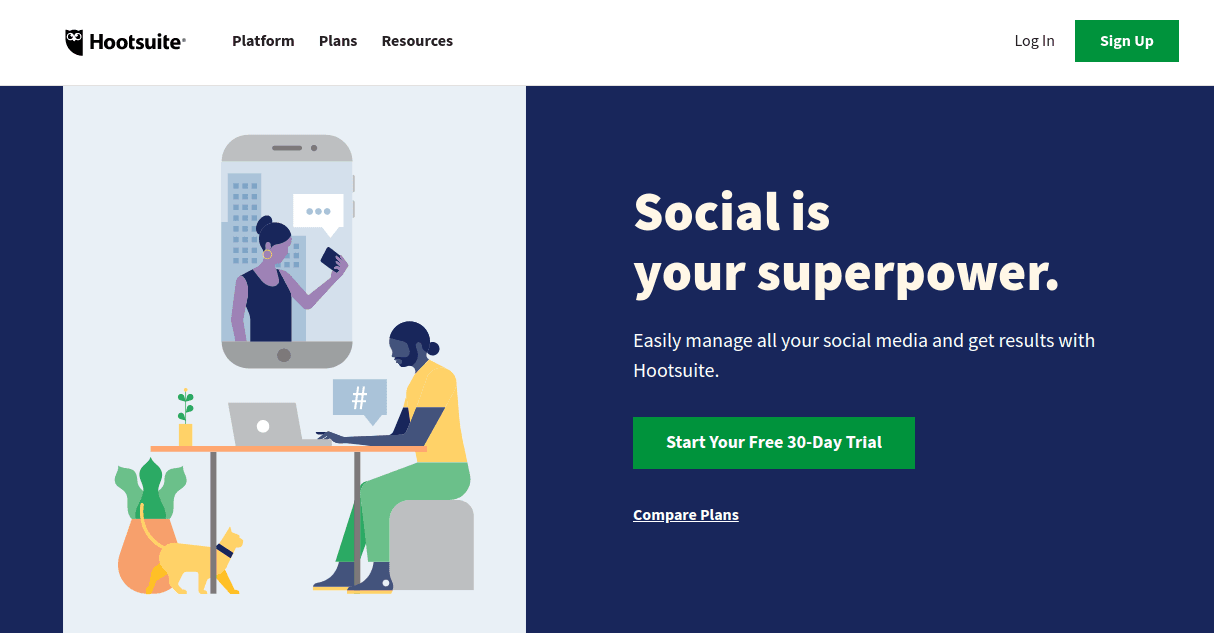 This tool is preferred by over 16 million people across the globe. It supports multiple social media platforms like Twitter, Facebook, LinkedIn, YouTube, Pinterest, and Instagram.
You get a bunch of features like social media marketing, social media analytics, reputation management, social selling, social media monitoring, etc. It is not the best option for gaining organic following but it is still very good for scheduling and sharing content.
Check out how RecurPost is one of the top free hootsuite alternatives for Facebook post publishing.
Pros:
Create content in bulk without having to add updates individually.
Social media analytics which allow tracking of results by time and also get customized reports based on your requirements.
Ability to plan, schedule, publish content directly from the mobile app.
Cons:
It is pricey and does not offer a user-friendly interface.
Every additional service taken needs to be paid for.
7. Qwaya – Your Facebook Publishing Tools For Managing Facebook Ads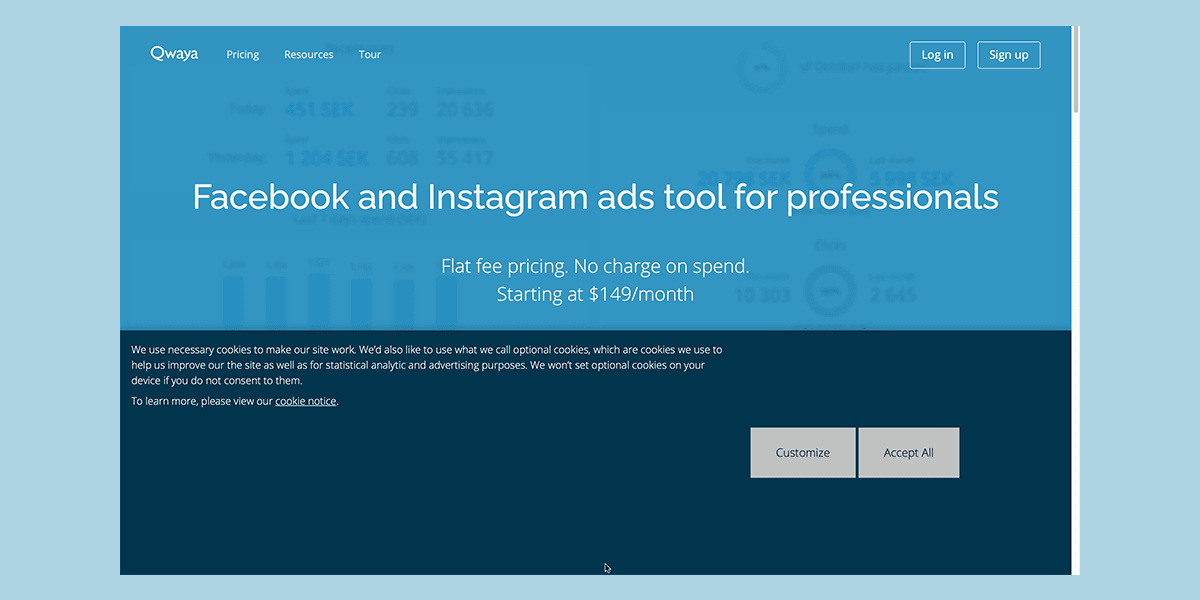 Qwaya is a good tool that helps brands or agencies manage Facebook ads effectively. The features provided by this Facebook posting software will help drive traffic to your Facebook page. There is an efficient provision for ad creation and the workflow of management teams.
Your Facebook ads can be automated, campaigns can be scheduled to run at different times, tracking URLs can be added, and Google analytics can be integrated. This tool makes team collaboration easy as well.
Pros:
It integrates with both Google analytics and Excel.
All ads are tested before going live. This feature ensures that all ads are perfectly made.
Very detailed reporting of sales and leads.
Cons:
Very pricey. Small firms are reluctant to spend that kind of money.
The user experience is not up to the mark. There have been complaints about bugs and lagging.
8. Socialbakers – An Intelligent Analytical Facebook Publishing Tool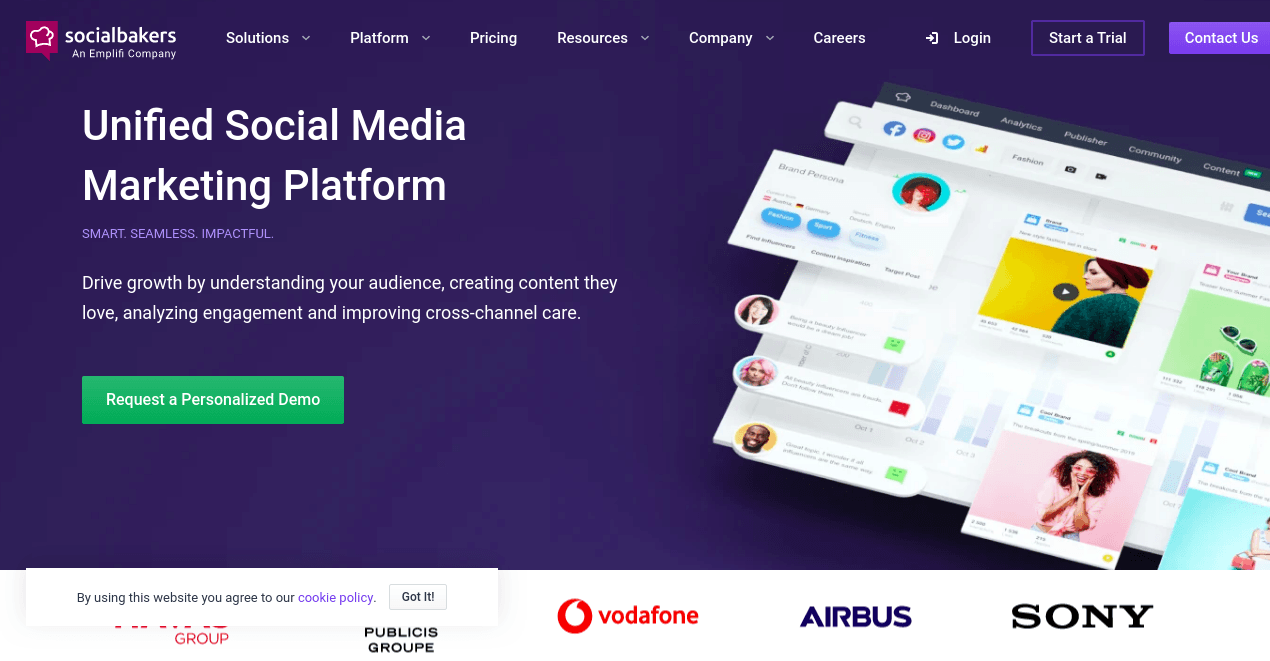 This is an intelligent tool for social analytics that uses AI to assess your brand's marketing persona. The Facebook post scheduler provides multiple social media management solutions like scheduling and publishing, team collaboration, and performance analytics.
Socialbakers provides content ideas, insights and suggestions on top trends. This way you will be able to create content that is relevant and engaging for your audience.
Pros:
Content library feature.
It lets you track keywords and hashtags.
It reports distribution of followers, growth of followers and following, and summary.
Cons:
You cannot edit images from the library.
9. eClincher – A Facebook Publishing Tool For Creating Engaging Content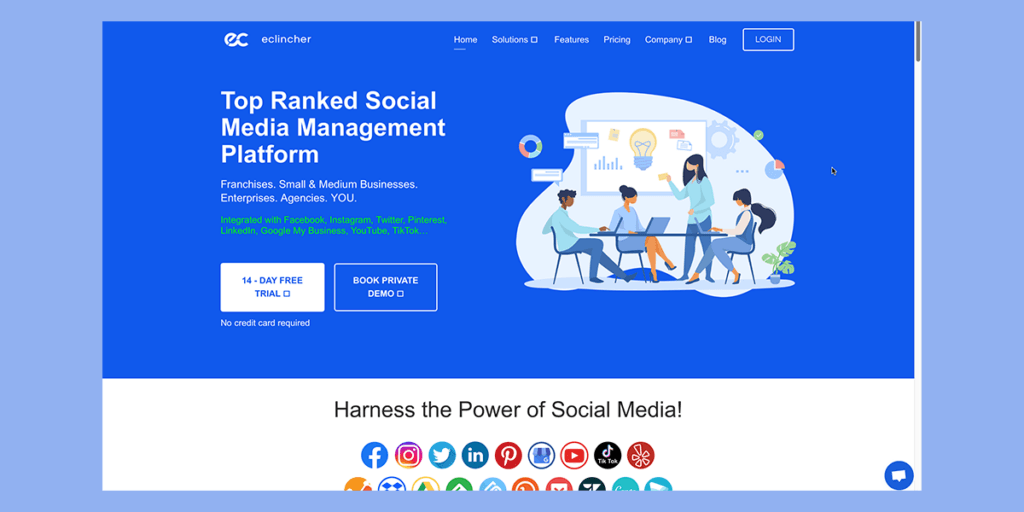 So, this particular tool does not necessarily rank up in the list of best Facebook publishing tools but it is definitely worth your consideration. It scores high in third party reviews and also offers a full-blown free trial. It is safe to say that using eClincher would be a risk free shot for your Facebook marketing strategy.
This app also offers integration with Chrome and Pocket. It has companion mobile apps for Android and iOS. You can schedule a super engaging post for Facebook with the help of these integrations.
See how it compares with RecurPost and how the latter wins.
Pros:
You can take the application on the go because of its Mobile version.
Easy collaboration with team members and virtual assistants on projects.
Google Chrome plugin will let you store any kind of update from across the web.
Cons:
You cannot shift to another social media management platform while using eClincher.
It does not support Google alerts to curate content.
10. Loomly – A Tool For Facebook Publishing That Has a Simple Interface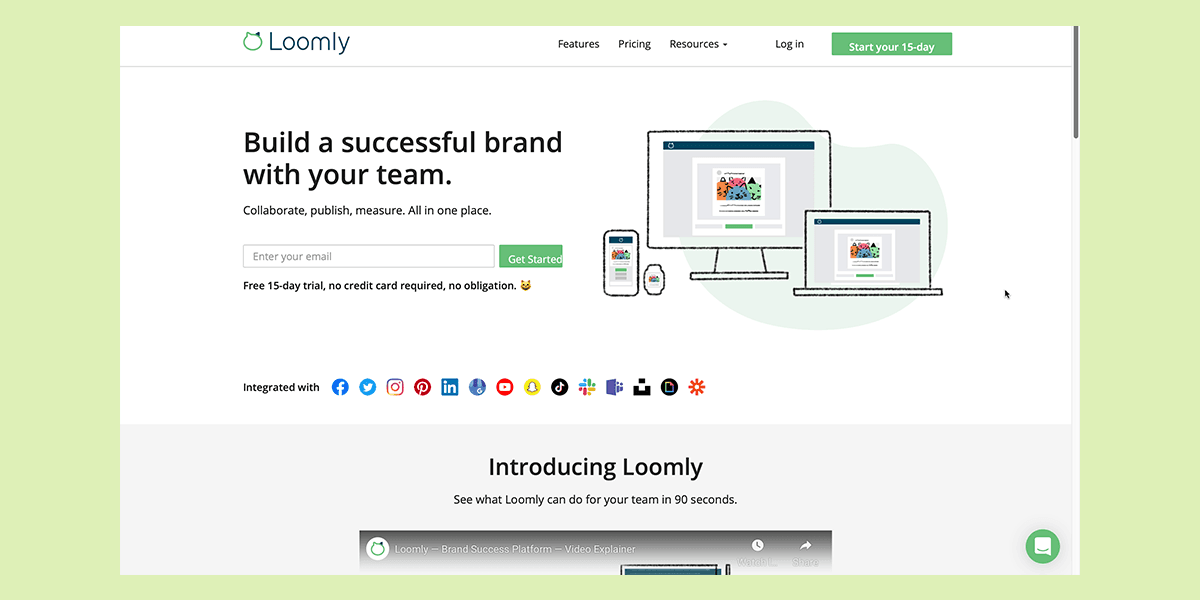 Again a good social media management tool that offers satisfactory Facebook post-scheduling features. The primary focus of Loomly is to schedule content for multiple social media platforms. The entire process is automated, so you just put your content and ads on schedule and relax because the Facebook for likes will be taken care of. The calendar UI here is great and simple to use.
Pros:
Offers a 15-day free trial.
Reasonably priced plans.
The UI of Loomly's calendar is very good, making it simple to use.
Cons:
It does not support direct posting to Instagram.
Only Facebook and Instagram accounts work with Loomly.
11. Socialoomph – A Speedy Facebook Publishing Tool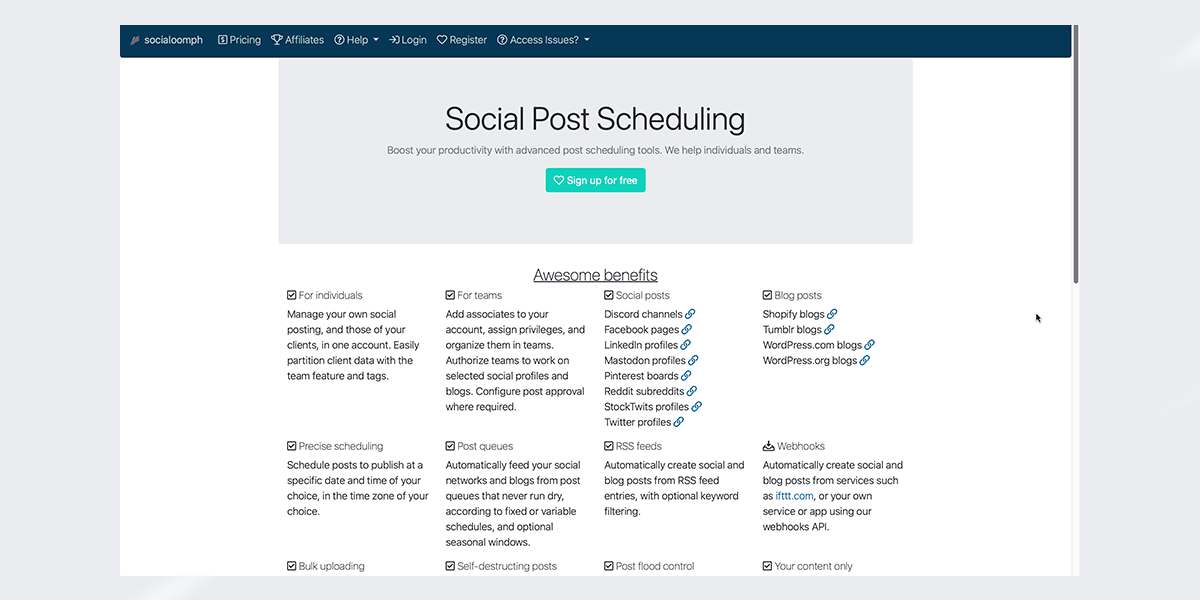 With this tool, you can do Facebook post scheduling, managing and publishing, but you won't be able to monitor and analyze your performance. It is a great scheduling app for Facebook without a doubt because its main focus lies on scheduling.
Socialoomph would probably be one of the fastest post schedulers in the market. It allows you to manage your social media content along with your client's via a single account.
See how RecurPost is the perfect alternative to Socialoomph.
Pros:
The scheduling service for Twitter is free.
It is one of the fastest post schedulers in business.
You can create self-destructing posts.
Cons:
It lacks Instagram scheduling tools.
The free version is limited to Twitter. We need to pay for Facebook services.
12. Postfity – A Lesser Known But Efficient Facebook Publishing Tool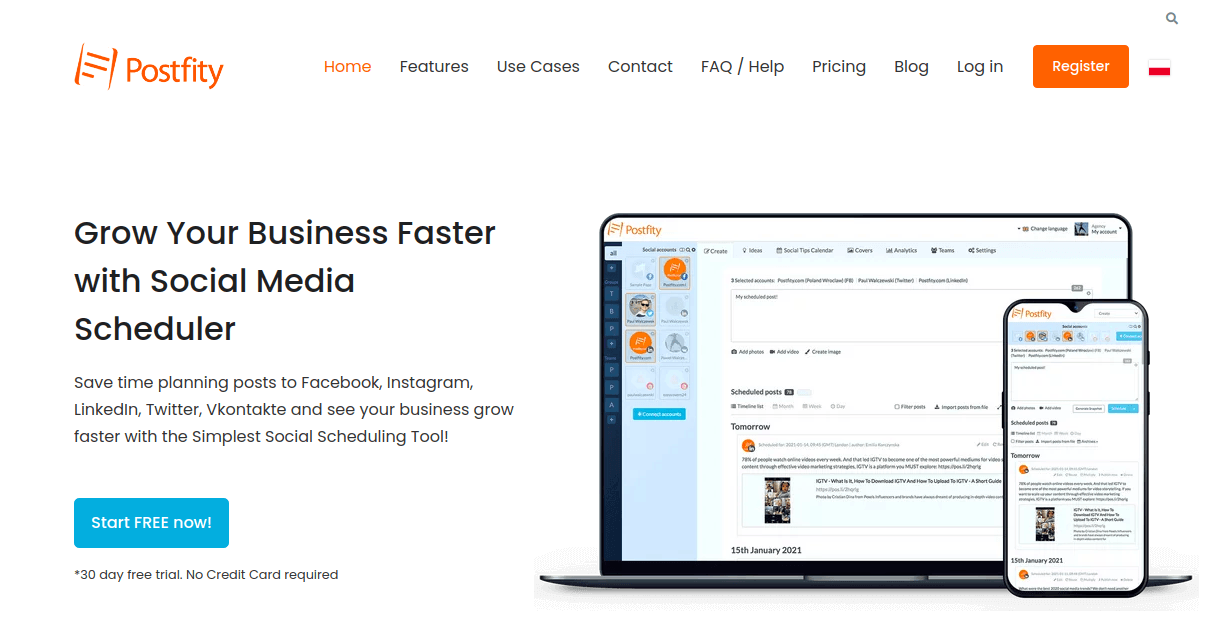 This is a social media marketing platform that provides easy post scheduling to manage social networks, schedule posts, and engage audiences. It also helps in acquiring new customers as well as launching fresh products.
Postfity lets you schedule Twitter posts and Facebook posts at no cost. You can design and schedule posts for Facebook and Twitter separately, also giving you the option of attaching images to the post as well as adding links.
Pros:
Ability to add watermarks to the graphics you use in your social media content to make it secure.
The analytics and reporting features are very easy to understand and use.
Cons:
You will not get a preview of your post before it goes live.
Managing multiple accounts will be a task. You will have to manually change the times zones.
13. Agorapulse – Create Powerful Audience Connections With This Facebook Publisher


This Facebook publishing tool will let you schedule and publish content, and manage engagement on Facebook. You will have the ability to create powerful interactions with your audience because it will let you respond to conversations.
This social media management service will give you detailed analytics and insights into your audience. You can study that and figure out what works best for your users. Team collaboration is made easy with its features, making it ideal for marketing teams or agencies.
Learn about how RecurPost is an agorapulse alternatives.
Pros:
Highly responsive support system to solve problems in real-time.
Store unlimited queued posts in an organized manner.
Has content calendar that can be shared with clients. They can give their opinions, edit, accept, reject or review scheduled content.
Cons:
Does not support bulk scheduling with image.
Very pricey.
Complex in use.
14. Social Pilot – A Seamless And Full-Proof Facebook Publishing Tool


Social Pilot can be a great Facebook publishing tool because it lets you create, schedule, and publish Facebook posts for multiple pages from a single platform. You can select the best time to post on Facebook and publish optimized posts in order to get maximum engagement.
It has a content curation tool that lets you find popular content. With the scheduling engine in this app, you can make timely announcements, ensure consistency in posting and reduce chances of making errors.
Pros:
Good team collaboration and client collaboration for seamless management.
Supports social media bulk scheduling by uploading of up to 500 posts at once.
Top-of-the-line browser extension.
Cons:
The interface is less intuitive.
Statistical reports are not elaborate.
15. Drum up – A Highly Efficient Tool For Facebook Publishing


It is a superb social media management tool that will increase your efficiency at work. This tool will reduce the amount of time you would have to spend managing your Facebook pages. What it does is, it filters through the web content and brings out the most effective and appropriate content topics.
You can create, review, and publish posts with ease with Drum up. You can manage and keep a track on multiple Facebook pages from one place. However, if you are looking for a solution to how to schedule Facebook group posts, this tool won't help you.
Pros:
Manage multiple accounts through a single dashboard.
It is easy to use and time efficient.
Helps you find and present quality content perfectly.
Cons:
Setting up social accounts to connect with the app is not very defined.
Customer service supports only through Email, making the response time longer.
Conclusion
This was a comprehensive list of all the Facebook publishing tools that can be useful to your business on how to create facebook page for business. They can take your business to the next level if used right.
It is important to realize that not all businesses would require a Facebook publishing tool, and it is not even necessary for them to have it. These tools won't do much except for giving you an edge in the market in terms of efficiency, promptness, and consistency. The juice lies in your Facebook automotive marketing strategy. You need to ensure that it is impeccable because only then will you be able to sustain the competition. These tools will simply help you implement your strategy in the most effective manner possible.
Social media scheduling tools are known to take off a significant amount of workload from a manager's shoulders. You can refer to the list in this blog for choosing the best tool that suits your business needs. Although we suggest RecurPost if you are looking for breakthrough services at a reasonable cost point.
You can learn more about its plans and pricing. It also offers a 14-day free trial period that might interest you.
Frequently Asked Questions
1. How do you schedule posts on FB?
You have the option of scheduling posts directly from the Facebook interface or by using a third party tool. If you want to schedule a post through Facebook itself, you can follow these steps:
– From the news feed page, click on "Pages" from the left menu
– Go to your page
– You will find the option "Publishing tools" in the left column
– Click on "Create post" at the top
– Craft your post
– Click and select Schedule Post.
– Choose the date and time for publishing the post and put it on schedule, click "schedule post"
2. What is the difference between posting and publishing on Facebook?
The difference between a published post and an unpublished post is pretty simple. A post that is published will appear on the Facebook page that is associated with the post. An unpublished post appears only on the news feed and never on the Facebook page itself.
3.What is Facebook Publishing Tools?
Facebook Publishing tools can be explained are smartly developed software solutions that allow users to manage their content marketing activities. These tools take in the content submitted by users and automate the process of uploading it on social media platforms.  The user will not have to go through the technicalities or challenges involved in scheduling and posting content. The AI in Facebook publishing tools does the whole job seamlessly.
4. What are the best Facebook Publishing tools?
Here is a list of the best Facebook Publishing tools:
– RecurPost
– Buffer
– Hootsuite
– Socialoomph
– Agorapulse
– Social pilot
– Loomly
5. How to use Facebook Publishing tools?
This is pretty simple. If you choose to go with the services of a third party app, all you have to do is connect your social accounts with the tool, create content as per your strategy, add content to the tool's library, schedule content for publishing at a later date or publish immediately, and voila! You're done. You can also benefit from engagement building services and analytics reports offered by most tools.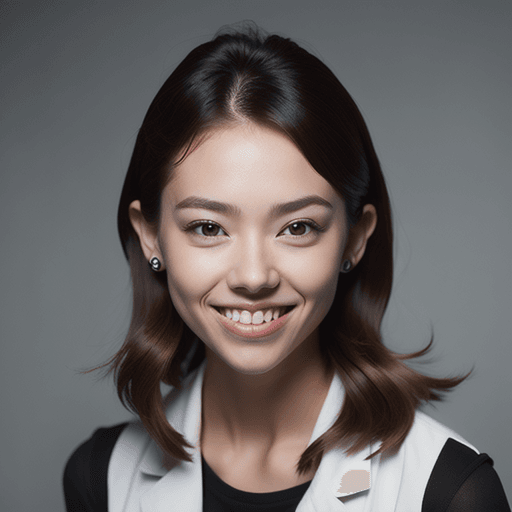 Debbie Moran is a Digital marketing strategist with 5+ years of experience producing advertising for brands and helping leaders showcase their brand to the correct audience. She has been a part of RecurPost since 2019 and handles all the activities required to grow our brand's online presence.