FREE FACEBOOK POST SCHEDULER TO
The best Facebook post scheduler with tools for publishing, analytics, inbox, and reporting.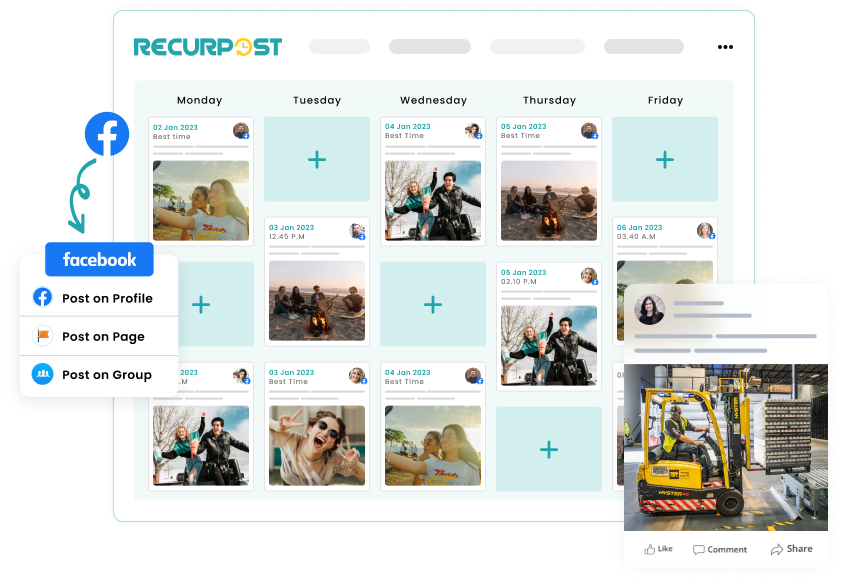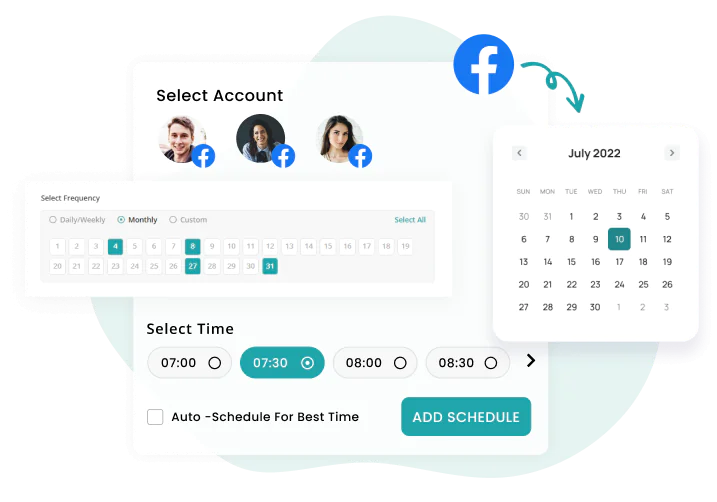 Schedule Posts on Multiple Facebook Pages, Groups and Profiles
Why schedule one at a time when you can upload in bulk and schedule everywhere?
With RecurPost's free Facebook post scheduler, posting updates on Facebook has now become easier than ever.
Upload your existing blog posts, videos, or marketing material into your content libraries and add time slots for each library to automate posting on profiles, pages, and groups.
We tell you what is working and what is not so that you post only the best posts. This also applies to RecurPost as a Pinterest scheduler.
#Hashtags, First Comment, Images - Ready to Be a Trendsetter?
Do much more than just automated Facebook posting
Do much more than just automated Facebook posting
Your Facebook account is like a plain canvas and RecurPost's free Facebook scheduler is how you paint it with relevant GIFs, images, and videos.
Using the hashtags feature, you can create bags of hashtags, which you can use when you schedule Facebook posts. You can also use hashtags when you schedule tweets for more reach. Let's get your business trending on social.
Your favorite Facebook automation tool has also got free stock images that you can use when you schedule Facebook posts for free.  Images are also a game changer when you schedule Google My Business posts.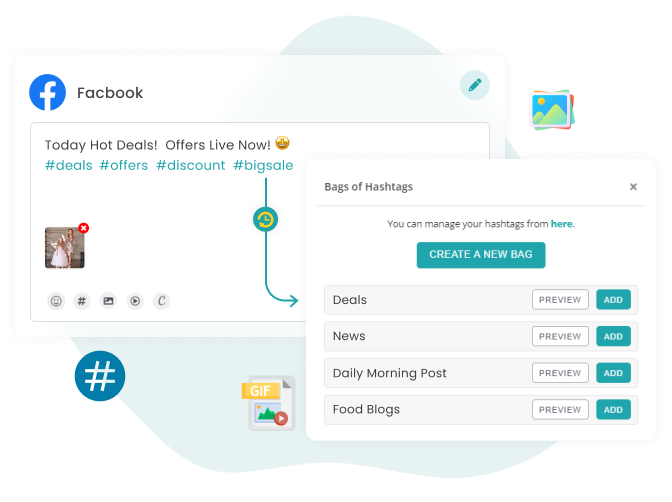 Check out RecurPost's Facebook scheduler now!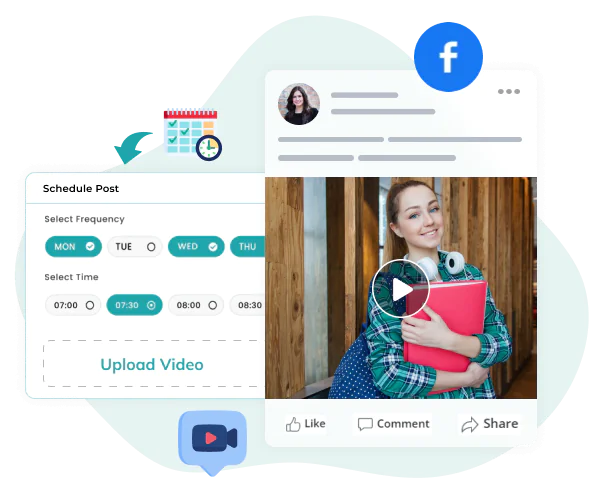 Become a Visual Storyteller
Schedule and automate Facebook posts that contain videos
Videos are the books of today and with RecurPost, you can be the author of your story. Videos are also king when you schedule Instagram posts.
RecurPost's social media scheduling tool allows you to seamlessly schedule Facebook posts for free with videos.
Drastically improve the traffic on your FB pages, and groups, and even redirect that traffic to your website.
See and manage FB page's conversations, comments, fan updates, and reviews
A Facebook post scheduler with a social inbox
Our Social Inbox is a platform that enables all of your social media inboxes to be connected into one single unified dashboard. It allows you to manage notifications from all social media sites from a single place. It enables you to watch all your chats, mentions, comments, and conversations, and take action on them.

AI-Based Best Time Prediction
A free Facebook post scheduler that uploads your content at the best times
RecurPost's AI engine and Facebook automation tool are specially designed to decide the best time to reach your audience.
When you schedule Facebook posts, you just check the option of 'Auto-schedule for best time' and RecurPost will take care of the rest by automating Facebook posts.
RecurPost not only offers a Facebook post scheduler but ways to grow your online presence along with a free Facebook group auto poster.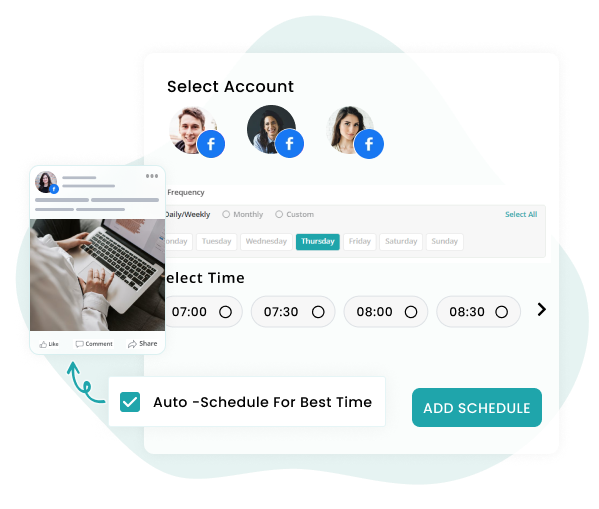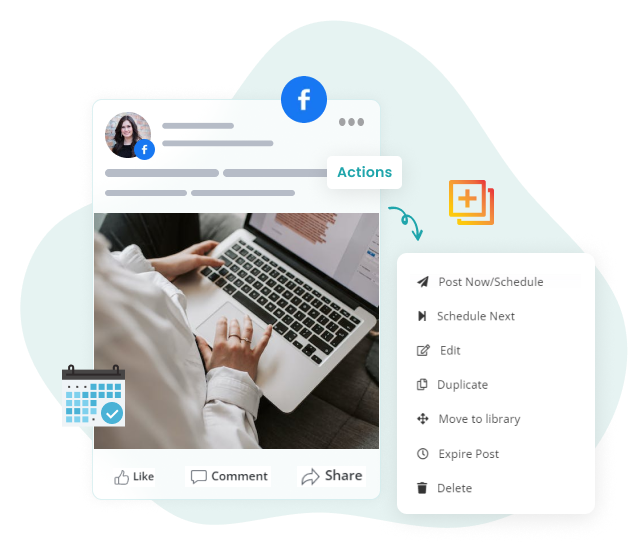 Have complete control of all your updates
Create, edit, schedule, or delete Facebook posts anytime
Facebook post scheduler by RecurPost offers you multiple ways to upload content.
Upload content in bulk through CSV files, import from social accounts, or through RSS feeds and schedule Facebook posts for free.
You can make last-minute changes to your schedules and edit your posts whenever you want.
This is how you automate Facebook posts for free on RecurPost like a pro. The same applies when you schedule LinkedIn posts.
Make The Most Of Your Marketing With Social Media Scheduling Tool
Get neat reports with our free Facebook post scheduler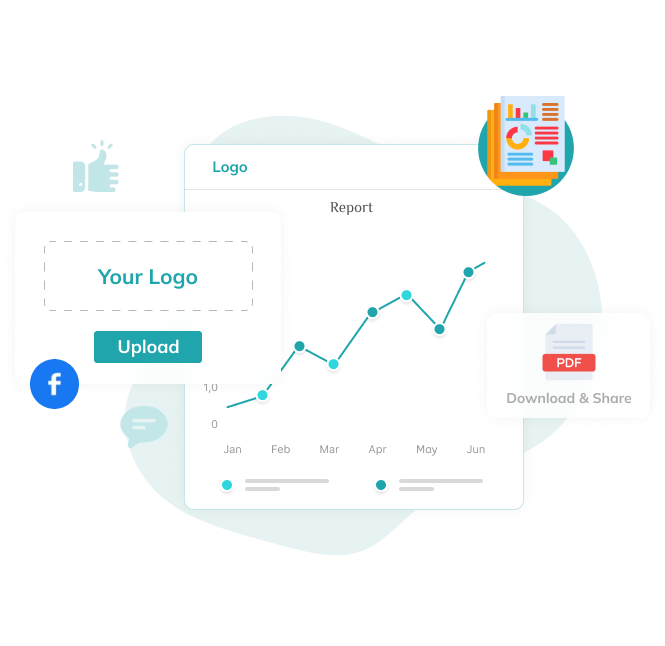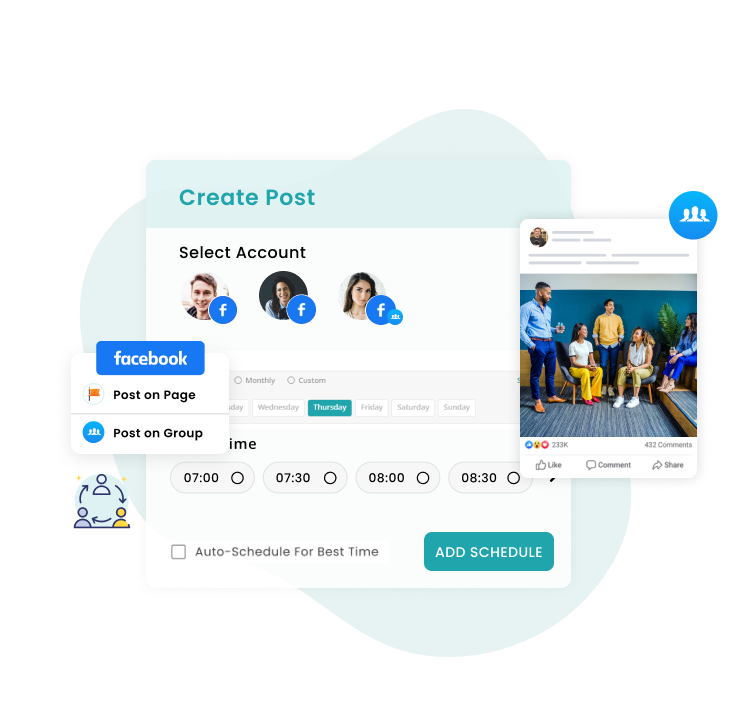 Manage your Facebook groups like a pro
Best free Facebook group auto poster as a profile or a page
Through RecurPost's Facebook post scheduler, you can schedule posts on Facebook groups that you administer as well as groups that you are a member of.
We let you schedule Facebook posts both as a profile and as a page.
Automated Facebook Posting on a group as a page helps reinforce your brand.
You can switch anytime between scheduling posts to Facebook groups as a profile or as a page.
Elevate your blog-sharing game with RSS feeds
Automatically share newly published blogs to your Facebook profiles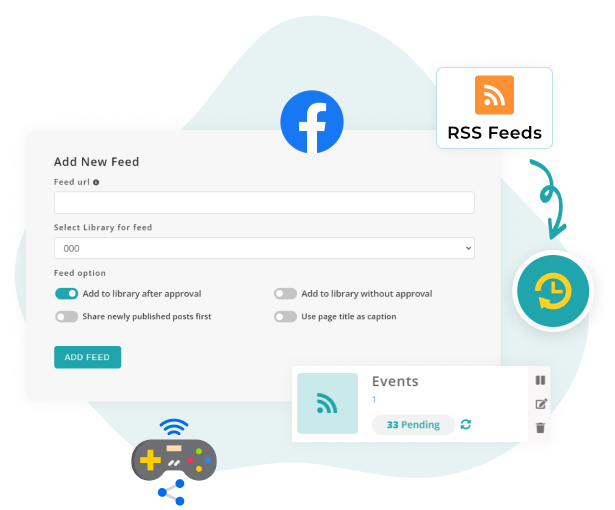 Other platforms supported by RecurPost
RecurPost should be a no-brainer pick when it comes to scheduling Facebook posts for your brand. It is indeed a marvelous Facebook post scheduler. But let's not forget, the tool is also just as good if you want to schedule tweets, schedule Instagram posts, schedule LinkedIn posts, and schedule Google Business profile posts. Not just this, RecurPost is also a great Pinterest scheduler. 
Comparing RecurPost with other social media scheduling tools
There are a lot of tools available out there offering the feature of scheduling posts ahead of time. However, the role of a social media scheduler doesn't stop here. Apart from the features that we talked about in the above paragraphs, RecurPost has got a lot to offer. Some of them include white-labelling reports, simplified content categorization, Chrome plugin, URL shortener, social inbox, etc. You can check our detailed comparisons to know how RecurPost is the best free Hootsuite alternative, one of the top Post Planner alternatives, Later alternatives, Postfity alternatives and Sprout Social alternatives.
Check out RecurPost's Facebook scheduler now!
Frequently Asked Questions