One of the hardest parts of marketing your business online is coming up with fresh social media promotion ideas. It can seem like a lot of pressure as your audience always looks up to you for quality content, and that too regularly.
So, whether you are just starting out with social media marketing, looking for some social media promotion tips for inspiration, or looking for a social media scheduler to promote your content online, the below ideas will help beef up your social accounts.
These ideas will let you provide more diversified content to your audience, irrespective of your skill level and industry.
Let's have a look at each of these social media promotion ideas.
17 Social Media Promotion Ideas To Market Your Brand
1. Fill out Your Profiles Completely


You might be thinking that this is not a promotion idea! However, filling out your social media profiles completely is the first step you need to take before working on anything else.
There's a lot that you can tell your audience through your profiles. You can mention your tagline, mission, vision, contact number, directions to your store, email address, website link, as well as put up links to other social accounts.
If you include keywords in your bio, it can also help your profile pop up in the search results.
2. Sync Posts Across Major Social Media Platforms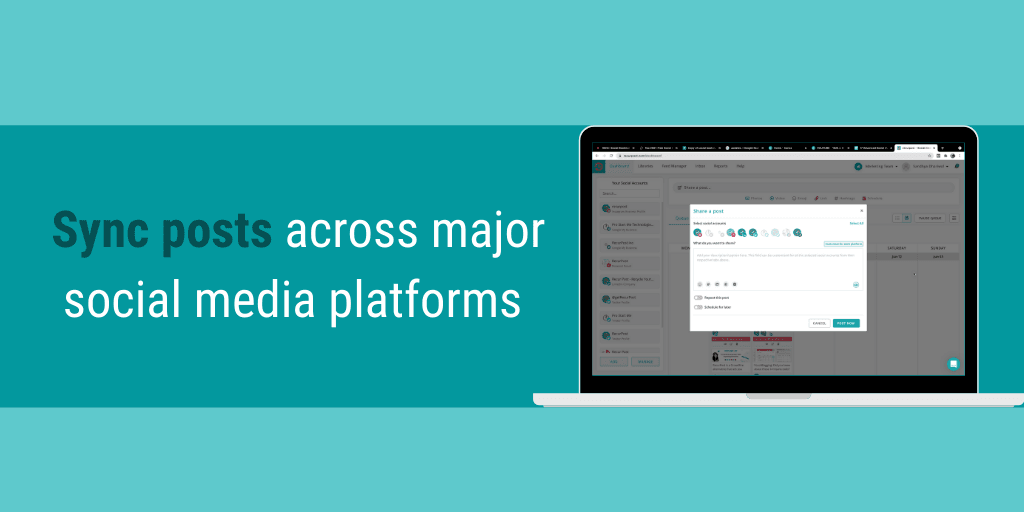 While managing a lot of social platforms together, it is a good idea to invest in a social media scheduling tool like RecurPost. It can help you schedule posts in advance, monitor notifications, manage conversations, see the performance of your posts, and manage all your major social platforms from the same dashboard.
You will be able to schedule posts on Instagram, Facebook, LinkedIn, Twitter, and GMB. Using its AI, you can auto-schedule your content for the best time to post on social media. Such social media promotion tools will help you automate a lot of tasks and make promoting business through social media easier.
3. Repurpose Evergreen Content


Repurposing your old content is a great concept to attract new audience while spending less time pumping out new ideas. This can be blog posts, landing pages, social media posts, or offers that you run on your website.
Collect the backlog of content that you have, update, and republish them. You can also use RecurPost for this. It lets you create recurring schedules that make your content go out in a loop on your social accounts. You can also share your blog posts directly on your social media by setting up an RSS feed.
4. Run Giveaways and Contests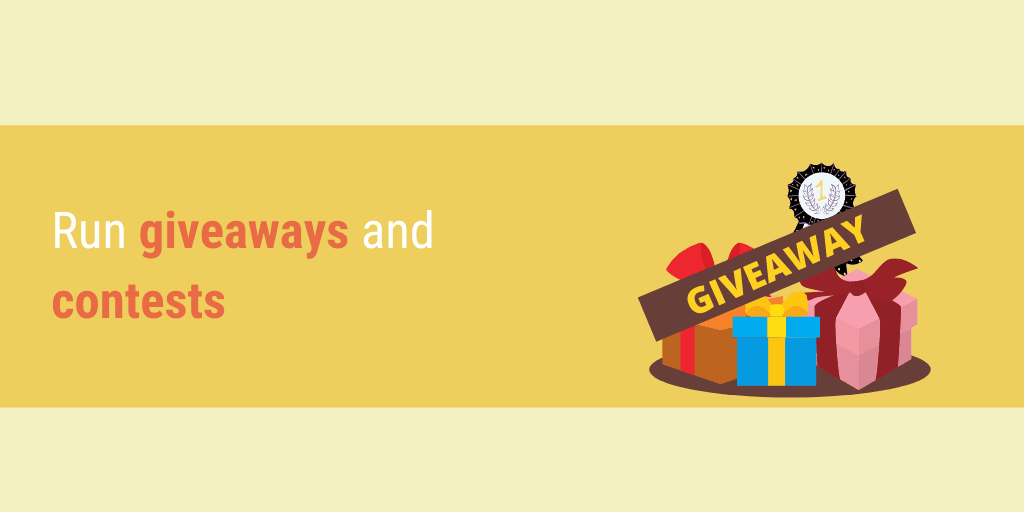 Who doesn't like to receive free gifts? Contests and giveaways are the best social media promotion ideas used by social media managers to engage with your audience and drive in new followers. Running a giveaway on Instagram on a regular basis can help you grow your account 70% faster than others.
Keep simple entry rules for the giveaways so that maximum people can take part in them. Also, make sure that you pick up an appealing prize for your social media promotion strategy. Some Instagram Post Ideas can be giving away a free meal, gift cards, or free tickets to an event.
5. Partner with Influencers


Influencer marketing is the easiest way to bring a lot of people to your social media profile in the least time. It is an integral part of creating a viral content marketing strategy.
Find out some micro-influencers that belong to your industry and approach them to promote your business effectively on social media. They have a very dedicated and engaged audience, which will help you gain new followers as well as generate leads.
6. Invest More in Visual Content


Posts with images, videos, and other interactive media gain more engagement and interaction as compared to text-based posts. Visual content isn't just limited to Instagram and FB. You can post infographics on LinkedIn or share memes on Twitter.
To create stunning graphics for your social media promotion, you can use free tools like Canva. It lets you create engaging posts for social media without the need for any designing experience.
7. Use Branded Social Icons on Your Website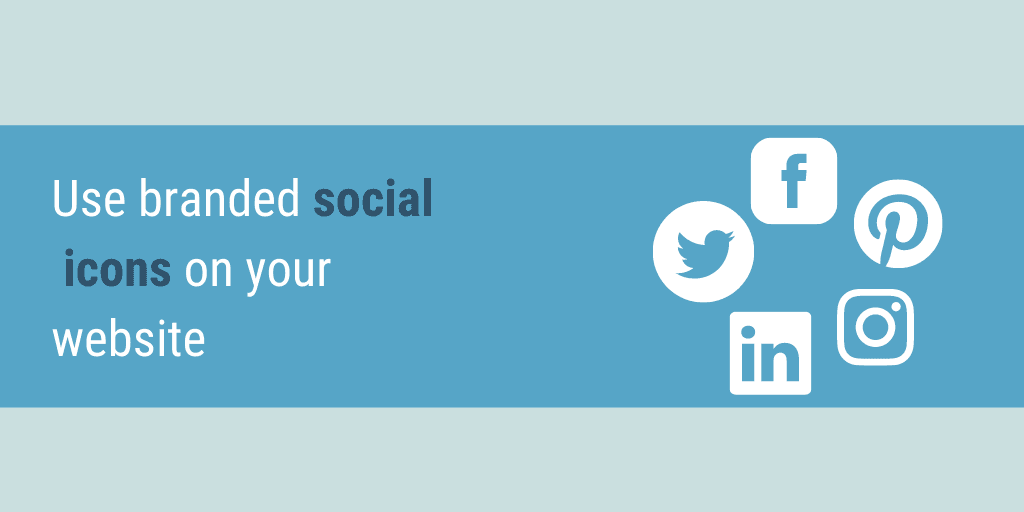 When customers are looking for you online, your website appears first in the search results. Thus, you need to make sure it is easy for them to find the social networks that you're on.
Social media icons are incorporated by a majority of website themes that you can easily fill out. To give the icons a more personal and branded touch, you can customize them with your brand graphic and colors.
8. Create Snippets of Your Content For Mega Sharing
A single piece of content can ideally produce around 20 snippets that you can use to share on social media. You can create variations of the topic from a blog post, short statements, quotes, infographics, statistics, and much more. You can use these snippets for social media promotion for weeks or even months. Simply share a snippet and link back to the original piece of content to gain massive traffic.
9. Share User-Generated Content


User-generated content provides a fresh perspective of your brand to your target audience. It also helps build trust and stronger relationships with your existing and potential customers. It makes for a great social media promotion idea because it shows your followers that you aren't the only one who thinks that your products are great! Your customers can actually act as nano-influencers in this case, as people trust the recommendations made by their friends and family members.
10. Make Use of Hashtags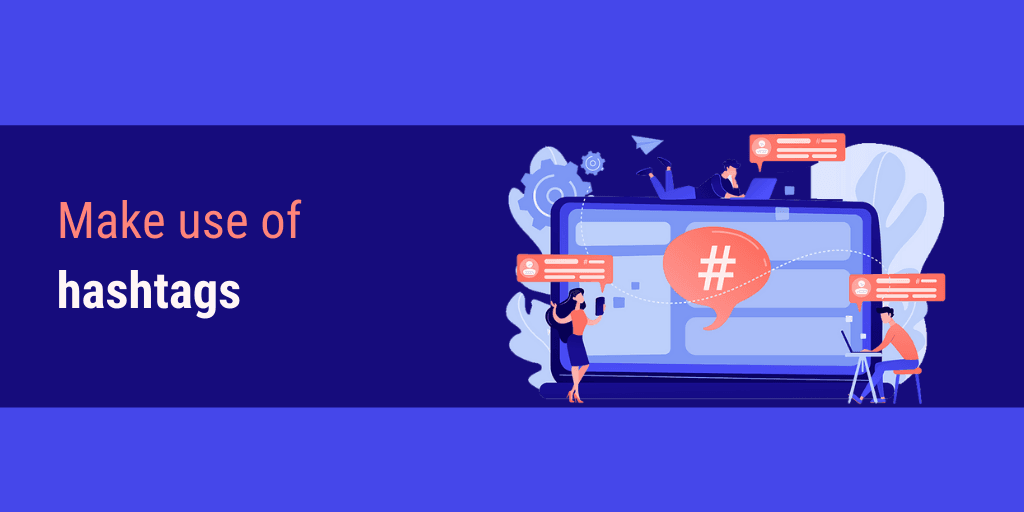 Hashtags act as a golden ticket to increasing the reach of your social media posts. Instagram and FB allow you to use up to 30 hashtags in a post. On LinkedIn, it is ideal to use up to 10 hashtags.
On Twitter, it is recommended to use two to three hashtags. Your post will look spammy if you use anything more than that. Use a mix of generic hashtags along with your own branded ones.
11. Diversify The Content For Each Social Platform
When you have aced the game of syncing content on your social media accounts, it's time to make that content unique. Your audience on Facebook is likely not the same as on LinkedIn. You can undoubtedly post the same images and videos on each platform, but your copy should change. Experiment with different tones and vocabulary after examining your audience. For example, you might not want to use LinkedIn slang like on Instagram.
12. Keep The Salesy Approach To a Minimum
Nosy and conventional marketing left our houses a long time ago. People don't want products to be sold to them. They don't want just to make a purchase but establish real connections with brands. Building relationships with your target audience is the secret sauce to making them trust you.
And when they trust you, they will be ready to buy from you! Thus, you must follow the 80-20 method while posting content on social media. 80% of your posts should be informational, interactive, or funny, and the rest 20% should be promotional.
13. Engage with Your Audience


Social media promotion is a two-way game. You can not just keep posting and hope for people to make purchases. In order to build strong relationships with your followers, you need to engage with them.
Like and comment on their posts, reply to their comments on your posts, reply to their messages quickly, and repost any posts or stories uploaded by them that mention you.
14. Share Behind-The-Scenes Content
Sharing behind-the-scenes pictures and videos can help you establish a more personal relationship with your audience. It makes people feel that they are a part of your company.
This more intimate social media promotion idea helps you show your audience that a group of people behind your company is working hard to provide the best products and services to people.
15. Create How-To Tutorials
Videos are an excellent way to break things down for your target audience. They receive the most interactions and engagement on social media. 60% of users stream and watch random videos on the web. So, just imagine what wonders a video marketing strategy can do.
How-to videos are eye-catching and informative pieces of content that hook people to your profile. Not only are they engaging, but also more shareable
16. Go Live on FB and Instagram
Live videos are of the most compelling ways of interacting with your audience on social media. According to a study done by SproutSocial, people spend 3x time spending live videos on Facebook.
You can go live and do a Q&A session, do a product demonstration, ask an industry expert to join you in the live session, or simply just vlog while going live. After ending the live session, you can also share it on your social media feeds for others to see.
17. Keep an Eye on Trends
Social media trends change faster than you blink. The algorithms are ever-changing, and you need to follow trends in order to stay ahead of the curb with ever ready social media proposal. Find out ongoing trends and jump on them if they relate to your industry.
Curating brand-related memes can make your content go viral overnight and bring in a lot of followers. Just ensure that you stay away from religious and political content, as these are sensitive topics that can backfire and leave a negative impression on your brand.
Social media platforms supported by RecurPost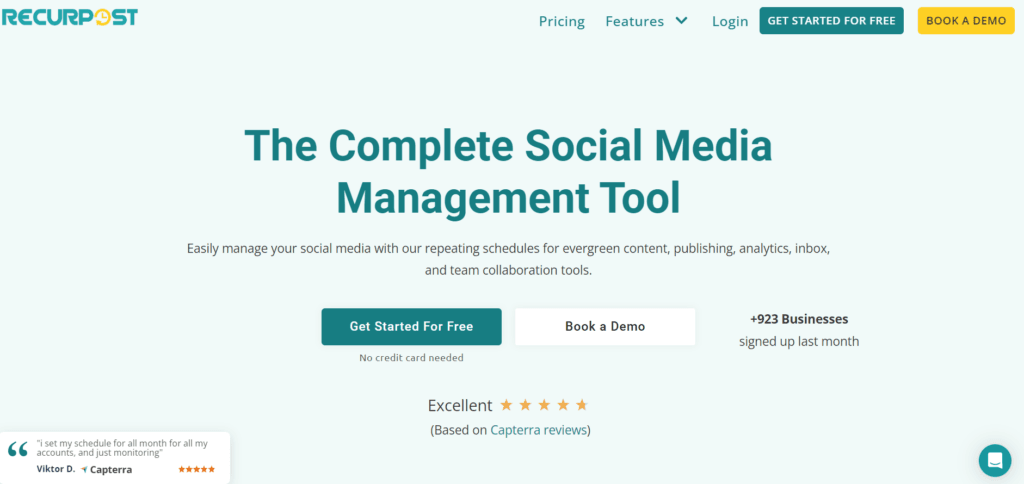 Take your brand to the next level by regularly posting on social media using RecurPost. It is a powerful social media management tool that supports multiple platforms.
Use RecurPost to schedule Facebook posts. You can entertain your customers on Facebook by posting on your profiles, pages, and groups. The tool also allows you to schedule Instagram posts on your business and personal profiles to create a consistent presence through images, stories, and reels.
RecurPost lets you schedule LinkedIn posts on your personal and business pages to reach out to global leaders in your industry. It is also possible to schedule tweets using RecurPost to appear at the best time.
It works well as a Pinterest scheduler for those who want to create a visual impact through their marketing campaigns. RecurPost also supports posting on your GMB Business listing. It is possible to schedule Google Business Profile posts with a call to action button.
Final thoughts
Coming up with promotion ideas for book promotion or any other social media marketing task can be tedious. And if you don't keep your content fresh, you can miss out on leads, customers, online visibility, and sales. The above social media promotion tips will help you fine-tune your strategy, organize your social media pages, upgrade your content, and grow your audience. Using the social media bulk scheduling feature at RecurPost, you can plan and schedule hundreds of posts in advance for all social media platforms. Meanwhile, give it a complete try to RecurPost, which is one of the most trusted Planoly alternatives. With unique features such as Hashtag management, Bulk scheduling, RecurPost is amongst the best free Hootsuite alternatives in the market.
To manage all the major social media platforms together, Sign up for RecurPost today and take the 14-day free trial!
Frequently Asked Questions for Social media promotion
1. Which social media is best for promotion?
There are a lot of social media platforms out there where you can do promotion of your brand. However, the most popular and effective ones are:
– Facebook
– Instagram
– LinkedIn
– Twitter
– Pinterest

These sites are used by almost every other individual worldwide. Facebook and Instagram are the industry leaders with 2.6 billion and 1 billion monthly active users respectively. They allow you to engage with your audience and run targeted advertisements to promote your products and services.
2. Why is social media good for promotion?
Traditional marketing went out of the window a long time ago, and for good reasons. In today's digital world, brands that are not present on social media, don't practically exist. People (especially the younger generation) tend to search for a brand on social media before making an online purchase or paying a visit to their store. 

Social media platforms help businesses to connect with customers, increase brand awareness, and boost leads and sales. With more than 3 billion people using at least one social media platform, the potential for growing your business is immense.

You should be using social media for promotion to:
– Get attention and build awareness
– Communicate authority
– Show authenticity
– Engage and interact with target audience
– Provide customer support
– Run geo-targeted advertisements
3. How much does it cost to do promotion on social media?
Depending on your business and social media strategy, you can allocate a lower or a higher budget for running paid advertisements on social media. Below is the list of lowest possible ad spend across the most popular social media platforms.

Facebook and Instagram:
$1 per day for impressions
$5 per day for clicks, likes, or views
$40 per day for app installs or offer claims

Youtube:
$10 per day

LinkedIn:
$2 per click
$10 per day

Pinterest:
$2.00 for impressions
$0.10 for clicks

Twitter:
No minimum requirements
4. How can I promote my business on Facebook without paying?
When you are not yet ready to spend money on paid ads and social media sponsored posts, you can do the following to promote your business on Facebook:
– Create a FB page to post professional updates
– Keep your page up to date by filling in necessary information like logo, cover picture, contact number, website link, directions to your store, email, etc
– Join Facebook groups that are dedicated to your industry
– Syndicate your blog with your FB page 
– Stream live videos
– Ask your network to share your blog posts
– Create a community that's constantly connected to you
5. What are good promotional ideas?
The below-listed social media promotion examples/ideas will help you increase sales, encourage repeat purchases, and raise brand awareness.
– Run contests and giveaways on social media
– Create Google my business offer posts
– Provide free samples
– Run Buy 1 Get 1 offer
– Run flash sales
– Provide vouchers and coupons
– Give free shipping and returns
– Provide referral discounts
– Run targeted ads on social media and Google ads
– Share user-generated content on blogs and social media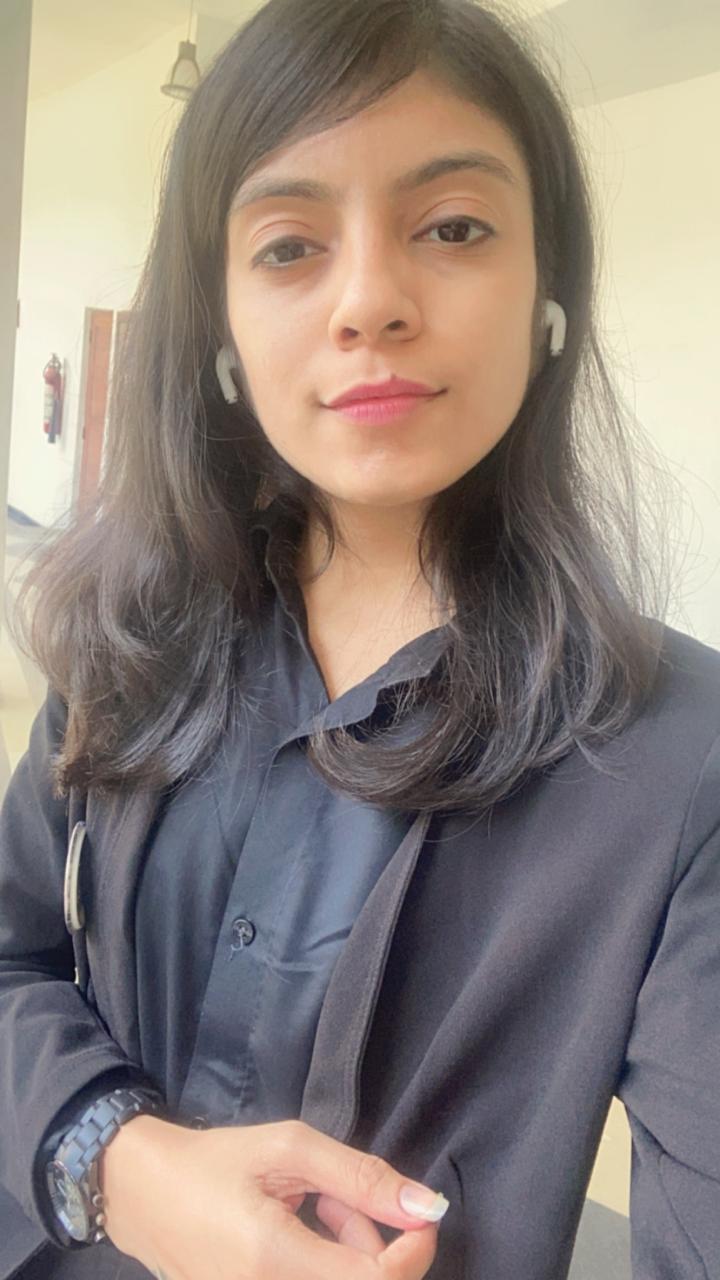 Amaiya Rathi is a Senior Content Writer at RecurPost. She helps RecurPost communicate with their readers in their own language. Whether it is the web copy, social media posts or blogs, Amaiya has worked on all aspects of copywriting. You can reach out to her at [email protected].