You can skip the next few lines of this post if you're a techie who already knows most of the "what and whys" concerning RSS feeds. Alternatively, you might save this link to explain RSS to someone who is unfamiliar with it, saving yourself the valuable 15 minutes it would take to explain it all yourself.
You can also jump to the How to Post from RSS to Social platforms section if you already know why you should use RSS Feed for social media marketing.
Otherwise, before I explain how vital RSS is and how to use RSS Feed for social media marketing automation by scheduling posts with social media scheduler, let me explain what an RSS feed is and why it is relevant today.
Table of content for RSS Feed Generator:
What is RSS Feed?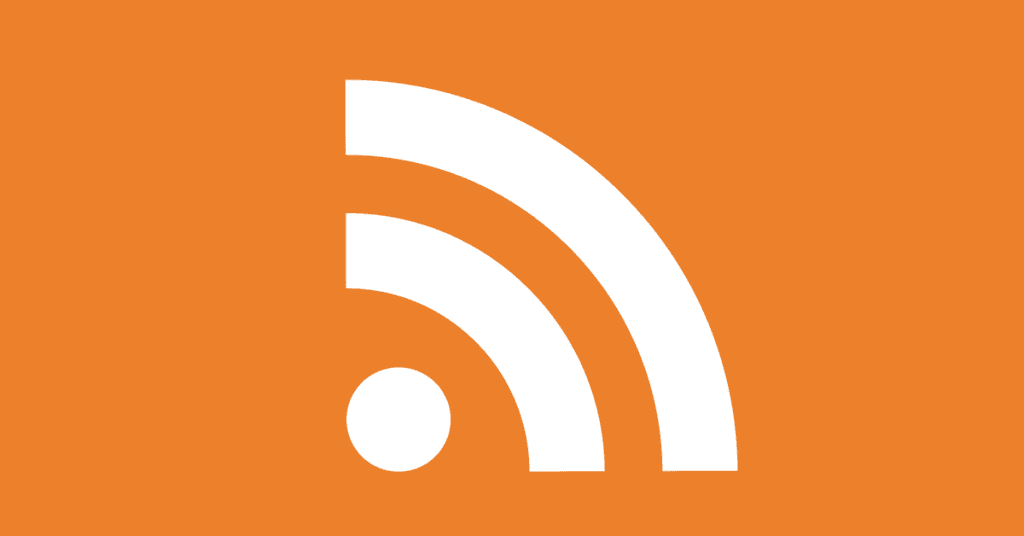 With so much new content being added to the web daily, it has become challenging to keep up with what's happening online.
There are many ways people access data today, including visiting a website, doing google searches, or relying on social media to keep them informed. However, one solution that gets overlooked today is RSS.
RSS originally stood for RDF Site Summary, but now it is commonly referred to as Really Simple Syndication. RSS is a way of subscribing to the content on a website, a blog, or almost any media content.
It allows you to access the data with real-time updates without visiting the blog posts or websites. Instead, you use a feed reading software or link the Feed to a website (where you wish to see your Feed).
It has a standard format, meaning every RSS feed has a design to look the same for consistency. RSS files are simple text files with essential information related to updates, including Title, Body, Author, or Media Files
Example: RecurPost's blog RSS feed link looks like "http://www.recurpost.com/blog/feed."
Ways to Use RSS Feeds in Social Media Marketing
Distribute the stuff from your blog & Publish a newsletter.
Your material can be shared naturally by including an RSS feed on your blog or news page. Combine blog postings into a pre-defined template and regularly send it out as a newsletter.
Subscribing to industry news sites and blogs is a good idea.
To stay on top of industry trends and points:
Subscribe to your industry's news/blogging websites.
Start providing your readers with blogs and news articles on current events and topics relevant to your company's industry.
Consider subscribing to your competitors' blogs as well, so you can keep track of what they're posting.
Sort your users' feeds into different themes and categories to keep them organized and quick to monitor.
Conceptualization of blogging ideas.
Look into your reader's motive for a blog topic. Then, look at what different blogs in your field are saying. Finally, make a point of contention!
Recognize the right LinkedIn questions to ask.
Responding to industry-related inquiries on LinkedIn is a fantastic way to demonstrate thought leadership, increase corporate visibility, link back to your material, and generate leads.
In addition, subscribing to categories relevant to your industry can help you distinguish between appropriate queries.
For example, if you're a social media marketing trends RSS feeds expert, go to the 'Marketing and Sales' category and then to the 'Subscribe to New Questions in Marketing and Sales' RSS feed on the right.
Look up relevant Quora questions.
Quora, like LinkedIn Answers, is a fantastic place to answer industry-related questions. The same rules apply to Quora, except that Quora refers to categories as' Topics.' After you've scanned for a subject, click 'Feed' on the right-hand side to collect the RSS feed for that topic.
Keep an eye out for specifics.
Google is a fantastic resource for finding fresh blog posts and news! The search functions for 'Google News' and 'Google Blogs' on Google are wonderful tools for gathering and searching for content related to your business. To find this feature, do a Google search and click on either 'Blogs' or 'News' on the left-hand side. Then, select 'More' if it only appears once in a while for you.
You can subscribe to the feed by clicking the orange RSS symbol/connect at the bottom of those pages.
Investigate blog comment feeds to identify influencers.
Many blogs provide "comment feeds," or RSS feeds, of the people who leave comments on their blogs. Use these to figure out which influencers you should connect with and network with. They are likely to share your interests, and because they are vocal, they will likely have a network that you can acquire access to after you establish a relationship.
Why RSS feeds?
It's a fair question. So we have many ways to access news and blog posts that RSS feeds can feel a little old-fashioned. But, with some RSS feeds, it can be a great way to control the information you consume rather than have it handed out by large corporations who could well have editorial ideologies of their own.
A selected stream of news and interesting articles, podcasts, and videos can be a refreshing change to the algorithm-based onslaught that most face daily on Facebook and other social media tips or services.
How do RSS feeds work?
RSS allows website owners to publish notices of new information on their sites. Newscasts, blog articles, weather forecasts, and podcasts are examples of this type of information.
The website creator prepares a text file with the XML file extension for the RSS feed that comprises the title, description, and link for each post on the site to disseminate these notifications. The website author then utilizes this XML file to add an RSS feed to the site's web pages. Finally, the XML file automatically syndicates new content via this RSS feed in a standard manner that an RSS reader can display.
When a website visitor subscribes to this RSS feed, the new website material is read in an RSS reader. These RSS readers gather information from many XML files, organize it, and show it in a single application.
An RSS feed and an RSS reader can be used for various purposes. Here are a couple of such examples:
Follow conversations on web pages and in forums without visiting each page to read the list of comments posted.
Keep up to speed on the delectable cuisine prepared by your favorite bloggers and exchange recipes with your friends.
Keep up with local, national, and worldwide news from various sources.
How to set up the RSS feed on the web?
Navigate to FetchRSS.com in your web browser.
Sign up for a free account
Select "manual RSS builder."
Enter your website's URL here.
Choose the news item that you wish the feed to transmit.
Select the headline from the news item.
Choose a description or summary from the news item.
Include them if your site includes any optional parameters, such as illustrations and author.
Click the "Create RSS" button.
Copy the provided XML link and paste it into your website.
How to add the RSS feed to WordPress?
Really Simple Syndication (RSS) is a web feed format for publishing regular sites information updates such as news, blog articles, and other items. RSS feeds assist publishers by allowing them to distribute their site content automatically. Similarly, social feed on websites benefits readers by providing timely alerts when something new is posted on their favorite websites.
Most modern websites are completely RSS compatible, and website software such as WordPress, Squarespace, Drupal, or Wix have RSS components. So, if your website is not yet RSS compliant, it makes sense to address this. WordPress allows you to add RSS quickly feeds to your website. To accomplish this, follow the instructions below:
Navigate to the Appearance section of your WordPress admin area, where you'll find Widgets.
Next to the RSS widget, click Add.
Click Edit for the RSS widget in the Current Widgets column on the right.
Enter the RSS feed URL and title (optional) and select which item details to display (optional).
To publish the RSS feed on your blog, click Done and Save Changes.
How to subscribe to the RSS feed?
There are numerous ways to subscribe depending on your browser and whether you are using a laptop/desktop computer, tablet, or smartphone. Each is simple to set up, but they have somewhat different characteristics. This Quick Guide demonstrates how to get RSS feeds using:
Firefox
Firefox is one of the most accessible browsers for using RSS.
Click on the RSS icon.
When you click "Subscribe now," the feed will be added to your bookmarks toolbar, making it easy to notice when new pages are uploaded to that feed.
Google Chrome
To view an RSS feed in Chrome, you must first download an app from the Chrome Web Store. You'll need a Google account to download this app, but it'll only take a few clicks once you've logged in. It will keep track of the RSS feeds you provide and display a handy indicator on your toolbar that tells you how many new items you need to read.
Internet Explorer
Internet Explorer is as easy as Firefox. When you click on the RSS symbol, you'll be directed to a page that looks like this:
Then, click the "Subscribe to this feed" button.
Now, click "Subscribe," and you're done.
Go to the Internet Explorer menu, select View / explore bars/feeds, or press Ctrl + Shift + G to view your subscribed feeds.
Safari
When you add an RSS feed in Safari, it will launch your email client, such as Microsoft Outlook. RSS can be subscribed to in the same way that emails are in an email account. New content, such as blog entries, will arrive in your inbox the same way as a new email does. This is a simple method to keep track of all the latest stuff, who published it, and when.
Android
It is pretty simple to set up RSS Widget. Follow these steps:
On your Android device, go to the Google Play Store.
Look for the RSS widget.
Locate and tap Waqas Aslam's entry.
Install should be selected.
Examine the permissions list.
If the permissions list is satisfactory, tap Accept.
Allow the installation to finish.
iPhone / iPad
Safari on your iOS device may also be used to subscribe to RSS feeds. When you arrive at a website that you want to subscribe to, tap the Bookmarks icon at the bottom of the screen.
You'll be sent to the Bookmarks menu. The book icon (bookmarks) is at the top of the menu, followed by the spectacles icon (Reading List) and the @ icon.
To access your Shared Links, tap the @ button.
Tap the blue word 'Subscriptions' at the bottom of the screen.
You'll find a list of all your currently subscribed accounts and feeds on the following page. You may activate and disable them from this page.
You'll see 'Add Current Site' displayed in blue at the bottom right of your screen.
Tap this to add the website you are on to your RSS reader within Safari on iOS.
Is RSS relevant today?
It depends upon the purpose for which you put RSS to use. Many big technology companies have stopped using RSS. They are not wrong in doing so from a business perspective, why would they want to share their resources for free with anyone when they are spending dollars on salaries and operational costs. Most of the online publishers or bloggers earn through advertising or affiliate marketing, RSS marketing digital simply strips companies of such income.
However, RSS does hold relevance today, as it is an excellent source of information for publishers, and it also helps access information from different websites at one place.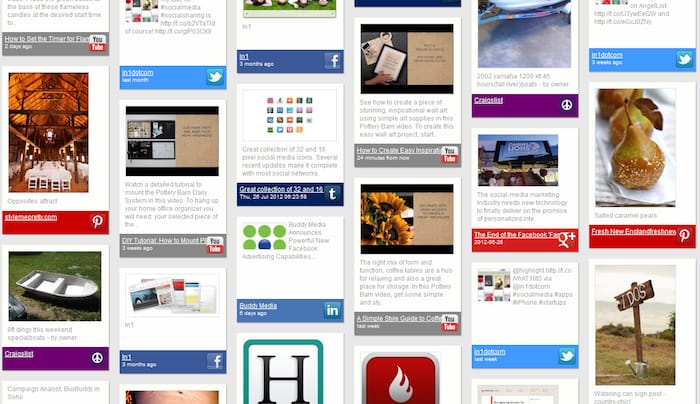 There are add-on benefits as well, including backlinks, social media automation, and improved readership.
Even numbers are totally in favor of RSS. Feedly, one of the most popular RSS readers, has more than 14 million users on its platform. There are other good readers as well, with millions of users on their platform.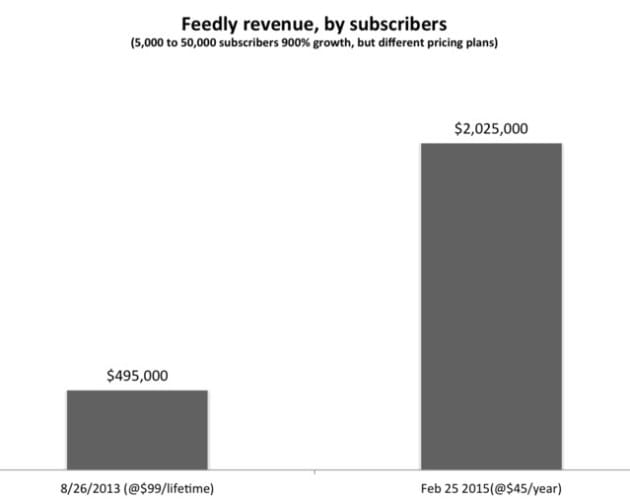 With all of this one thing is clear, RSS certainly isn't dead and buried just yet. There are many daily uses for RSS feeds that you may have forgotten about or weren't even aware of in the first place due to its falling popularity.
RSS today can be used in multiple ways.
How can you use the RSS feed for your business?
Stay updated with Industry News/Trends.
Create RSS feed for your blog and send it out as a newsletter.
Track-specific Google searches
Create a Personalized Web Feed
Publish your company's feeds on your website so people can easily find and subscribe to your content
Curate content on your website
You can use specialized RSS feeds to communicate new products or services with vendors, affiliates, customers, or members.
Use RSS to automatically share blog posts and updates on Social Media using RecurPost.
How to Automatically Post from RSS Feed to Social Platforms?
Identify a Website with Relevant and Quality content that you want to share on your social media for real estate. It could be your website if you want to push your blog posts on social platforms.
First, create a portfolio on your website that shares well-suited content for your target audience. While creating the list, you need to ensure a couple of things, including:
Does the website publish content regularly?
Does the website support an RSS feed?
Go to RecurPost feed manager
You can get content from your favorite websites with RecurPost Feed Manager. Just add their RSS Feed, and we will automatically grab their latest content as it is published.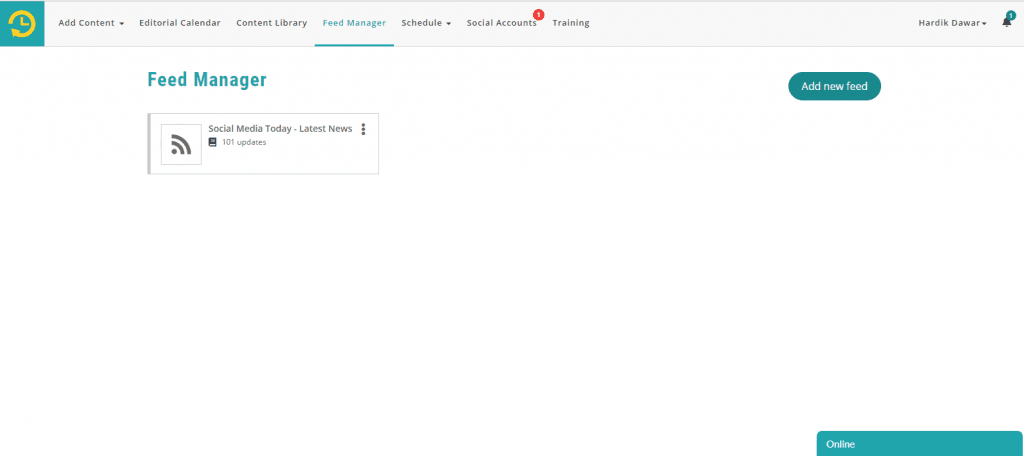 Set RecurPost to Collect Items from your Feed
To add the feed to your content library, you need to click on the Add Feed button in the feed manager. Add Feed URL in the given box and select the Content Library you would want to save your Feed-in.
Whenever a new article is published on that website, RecurPost will add it to your library and from there it will go to your accounts as per the schedule you added to your library.
You can Add Google Alerts as well
You can also fetch content from Google alert feeds into RecurPost. RecurPost is the only tool that supports the Google alert feed. You can set up Google Alerts to monitor the web for your company's mentions, or perhaps your industry alerts.
Add a Feed using Google Alerts.
RecurPost will automatically pull content from your Google Alerts which will then be shared with your audience on Social Media.
Create a Schedule for your Content Library
Once your Feed has been linked to your content library, add a schedule for the content library. Your schedules define how frequently posts should go out from your library on to your social accounts. For instance, you may want one blog post from your library to go on your Twitter every day and twice on your Facebook page to increase your Facebook organic reach. These all can be configured as per your choice.
Fresh content will be automatically published to your Social Media Networks.
When a new article is published in your feed, it will automatically be added to your Content Library. Your content library is connected to your social profiles and will post new content in real-time. This way, it will help you create a viral content marketing strategy for your feed & help in RSS feed automation.
RSS Feeds are a great way of curating quality content for sharing on Social Media Channels. You can simply set up your own Feed in less than 5 minutes. What are you waiting for? Set up your own Feed using RecurPost.
Social media platforms supported by RecurPost
RecurPost is an excellent social media scheduling tool. It allows you to schedule Facebook posts on your profiles, pages, and groups. You can schedule Instagram posts on your personal and business profiles for sharing images, reels, and short stories.
Schedule tweets on Twitter for connecting with people related to your business. Schedule LinkedIn posts on personal and business pages to improve your brand awareness on your professional network.
RecurPost is a brilliant Pinterest scheduler that allows you to take benefit of a visual platform. List your business on GMB and start to schedule Google My Business posts with a call to action button to attract local buyers and improve SERP ranking.
Conclusion:
Following this lengthy discussion, a lot of misunderstandings have emerged:
The RSS feed is still alive and well.
It is far more beneficial than most people realize.
For social media marketing, a social media RSS feed is quite useful. Because it can direct visitors to your blog or page directly. It is a tool for promoting your blog feed on social media sites.
Would you like to share it with your RSS feed for a social media audience? Make a post by clicking on the 'Make a Post' button and sharing it directly from there. So there you have it!
Now you know what RSS feeds mean & how to use RSS feeds effectively in your social media marketing. To get the most out of an RSS feed, you need to understand its relevance and how to use RecurPost, one of the top free hootsuite alternatives & socialreport alternatives with a special feature of social media bulk scheduling. To know more RecurPost pricing, sign up for a free 14-day trial.
Are you using RSS feeds automation for your Social Media Marketing? Let us know in the comments below.
Frequently Asked Questions:
1) What Are Some Examples of an RSS Feed Reader?
Here are six RSS Feed Readers or Aggregate Apps:
– RSS Feed Reader Chrome Extension by Feeder.
– Feedly
– NewsBlur
– Inoreader
– Feedreader Online
Note: Some of these charges a fee based on usage. We'd advise you to check pricing information and read reviews before making any commitments.
2) How to Use RSS Feeds to Save Time on Social Media RSS?
Assume you're a real estate agent. You may include a listing page that lists all of the homes in your portfolio on your website. You may see all properties within our product by adding the RSS feed URL of that specific page to the RSS tab within RecurPost. You may, therefore, plan and share a post of certain listings on your RSS social media platforms without leaving RecurPost or returning to your website, saving you time.
3) How can you tell if a website has an RSS feed?
It's not as difficult as it sounds. First, right-click a spot on the website for which you want an RSS feed, then select View Page Source. If searching for RSS fails, try atom instead. Next, as seen above, seek an RSS URL and copy it into your feed reader.
4) How to find the RSS feed URL?
Select Page Source from the menu that appears when you right-click on the website's page. Type RSS into the "find" field (Ctrl + F on a PC or Command + F on a Mac). The URL of the feed can be found between the quotes following href=.
5) Are RSS feeds still used?
RSS feeds are still available (more on this later), although they aren't as prevalent as previously. Instead, social networking platforms such as Facebook, Twitter, LinkedIn, and others have become the go-to alternative for following sites, viewing feeds, and discovering new material.
6) How to use RSS feeds on your website?
To utilize RSS, follow these instructions:
– But, first, get yourself an RSS reader.
Feedreader, Feedly, and The Old Reader are some of the most popular RSS readers. Create an account first so you can start subscribing to RSS feeds.
– Locate an RSS feed's link.
Finding RSS indicators on a website's homepage are less prevalent than once, so if you don't see them, do a web search for "Insider RSS feed." After that, locate the page and copy the link.
– Subscribing to the RSS feed is a great way to stay updated.
Find the link to add a new feed in the RSS reader program and enter the feed's URL. You should see a list of articles as soon as you add it. You may now browse the articles and select those you wish to read.
– Add more feeds to your subscription list.
You can keep adding RSS feeds to your RSS reader until you've gathered all the websites you'd like to follow.
7) Can you turn a webpage into an RSS feed?
You can do so by following the steps outlined below.
– Right-click a spot on the website where you want an RSS feed, then select View Page Source (the exact wording may vary depending on your browser).
– If searching for RSS doesn't yield results, try atom. As shown above, look for an RSS URL, then copy it into your feed reader.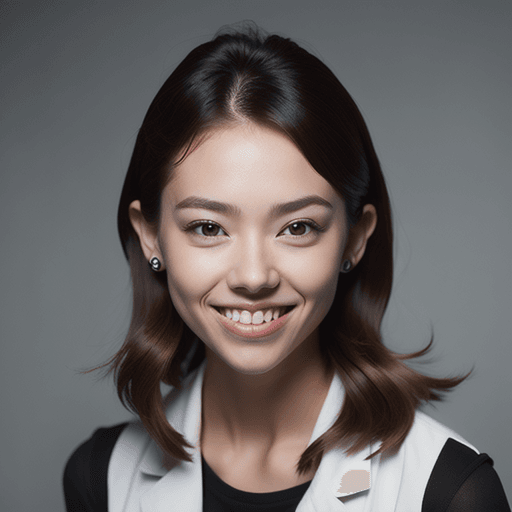 Debbie Moran is a Digital marketing strategist with 5+ years of experience producing advertising for brands and helping leaders showcase their brand to the correct audience. She has been a part of RecurPost since 2019 and handles all the activities required to grow our brand's online presence.