Having more than 190 million daily active users, Twitter can be the best channel for marketing your brand to reach out to more people and establish connections with them.
Twitter gives you 280 characters to say everything in a single tweet, but that's enough to draw a big picture of your brand only if you create a Twitter thread that helps your brand to tell a story, connect with a campaign, ask a series of questions, boost engagement and make the most out of Twitter for your brand. The best thing is it's easy to create it, simply you have to schedule tweets in a sequence.
In this article, I will walk you through the best ideas for creating Twitter threads that your followers will appreciate and love to share.
First, let us see what a Twitter thread actually is.
A guide to using a Twitter thread for branding
What is a Twitter thread?

A Twitter thread is a series of tweets connected and posted by one person. Using a Twitter thread, you can convey the message or run a campaign through a series of connected tweets, each of 280 characters. It is also known as "tweetstorms." By employing a Twitter thread, you can create a long-engaging form of content by adding more tweets to the thread and getting more traffic to your business website.
Why should your brand care about a Twitter thread?
Twitter marketing is incomplete without Twitter threads. Creating a value-generating thread can quickly generate retweets and likes that help your brand to reach a larger audience. However, you can limit who can reply to your tweets.
Let us explore the advantages of building a thread on Twitter for your brand.
Increase outreach: If your first tweet is interesting to readers, they prefer to jump to the following tweet. If your one tweet is disappointing that has a link to another tweet, blog, or website, it will get fewer impressions and less traffic. More the number of tweets in a thread, the better the chances of receiving engagement. At the same time, the overall time to receive attention will also increase. Moreover, you can add one more tweet to the existing tweet to increase impressions and reach by resurfacing the tweet.
Grow the number of followers: Your audience will appreciate that Twitter threads receive a wealth of valuable information by moving to the next and the following tweet without leaving the network. If your brand can make a Twitter thread that people find the most exciting and valuable, they will prefer to follow your brand to keep up with your content.
Increase engagement: Because of the content length, Twitter threads allow your brand to invite more discussion. The more your audience spends time on your content, the better the engagement. Research says that every tweet in the thread doesn't get equal engagement. After two to three tweets, engagement drops. Still, tweeter threads bring more engagement compared to tweets with the link.
Tips for writing a great Twitter thread for brand building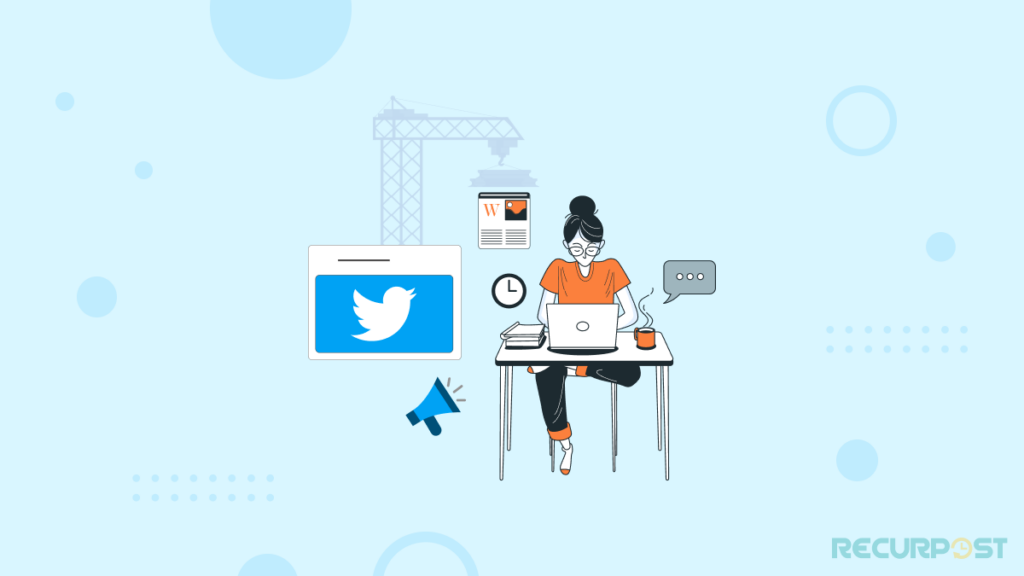 Let's explore creative ways that brands can reach a larger audience, increase followers, and set the best Twitter thread example to follow their brand.
1. Hook the audience with the first Tweet in a Twitter thread
The first tweet in the thread will be seen by most people. The readers who are attracted will only click to read the following tweet and you get 250 characters to grab your first attention, which must be engaging and not like writing a subject line of an email.
Here are the tips for writing a winning first thread on Twitter.
Do not write everything in the first tweet. Design an appealing first tweet so that readers find a reason to click on "See thread" to know more.
The content of the first tweet must indicate that this is the first tweet of many, and there is more to see. For that, you can add emoji for the thread, write "(1/)", or write "A thread" to indicate that this is the first tweet, and by clicking on the following tweet, a reader can get more information.
How much curiosity you build in the first tweet takes the responsibility of moving readers to the following tweet.
To make your brand noticed on Twitter through a Twitter thread is by crafting content that people love to share with others. The pressure of creating a successful thread is on the first tweet. If you can hook your readers through the first tweet, they will prefer to learn more. When you are into an online business and planning to adopt ecommerce marketing automation; Twitter threads can prove to be a great way to attract people.
2. Design a thread that goes viral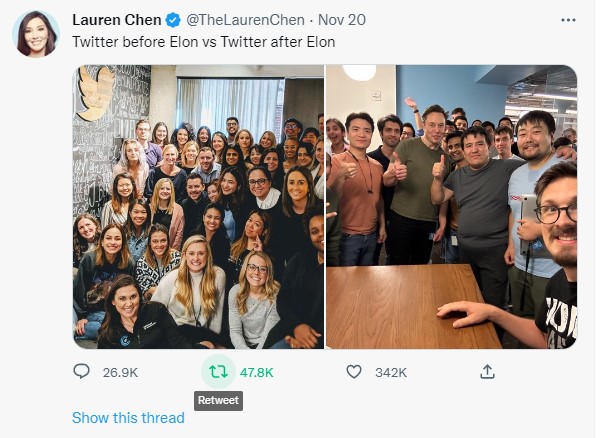 Suppose you created an excellent thread and no one preferred to share it. Does it make any impact? Your reply is negative.
According to a survey in 2022, at least 500 million tweets are sent daily. When you want to make your brand popular, you must work smartly to select the strategy that will make your Twitter thread an exciting journey that people love to share.
Here are the tips for scheduling tweets that go viral.
One that is entertaining and creates value in their lives
It defines themselves (readers) to others
One that helps them to grow and nourish relationships with others
Creates fulfillment
Talk about the cause or brand
The study shows that 68% of the posts that people share are a sense of showing others who they are and what they care about. When you share something in a thread that resonates with the people, they are more likely to share it. The more people share it, the more they will read and share it with others, and your thread will become viral, making your brand popular on Twitter.
The advantage of creating an engaging Twitter thread is that it opens up more conversation and makes a thread visible to Twitter users in their immediate following. This a great idea for creating brand awareness by reaching a large audience! According to research data, the US is the leading country based on the number of users on Twitter. It shows that you can't miss the opportunity of marketing your brand on Twitter.
3. Tell a story through a Twitter thread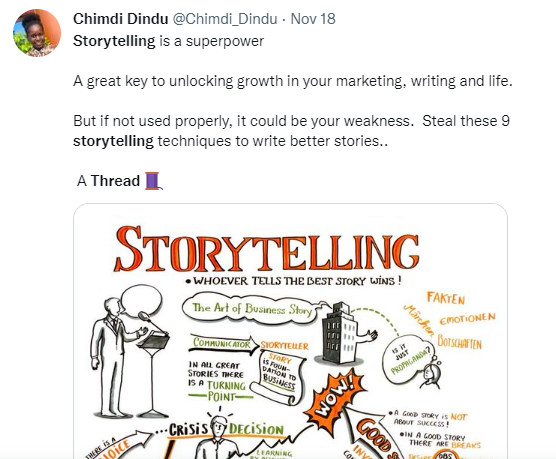 We, humans, enjoy stories. Stories are an excellent way to engage your audience. Stories are universal. Through telling stories, you can communicate with your audience and build communities.
When you tell a story, people will read your thread from the first tweet to the last. Moreover, stories are easier to remember, and so is the message you want to convey. Telling a story that grabs readers' attention is an art. There are multiple ways to tell a story. You can try different ways and see what works best to hook your readers with your brand.
4. Become the first to share the breaking news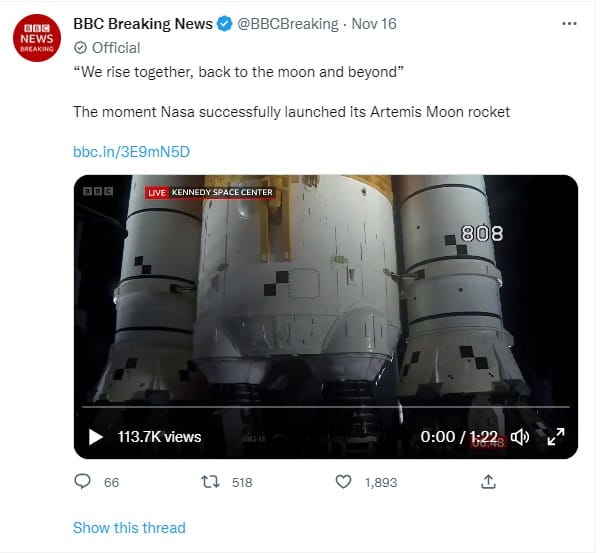 Information on the web spreads very fast. Earlier news channels were the sole news bearer. Because of the ease of social media access, netizens are quicker to share the news. Sometimes, news channels need more time to write a detailed story. In such cases, they can be fast enough to create a Twitter thread and simultaneously become innovative in their news-telling formats. Many known news channels have already adopted this idea to become the first to tell breaking news by writing a story using a Twitter thread.
5. Reuse an older Twitter thread
As social networks move faster, information gets buried very quickly. Your tweet that was once up on someone's feed disappears in seconds. If you want to keep engagement up, you must call back attention to your tweet. The easiest way of doing this is to make a thread out of it. You can keep engagement in one place by reusing your earlier threads without losing it across the network. It is also advisable to know how to automate tweets recurringly, so that you can make the most out of your content.
6. Create fun using Live Tweeting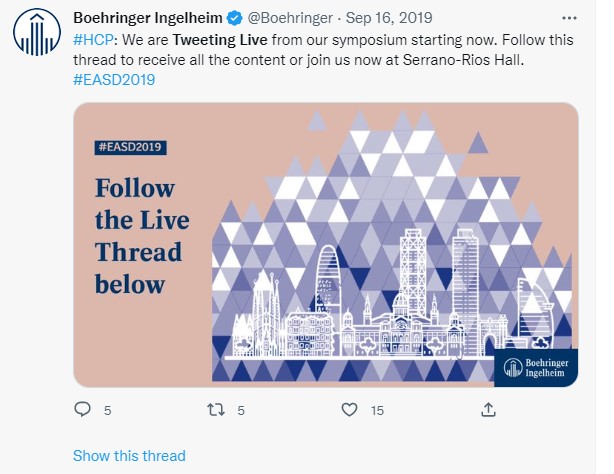 If you are assigned the task of handling Twitter for a live event, you will undoubtedly start a Twitter storm. It doesn't mean this is the only way to do it. You can live-tweet from anywhere in the world. For example, opening a new store, a corporate summit, or a brand event. When you attach the right set of hashtags with a thread on Twitter, you will attract interested people to jump into the conversation. Live-tweeting sessions bring out an informal, chatty side of your brand on Twitter.
The most efficient way of doing live tweeting on a full scale is to schedule a Twitter thread. Using RecurPost, you can schedule tweets at your comfort and reply to the audience's comments in real-time using RecurPost's social inbox feature.
7. Communicate with your audience
Besides making marketing strategies, Twitter threads are an excellent way of initiating conversations with your followers on Twitter. Big brands know how to make a Twitter thread that fire up a chat on the internet. You can start a Twitter conversation that devolves into a thread. When you communicate with your followers regularly, they feel they need to speak with a corporate entity.
8. Experiment more with different tweets in a thread
Social media is constantly evolving, as a Twitter thread came into the picture a few years back. With that, marketers try new tactics and employ them as the following best practices. It implies that no strategy remains forever, and not one proven successful strategy applies to all to run a successful social media campaign.
With that in mind, it's essential to think of new creative ways to use the Twitter thread and test whether it becomes successful. Do not be afraid of experimenting with different formats, link placements, and call to action that best resonates with your audience. By experimenting only, you will discover what brings you the best results.
However, RecurPost is the best social media scheduler for marketers to schedule recurring posts in advance. Don't you think it's a great way to start experimenting with different strategies for Twitter?
Experimenting with different tweets in a thread can be a powerful strategy to engage your audience and increase visibility. By using a tweet scheduler, you can plan and schedule multiple tweets in advance, allowing you to maintain consistency and explore various ideas, formats, and angles within a thread, maximizing your impact and reach.
9. Host a freebee and announce the winner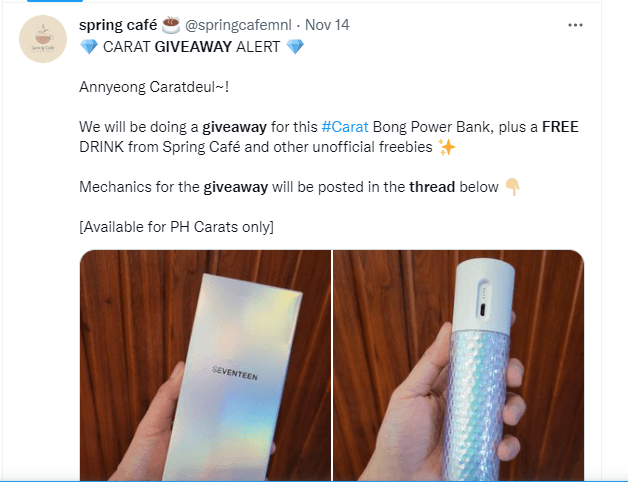 One of the great ideas to promote your brand on Twitter is by tweeting a giveaway and announcing the winner by posting a congratulatory tweet.
Asking your followers to participate in the competition and wait for the winners brings more attention to your brand. Scheduling a thread that hosts a free gift to the winners is a great idea to boost brand engagement. With RecurPost, you can create tweets that are attractive to your readers. For scheduling the same content multiple times, RecurPost creates variations to get approved by Twitter, which makes it the best choice of free Hootsuite Alternatives and SocialPilot alternatives.
10. Extend the character count
Twitter allows using 280 characters to create a single tweet. Most of the time, this seems less. You might want to add terms and conditions, add more information, or connect posts to tell an exciting story that people would love to read. Using a Twitter thread, you can add more tweets to your thread and enjoy sharing any amount of information with your audience and get more Twitter followers.
11. Engage your audience with additional information
We are in an information age, and people love to consume more of their interests. You can provide the audience with background information or about new research. A thread offers an excellent opportunity to engage your audience with additional information, which can be a tutorial video or a specific article related to your business.
If you follow a Twitter thread planner to schedule, they are helpful for an organization for better management. Twitter marketing is the best way to grow your business and promote your brand.
Applying varieties of Twitter thread ideas will make the brand authority on Twitter. You can include a Twitter thread strategy in your social media proposal and win your client's trust.
How to post a thread on Twitter?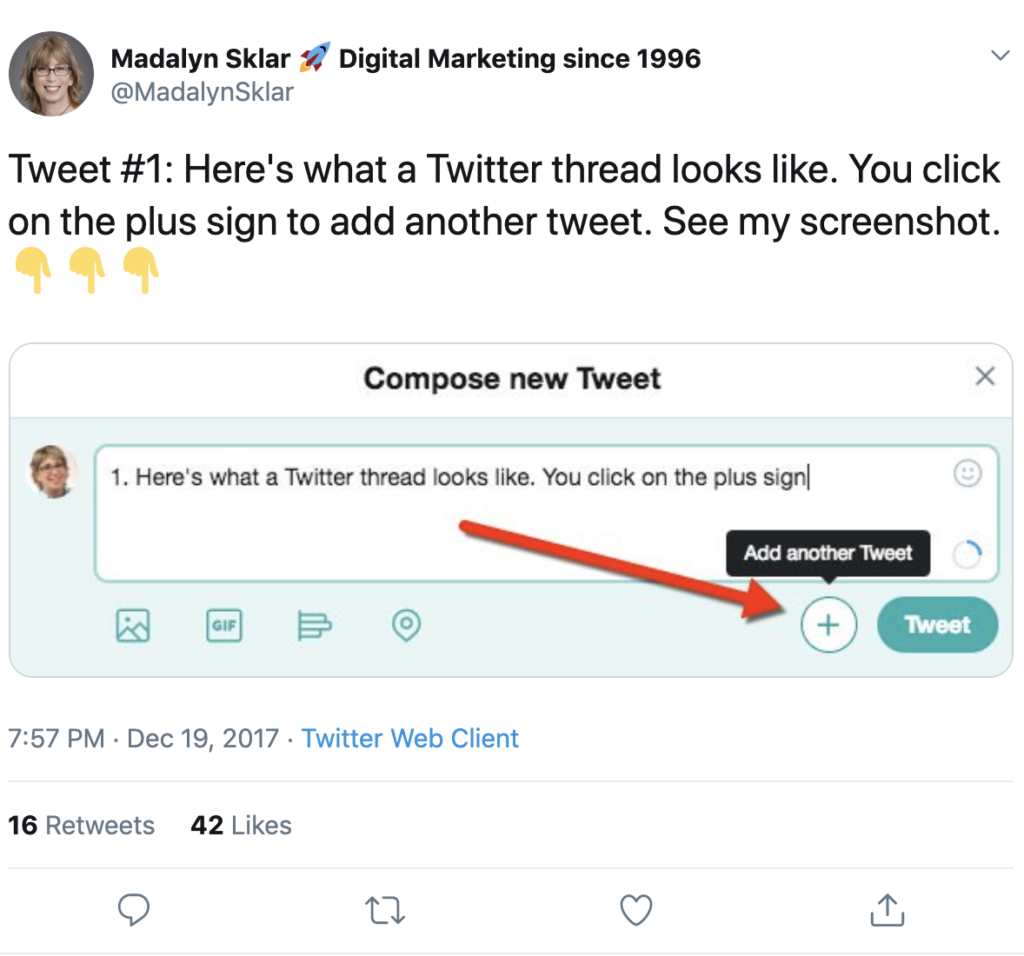 The idea of manually creating a thread on Twitter has been around for a long time, but Twitter recently made it easier by adding a way for you to tweet. Creating a Twitter thread is simple. Start writing your first tweet, then click the + button to add the next tweet to make a Twitter thread.
Making a thread is the easiest way for marketers and individuals. If you want to use a promotional tool that helps you to create a thread, send it out at once and ensure that you cover the entire information.
It is possible that once you tweet something, you later add more tweets to the thread by selecting the "Add another button." The only thing you need to remember is that you are adding more tweets to the end of the thread so that you create a synchronous flow instead of branching off haphazardly.
Twitter lets you and your users know if there are more tweets in a thread to see the full view of a thread. Clicking the button "Show this thread," you can see the entire thread, whether it contains two, twenty, or two hundred tweets in a thread.
How to utilize Twitter thread branding ideas efficiently for your Twitter account?
To get the most out of Twitter is to create tweets that people find informative and interesting. You need to experiment with creating multiple tweets and see what gets the most engagement. RecurPost is a bulk social media bulk scheduling tool that helps you with advanced scheduling on your Twitter account.
It supports hashtag recommendations and the "Best time to post" feature, which increases engagement with your audience. It fetches real-time data to a Social Inbox directly from Twitter and allows you to reply to them.
RecurPost supports you to schedule Facebook posts on Facebook profiles, pages, and groups. You can also schedule Instagram posts on Instagram, schedule LinkedIn posts on LinkedIn profiles and company pages, and schedule Google Business profile posts for attracting a local audience. RecurPost allows you to schedule pins and is an excellent Pinterest scheduler. By using it, digital marketing agencies can access multiple clients' data using one platform and generate white-label reports for an individual client. RecurPost pricing is cheaper compared to other similar tools and offers a free 14 days trial to try and test its various features. Sign up to RecurPost Today!
Summary
A Twitter thread is powerful for connecting with the audience. With a thread now, you do not have to worry about 280 characters. You can quickly promote your brand on Twitter by engaging more followers, starting more conversations, and sharing more information with the world. Once a Twitter thread is created, you can repurpose the same content as a YouTube video idea with the required modifications.
I know you are ready to start your first Twitter thread now. The best thing to do is take the test. Find out what most resonates with your audience and which idea works the best for your brand.
Now go and start creating your first Twitter thread. Let me know which idea actually helped you with your brand-building!
FAQs
1. How does a Twitter thread work?
A Twitter thread is also known as a tweet storm. It is a series of connected tweets. Instead of confining messages in 280 characters, you can add them in multiple tweets, tell a story, or share information with your audience throughout several tweets.
2. What happens if you delete the first tweet in a thread?
Whenever you delete a tweet from the thread, the rest will remain as it was connected in a thread. If you delete the first tweet in a thread, then the second tweet in a thread will become the first tweet, and the rest will remain as it was created.

3. How can I view an entire Twitter thread on Twitter?
A thread with two to three tweets will appear on your Twitter timeline. When there are four or more tweets in a thread, the tweets get truncated, and you will find the option "Show this thread." By clicking the message, you can expand the entire thread.

4. How do I make a Twitter thread effective?
The strategies you can apply for creating a compelling Twitter thread are,
* Create an interesting first tweet to urge the audience to move to the following tweet
* Build curiosity to see what is there in the following tweet
* Provide information that is helpful to the audience
* Tell a story that hooks them to move to the following tweet
5. How can you make a Twitter thread that goes viral?
Elements that make a viral Twitter thread are,
* The way of presenting the information in writing
* Creating content that hooks the audience
* Building more excitement to see the following tweet in a line by attention-keeping philosophy
* The clear call to action
6. What kind of tweets goes viral?
1. Perfect time to tweet
2. Engaging headlines
3. Using appropriate hashtags
4. Host a gift
5. Asking for a retweet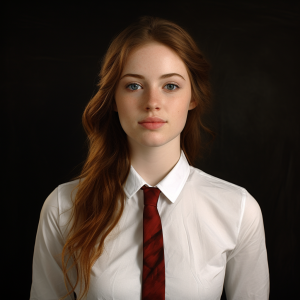 Debbie Moran is a Digital marketing strategist with 5+ years of experience producing advertising for brands and helping leaders showcase their brand to the correct audience. She has been a part of RecurPost since 2019 and handles all the activities required to grow our brand's online presence.