Building a presence on social media is one of the most important aspects of digital marketing today. As a brand, it is necessary to be active on social media and consistently churn out valuable content that will engage the audience. But, the changing algorithms of social platforms make it difficult to reach potential customers daily, especially on Instagram. Thus, an ideal step would be to bring some automation that can post on your Instagram business profile without your active participation.
Here, we will show you how to automatically schedule Instagram posts using social media scheduler and schedule Instagram posts on your business profile using 2 tools: RecurPost and Zapier.
What is RecurPost?
RecurPost is a social media scheduling tool using which you can schedule your content ahead of time on multiple social media platforms. It supports all the major social media platforms, including Instagram personal and business profiles, Facebook profiles, groups, and pages, LinkedIn profile and company pages, Twitter accounts, and Google my business listings.
It lets you plan your content by creating content libraries and scheduling them at specific intervals. Using its Instagram post scheduler, it is very easy to plan, organize, and upload content on the go. When it is time for your scheduled post to go live, RecurPost will send a push notification through the app. You just need to click it to upload your post. This is a mandatory step that needs to be followed by every social media management tool.
But, if you have a business profile on Instagram or looking for some Instagram Filters, you can skip the notification part and directly post on your account with the help of Zapier integration. It will save you from the hassle of clicking on the notification to make your posts live.
What is Zapier?
Zapier lets you connect one app to another using ZAPs that helps in automating the workflow to a huge extent. It takes care of all the integrations and operations. Thus, your team doesn't have to worry about any kind of coding and development. You can use it to build workflows and automatically achieve simple tasks. When you use RecurPost for publishing posts on your repost on Instagram business profile, Zapier can connect both of these platforms and use information in one app to create something in another.
There a wide range of combinations you can create using these two platforms. This flexibility gets to the heart of why your business should benefit from Zapier; it enables you to automate simple tasks so that your team can focus on what is more important.
Common Zapier Terms
Zapier comes along with its own common terms and vocabulary, and knowing these will help you understand what the system can do. While there are many terms related to its advanced features, there are four general ones that you should start from.
ZAP:

The automated workflow between your apps is known as a ZAP. Think of it like the entire process that will be undertaken. In our case, the ZAP will be the workflow for posting updates from RecurPost to the Instagram business profile. A ZAP will have at least two parts: A trigger and an action.

Trigger:

Triggers are events that activate a workflow within a single piece of software. What's important here is that once you have set it up, Zapier will actively search for them. So, for Instagram, it will always look for new updates created in selected RecurPost's library.

Action:

The action is the step taken by a ZAP, such as uploading a post on Instagram when any new update is made in RecurPost's library. Depending on the plan that you are using, ZAPs can take multiple actions and even work in multiple programs off the same trigger.

Task:

A Zapier Task is how the company tracks your actions. Each time a zap accomplishes one of its "

Action

" moves, Zapier counts this as a task. In our case, if Zapier uploads 10 posts on your Instagram business profile from RecurPost's selected library, it will be counted as 10 tasks.
Read More: How To Post On Instagram From Pc?
How to connect RecurPost to Zapier
RecurPost is now available in the Zapier ecosystem. It means you can connect RecurPost to 1000s of other apps out there without any problem.
We are currently working with Zapier to list RecurPost on its platform publicly. This may take a week or two. You are welcome to start using it by visiting this invite link and accepting the invite. Using RecurPost, one should know how to schedule Instagram posts.
Some examples include:
Post on Instagram directly from RecurPost without the need of a push notification.

Post on Pinterest boards directly when a post is made on RecurPost.

Add content in your RecurPost library when you bookmark something in your pocket app.

Schedule content automatically when your designer emails you an image in your Gmail.
RecurPost + Zapier
When you try to use RecurPost app with Zapier, you will need to verify that it is, in fact, you who is asking for this connection. In order to keep you safe, we have created a unique API key that is available under your Account Settings page.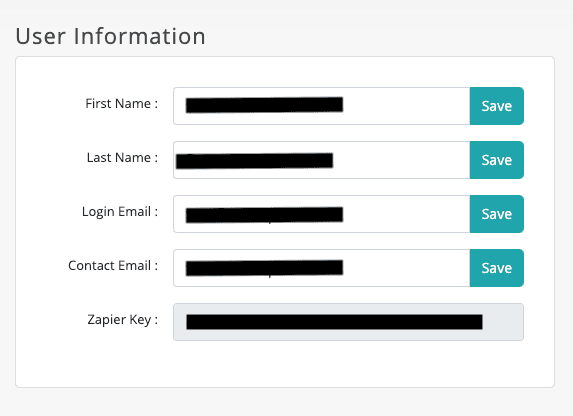 Copy the key from this page and paste it in Zapier along with your email address to verify your RecurPost account.
RecurPost Triggers in Zapier
We have created a Trigger in Zapier that will start your workflow when an update is posted by RecurPost. A trigger is the first step in a Zapier Zap or workflow.
You can use it to do something when an update is posted on one of your social accounts. For instance, when RecurPost posts on your Instagram (sends you a push notification) you can connect RecurPost to the Instagram app in Zapier to post it automatically. That way you don't need to follow the process of posting via push notification.
In order to use this trigger, you need to specify the social account that should fire this trigger. You can have multiple triggers for each social account if you so choose.
Please note that even though your update will be posted directly with Zapier, RecurPost will continue to send you push notifications. You can ignore those though.
You can do other things with this Trigger. For instance, if you want to store your updates in a Google Sheet to track how many updates were posted for a client, you can connect the RecurPost app to Google Sheet apps to do that.
The possibilities are many, as there are thousands of apps that you can use now.
RecurPost actions in Zapier
An action is something you want to do when a trigger triggers something. For instance, in the above example posting on Instagram or storing in Google sheets are examples of actions created by Instagram and Google, respectively.
RecurPost has two actions that you can leverage.
You can add new content to your RecurPost libraries. For instance, whenever you add a new URL to your Pocket app, it can be automatically added to your RecurPost library.

You can schedule an update using RecurPost. For instance, every time you add a new blog post to your WordPress website, you can schedule it to go out on your accounts in RecurPost.
RecurPost further enables publishing on widely used social media websites in every country. You can quickly schedule pins to draw people in using RecurPost as a Pinterest scheduler. You can schedule Facebook posts on Facebook profiles, pages, and groups, and schedule Instagram posts on Instagram profiles and pages.
For your professional updates, RecurPost lets you schedule LinkedIn posts on profiles and company pages. Since Twitter doesn't allow posting the same content twice, RecurPost lets you create variations and schedule tweets on multiple accounts. Also, if you have a GMB listing, RecurPost lets you schedule Google my business posts with the CTA of your choice. In order to set up your actions, you will need to specify the message, image URL, video URL, and link to go with it.
We will validate if your post can be added based on your plan, and if all goes fine, it will work as expected. If there is an error, Zapier will email you that a Zap did not run properly.
Posting on Instagram business profile from RecurPost through Zapier
In this guide, we'll take you through the process of posting directly on your Instagram Business account with RecurPost and Zapier integration through a ZAP, so you don't have to worry about coding and development. This integration will enable you to upload single image posts and link posts directly on your Instagram business account. 
To get started, you need to log in into 3 accounts on your browser:
RecurPost account – If you are not logged in already,

click here.

Zapier account – If you don't have an account, create one from here.

Instagram business account – A business account on Instagram is always connected to a Facebook page. Make sure you are the owner or admin of the Facebook page which is linked to the Instagram business account to enable direct posting.
After logging in to all of these accounts, follow the steps given below:
Step 1: Go to your Zapier account.
You can upgrade the plans as per your needs, but here we are going to show how to use a free plan.
Step 2: Creating a Zap
When you go to Zapier's account, you can see a panel on the left-hand side of the screen. Click on the big black button saying "Make a Zap".

A new window will open. Search for RecurPost from the list of apps available and select click on RecurPost's icon.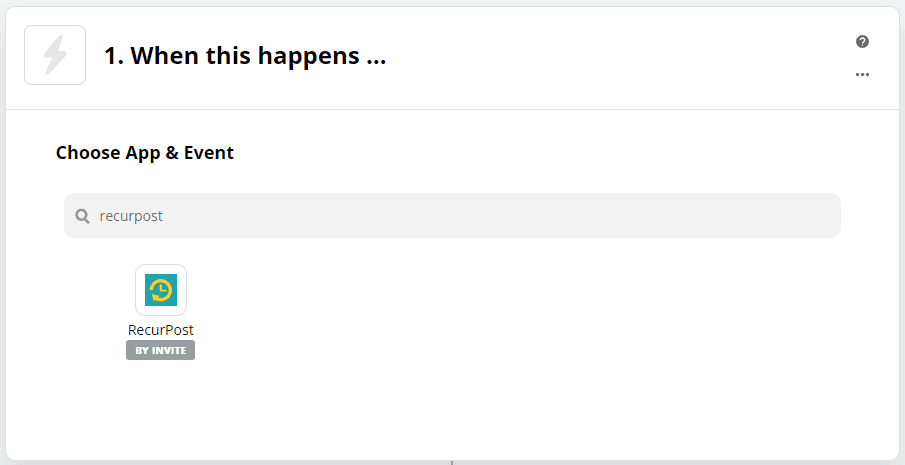 Next, choose "New update posted" as the triggered event.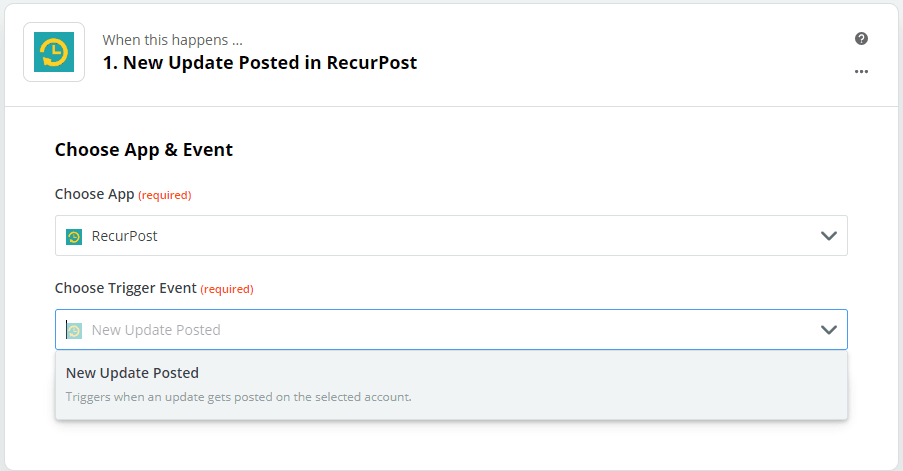 Click on Continue. If you are not signed in to your RecurPost account in the same browser, you can log in from this screen. Click on "Sign in to RecurPost".
In the pop-up window, you'll be required to enter your "RecurPost API key for Zapier" and "email-address associated with RecurPost." You can get your Recurpost API key by vising the account settings section. (https://social.recurpost.com/accountsettings)

If you are already logged in to RecurPost account in another tab of your browser, it will automatically appear in the dropdown menu. After selecting your RecurPost account, click on Continue.

Now is the time to automate postings on your Instagram Business account! In the "Customize update" section, click on "Select accounts". All the socials accounts connected to your RecurPost will appear in the drop-down menu. Select your Instagram business profile from the list.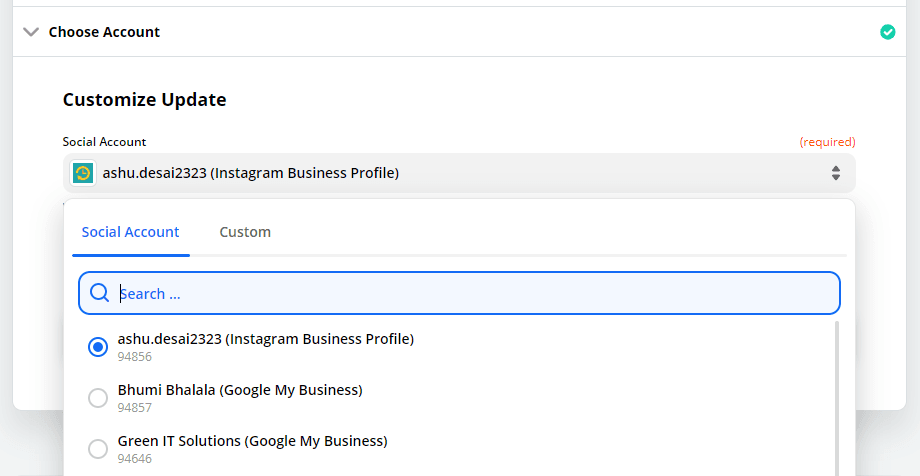 Click on Continue. Click on "Test trigger" to make sure everything is set up and working properly.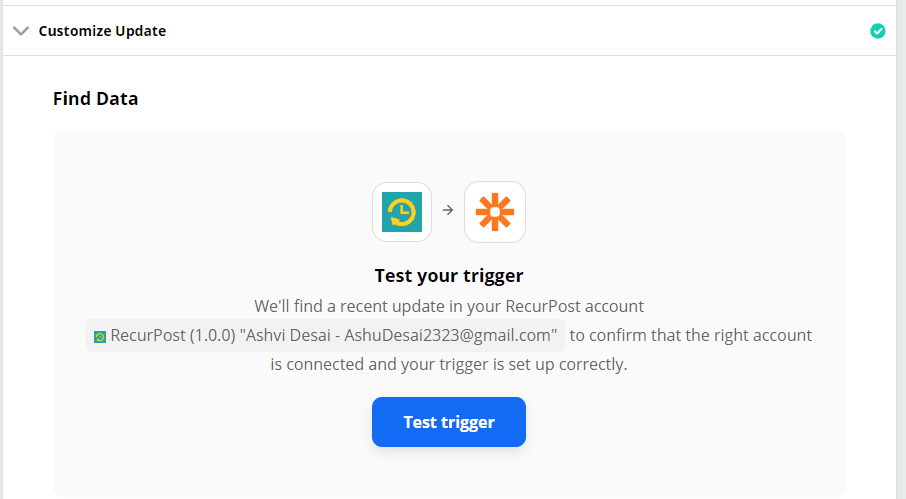 If there are any updates recently made or found, it will show up here. Click on continue.




Note: If there is no post found or you get an error, do not worry. Click on "Skip Test" and again "Skip Test" on the prompt and then click continue.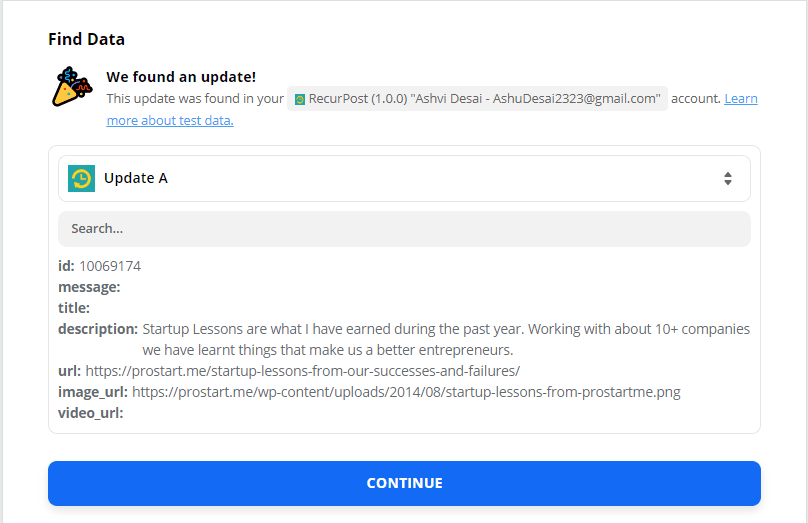 You are now done with the trigger setup. In the next step, search for "Instagram for Business (Beta)" under the "Choose an app" section.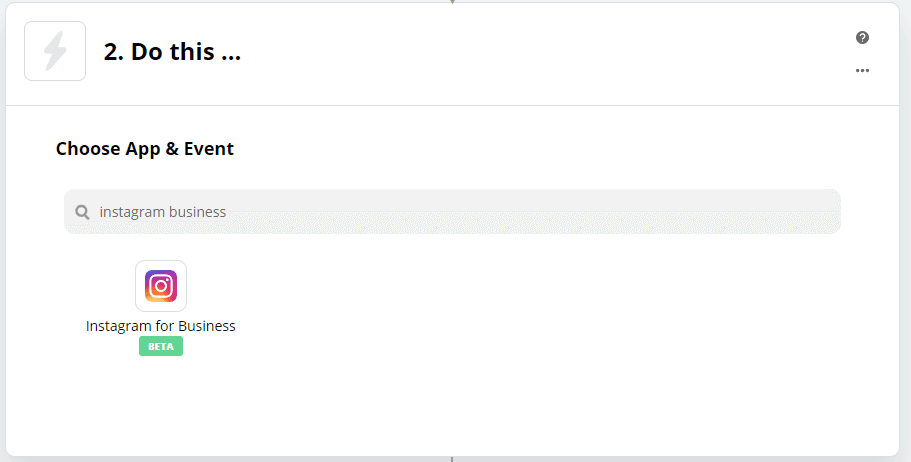 Choose "Publish Photo" as the action event and click on continue.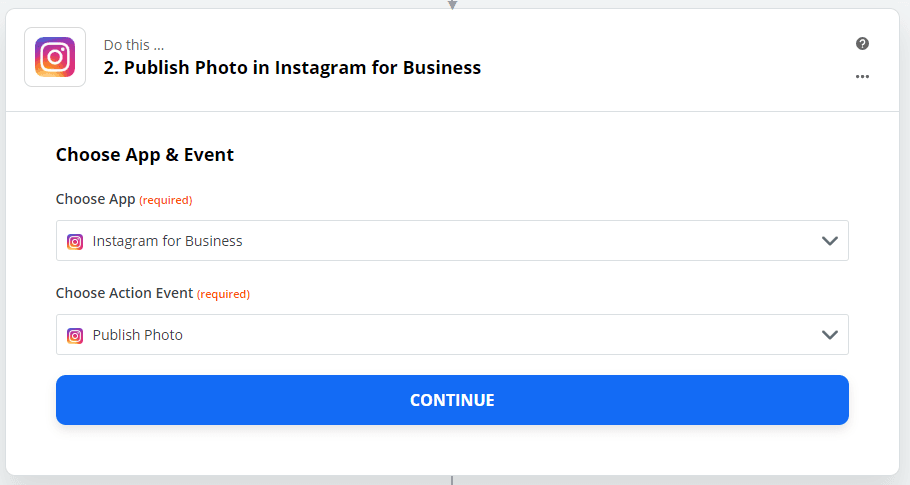 Sign in to your Instagram Business profile using your Facebook ID and password. If you are already signed in, it will show up in the drop-down menu. Select your account and continue.
In the "Customize Media" section, first select your Instagram business account. After that, the next step to map the required fields to enable successful post publishing. In the photo tab, click on the text field to reveal a drop-down menu and then select "Image URL".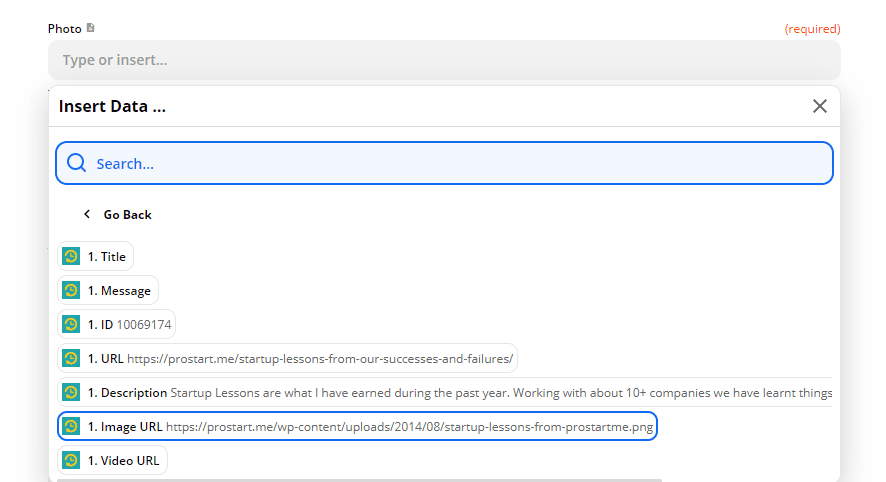 Now click on the Caption field and select "Message" from the drop-down menu.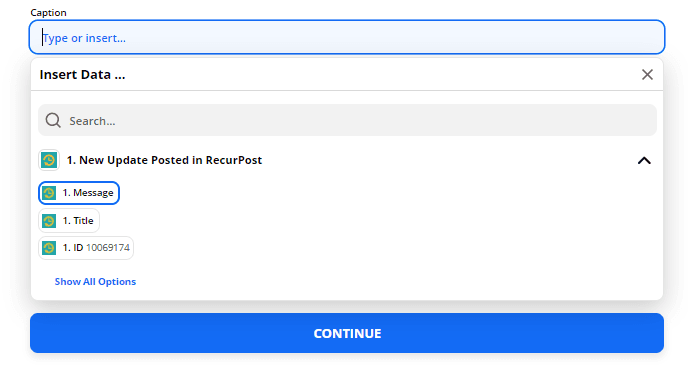 Skip the sections of "Tagged users" and "Geolocation" and click on Continue.
You can either click on the "Skip Test" button to avoid publishing a sample post to your actual Instagram business account or simply click on "Test and review". Your ZAP is ready now! Turn it on by clicking on the "Turn on Zap" button. Finally, set the name of your ZAP.
You can access your ZAP from the dashboard. To see all the posts automated by Zapier, go to "Task history" from the left-hand side panel.
Step 3: Start posting!
Head back to RecurPost and start scheduling your posts.
Pro Tip: RecurPost allows posting on all the popular social media channels, making it one of the perfect eclincher alternatives and free hootsuite alternatives in the market.
Note:
Zapier will check for new data from your trigger every 1 to 15 minutes in order to start your Instagram Zap, depending on your pricing plan. So if you're on their free plan, it will take up to 15 minutes to share a post.

You will keep receiving Instagram publishing reminders from RecurPost (only push notifications

on your mobile device); you

can ignore them – but don't ignore the ones for your Instagram personal account.

Please do not ignore the Instagram story ideas publishing reminders regarding the Video and Gif posts that you have scheduled or published from RecurPost.

Make sure to set the time zone in your Zapier account. From your dashboard, click on the profile icon on the top-right corner. From the drop-down menu, select "Settings." In "My Profile" section, there will be the option to select your time zone. Also, cross check it with the time zone set in your RecurPost account. It should be the same at both places.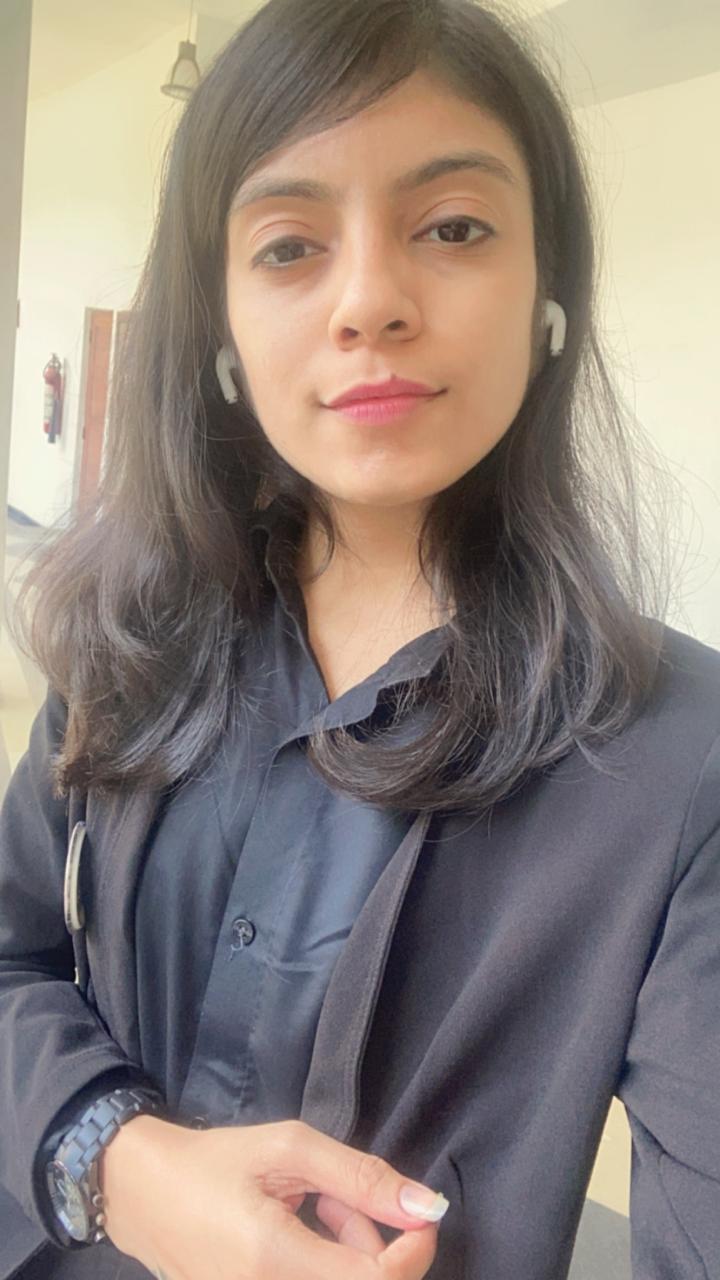 Amaiya Rathi is a Senior Content Writer at RecurPost. She helps RecurPost communicate with their readers in their own language. Whether it is the web copy, social media posts or blogs, Amaiya has worked on all aspects of copywriting. You can reach out to her at [email protected].