ALL-IN-ONE PINTEREST SCHEDULER
You are either getting a lot of traffic from Pinterest, or you need a Pinterest scheduler like RecurPost.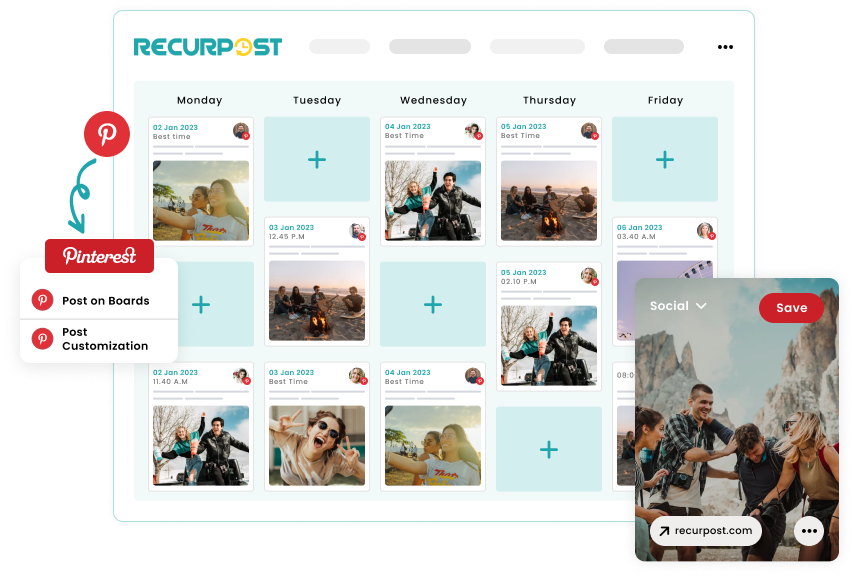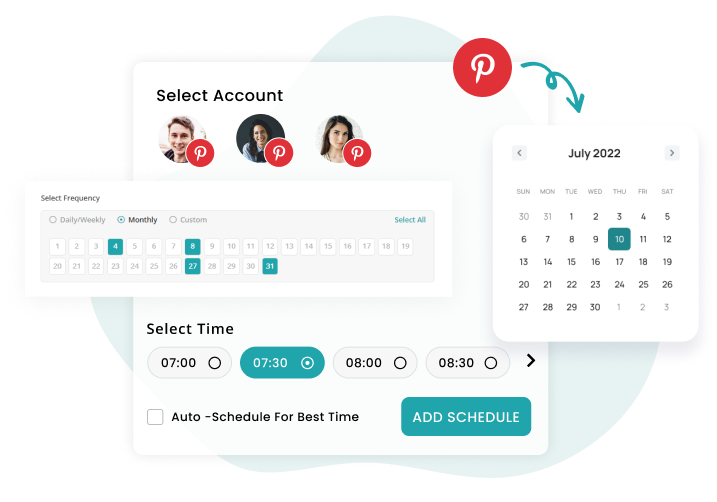 Effectively Create, Schedule, and Post Pinterest Pins
Schedule Pinterest Posts in Advance to Get More Traffic
RecurPost is the most convenient Pinterest scheduling tool to schedule Pins out there. 
You can attach pictures and videos to your Pinterest Pins and post them right away or schedule them for later.
We are not any Pinterest scheduling app, but we are made for busy people like you. Our Pinterest scheduler interface is similar to the native Pinterest interface. 
Pinterest Post Scheduler with In-built Customization
Create Optimized Pinterest Pins with our Pinterest scheduler
Scheduling a Pin should not be rocket science. We give you the tools to become a pro in no time.
You connect your Pinterest account and pick the boards where you want to post.
Pick a title and a destination link, and add your commentary in the description to attract visitors to your website.
You can share the same content without Pinterest customizations on other social platforms simultaneously.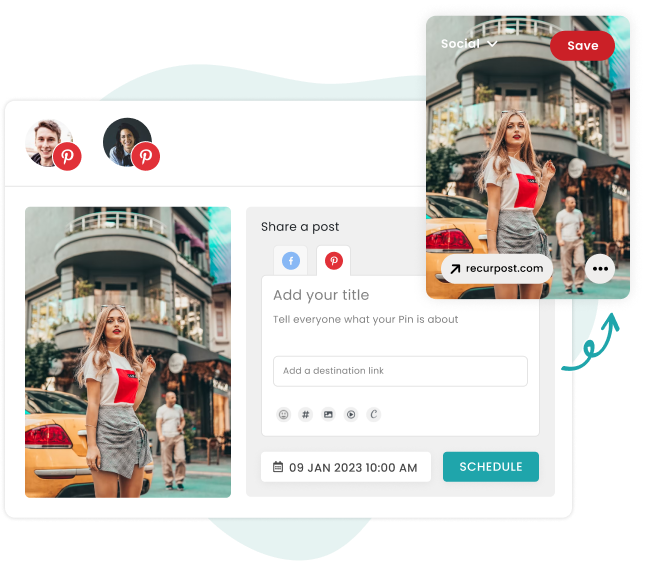 Make The Most Of Your Marketing With Social Media Scheduling Tool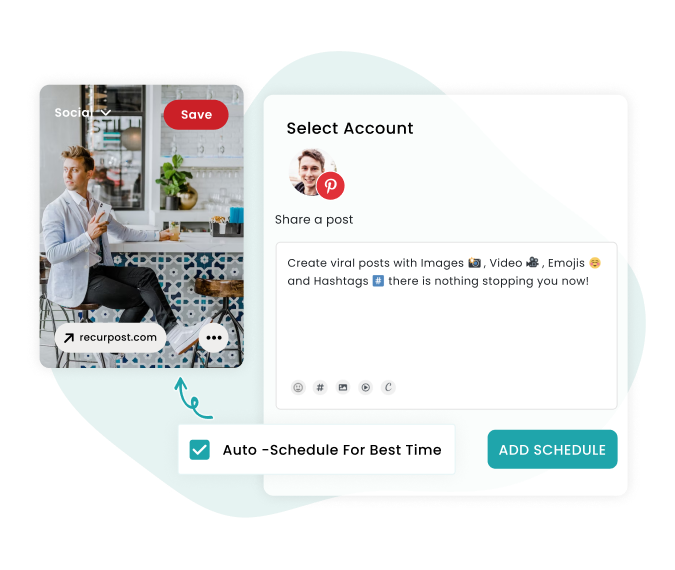 We Engage Visitors when They are Online
Our AI-based scheduler can schedule your pins for the best time
Our AI-based Pinterest scheduler can suggest the best time when you schedule your pins. We constantly look at your board's history to find the optimal time to post.
Choosing is hard; we give you a choice not to choose. We are only talking about the time to post.
Our users see 45% more responses when they schedule Pinterest pins as per our AI-based best time.
Schedule Pinterest Pins with Bulk Upload
Schedule Pins for an entire month in minutes!
Schedule your pins by importing them in bulk via a CSV, from a Google Sheet, or using our intuitive uploading interface.
Create a library for each board and set a frequency for that library. RecurPost will schedule your pins automatically forever.
Once we have shared all of the Pins from that library, we will start at the top of the library again. Your queue will never be empty with our Pinterest scheduler.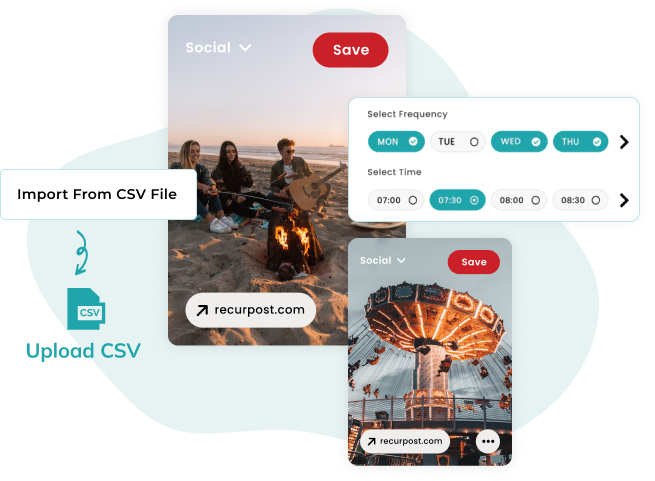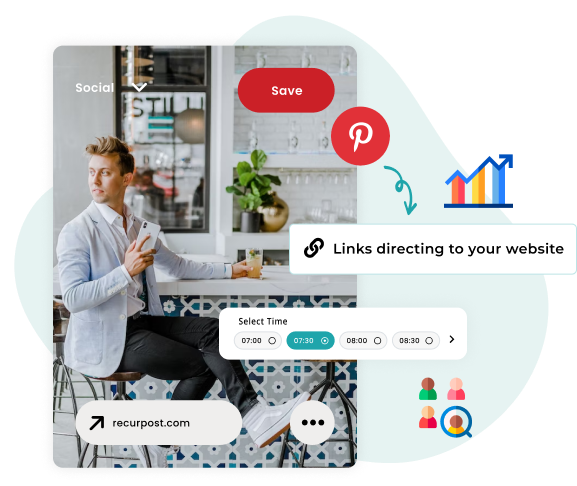 Gain New Followers and Drive Them to Your Website
Add destination links in your Pins to guide your visitors from Pinterest to your website.
You don't simply want people to save your pins. You want them to visit your website.
RecurPost's Pinterest scheduler makes it easy to make your links the highlight of your pin to increase your click-through ratio.
Your consistency in scheduling Pinterest pins will bring more people to your boards, and we will make sure they convert into website visitors.  
Get your team onboard your boards!
Invite your team members to manage your Pinterest boards
Delegation is essential as you can only do some things yourself.
Our delegate and control feature allows you to delegate your work to your team members.
You still control who has access to which Pinterest boards and what content they schedule there.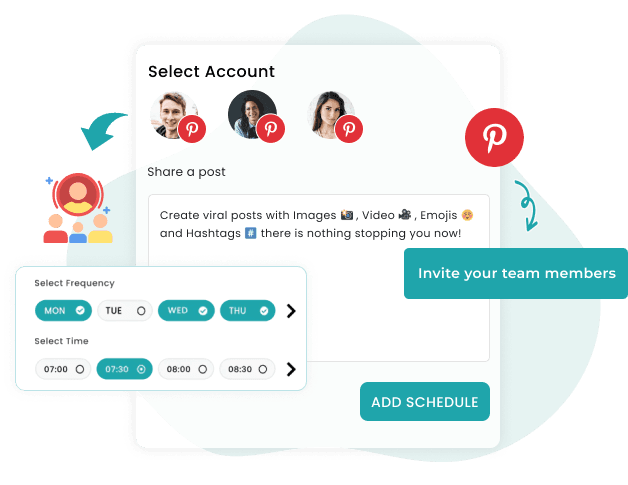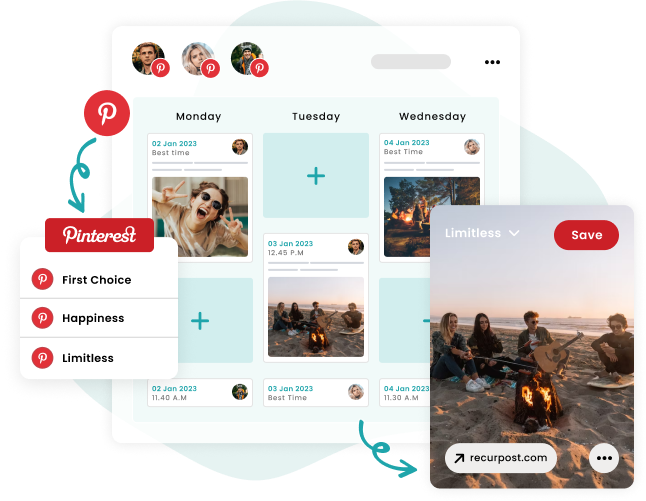 Have Multiple Boards to Manage? No Problem!
Schedule pins on multiple boards with RecurPost's Pinterest scheduler
Managing multiple Pinterest boards can be a time-consuming task, but with RecurPost, it becomes a breeze.
Our platform allows you to seamlessly navigate and organize all your Pinterest boards in one place. Whether you have two boards or twenty, you can easily switch between them without any hassle.
You can schedule and post pins to different boards simultaneously, saving you precious time and effort. Our intuitive Pinterest scheduler makes it simple to select the boards where you want your pins to be published.
Additionally, you can customize each pin according to the specific board's theme, audience, or niche. Tailoring your content to different boards helps you maintain a consistent brand presence while catering to the unique interests of your followers.
Check out RecurPost's Pinterest scheduler now!
Frequently Asked Questions