Schedule LinkedIn Posts Effortlessly With Our
Schedule posts on both Linkedin personal profiles as well as LinkedIn company pages with RecurPost.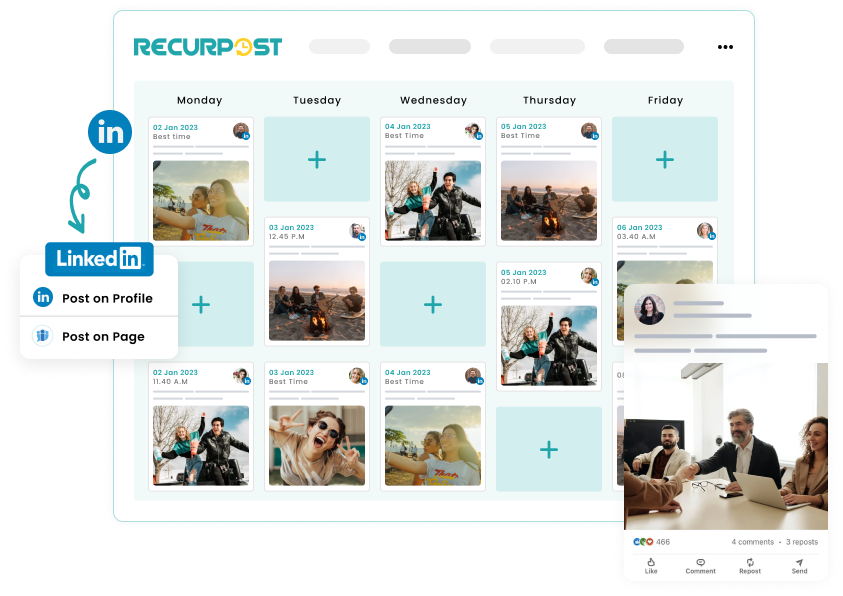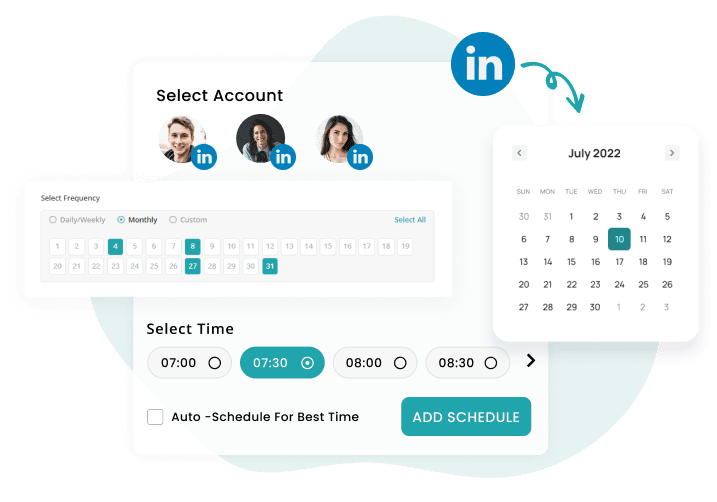 Own LinkedIn Like a Pro to Become an Authority in Your Niche
Use recurring schedules to generate hot leads on auto-pilot
Add your LinkedIn updates to libraries such as "Product features", "Emotional messages", "Interesting videos" etc.
Set time slots for each library; such as set it to share one Product feature in the morning on your company page and one Emotional message on your personal profile every day in the evening.
We will start sharing from the top of your library and once everything has been shared we will start at the beginning again.
You can add more posts when you have them and we will add them to the mix right away.
Even if you don't intervene your posts will keep getting shared regularly, bringing you hot leads constantly. Also use recurring updates when you schedule tweets. Same goes for when you schedule Facebook posts.
Create Content or Curate Content!
Curate content with Zapier, Chrome extension, Google alerts and more
Automatically import newer articles from your favorite websites as with our Feed manager.
Download our Chrome extension to quickly add an interesting page you stumbled upon.
Use Zapier to curate content from over 2000 different applications such as Google drive or Pocket app.
Integrate Google Alerts to get updates on your favorite topics as Google discovers them every hour.
Import posts from your LinkedIn page or any other social platform to repurpose your existing content.
Import a CSV to quickly upload content in bulk.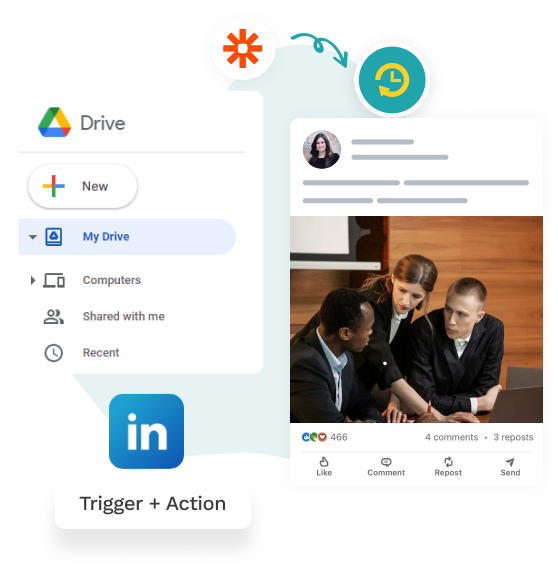 LinkedIn Post Scheduler to Establish Your Authority Quickly
A Beautiful Calendar for Effortless Management
Schedule LinkedIn Posts That Will Go Viral
Calendar view to quickly review what is going to go on your LinkedIn profile and Company pages.
Edit the message, change the scheduled date and time, and add a new image or video to make that perfect post that will go viral.
Add the first comment to increase the reach of your LinkedIn posts. Also add this when you schedule Instagram posts.
Find the history of your posts and delete them from LinkedIn if you don't want them anymore from RecurPost.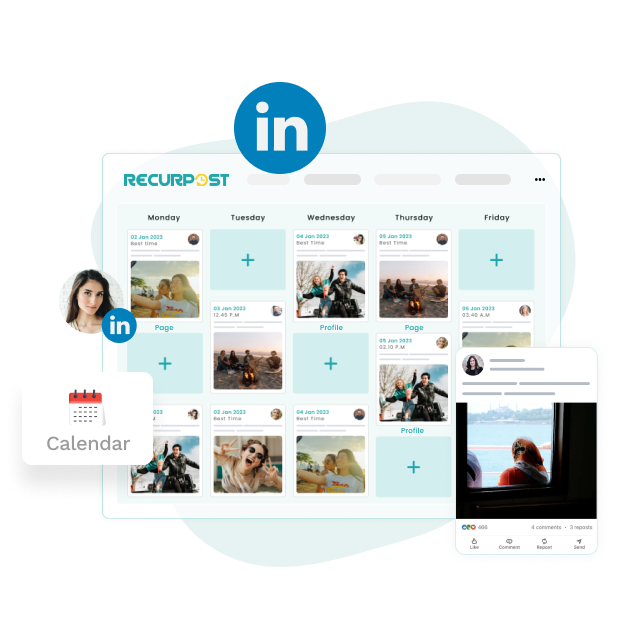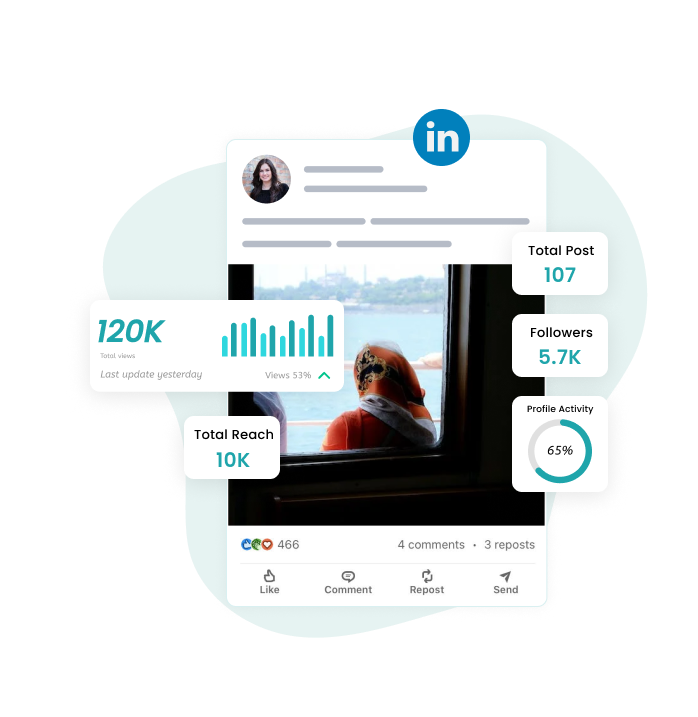 Meaningful Analytics to Perfect Strategy
Insights to help you schedule LinkedIn posts that make an impact
We tell show you what kind of posts do well for your LinkedIn account so that you can create more content that makes an impact.
See how changing the frequency of posts increases your reach.
Download your reports as PDF to refer to at a later time or to share it with your clients.
Get analytics for each library; if you are a coach think of a library as a course. This report can help you understand which courses will sell well on LinkedIn.
See the number of likes, comments, and share for each post or a summary for a given time frame for a personal profile or a company page.
A Content Queue that Fills Itself
Schedule LinkedIn posts that go out in a loop
One great feature of RecurPost's LinkedIn automation tool is the ability to schedule recurring updates. With the ability to recycle your content over and over again, you can ensure that your LinkedIn account is always posting. This is also the perfect way to never let your old content die and lose its value. The same piece of content can keep attracting new followers and traffic to your profile as well as website. You just need to discard the media which is time-sensitive, such as information about any event which happened in the past, or any offer which already got expired.
Once everything from your library has been posted, RecurPost will schedule LinkedIn posts in that library again from the beginning. This way, we make sure you never run out of content to share with your audience and are always available for engagement which leads to more connections and conversions. Create recurring updates in the same way when you schedule Google My Business posts.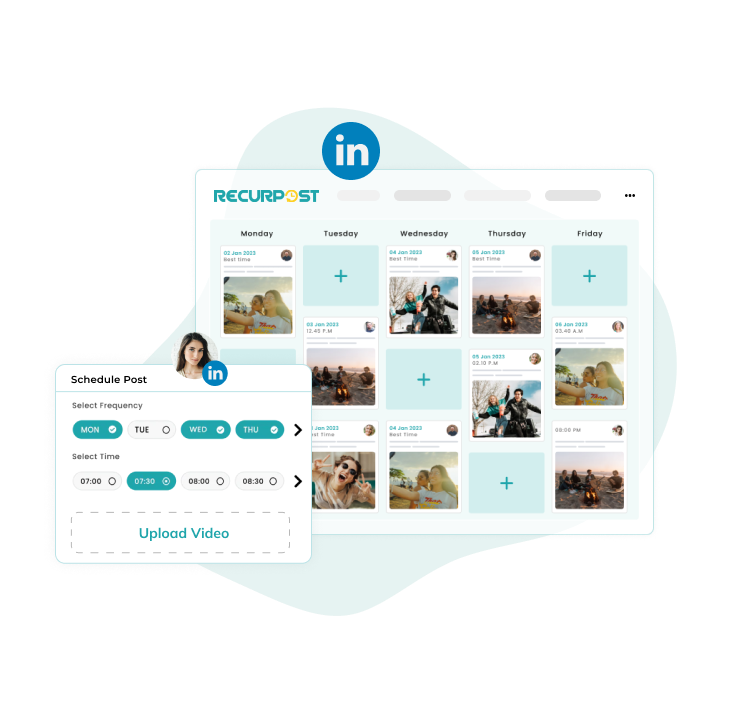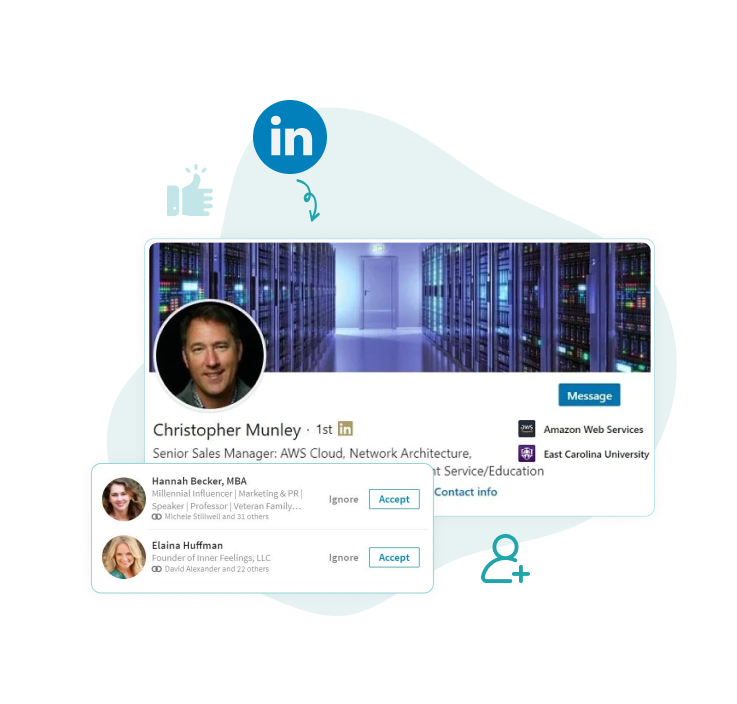 Build Bridges. See Results. Be Amazed.
Keep your profile always active and build new connections
LinkedIn is a platform where you'd definitely want to make a presence and build professional connections. And the only way to grow on LinkedIn is to provide valuable information to people on a continuous basis. It is, however, difficult to post regularly and stay active, especially during odd hours. But through RecurPost's LinkedIn automation tool, you can overcome the pressure of actively writing and posting on your LinkedIn accounts. Did you know that RecurPost is also a great Pinterest scheduler?
By scheduling your updates using our social media scheduler, you can increase the rate at which you make new connections and share professional updates regularly. Even if you are not physically available, RecurPost makes sure you are always virtually present. Within just a few weeks, you'll start seeing the difference for yourself!
Schedule LinkedIn posts on profiles and company pages
Build your personal and professional brand
RecurPost gives you the perfect space to manage your LinkedIn profiles as well as company pages together. Thus, you can take care of building your personal profile as well as your company page.
Let your posts go out at the best times
Schedule LinkedIn posts for your unique best time to post
'Best time schedules' is one of the best features that our LinkedIn post scheduler has to offer. In order to build a presence on LinkedIn, it is crucial to post the right content at the right time. However, it can be a bit difficult and time consuming to find out the best time to post manually by using the trial and error method. Understanding this, RecurPost offers you the option of 'Auto-schedule for the best time'.
Using its AI, RecurPost studies the engagement received on your previous posts and calculates your unique best time to post. When you use this feature, you will be able to make sure that your content is posted when your audience is the most active and reaches the maximum number of people.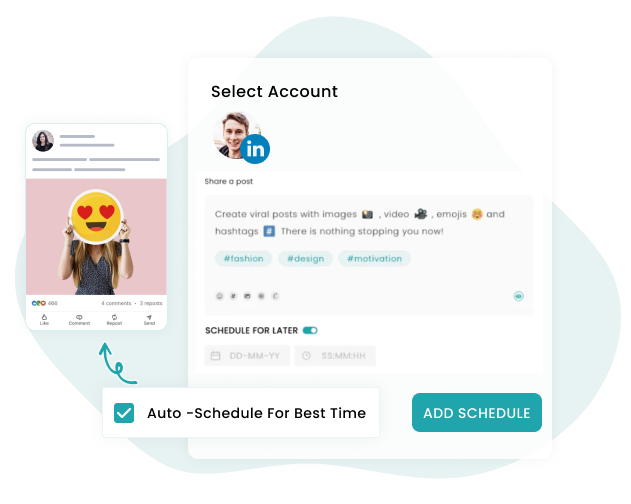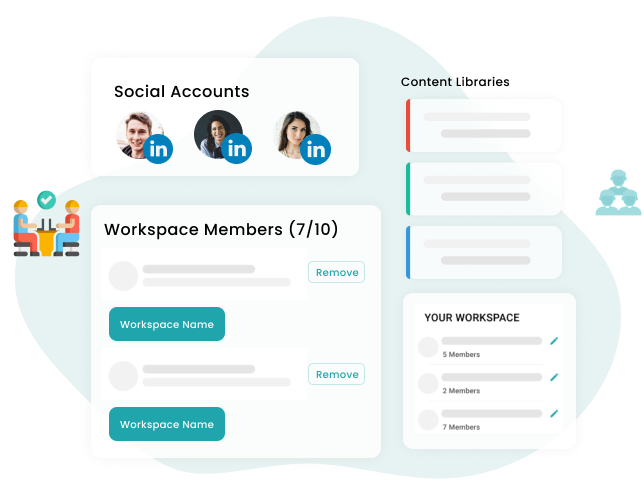 Unlimited workspaces on a single dashboard
Change the way you manage and schedule LinkedIn posts
Workspaces are all about dividing your social accounts and content libraries into different spaces for better management. For example, if you manage multiple clients then you can create a workspace for each client, or if you have multiple team members, they can create a workspace for each member where common libraries are shared across everyone. The access that your team members have can be adjusted anytime. You neither need to share the credentials of your RecurPost account nor that of your social accounts in order to invite people to manage your social accounts.
Manage your profiles and pages on the go
Schedule LinkedIn posts and manage them easily from our app
With the RecurPost mobile app, you can easily create, edit, and schedule your posts for multiple social media accounts, all from your mobile device. 
Whether you're on the go, at a meeting, or traveling, you'll never have to worry about missing a post again. 
The app is designed to be intuitive and user-friendly, with a simple interface that makes it a breeze to schedule LinkedIn posts. 
You can even set recurring posts, so your content stays fresh and consistent.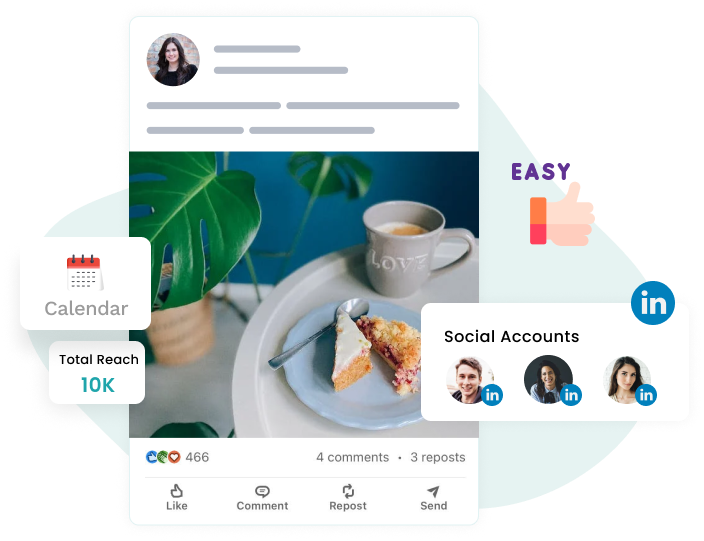 Other platforms supported by RecurPost
LinkedIn is an amazing networking platform and businesses can use this platform to market well in the B2B sector. If you want your business to rank higher in the game, use RecurPost because it is a great LinkedIn post scheduler. Furthermore, the tool is highly effective if you want to schedule Facebook posts, schedule tweets, schedule Instagram posts, and schedule Google My Business posts. RecurPost is also a good Pinterest scheduler.
Comparing RecurPost with other social media scheduling tools
There are a lot of tools available out there offering the feature of scheduling posts ahead of time. However, the role of a social media scheduler doesn't stop here. Apart from the features that we talked about in the above paragraphs, RecurPost has got a lot to offer. Some of them include white-labelling reports, simplified content categorization, Chrome plugin, URL shortener, social inbox, etc. You can check our detailed comparisons to know how RecurPost is the best free Hootsuite alternative, one of the top Tailwind alternatives, SocialPilot alternatives, Oneup alternatives and Socialbakers alternative.
Check out RecurPost's LinkedIn scheduler now by signing up for the free trial!
Frequently Asked Questions