Absolutely The Best Social Media Management Tool
RecurPost is intuitive and really simple to use. No other tool in the market supports evergreen content promotion like we do.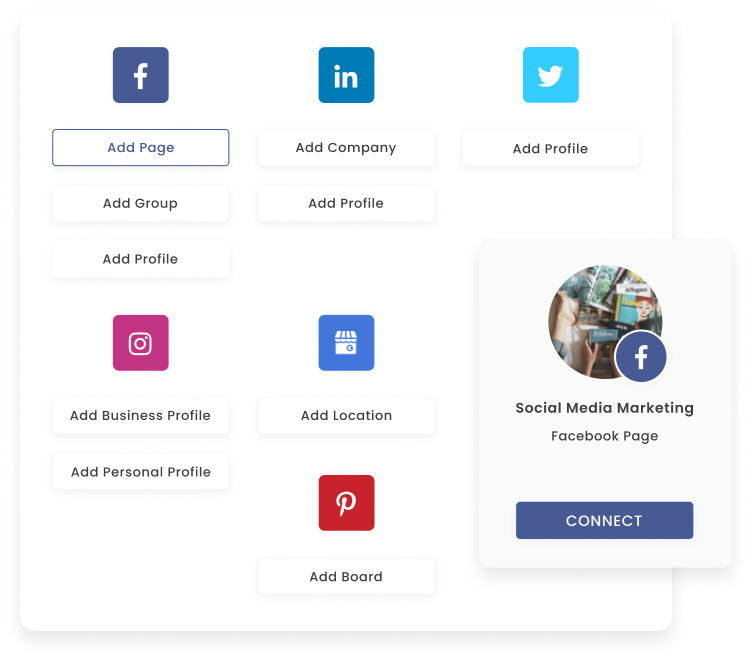 Step 1: Connect Your Social Accounts
Connect and manage as many accounts as you want
RecurPost supports all major social platforms. We keep adding more platforms as they become popular.
You can pause publishing on one or many accounts at the click of a button.
You can share access to a set of social accounts with your colleagues to manage them better.
For Facebook groups, you can control which account (profile or page) appears as the poster on your group.
Create attention-grabbing posts in no time
Images, Videos, Canva integration, #Hashtags, Emojis and more
Get free access to millions of stock images and GIFs to attach to your social media posts.
Our Canva integration makes it easy to edit your posts in Canva within RecurPost.
We can find the best time to share a post so that you get the maximum reach.
Our calendar view makes it easy for you to see what is going on. Change the time for a post or delete it from going out at all.
You can also republish a post that went out earlier from your history. 
All of this will make things very interesting when you schedule Facebook posts, schedule Instagram posts, or schedule tweets.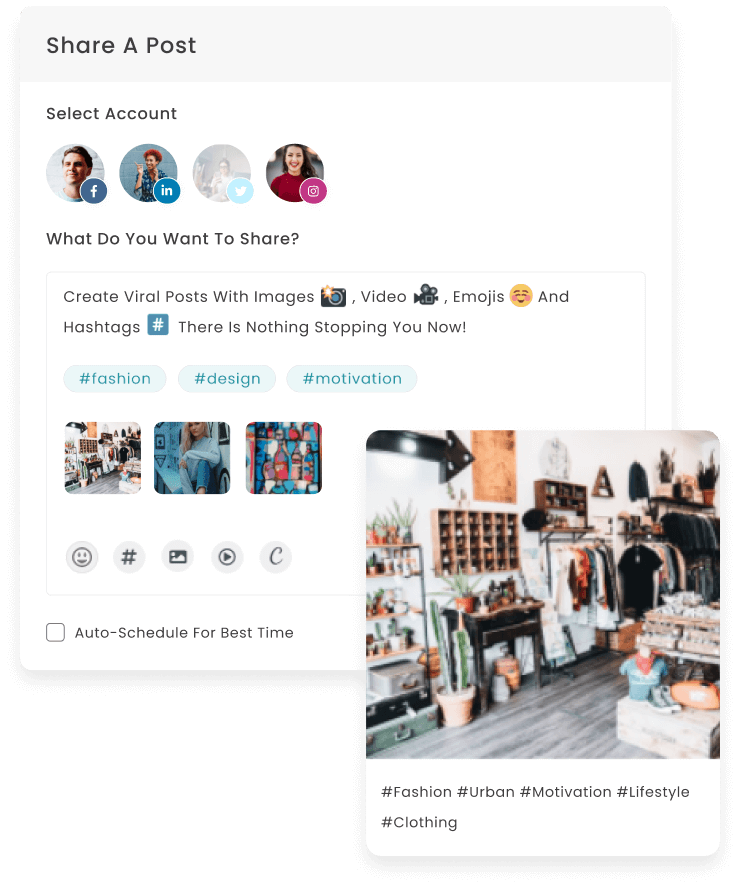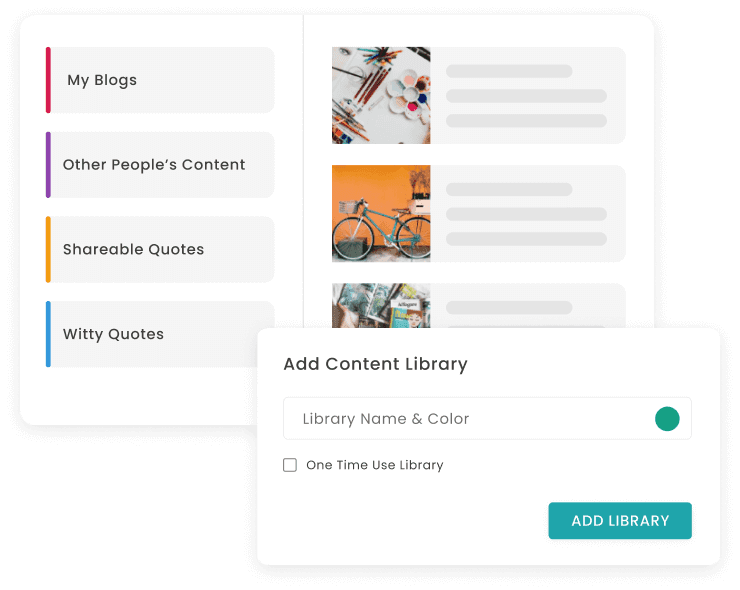 Set Your Evergreen Posts to Go Out Regularly
Your evergreen content will bring you newer traffic forever
You have created evergreen content in the form of your blogs, courses, recipes, memes, motivational images, etc. We help you use it to gain more traffic automatically.
Create libraries of your evergreen content and set posting time slots for each library.
We start posting at the top of the library and once everything has gone out we start at the top again.
Drag and drop images, get data via RSS feed or just upload a CSV
Upload a CSV and map which column goes into which part of the post – Image, Link, Title, Description, CTA, etc.
Import posts from your own or your favorite website with our feed importer.
Import your existing posts from your social accounts and make them recurring posts in RecurPost.
Set a Google alert to share the most recent news on your accounts automatically.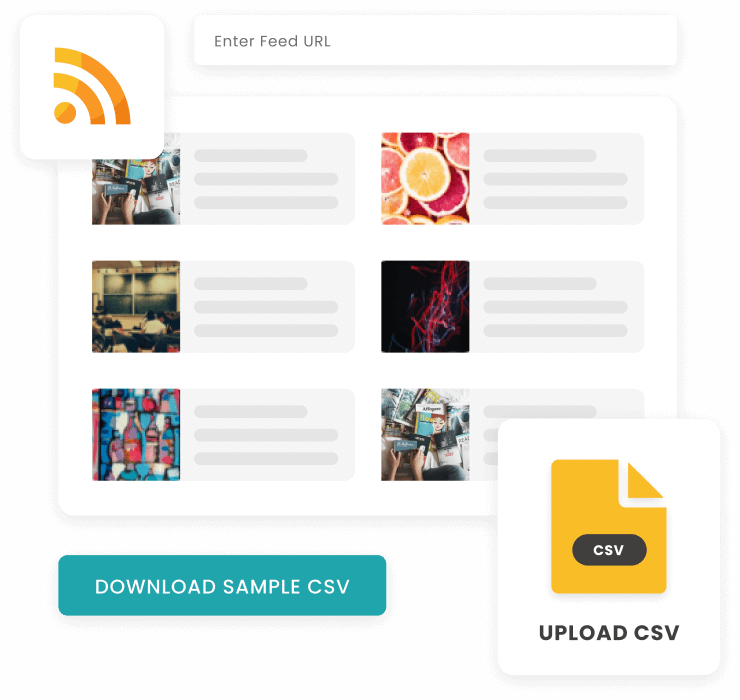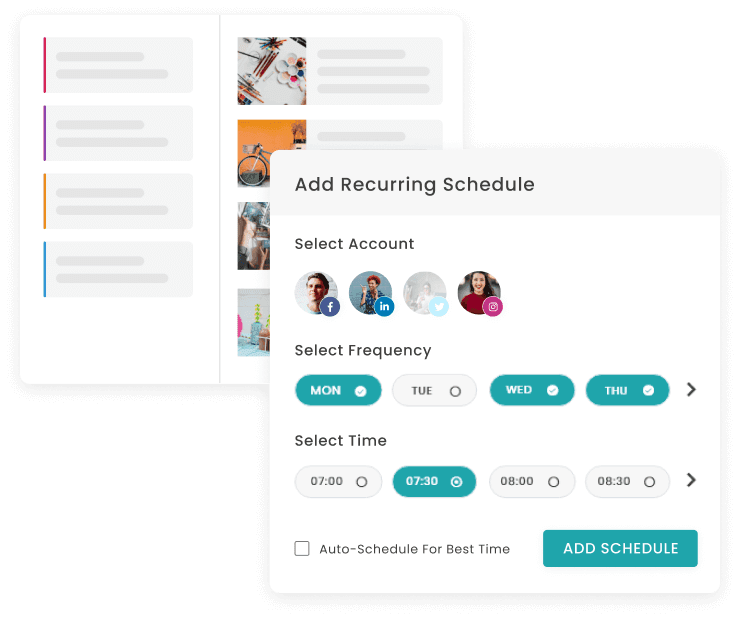 Control How Frequently You Post
Post once a week or 10X a day - you're the Boss
The way we offer recurring posts is unique and the only way it should be done. 
You set your frequency as per your need. Such as, one blog post needs to be posted on Twitter every day and two posts about your courses to be posted on LinkedIn per week.
Once a post has gone out to your social account, it moves back to the end of the line of content waiting to be posted again when all the other posts have gone out, and the cycle continues. 
Meaningful Reports to Act On
See what is working so that you can double down on that
See engagement on each post as well as a summary report.
We also tell you what kind of posts get better engagement so that you can create the right kind of content.
Download your reports with your logo and send them to your clients in no time.
You can look at analytics for each post, summary for an account or summary for all accounts based on your preference. This will help you schedule Google My Business posts, schedule LinkedIn posts, or use the tool as a Pinterest scheduler in a smart manner.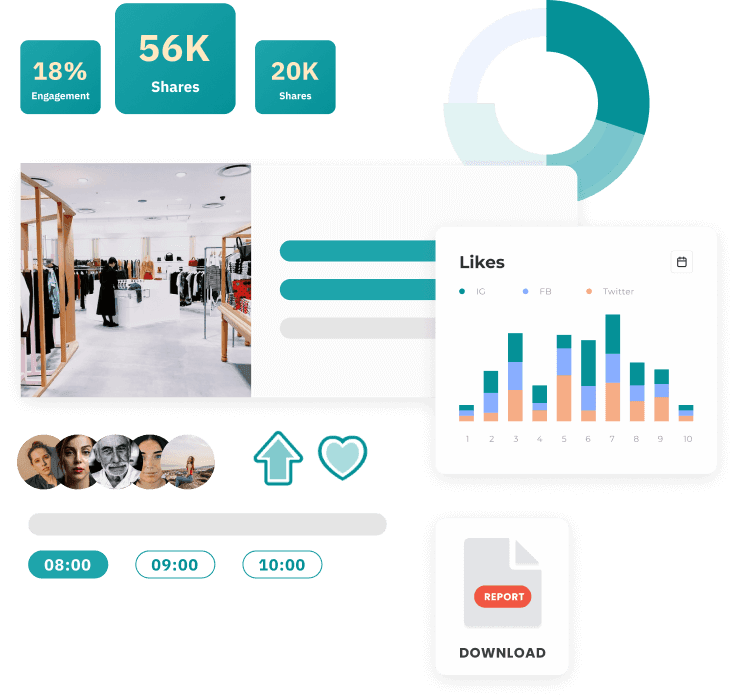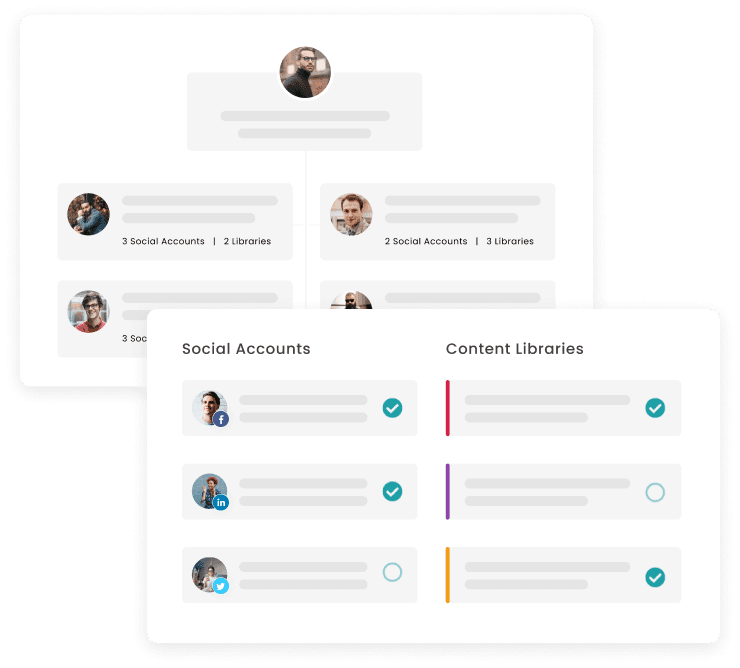 Collaborate With Your Team
Manage, monitor and delegate work to your team effortlessly
Invite team members to manage your accounts on our social media scheduler.
Control which team member has access to which accounts and libraries
Create workspaces for your clients so that when you are working on one client's account you don't even interact with someone else's content or social profiles.
No team member can see any social profile or library if they don't have access to it.
Manage Your Account On the Go
Our apps are full featured tools to get your social media strategy going
Are you an apple fanboi? You can download our app on all of your iOS devices.
Our Android app can be used on all Android phones and tablets.
Our Chrome extension helps you add content to your account as you surf the Internet.
Our Zapier integration helps you send content to RecurPost from over 2000 apps including Google Drive, Pocket, RSS feeds, etc.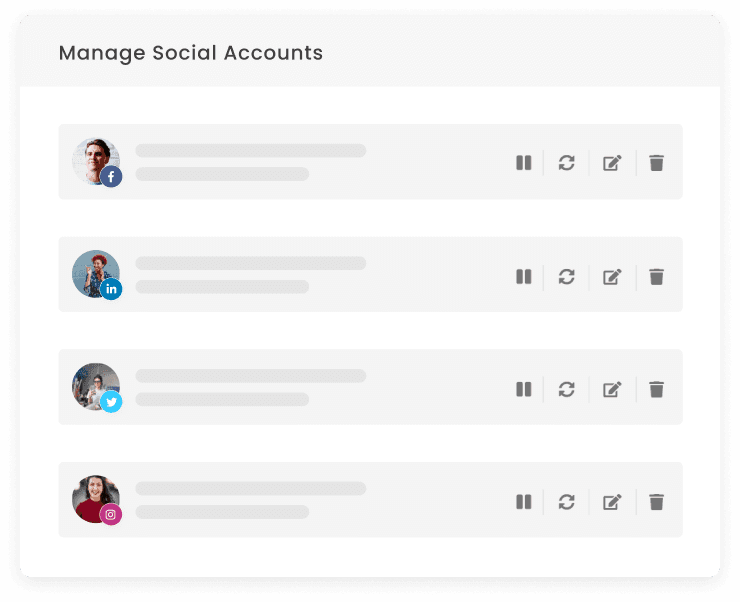 Make The Most Of Your Marketing With RecurPost - The Complete Social Media Scheduling Tool