A LinkedIn post scheduler helps you share your posts on LinkedIn even if you are not around. You can schedule a month's worth of posts to go out on LinkedIn, and the scheduler will post them for you without your intervention.
Most businessmen don't look above Instagram and Facebook regarding social media marketing. But as a business, it is crucial to have a presence on LinkedIn, especially for B2B marketing. It is a platform for searching for jobs, making professional connections, and generating profitable leads.
LinkedIn marketing is one of the best techniques to approach your target audience and the best spot to meet experts in your industry. Thus, it is necessary to be active on the platform and to post continuously to be seen by relevant people. If you find it too time-consuming to post manually, you can use a LinkedIn post scheduler to do the task.
RecurPost is one social media scheduler for you to schedule LinkedIn posts and other social platforms. It offers many additional features apart from the traditional LinkedIn post scheduler.
How to grow connections by using a LinkedIn post scheduler?
LinkedIn itself recommends posting at least once every business day. You can publish two types of content on LinkedIn:
A post-update, and
A LinkedIn Pulse article
The first is a normal post/status update, where you write and publish short messages, updates, and images or videos of your choice. The second one allows you to publish long-form articles and serves as a blogging platform within LinkedIn.
However, according to experts, the post updates gain more engagement than the articles. They take less time to curate as well as to consume.
Additionally, when someone likes or comments on your post, it appears on their feed, too and their connections can also see and engage with it. This algorithm helps in gaining massive reach and interactions on your profile.
A LinkedIn scheduling tool can help you schedule a post update and schedule LinkedIn articles. You can create content in bulk and schedule them to go out on your LinkedIn accounts as per your desired date and time. It will take up a load of posting daily and keep your account always active without requiring any involvement from your side.
You can check your posts' performance and curate a relevant content strategy for your audience. A LinkedIn post scheduler will also help you categorize your posts in organized content libraries and allow you to set different schedules for each library. You will also be able to add your team members, assign them to work as per their roles and keep track of everything. Learn how to schedule LinkedIn posts in advance with a LinkedIn post scheduler and experience all these benefits first hand.
Thus, a LinkedIn post scheduler will basically act as an investment that you make towards growing genuine connections and procuring leads from the platform!
Why use RecurPost as a LinkedIn Post Scheduler?
1. Always stay active
When you use RecurPost a LinkedIn post scheduler, you can schedule a large number of posts beforehand. You'd not have to manually upload posts in real-time. Thus, even when you are not using the platform, your posts will go live at the scheduled time periods and your account will always stay active. This way you can manage your LinkedIn groups easily because you can schedule posts on LinkedIn groups.
2. Form a content strategy
Using RecurPost, you can create content libraries and categorize them according to your preferences. This will help you in keeping a clean arrangement of the type of posts that you want to publish. You'll also see the count of your libraries which will give you an idea of how many posts need to be added or reduced. This will help you create an organized LinkedIn content marketing strategy.
3. Manage both profiles and pages
RecurPost's scheduler lets you manage post of both LinkedIn profiles and company pages. Thus, you can take care of your personal as well as business content from the same dashboard.
4. Track your performance
RecurPost provides you with advanced analytics through which you can track the performance of your posts on LinkedIn. You can see your top-performing posts and know what is liked by your audience.
5. Learn about your audience
In the analytics section, you'll be able to see the demographics of your audience. You'll know their age group, gender, location, and a lot more. By knowing all such data, you will be able to create more relevant content according to your target audience.
6. Live chat support
RecurPost provides 24/7 live chat support. You can message your queries and get instant solutions. Apart from that, there are in-depth tutorials and guides that will help you learn how to use RecurPost's functions and make the best out of this LinkedIn post scheduler.
7. Auto-schedule for best times
Confused when to post on LinkedIn to get the most engagement? RecurPost will take care of it. While scheduling a post, you simply need to select the option of 'Auto-schedule for best time' and RecurPost will find out the best time to post on LinkedIn by studying the engagement received on your previous posts.
How to schedule posts on LinkedIn using RecurPost?
RecurPost offers a 14-day free trial using which you can connect and manage all your social profiles. If you are looking to schedule LinkedIn posts only, a small plan will suffice for all your needs. Let's see the steps to use RecurPost's LinkedIn post scheduler.
1. Create a RecurPost account:
No doubt, the first step will be to sign up for a RecurPost account. You just need to go to recurpost.com and create your account for free. You'll only be required to enter your email address, name, and choose a plan to get started with your scheduling journey.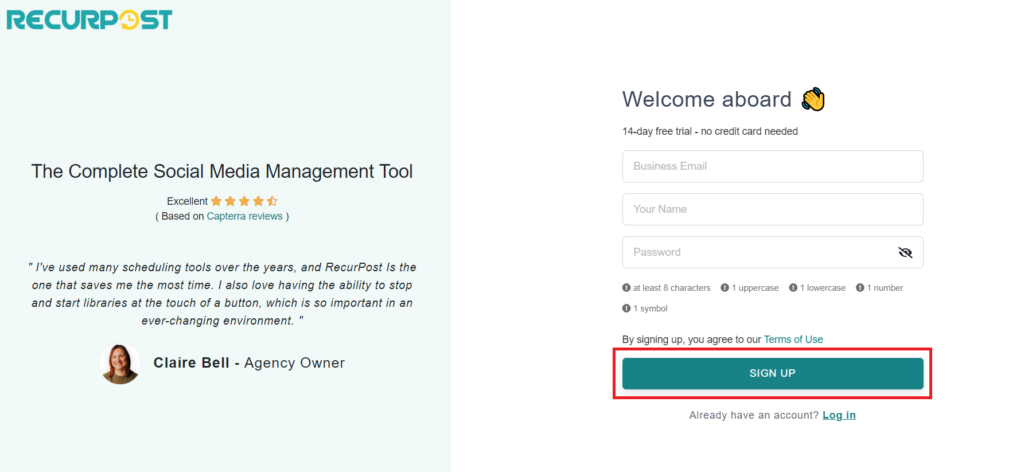 2. Add social accounts:
After creating your account, you will be taken to the dashboard. From here, you will be able to manage your social accounts as well as content libraries. On the dashboard, you will see the button saying 'Add social accounts'.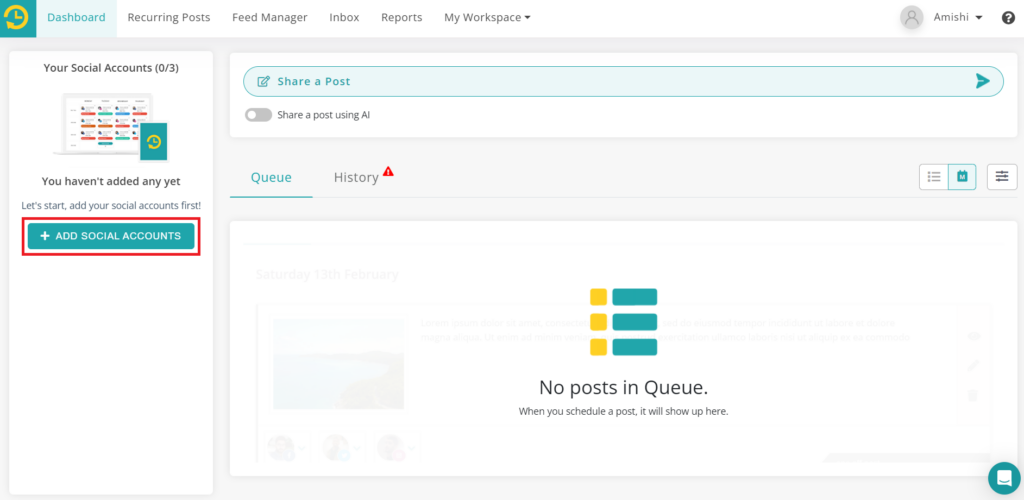 3. Connect LinkedIn:
Click on the 'Add social accounts' button and a pop-up window will appear. Under the LinkedIn section, there will be two options: Profile and Company. Select the one that you wish to connect.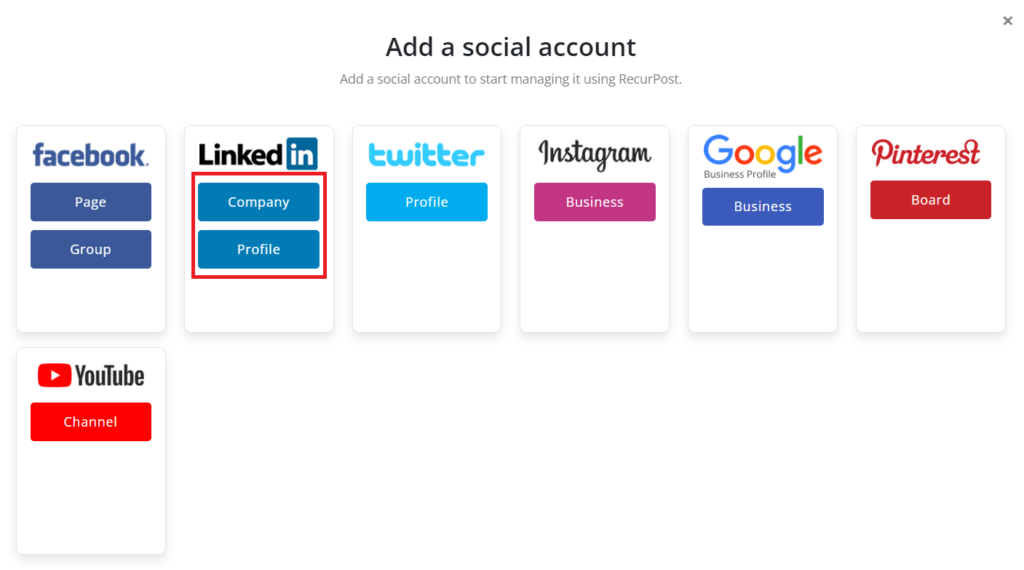 You'll be taken to the login screen, where you need to enter your LinkedIn email and password. The next screen will ask you to give certain permissions to RecurPost in order to post on your account. Don't worry, no personal information or login credentials will be saved or used by RecurPost. Click on 'Allow' and your LinkedIn account will be connected.
4. How to schedule one-off posts:
You can choose to either add one-off posts that will go out to your account just once (what most social media schedulers offer) or you can create an update in your library for repeated use. Head over to your Dashboard and simply click on the "Share a post" box. This is where you'll be creating your one-off (non-recurring) post.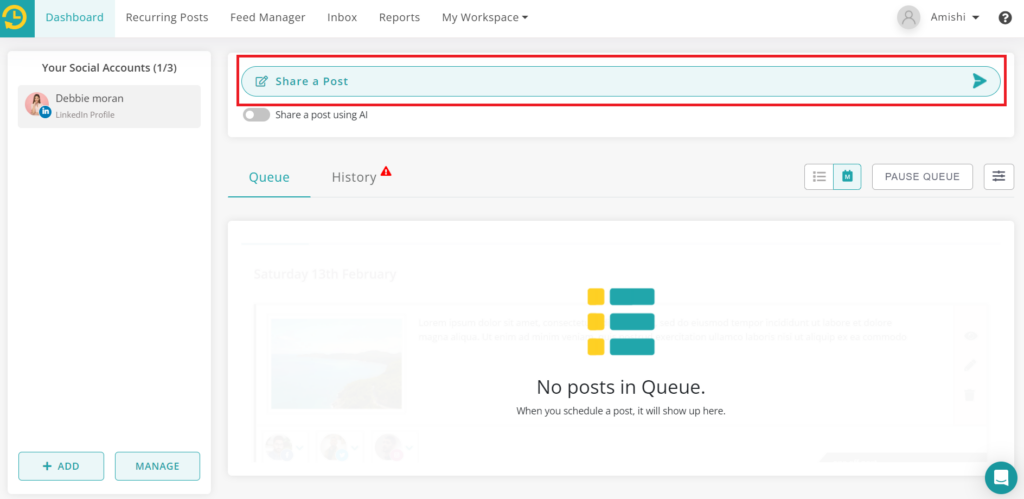 From there, you will be able to add in all the details of your update including the message i.e. description which can either be a link or simply textual content. You can also add images, GIFs, or videos by clicking on the down arrow beside 'Add Media'. If you don't have an image ready at hand, you can also ask RecurPost for copyright-free images! We also support creating new images and videos using Canva.
Click on the customize for each platform if you want to set a custom message for each social platform.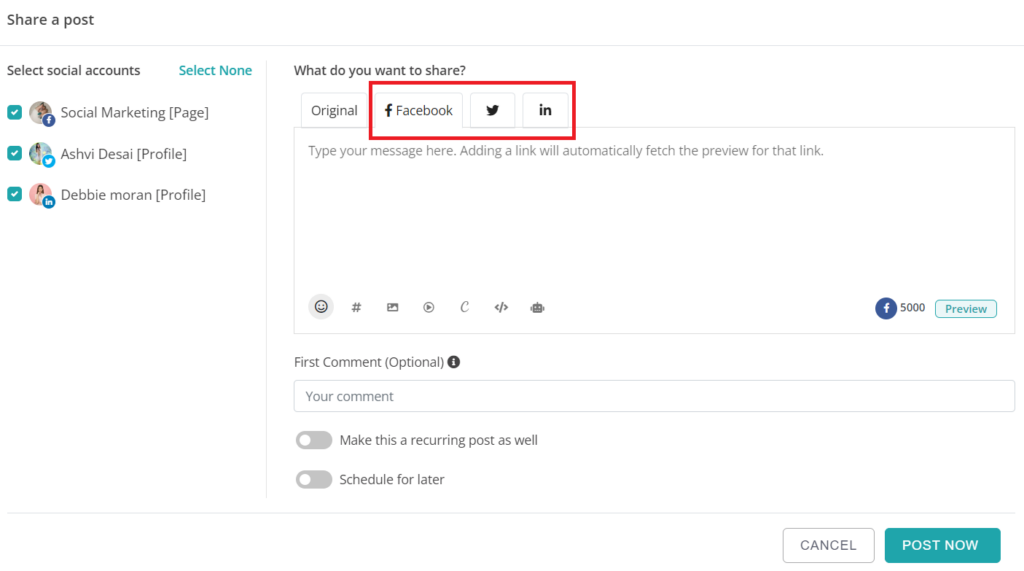 After adding those details, select the social accounts that you want to post on. Now, click on the eye button to see the preview of the post. This is exactly how your post will appear on your social accounts when it is uploaded.
5. How to set up a recurring schedule
Add content libraries:
The next step is to start creating content libraries. RecurPost creates 3 libraries by default when you sign up. You can use them or delete them and create new ones. To create a new library, go to the Libraries menu and click on the 'Add new library' button.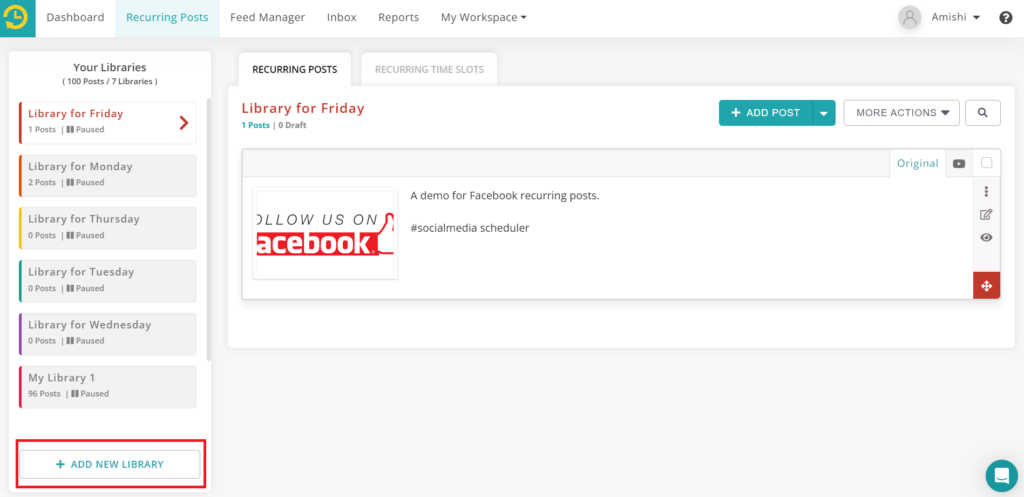 While creating a library, you need to set three things:
Name of the library:

Give your library a meaningful name so as to make it easier to identify it and quickly grasp the type of content that's stored in it.

Color of the library:

You can also add custom colors to your libraries depending on the content they store or the social platform they are made for. For instance, "Facebook posts" could be blue, and "Instagram posts" could be purple.

One-time use or Recurring library:

In case you don't want to post your updates recurringly i.e. in repeating cycles, you can choose to create a 'One-time use library'. Updates in this library once posted, will expire and not used recurringly.
Keep in mind that the updates you add in a one-time-use library are not recurring in nature and will expire once posted on your social accounts. Once you have set these details up, go ahead and click 'Add Library'. Your library is now created! Go ahead and fill it up with new content!
Now, in case you also want to add this update to your library as well for later use or editing, you can do so by ticking the 'Repeat this post' toggle button. This means that your one-off post will also be copied to your selected libraries and it will go out as per the schedule of those libraries.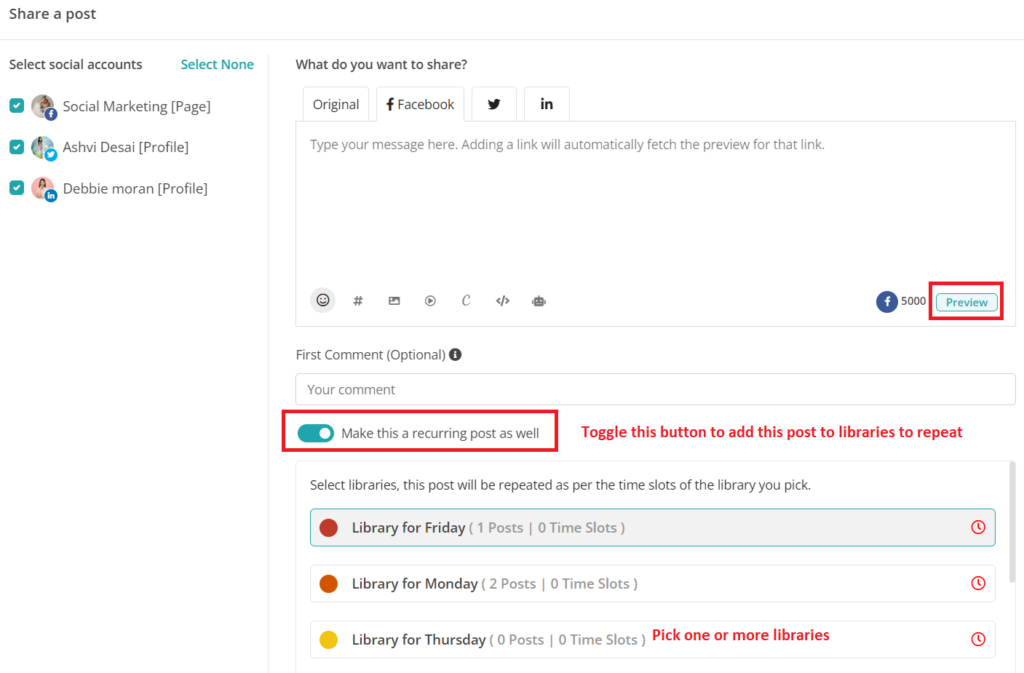 Once you're done with that, it's now time to schedule your post. You can do so by ticking the 'Schedule Update' button and selecting your preferred date and time of posting. That's it! Your posts will be uploaded on LinkedIn according to the set schedules. If you don't want to schedule the post and want to upload it right away, click on the 'Post now' button.
If you're not sure what time to post at, RecurPost also allows you to set up a best-time schedule. Here, we auto-schedule your post for the time when it is most likely to receive the highest engagement on social media once posted.
To activate this feature, click on "Schedule for later" button, pick the date and then check the Auto-schedule for best time option.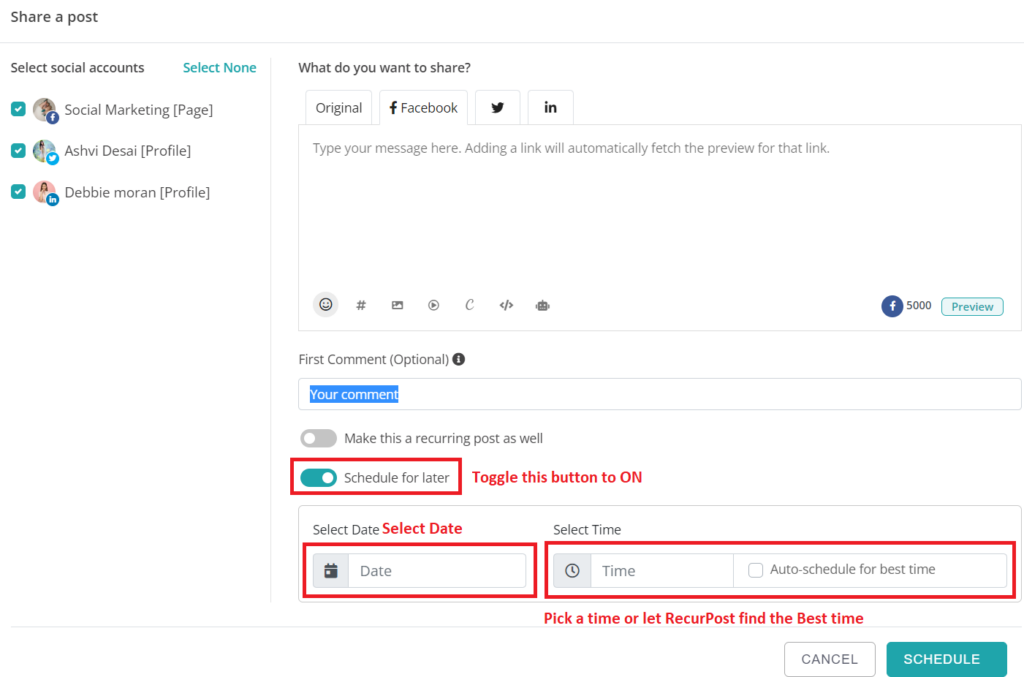 If your update contains a link, you can also shorten your link and make it more readable by ticking the 'Shorten URL' button. You can shorten your URL links automatically for your recurring schedules using either Firebase by Google or Bitly.
If you haven't yet connected your Bitly account to RecurPost, you can do it under the Plug-in menu. Find it under the drop-down menu by clicking on your account name. From there, go to "Plug-ins" > "Manage" under URL Shortener > "Manage" under Google URL Shortener (Firebase) or Bitly URL Shortener.
Thus, apart from the basic post scheduler, RecurPost offers much more to make your LinkedIn marketing efforts prove to be fruitful.
How to add recurring posts inside your RecurPost library
Adding updates in your library is pretty much the same as adding one-off posts. Go to your libraries by clicking on the Libraries menu.
Inside the library, you will find a lot of options to add recurring updates. You can add a single update, add images/text/link posts in bulk, add content through a CSV/excel file, import content from a social account, or set up an RSS feed.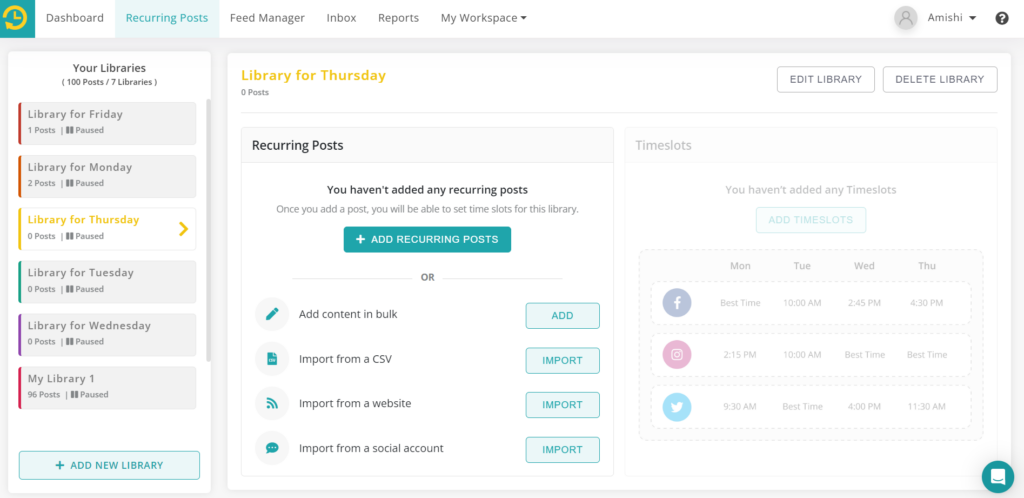 Once you have added some posts to a library, the options will look a bit different. The options have moved under the Add Recurring Posts button.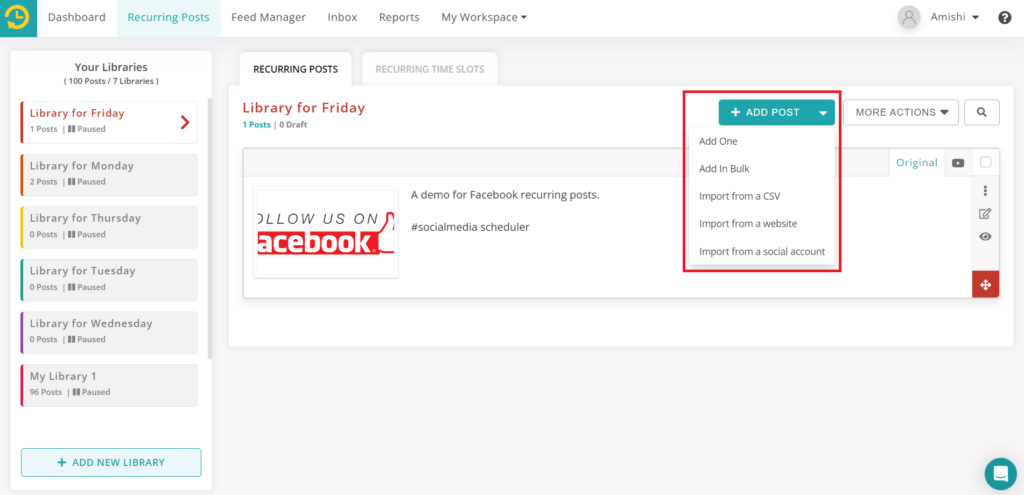 In the following window, add all your details the same way we saw for one-off posts.
How to setup recurring schedules in the library
For updates in your library, you can select whether you want to keep them as drafts until a certain date. These updates will basically be on stand-by until their 'release date'.
After the release date, they will start going out to your social accounts recurringly according to your schedule.
You can also choose to make these updates stop going out to your social accounts after a certain 'expiry date'. After the expiry date, your update will expire and will go to a separate content library named 'Expired Content'.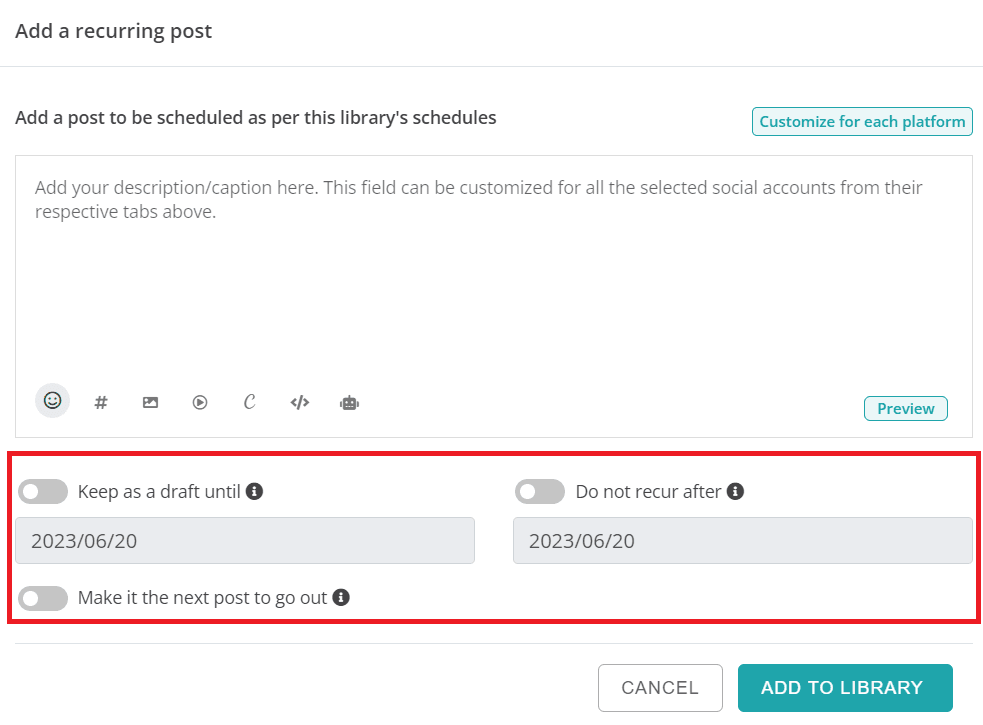 Now, if you want this update to go out next before any other update from this library, you can click on the 'Make it the next post to go out' button.
Clicking this button will set this update as a priority. This feature is especially useful for news companies or ad agencies for keeping up with the latest trends.
Once you have set all of that up, go ahead and click on the blue 'Add To Library' button. This update will now go out to your LinkedIn/ social accounts according to your schedule.
This was everything you needed to know about creating recurring updates for LinkedIn. But if you are looking to create Facebook repeating posts and are unsure about the process to follow, you can visit this guide and learn all about it. Creating recurring updates for Facebook is very similar to that of LinkedIn and it can have great benefits too.
That's all! You now know how adding content on RecurPost works!
How to use Queue to check what is going out from RecurPost
Now that you're aware, you have the ability to create individual posts or include them in RecurPost libraries for recurring schedules. If you're wondering how to determine which post will be shared on each social media account, you can find all your scheduled posts in the "QUEUE" tab.
By turning on the "Show posts from library calendar" button, you can view all the scheduled posts for the selected social account, until the end of the following month.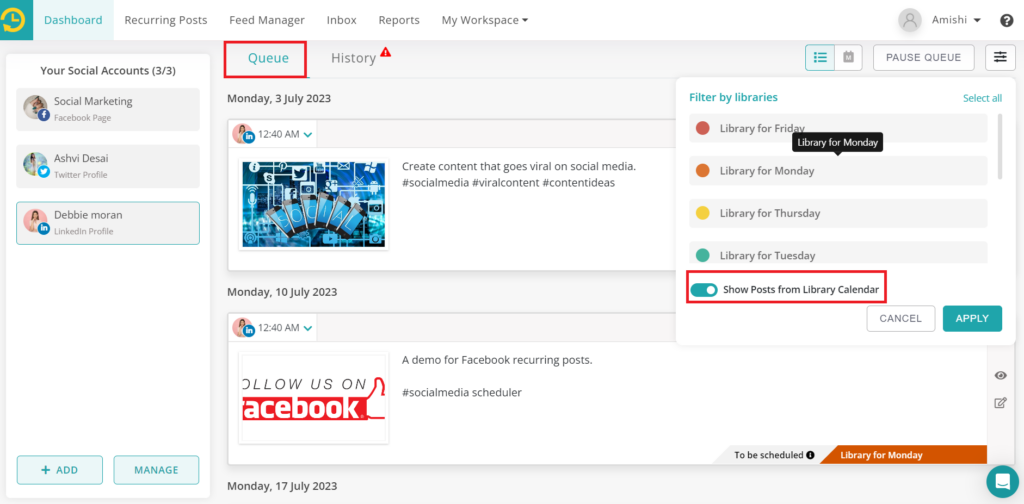 Alternatively, you can see all the posts scheduled for today and tomorrow.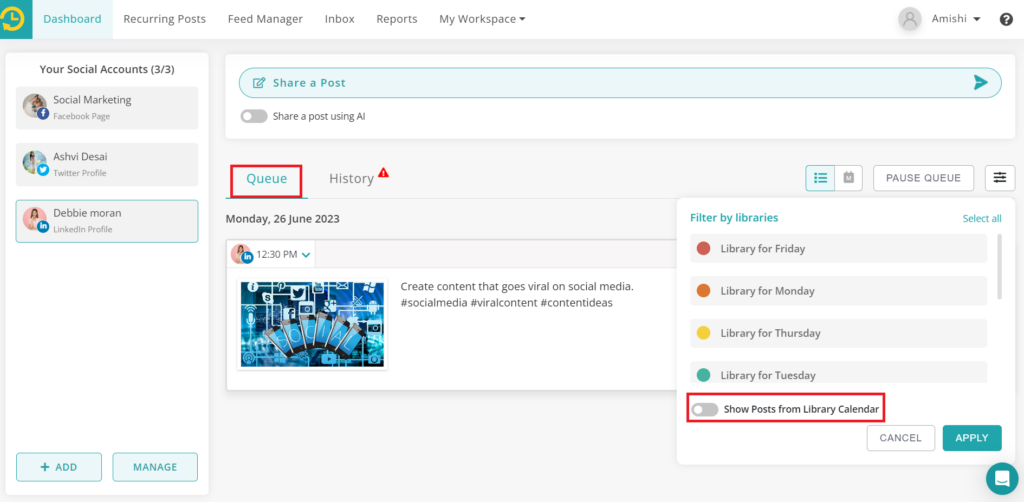 What are the benefits of scheduling posts on LinkedIn?
There are quite a few benefits to using a LinkedIn post scheduler, a prominent one being that your time is saved and you don't have to monitor your social accounts repeatedly. The other benefits involve hassle-free posting and avoiding lags between content posting, which, if happens, could lower the engagement on LinkedIn. LinkedIn post scheduler helps get more engagement which has enormous potential for b2b marketing, but many are unaware of it.
Also, it maximizes your team productivity as a person who's handling social media would be piled up with a lot of posting and in that process, it could happen that they can't pay much attention to analyzing the performance of the post. Thus, it's great to have a social media scheduler to optimize your LinkedIn profile along with other social media accounts.
You have got a full-filing promotion for the company. And you are wondering about how to add promotion on LinkedIn. Or how will you inform your relatives and friends about your promotion? Do not worry, as this is right where LinkedIn kicks in for your help.
What is the best time to post on LinkedIn?
There is never the best time to post on LinkedIn for everyone but marketers did see success with their efforts at certain specific times on LinkedIn. So, if you want to schedule LinkedIn posts, you should do so on Tuesday through Thursday, mostly in the hours falling between 8 a.m. to 2 p.m. The worst time to post on LinkedIn would be on the weekends or non-business hours. Here are the best times to post on LinkedIn:
Tuesdays – 10 am to 11 am
Wednesdays – 8 am to 10 am and 12 pm
Thursdays – 9 am and between 1 pm to 2 pm
Fridays – 9 am
How to see your scheduled posts on LinkedIn?
If you schedule LinkedIn posts with RecurPost, you can visit them back and make the alterations you want. The social queue in RecurPost has a list of all the social updates scheduled by you.
If you want to see all the posts that have been queued, you can go to the Social Queue tab. Here you can preview how your posts will look on social media platforms. You will also be able to edit your posts or customize them for any specific social account.
The bottom line
Scheduling LinkedIn posts is as easy as pie while using RecurPost's LinkedIn auto-poster. This social media scheduling tool will make your mundane and time-consuming tasks much more interesting and easier. Recruiters on LinkedIn use the RecurPost App to have the freedom to manage LinkedIn and other social accounts from anywhere and at any time. making it one of the most desirable free Hootsuite Alternatives and everypost alternatives in the market.
In addition to LinkedIn, RecurPost allows you to schedule Facebook posts on your profiles, groups and pages. You can schedule pins on Pinterest for sharing images. Schedule Instagram posts to entertain your audience with reels and stories. Schedule tweets to connect with people who relate to your business and organically grow your followers. You can list your business on GMB and schedule Google Business Profile posts with your choice of a call to action button to improve your ranking on SERP.
The pricing plans are designed in a way suitable for everyone, including but not limited to bloggers, freelancers, coaches, artists, startups, solo entrepreneurs, and medium and large enterprises.
So what are you waiting for? Start using this LinkedIn post scheduler now! Click here to take the 14-day trial and begin the journey!
Frequently asked questions
1. Can you schedule posts on LinkedIn?
LinkedIn doesn't offer any way to schedule posts itself, but you can do that easily using any social media scheduling tool that provides a LinkedIn post scheduler. RecurPost is one such tool that lets you schedule posts on both LinkedIn profiles as well as company pages. You can create a detailed content calendar and schedule months' worth of content in advance, as per your desired date and timings.
2. Does LinkedIn have a scheduling tool?
Currently, there is no LinkedIn scheduling tool offered by the LinkedIn platform. If you wish to schedule your posts on LinkedIn accounts, you can use any social media scheduling tool that integrates with the LinkedIn platform. There are a lot of tools that help you to automate LinkedIn posts seamlessly, and RecurPost is one of them. It lets you create and schedule LinkedIn posts both on personal profiles and company pages.
3. Which is the best LinkedIn post scheduler?
To automate LinkedIn posts, we recommend you to check out RecurPost. It is a social media scheduling tool that offers the best LinkedIn post scheduler, and allows you to manage both personal profiles and company pages. You can create recurring content libraries, see in-depth analytics, generate white-label reports, work with your team members, and do a lot more using RecurPost.
4. What is the best time to post on LinkedIn?
Early mornings and afternoons (lunch times) are the best times to post on LinkedIn. Talking about the days; Tuesdays, Wednesdays, and Thursdays produce the best engagement on LinkedIn, as people are in the work mood and actively consuming content. You can try out Monday afternoons and Friday mornings too, just avoid posting on weekends.
5. How often should you post on LinkedIn?
LinkedIn itself recommends posting one post every business day. You can also ideally go for posting at least 3 times a week for getting a good engagement rate. Don't post more than 2-3 posts in a single day, as it eventually reduces the reach of your posts. If you find it difficult to post daily, you can use a social media post scheduler like RecurPost to automate your LinkedIn posts. It will help you maintain consistency on the platform without worrying about posting manually.
6. Can you schedule posts on a LinkedIn business page?
Absolutely. You can use a LinkedIn scheduling tool to schedule your posts on a company page. Look for a social media scheduling tool that allows direct posting, so that you don't have to worry about posting through push notifications. RecurPost allows you to schedule and post directly on LinkedIn company pages, saving the time and effort required for posting your content at the right time.
7. Can you schedule posts on LinkedIn for free?
You can't schedule posts on LinkedIn using the platform itself, and need to use a social media scheduling tool to do the same. There are a few LinkedIn post schedulers that allow you to schedule posts for free, but the number of posts you can schedule is very limited, and you will also not be able to post on LinkedIn company pages. If you wish to manage both of your personal profiles and pages, you can consider investing in a decent social media scheduler like RecurPost, which offers a lot of advanced scheduling features.
8. Does a scheduler allow adding images to LinkedIn posts?
Yes! Social media scheduling tools allow adding images to LinkedIn posts while scheduling them. But, some of them allow you to add only one image. If you are looking for a scheduler that allows adding multiple images while scheduling LinkedIn posts, you can check out RecurPost. It enables you to add up to 9 images while scheduling posts on LinkedIn profiles and company pages.
9. Can you bulk schedule posts on LinkedIn?
Yes, you can schedule your post individually as well as in bulk by using any social media scheduling tool, and RecurPost offers the same service. You can provide them with whatever content you wish to post and when to post, and they would do the needful.
10. What are the apps to schedule posts on LinkedIn?
There are various social media scheduling apps and one such app Is RecurPost. It not only helps you to schedule your LinkedIn post but also allows you to manage your other social media accounts including Twitter, Instagram, Facebook, Google my Business. Using RecurPost is super easy and you can schedule your LinkedIn post in minutes.
11. How to schedule videos on LinkedIn?
Linkedin has provided an amazing feature to marketers to uplift their game in marketing. We know how visuals help in any strategy and now you can create a video with a whole set of sounds, lighting, and animation and post it on LinkedIn. You can schedule videos on LinkedIn with any of the social media scheduler tools and Recurpost is one of them. You can provide your video to Recurpost and they will schedule it on Linkedin at your preferred time.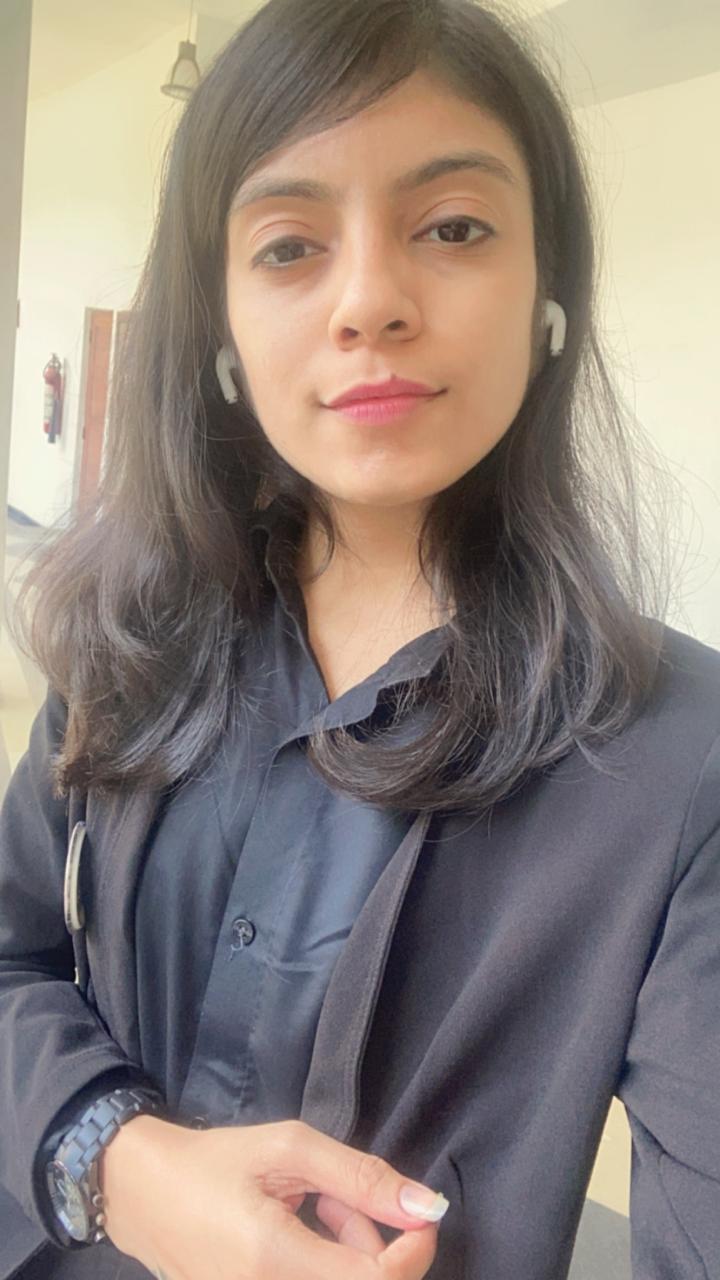 Amaiya Rathi is a Senior Content Writer at RecurPost. She helps RecurPost communicate with their readers in their own language. Whether it is the web copy, social media posts or blogs, Amaiya has worked on all aspects of copywriting. You can reach out to her at [email protected].