Do you want to get more output from the effort you put into managing your Instagram account? Well, who doesn't? More than 1 billion people use Instagram, and 500 million users check the app daily. With such a large audience sharing their posts, you need to make more efforts to bring your content to people and increase your reach on Instagram. According to a study, people who post at least once a day get the most likes, comments, and shares. It might seem difficult, but it can be managed easily by using a social media scheduler.
By using an Instagram post scheduler, you can manage a lot of content at once through bulk scheduling. Scheduling posts ahead of time will let your posts go out without being actually active on the platform. Some Instagram post schedulers offer many other features besides basic features to schedule Instagram posts. 
We've made a comprehensive list of the 12 best Instagram post schedulers that you can use to manage your accounts like a pro.
Let's have a look at all of these Instagram post schedulers one by one.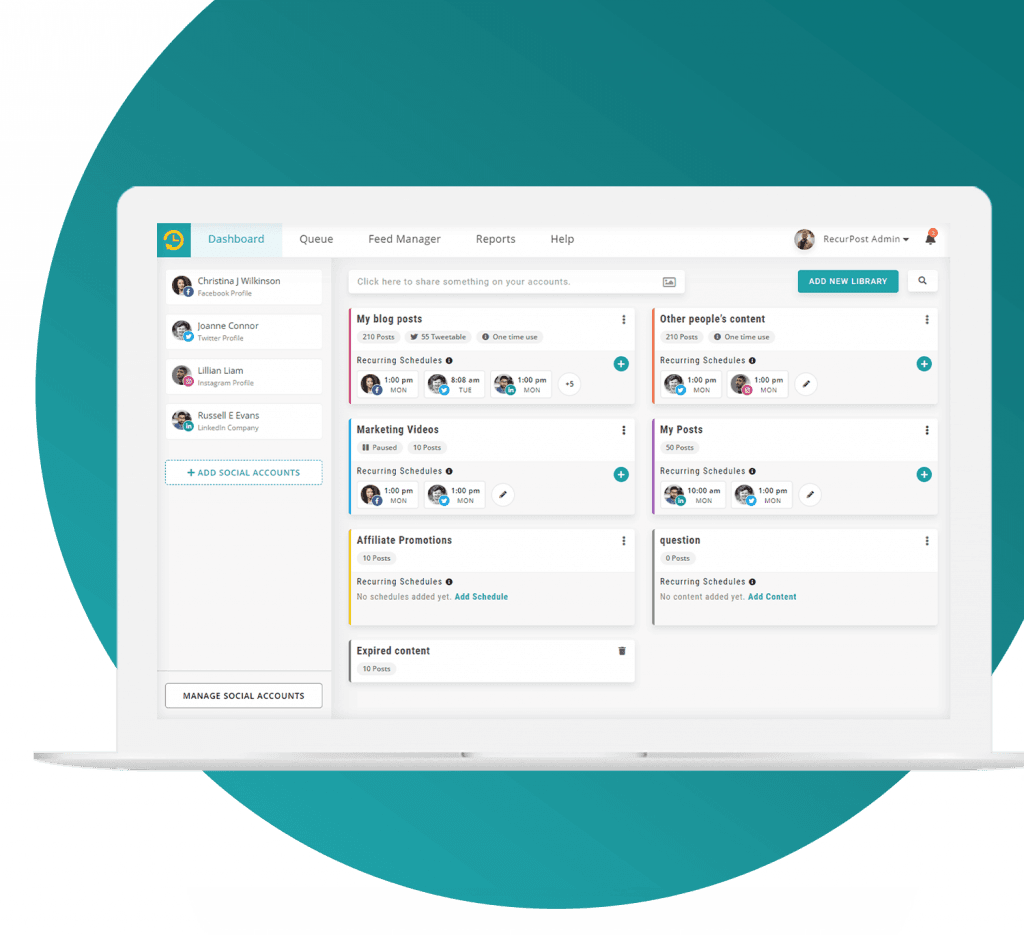 RecurPost is a social media scheduling tool that offers an Instagram post scheduler. Besides Instagram, it also provides support for other social media sites including Facebook, LinkedIn, Twitter, and Google my business. The following are the features that you can get while using RecurPost:
Bulk Scheduling: Bulk Scheduling makes it easier than ever to post multiple images, videos, or GIF files all at once without having to post them all individually, saving you a ton of time and effort and increasing your work efficiency, leading to better and faster results.
Maintain social presence: RecurPost helps you schedule Facebook posts on personal profiles, business pages, and groups. RecurPost is a brilliant Pinterest scheduler for attracting buyers by showing them the visual content of your products or services. With RecurPost, you can schedule tweets multiple times with the same content. If you want to connect with business leaders, you can schedule LinkedIn posts on your personal and business pages. Why forget local customers when you can schedule Google Business Profile posts with a call to action and bring them to the party? RecurPost enables you to post repeatedly and effortlessly on multiple social networks in just a few clicks.
Recurring updates: An additional and uncommon feature offered by RecurPost is the ability to create recurring updates. By creating recurring schedules, you can repurpose your content and keep attracting new audiences with the same content repeatedly.
Auto-post at best times: When you schedule your content for the best time to post on Instagram, we automatically figure out the time when your posts are most likely to be viewed by your audience, giving you increased activity on your social account and boosting the overall engagement received.
Advanced analytics: RecurPost has the feature of advanced analytics, through which you can track the performance of your social sites. Additionally, you'll be to learn a lot about your audience. You'll be able to check their country, state, age group, gender, and much more. You can easily check your top-performing posts,

which will give you an idea of the kind of content that your audience likes.

Hashtag recommendation: The best way to increase your reach on Instagram is to use the proper hashtags on posts. With RecurPost, you can create bags of tags and use them while uploading posts on Instagram.
Pricing: 14-day free trial; solo, agency, and business plans available.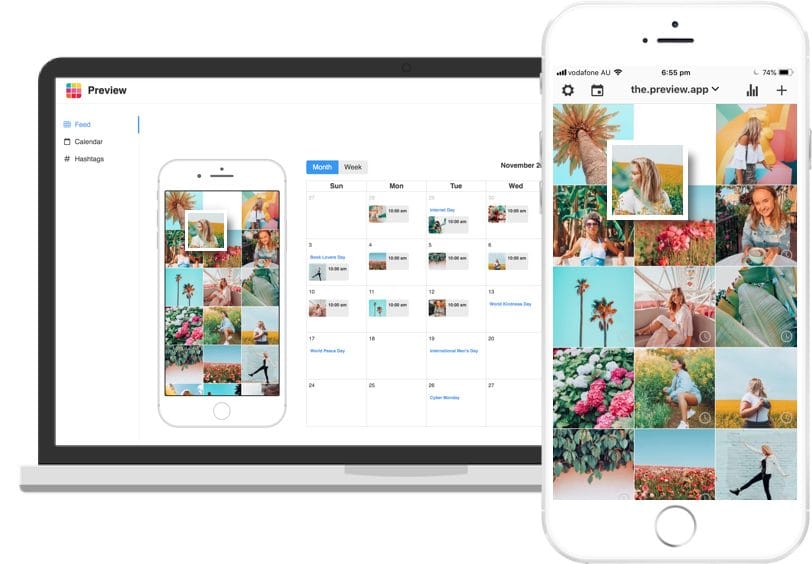 Preview is an app available for android as well as iOS users. It offers the management of multiple Instagram accounts. Below are the features provided by Preview:
Feed designing:

Upload all the pictures that you wish to post on Instagram, and then use the drag-and-drop method to arrange and decide their sequence. This helps design your overall feed and lets you have a loo-and-feel before uploading the pictures.

Repost:

This Instagram post scheduler allows you to repost already uploaded pictures from your feed.

Editing tools:

Preview offers some in-app editing tools, using which you can apply themed filters to your photos.
3. Bettr – Instagram post scheduler for Apple users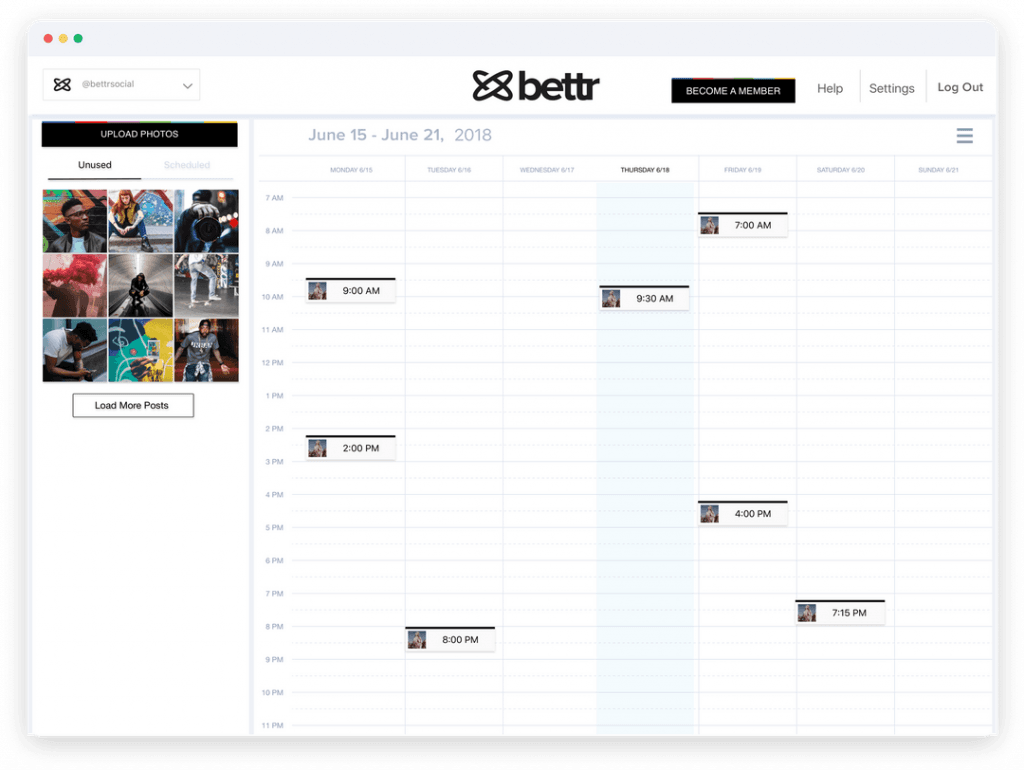 Bettr is an Instagram post scheduler tool that is only available for Apple users. Some of its influencer-focused features include the following:
Plan your feed:

Choose a

photo or story, edit post info, and select a

day & time for uploading content.

Best time to post:

It lets you know the best time to schedule posts & stories based on your audience. Everyone is unique, and it helps you optimize posts for the most engagement.
Grid preview:

It lets you see exactly how your content will appear in your feed before you schedule.

Automated first comment:

Keep your captions clean by automatically adding your hashtags to the first comment.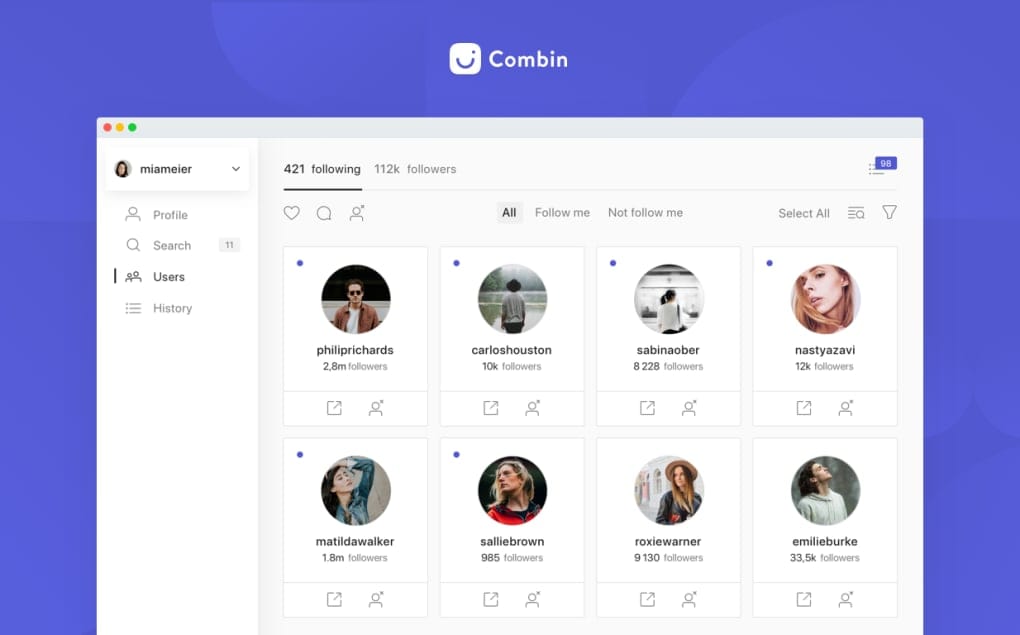 Combin is also solely dedicated to managing Instagram accounts. Below are some of its useful features:
Plan and schedule Instagram content:

Upload images in bulk, and plan stories and posts for auto-publishing.

Manage multiple accounts:

Combin's Instagram post scheduler lets you manage up to 15 accounts simultaneously.
Track activity and growth:

Keep a check on the account's activity, followers gained, etc.

Image size editing:

By using the crop and zoom feature, you can fir your images to the aspect ratios that Instagram supports.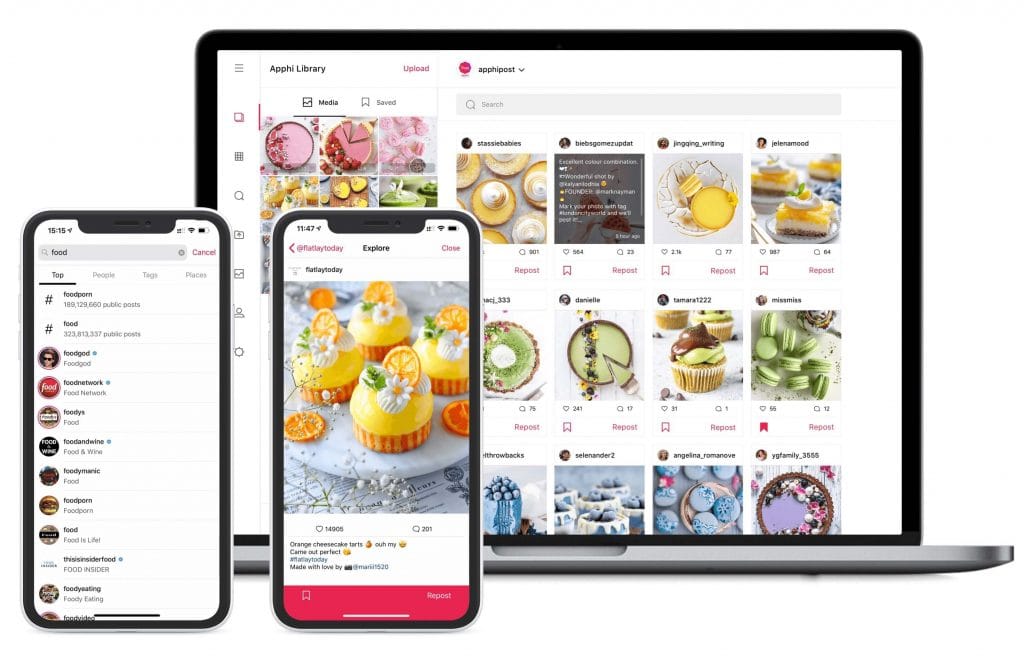 Apphi is a software available for iOS, Android, and desktop offering post scheduler for Instagram, Facebook, Twitter, and LinkedIn. It offers the following features:
Automated posting:

Schedule and post on feed, stories, and IGTV.

Tag people and location:

Apphi allows you to tag other users in your posts from the app itself. You can also add location while scheduling posts.
Add first comment:

The first comment automatically generates when you upload a post.

Insights:

Check the likes, comments, shares, follower gain, and other insights.
Read More: How to get verified on Instagram?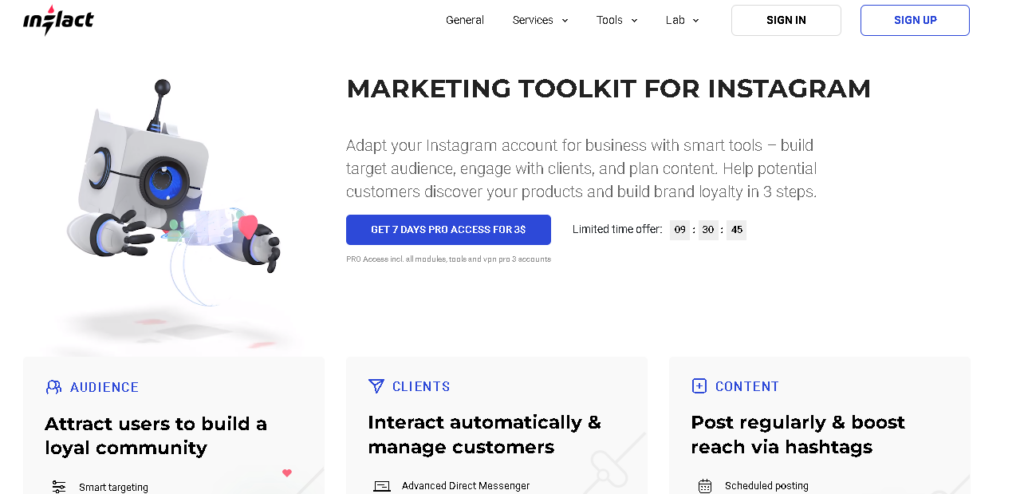 Inflact provides a complete Instagram marketing toolkit along with a post scheduler. It offers the following features to its users:
Scheduled posting:

Schedule images, videos, carousels, and stories

on the desktop—edit and save drafts.
Hashtag search: Find the trending hashtags and use them in your posts to increase their

reach.

Profile Search:

Find influencers in various niches, and discover competitors and partners without registration.
Profile analyzer:

Get precise and visualized stats on any public Instagram account—discover audiences, rates, posting time, hashtags, activity, and much more.

Direct chat:

Use targeted bulk messaging, automated replies, and quick replies. It offers label chats for all your Instagram accounts.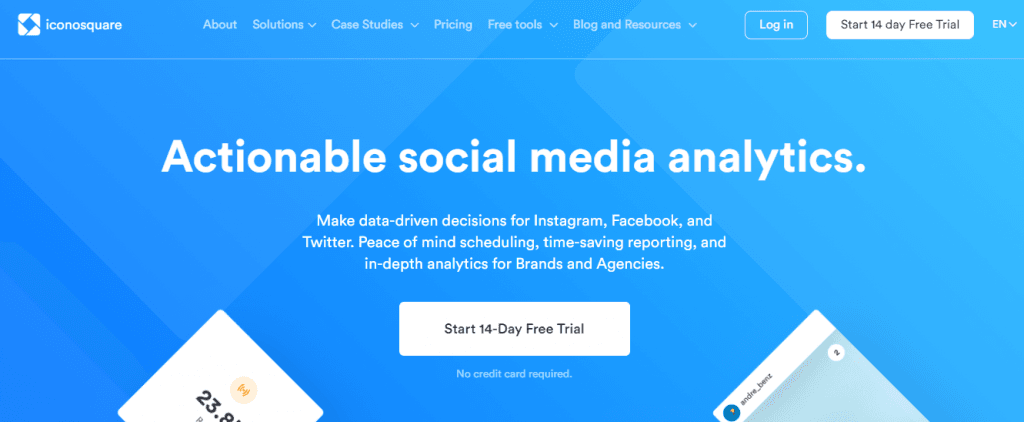 IconoSquare provides an Instagram post scheduler with efficient analytics. The following are its features:
Advanced scheduling:

With advance scheduling, Iconosquare users are able to manage their Instagram posts. You can simply draft the posts and IconoSquare posts them as scheduled.

Comment tracking:

You can use Iconosquare to track up to 30 comments and either delete inappropriate comments, mark them as read, or individually reply to each one of them.
Follower locations:

This Instagram post scheduler lets you know the location of your followers. Thus, you can find out the areas from where your majority of followers belong to.

Daily lost/gained followers:

This feature will let you know how many followers you gained or lost in a given period of time.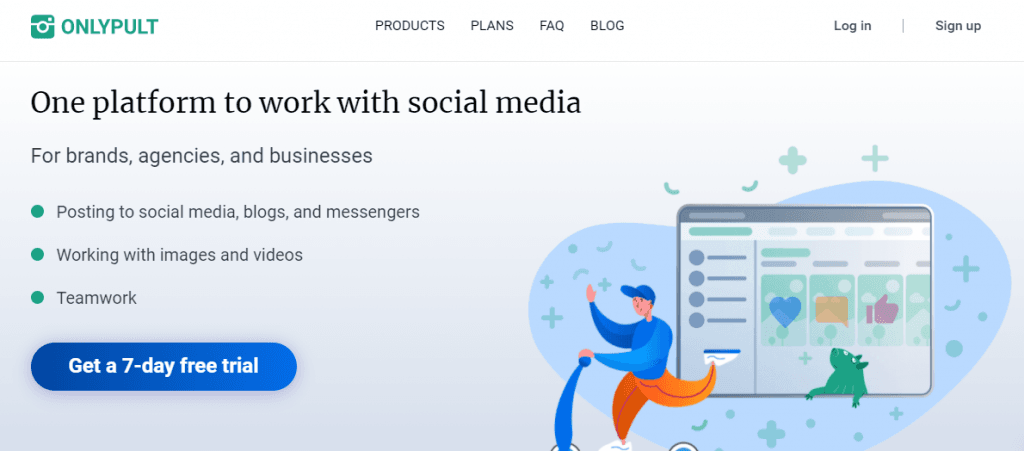 OnlyPult provides a post scheduler for Instagram, FB, Twitter, LinkedIn, and a few other social sites. Below are some of the features provided by this tool:
Manage multiple accounts:

OnlyPult allows you to take care of numerous accounts from the same dashboard, saving you from switching accounts every now and then.

Delegate your work: Connect your employees or clients to the account. Give your social media managers access to accounts without giving them the credentials.
Analyze results:

You can track the volume and growth in your follower count from time to time.
Image and video editor:

With the in-built editing tools, you can edit your photos as well as videos before scheduling them.

Monitor:

You can search and get information on mentions of your competitors, partners, buyers, and find potential customers.
9. Viral Tag – Post schedule for multiple sites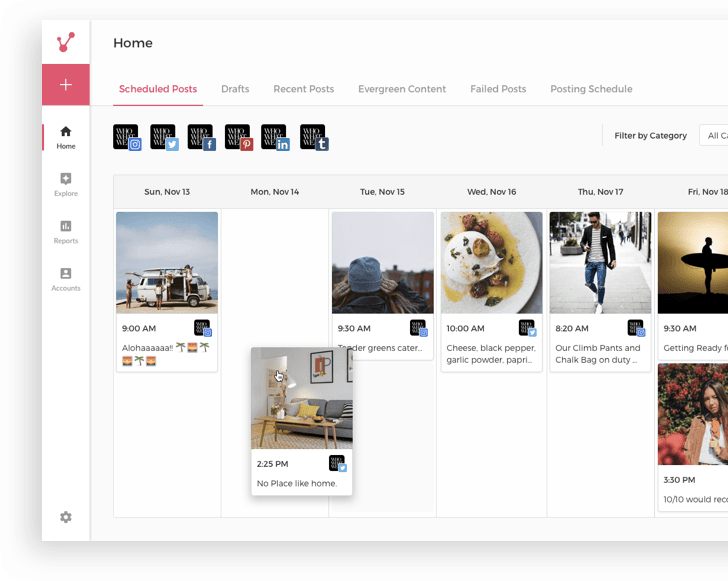 Viral tag supports posting on Instagram, FB, LinkedIn, Twitter, Pinterest, and Tumblr. Some of the features offered by this social media scheduler are:
Bulk upload of content:

Viraltag also connects directly to your Google Drive and Dropbox accounts to pull content in bulk and schedule it on your social accounts.

Hashtag suggestion:

Viral Tag suggests hashtags on the basis of posts that you upload. You can add them while creating schedules to make your posts reach to a maximum number of people.
Post recycling:

Viraltag automatically recycles your top-performing evergreen content to get more out of each post.

Collaborate with the team: Collaborate and plan your social media plan with your entire team on a shared automotive marketing calendar.
Loomly is one of the best Instagram scheduling tools with a clean and intuitive interface. It is reasonably easy to use and quick to set up. It markets itself as a brand success platform that can be used to manage all major social media sites, including Instagram. Its Instagram post scheduler provides the below features:
Social analytics:

It allows you to measure the real-time performance of your posts and shows you the kind of content that your audience is interested in.

Social ads:

Loomly lets you manage and optimize ads across all your social media channels.

Content calendar:

It allows you to schedule social media posts ahead of time and visualize all your scheduled content in a timeline or content calendar.

Content inspiration:

Loomly never lets you run out of inspiration by providing you with post ideas based on trending topics, and RSS feeds.
Tailwind describes itself as a one-stop solution for scaling up your Instagram and Pinterest accounts. It is an all-in-one tool that allows its users to explore content, schedule posts, manage notifications, improve reach, and analyze results. Below are its main features:
Bulk scheduling:

It's easy to use a drag-and-drop editor lest you upload, tag, and publish your Pinterest and Instagram posts in bulk.

Detailed analytics:

Tailwind provides analytics for your posts so you can strategically repurpose your best-performing content.

Report exporting:

It allows users to export reports from the product into an .xsl, .csv, or .pdf file.

Team management:

It enables you to assign permissions for different users or teams to access certain social platforms.
If you are looking for a tool that lets you automate Instagram posts whilst collaborating with your staff and team members, Sked social is worth giving a try. It arms you with powerful tools to help create visual marketing masterpieces that connect with your audience on a personal level. Some of its features are:
Advanced Instagram analytics:

Find the best time to post, analyze your Instagram Story performance, compare your activity against competitors, and more.

Collaborate with your team:

Sked social makes it easy to work together with customers, clients, team members, and collaborators.

In-built photo editor:

It allows you to crop and edit photos, apply filters, stickers, texts, and overlays.
Conclusion
There you have it, the 12 best Instagram post scheduler available at the most competitive prices for food blogging or other stuff. Choose the one on the basis of your needs and budget, plan your Instagram feed, and post the right content at the right time. Spend some time testing some of your favorites ones from the list and start growing your social accounts. RecurPost social media scheduling tool is one of the best free hootsuite alternatives to scheduling all your posts on different platforms. It is also one of the most trusted sprout social alternatives.
To begin with, we'd recommend you to try out the 14-day free trial provided by RecurPost. Click here to sign up !
Frequently Asked Questions
1. What is the best Instagram scheduler?
The best Instagram post scheduler is the one that offers seamless creation of posts, lets you schedule posts in bulk, and provides detailed analytics. Some Instagram schedulers also find the best time to post, which helps gain better engagement with your content. RecurPost is a tool that offers advanced features like social inbox, workspaces, detailed analytics, white-label reports, etc.
2. Can you schedule Instagram posts on iPhone?
Yes, you can schedule Instagram posts using your iPhone. You simply need to find a social media scheduler that provides an app for iOS users. RecurPost provides an Instagram post scheduler, and its mobile application is available for both Android and iOS users. It can be used to create, edit, and publish schedules easily on the go.
3. Can you set timed posts on Instagram?
Whether you are running a personal, creator, or business account on Instagram, you can schedule timed posts using an Instagram post scheduler. RecurPost lets you automate Instagram posts by enabling you to schedule content ahead of time. 

RecurPost's Instagram integration includes scheduling, publishing, engagement tools, and access to in-depth analytics. The automatic post scheduler enables you to save a lot of time and optimize your planning with creative tools, intuitive workflows, and powerful scheduling features, all within a single platform.
4. What is the best app for scheduling Instagram posts?
If you want to schedule Instagram posts through your smartphone, then RecurPost will be the perfect pick for you. It is a social media scheduling tool that lets you manage your accounts on the go through its mobile application. It is available for both Android and iOS users. You can add posts to your library, schedule your posts, edit schedules, and publish them straight from your phone.
5. What is the best time to post on Instagram?
The overall best time to post on Instagram is from Monday to Friday – 9 AM to 4 PM. However, the best times to post depends on a lot of other factors including your industry and audience's active times on the platform.

If you want to schedule your Instagram posts for the best times, you can use a social media scheduler like RecurPost. Through its AI-based share time optimization, RecurPost automatically finds and schedules your Instagram posts for the best times.
6. How to automate Instagram posts?
To automate your Instagram posts, you need to use a social media scheduling tool. Find a good Instagram post scheduler that lets you post on both personal and business accounts. Using RecurPost, you can efficiently automate your Instagram posts and schedule them ahead of time. 

Apart from basic scheduling features, you can also manage your notifications, add your team members, and download detailed reports of your social media performance. It lets you create bags of tags that you can store and use while creating posts. Thus, you don't need to manually add them every time while uploading content.

RecurPost's AI-based share time optimization studies the engagement level of your posts and suggests you the best time to post content on your Instagram accounts. Simply connect your social accounts, create content libraries, and let RecurPost do all the magic for you!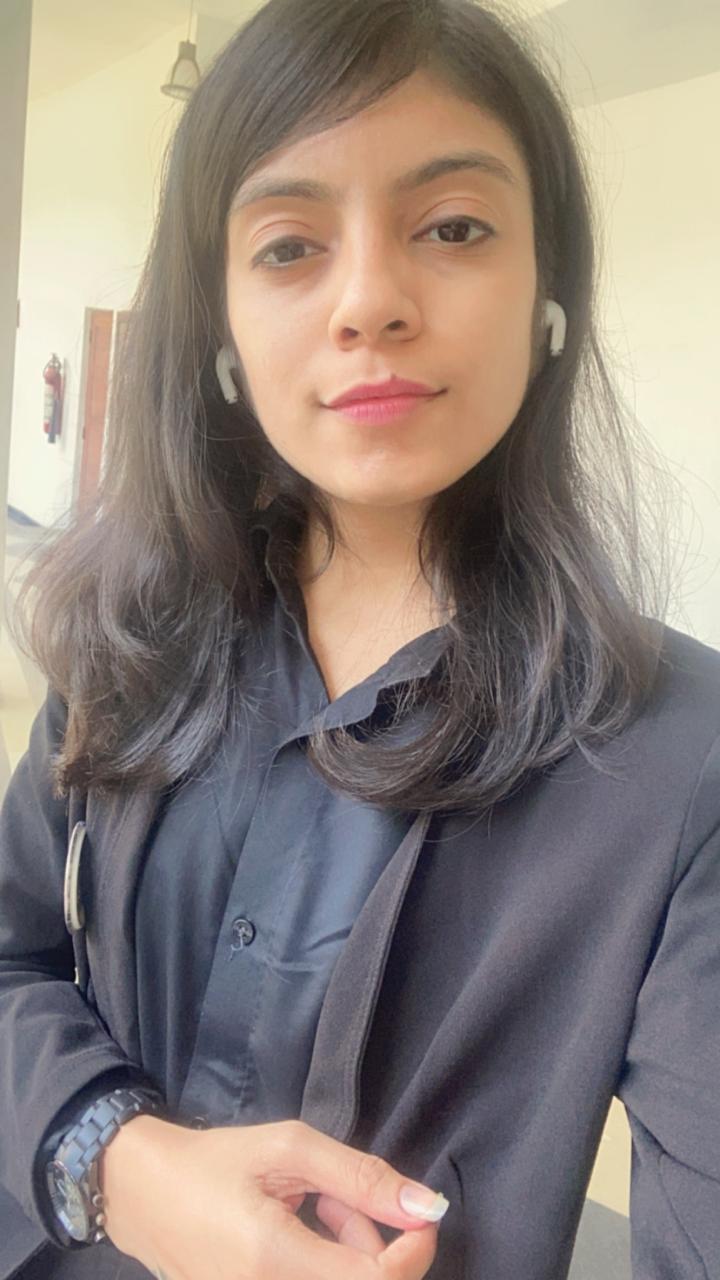 Amaiya Rathi is a Senior Content Writer at RecurPost. She helps RecurPost communicate with their readers in their own language. Whether it is the web copy, social media posts or blogs, Amaiya has worked on all aspects of copywriting. You can reach out to her at [email protected].