Did you know that LinkedIn use has a global user base of over 774 million people? This number elevates the platform to one of the most popular social media platforms today.
You may form long-term relationships with your prospects and promote your brand with a well-executed LinkedIn marketing strategy. Furthermore, LinkedIn is a terrific venue for building brand visibility and nurturing qualified prospects by posting compelling material and participating in industry discussions.
People nowadays are unaware of how what, & why to use LinkedIn. We've included top Linkedin marketing strategies in this article to help you navigate LinkedIn use and how to develop your brand and reinforce strong customer relationships with some of the strong social media schedulers to schedule LinkedIn posts. Take advantage of the LinkedIn strategy overview, which covers everything from creating a company page to the advantages of utilizing LinkedIn.
Table of Contents for how to use LinkedIn:
What is LinkedIn?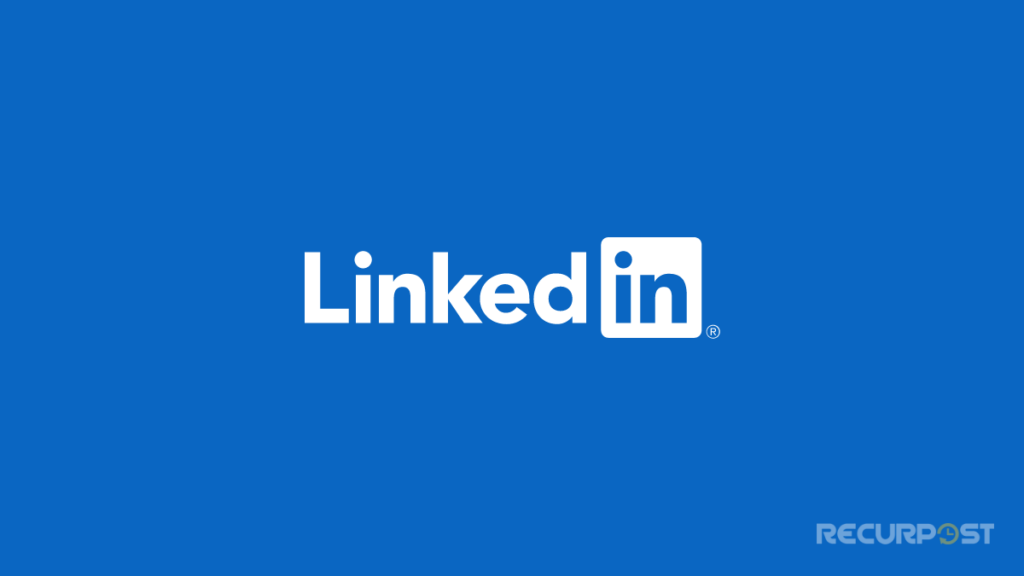 LinkedIn, like Facebook, is a social networking platform. It varies from Facebook in that it focuses on work rather than play. As a result, rather than being a standard social network, it is a professional network to assist people.
Here are a few pointers for improving your LinkedIn profile:
Make connections with people who work in the same or similar sectors.
Find out about professional prospects and possible job/promotion opportunities.
Get the latest industry news, analysis, and inspiration by subscribing to our newsletter.
Make a name for themselves and advertise their company, expertise, or freelancing job.
Maintain contact with coworkers.
You won't discover any cute pet videos or wild photos from last Saturday's party on LinkedIn. People don't usually post personal, non–work-related information on the site because your potential employer might be looking at your profile, and you don't want them to think you're unprofessional.
Whether you're a brand or looking to promote your business through LinkedIn, you'll need to post information about your work at the right time if you want it to be seen by your target audience. However, if you handle everything on your own, you might forget to post your daily work, in which case you'll need a social media scheduling tool to help you plan ahead of time.
One of the most widely used scheduling tools in the industry is RecurPost. It's the best social media scheduler and a free Hootsuite alternative, and also one of the best Eclincher Alternatives.
Now let's look at how to use LinkedIn or get started with LinkedIn. LinkedIn is the world's largest professional networking site. You can use it to stay in touch with old and new colleagues and connect with people in your field. It's an excellent tool for job searches and recruitment, keeping up with industry news, improving your professional reputation, and increasing your brand's visibility.
Use the following tactics to get the most out of LinkedIn:
Fill out your profile completely.
Make contact and establish a connection.
Begin to converse.
Give and receive endorsements and recommendations.
Use LinkedIn Groups to your advantage.
Make content that is interesting to read.
Look for new employees – and opportunities.
Boost the visibility of your company.
Professional etiquette must be followed.
8 Benefits of using LinkedIn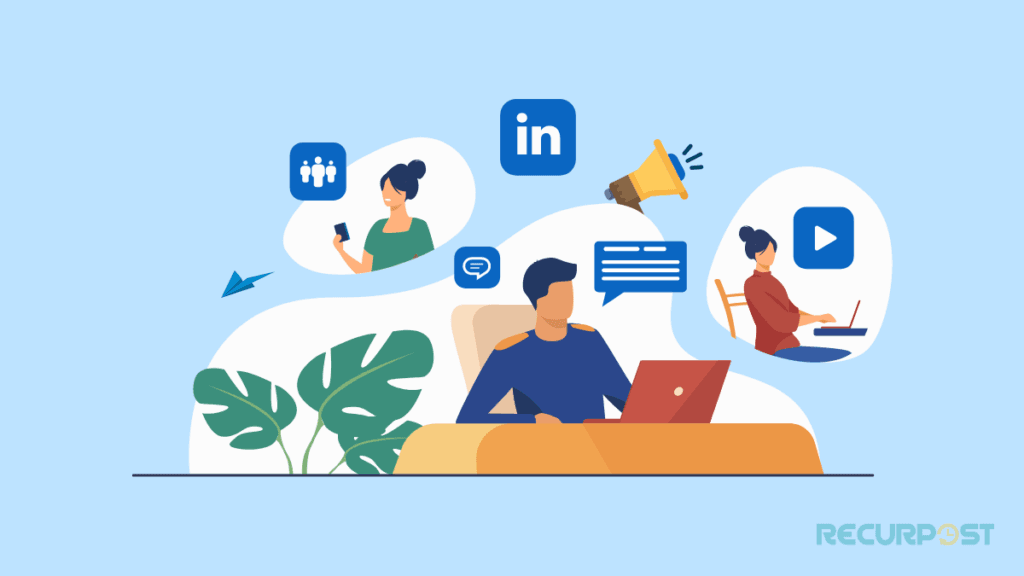 There are practically endless benefits to having a LinkedIn profile, and there are no drawbacks to having one. Join groups, participate in forums, and meet people who share your interests. The best aspect is that it is entirely free to use on LinkedIn. Let's take a look at some of the reasons why use LinkedIn.
A Beneficial Networking Opportunity
LinkedIn can assist you in building a virtual network of acquaintances, which is especially handy if you don't enjoy socializing in person. While a business card might be easily misplaced, a LinkedIn connection will always exist. This could be handy if you're looking for a job at any point in your career.
You can develop your brand.
Personal websites are fantastic for this, but they frequently come with additional charges — as well as hours and hours of creating and finessing. LinkedIn is a quick and easy way to get your name out there in the professional world. Upload a professional profile photo and write a compelling LinkedIn summary highlighting your skills and personality. After reading your profile, recruiters, employers, coworkers, and managers should get a good sense of who you are and what abilities you bring to the table.
Recruiters Use It
LinkedIn is a terrific tool to connect with recruiters whether you're actively looking for work. Recruiters use LinkedIn to locate active and passive job prospects in 87% of cases, and 35.5 million people have been hired because of a LinkedIn connection.
Companies that conduct research
LinkedIn is also a useful tool for researching companies before applying for and interviewing for a job. You may discover a lot about a company's culture, mission, and even recruiting patterns by glancing at its LinkedIn page.
Become a member of a support group.
LinkedIn has a variety of interest-based and professional groups that can be a wonderful way to meet new people. You can start a conversation, share your thoughts, or simply ask for assistance. Joining groups can also help you expand your network and meet people you might not otherwise encounter.
Make a name for yourself as an expert.
You may promote yourself as a competent and engaged professional in your subject by sharing articles or insights. Utilize endorsements and recommendations to assist validate that perception. These traits suggest that you are regarded as a skilled specialist by other renowned professionals.
Create a Personal Brand
LinkedIn is a great place to build and grow your brand, and it can help you become more visible as an individual while also raising the profile of your firm. Sharing examples of your work, for example, is a wonderful method to show that you can do the task.
Posts that are both informative and helpful can be found here.
While other social media is important for business networks and place a greater emphasis on people's personal lives, LinkedIn emphasizes their professional lives. It includes business news and motivating or instructional pieces on a variety of professional issues, and you can learn a lot just by skimming through it once a day.
How to Promote your business on LinkedIn to get leads?
As a marketer, you're probably aware of some of the most popular social networking platforms for generating leads. You've probably heard about the value of Instagram, Facebook, and Twitter, and you might believe you're all set if you employ all three as part of your lead-generating strategy.
If you're a B2B company, you could be missing out on a huge chance to expand brand recognition and revenue if you're not using LinkedIn for sales. According to surveys, LinkedIn is the most effective sponsored and organic social channel for B2B enterprises, with 82% of B2B marketers claiming success on the platform.
Pro Tip: You can add promotions on LinkedIn to your profile to get some kind of attention.
These figures make sense, especially when platform-specific demographics are taken into account. The average Instagram user browses through their feed, likes photographs of friends, and utilizes the platform to find and buy things occasionally.
Related Article: How to post on LinkedIn to Enhance B2B Marketing Strategy?
How useful is LinkedIn?
LinkedIn functions similarly to a live CV. It allows you to connect with businesses that interest you and other developers, employers, and other professionals. This is your opportunity to highlight your previous work experience. You can use it to link to your websites, apps, movies, and other resources. You can also acquire recommendations or references from your peers, and you can demonstrate your worth by suggesting your connections. So, here are some pointers on making the most of LinkedIn. If you are from a programming background, showcase the projects you have done in the past. You can get Live Coding help from experts to optimize your personal projects as well as to tell them that you have up-to-date knowledge of the domain
Networking
In today's workplace, networking is crucial. LinkedIn is a great place to be if you're looking for a new career, looking for collaborators, or looking for mentors. Use it to connect with people who work for companies you'd like to work for or with whom you'd like to collaborate.
Location, Industry & Education
Clearly state what industry you work in and what your function is. Let them know your city and nation when it comes to location. This is critical, especially if you're looking for someone with your skills in your area.
Ensure you include any abilities you think a particular company would be looking for. If you've completed any courses or programs, list them. This experience will demonstrate to potential employers that you have the skills they require.
Create a good summary
A summary should be included in every LinkedIn profile. It should begin with a catchy remark that highlights some of your individuality.
It should tell your current career story as well as your major achievements. While you may want to emphasize your developer skills, it's also crucial to demonstrate your experience in other fields. Employers are looking for well-rounded people who know more than just software development.
Links to previous projects, webpages, and other resources
Remember, LinkedIn is a platform for you to showcase your skills. Problematic areas of your profile include links to samples of your work. Demonstrate your videos, websites, apps, and other media. Make sure to utilize the high-quality products!
Consider being a thought leader.
It's simple to share information on LinkedIn, and it highlights your interests once more. If you have any theories or thoughts, you can share them through a LinkedIn article. Encourage your friends to share them as well.
How to use LinkedIn for Business?
The first thing you should do on LinkedIn is to create a business page. This blog will walk you through the steps of creating a LinkedIn Company Page from the ground up
Step 1: Create a user account for yourself
To use LinkedIn, you must first create a personal account. This person will also be in charge of your Company Page. Signing up with your work email address is recommended.
Step 2: Create a LinkedIn Company Page
Okay, now we can start working on your Page. After you've logged in, go to the top right of your browser and click the Work icon. Choose to Create a Company Page from the bottom of the menu that appears. Choose the appropriate Page type from the four options:
Small business
Medium to large business
Showcase page
Educational institution
Start filling in your details after you've chosen the Page type. Spend the time necessary to craft a decent tagline because it will be the first impression most LinkedIn users will have of you. Click Create Page when you're finished. You now have a Company Page, ta-da!
Step 3: Optimize your Page
Okay, now that you've covered the basics, optimizing your new Page to gain traction and grow your following is time. Go to the bottom of the page and click the blue Edit Page icon.
Fill in all of the fields in this section for extra information. This will help users understand what you do and improve your LinkedIn SEO (a.k.a. showing up in search results). It's well worth the effort: Companies with detailed profiles receive 30% more views.
Make use of translations.
Is it possible to cater to a worldwide audience? You don't need to create a new Company Page for each location because you can add translations here. On your Page, you can have up to 20 languages, including the name, tagline, and description sections.
In your description, include keywords.
Because Google indexes your LinkedIn page, use natural-sounding keywords in the first paragraph of your company description. Keep your vision, values, products, and services to 3-4 paragraphs.
Include a branded cover photo.
Use this place to draw attention to your most recent product launch or other significant news. Keep things simple and on-brand. This space's current measurements are 1128px x 191px.
Add hashtags
You can follow up to three hashtags. By navigating to your Page and choosing Hashtags under the post editor, you can see all posts that use these hashtags. You may now simply comment on, like, and share relevant posts directly from your Page.
Create a unique button.
This is the button that LinkedIn users will see on your Page next to the Follow button. You can choose from the following options:
Contact us
Learn more
Register
Sign up
Visit website
The default choice is "Visit website." You can alter it at any moment, so if you're having a webinar or event, change it to "Register" or "Sign up" to focus on that instead of your website. You can include a UTM in your URL to track where leads are coming from.
Step 4: Build your Page
Unless you inform people about your Page or start publishing material, no one will know it exists. Here are four ways to show your support for your new page:
1. Distribute it
Click the Share Page next to the Edit icon on your home page. Ask your employees, clients, and friends to follow your new Page by adding it to your own LinkedIn profile. It's a straightforward initial step.
2. Include a link to it on your website.
In your footer and anywhere else you link to social media, include the LinkedIn icon with the rest of your social media icons.
3. Request that employees update their profiles.
This is critical for your Page's long-term success. You didn't have a Page when your employees first listed their job titles on their profiles, and as a result, those titles don't lead anywhere.
Ask your staff to update their job descriptions on their LinkedIn accounts to link to your new Company Page now that your Page is up and running. The number of employees you have might assist your firm get trust on the platform by displaying it.
4. Send invitations to follow
You can ask your connections to follow your Page from there. LinkedIn restricts the number of invites you can send out to prevent spam.
Step 5: Execute your LinkedIn marketing strategy
Isn't it true that you have a LinkedIn marketing strategy? The simple step is making a Page. Unless you have a plan, the hard part is keeping it going with content that your audience wants. Answers to the following questions should be included in the LinkedIn section of your social media strategy:
What will you do with your Page? Recruiting? What is the best way to generate leads? Sharing the esoteric industry content that doesn't go well on Instagram or Facebook?
Are you going to run a commercial? How much money do you have set out for LinkedIn ads?
What are your competitors' LinkedIn strategies, and how can you improve your content?
With the RecurPost social media scheduling tool, it's simple to keep on track once you know what you will write about and how often. You may add material, schedule LinkedIn posts for automatic publication, and see everything from a weekly or monthly perspective.
At a glance, ensure your posts are adequately balanced across all the goals and topics you intend to cover and easily add new content or reorganize upcoming posts.
Don't forget to interact with people in addition to sharing your work. LinkedIn is still a social network, even though it is used for business. Let's look at how to use LinkedIn for sales now.
How to use LinkedIn for sales?
The art of using social media to locate, interact with, understand, and nurture sales prospects is known as social selling. Despite the abundance of social media groups, LinkedIn remains one of the most powerful business platforms. Using LinkedIn Sales Navigator will help you save time with intelligent lead recommendations, see all of your leads in one place, and engage with potential prospects more efficiently.
"This sales strategy offers improved sales lead creation and sales prospecting process and removes the necessity for cold calling," according to LinkedIn. Building and maintaining relationships is easier when you're part of a trusted network." They also provide some interesting data on the effects of social selling:
So, how can you use LinkedIn for sales? Here are 5 ways to use LinkedIn for sales prospecting:
1. Optimize Your LinkedIn Profile
You can turn your LinkedIn profile into a great sales asset with a few modifications. The most vital aspect is that your profile is filled out. If your prospects are interested in what you're selling, there's a good chance they'll search you up. When they do, your profile should present you and your organization professionally.
Your headline
Your LinkedIn headline is automatically filled in with your current job title. Change the phrase to a value proposition that grabs your audience's attention to stand out. Make the most of the 120 characters you've been given. It should highlight the value you bring to the table.
Your summary
Make your summary more than a list of duties you perform at your current job; job descriptions are for that. Use this area to give folks a glimpse into who you are and why you do what you do. Put the company you work for in a positive light to optimize this section for sales.
Your projects & media
LinkedIn allows you to highlight projects on which you've worked. Make use of this feature! You can include movies, photographs, text, and links to highlight your abilities. Getting recommendations from your existing happy clients is another great strategy to gain traction – but it takes more effort.
This will help viewers understand who you are and what you offer. Remember that quality trumps quantity, so seek out people who can provide you with a good recommendation.
2. Add Every Customer You Close to Your LinkedIn Network
You should encourage customers to join your network whenever you close a sale. There are several causes for this. First and foremost, if you have your customers on LinkedIn, it will be much easier to ask for the high-quality recommendation we stated before.
What's more crucial is that you'll be able to discover the correct individual to send another possibility to. Simply go to the prospect's LinkedIn profile and see if your current clients have mutual connections. Finally, it's a means to stay in touch with this customer and maintain a relationship with them.
3. Join and Participate in LinkedIn Groups
Long before you reach out to your prospects, LinkedIn groups are a terrific way to connect with them. Conduct research on the groups that your present customers and ideal prospective customers belong to.
4. Mine Your LinkedIn Connections for New Customers
As we all know, gathering emails from potential clients is much easier said than done. LinkedIn can be in handy in this situation. It's a lot easier to find someone's LinkedIn profile than to get their email address. As a result, all you have to do to gain someone's email address is add them to your network.
How do you go about asking? The option to export a spreadsheet of all your connections is one of LinkedIn's most helpful – but little-known – capabilities. This file contains the full name, email address, current job, and position of your contacts!
Here's how it's done:
Go to the top of your LinkedIn homepage and click the My Network icon.
On the left rail, click Your connections.
Near the top right of the page, click Manage synced and imported contacts.
On the right rail, under Advanced actions, select Export contacts.
Select Request Archive from the drop-down menu. To complete the activity, you will be asked for your password.
You will receive an email to your Primary Email address containing a link to download your list of connections.
Go to the archive by clicking the link in the email. Click on the Download button.
You'll have a full folder of LinkedIn data, but the "Connections.csv" file is the most significant. And there you have it: everyone's contact info!
You have it: the ideal tool for prospecting, generating referrals, and maintaining customer data. Now Let's understood the topic of How to use hashtags in LinkedIn?
How to use hashtags in LinkedIn?
When it comes to professional social networking, it's no secret that LinkedIn reigns supreme. This is because it provides a fair playing field and helps you succeed.
As a professional, you may have discovered that LinkedIn is an important tool for connecting with others and expanding your network. It includes everything, from business owners utilizing it for HR to content producers seeking feedback.
Hashtags on LinkedIn allow you to include keywords or phrases in your posts that will only appear when someone searches for them. They influence how your changes appear in search results, resulting in more views and opportunities.
The finest hashtags for sales LinkedIn app use are listed below. These will catch people's eyes and pique their interest in your job posting!
#innovation
#humanresources
#digitalmarketing
#technology
#creativity
#entrepreneurship
#markets
#startups
#socialnetworking
#leanstartups
#economics
#branding
#advertisingandmarketing
#personaldevelopment
#whatinspiresme
#customerrelations
#productivity
4 LinkedIn marketing tools for business growth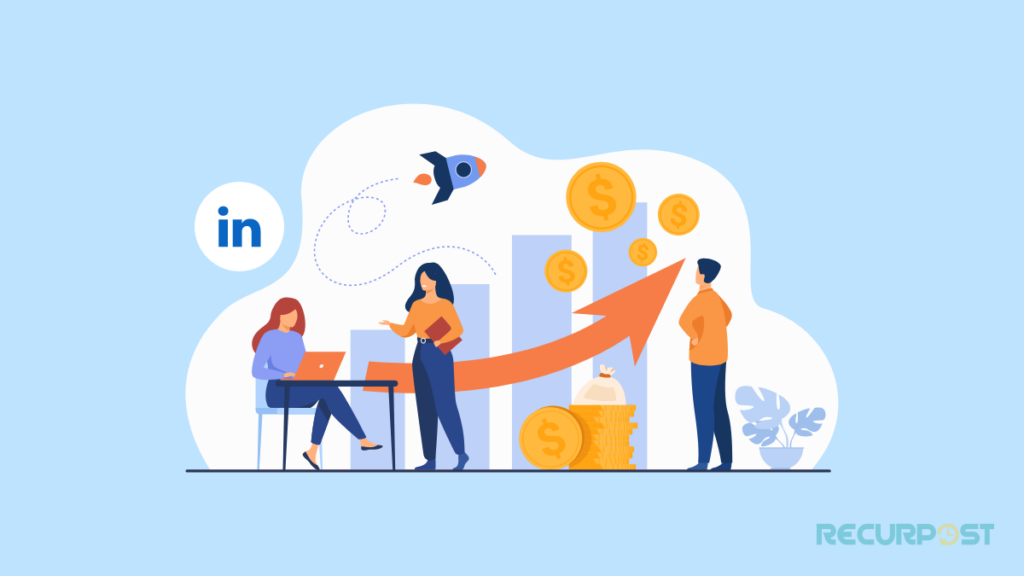 RecurPost
Throughout this piece, we've discussed how RecurPost can aid your LinkedIn strategy marketing. RecurPost can handle everything, including post planning, Auto Scheduling, ad placement, quick response to comments, and best-in-class statistics. RecurPost, on the other hand, can do a lot more for LinkedIn and your other social media sites with an option of social media bulk scheduling to add images/videos/reels, etc., in advance.
Adobe Creative Cloud Express
Creative Cloud Express, formerly Adobe Spark, allows you to create free, eye-catching visuals directly from your browser or mobile device. Remove image backgrounds, add motion, scale visuals for every device, and produce professional-quality video materials using this tool. It also includes a template library with professionally created items to aid in the growth of your business. You may also get free photos from Adobe Stock.
SlideShare
Adding substantive information to your LinkedIn posts, such as a presentation, infographic, or white paper, instantly increases its shareability. You'll need to use SlideShare to add this type of material. Because it's a different platform from LinkedIn, uploading your material will make it discoverable there (bonus!). You can use this method to use a PDF, PowerPoint, Word, or OpenDocument file.
Glassdoor
Managing your company's LinkedIn reputation is critical for recruitment. Share your LinkedIn Organization Page postings on Glassdoor to help job seekers learn more about your company. It contains analytics reports for Glassdoor content interaction along with your other reports.
LinkedIn is a professional networking site that may help you establish credibility, build a significant network, and position your firm as an industry authority. This is feasible with the correct LinkedIn marketing strategy, which you now know how to develop.
RecurPost allows scheduling on platforms beyond LinkedIn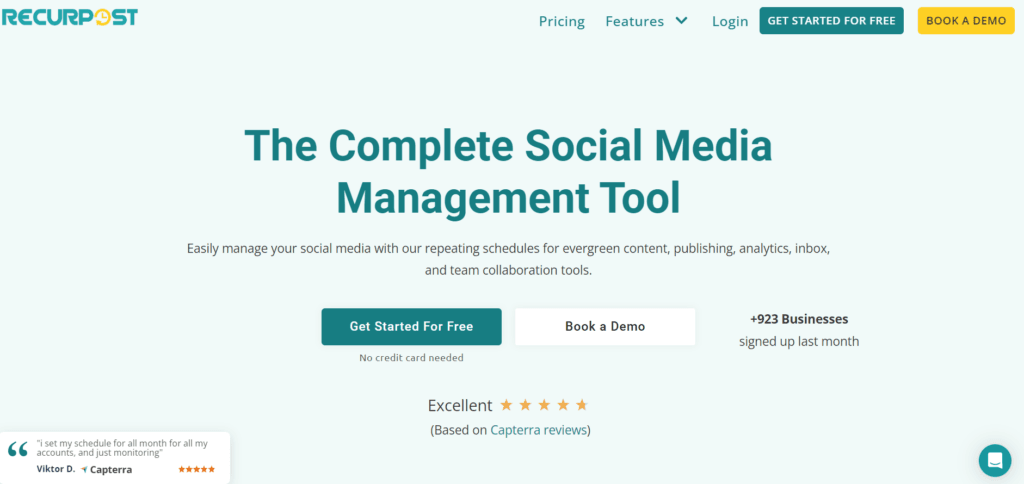 If you want to fuel your brand with a perfect social media marketing strategy, you need a social media scheduling tool like RecurPost. It is possible to schedule Facebook posts for different groups, pages, and profiles with RecurPost.
The good news for marketers is those who rely heavily on visuals, RecurPost is a great Pinterest scheduler. RecurPost lets you schedule Instagram posts with images, stories, and reels on your personal and business accounts to entertain your audience.
RecurPost allows you to schedule tweets to appear at the best time. Schedule LinkedIn posts with the right set of hashtags to target the audience who is interested in your content. You can also schedule Google My Business posts with a call to action button to attract a local audience.
Conclusion
Here's everything you need to know about using LinkedIn for sales. It's crucial to remember that consistency is important, but so is maintaining the quality of your content. You can also learn about the benefits of using LinkedIn or how to add promotions on LinkedIn and eliminate the possibility of making mistakes.
You may always utilize a social media scheduler like RecurPost to automate LinkedIn posting. It is one of the best social media schedulers and one of the top free Hootsuite alternatives and eClincher alternatives, since it offers all of the automation capabilities, you may want at an affordable price. Sign up for a 14-day free trial to know more about its services and understand RecurPost pricing to make a wise choice. Check more about how to add a business to google using RecurPost.
Frequently Asked Questions
1) How to use LinkedIn to market my business?
As the top business-to-business social media platform, LinkedIn gives users unrivaled online networking opportunities. LinkedIn allows you to create a network of your connections and their connections, connecting you to thousands of business professionals automatically.
2) Can you use LinkedIn for real estate?
LinkedIn is the best social media platform for estate agents, whether you sell residential or commercial property. You can not only locate company owners looking for the ideal property, but you can also find people looking for a new place to live.
3) Does LinkedIn use hashtags?
Hashtags on LinkedIn assist you in discovering and engaging with subjects and interests that are most relevant to you. All hashtags begin with the letter # and are followed by a keyword or phrase.
4) What is the best way to upload an article on LinkedIn?
The steps for sharing an article on LinkedIn are as follows:
– Start a new post by clicking the start a new post button.
– In the text field, paste the link or type the URL.
– You will be able to include text in your post.
– Select who you want to share the article with.
– Select Post from the drop-down menu.
5) How do I share a LinkedIn company page post?
You can select "recent updates" from the three dots beneath "Publish a post." Scroll to the bottom of the Page until you see your company's post and click "share."
Debbie Moran is a Digital marketing strategist with 5+ years of experience producing advertising for brands and helping leaders showcase their brand to the correct audience. She has been a part of RecurPost since 2019 and handles all the activities required to grow our brand's online presence.