Ever tried automating your Instagram posts? If you have, we bet you won't be able to do without it! And if you haven't, you need to learn how to schedule posts on Instagram now!
The easiest way to save time on your marketing efforts would be to automate Instagram posts. If you are managing your own business or a full-blown marketing team at a global level, your marketing tasks would likely be complex and a social media scheduler would be dearly helpful here. It will automate tasks that consume more energy and time, ensuring that you produce high-quality, consistent, easy-to-plan content. 
However, choosing an Instagram post scheduler is no easy task. You should consider multiple factors like whether you have a business profile or a creator profile, or if you want to schedule Instagram stories, think about whether you want IGTV and videos, and think of what you would expect from your analytics feature.
This blog will educate you on how to schedule Instagram posts for personal and business accounts using the best-in-class social media automation tool; RecurPost.
How to Schedule Instagram Posts With RecurPost
Instagram automation can change the face of your business. The process involves getting help from a third-party tool to manage your account and perform multiple tasks automatically.
RecurPost is an excellent Instagram post scheduler that supports direct posting to an Instagram business profile. It will even give you the best time to post on Instagram so that you can reach maximum users with your posts or else you can repost on Instagram.
How to schedule Instagram posts with RecurPost with these easy steps:
1. Create an Account With RecurPost
To begin with the scheduling process, you will first have to create an account with RecurPost. For this, you will need to visit RecurPost and complete the sign-up process from there. From this portal, you will be able to create an account at no cost. You will have to fulfill all requirements and add in your name and email address. Once you fill in the details, your account will be ready to get started with scheduling.
2. Add Your Social Media Profiles
Once you create a free account, you will be shown the RecurPost dashboard. Multiple features and services would appear on the navigation bar for you to skim through. There is also the option of managing your social accounts and content libraries. On the panel towards the left of the screen, there is an option saying "add social accounts".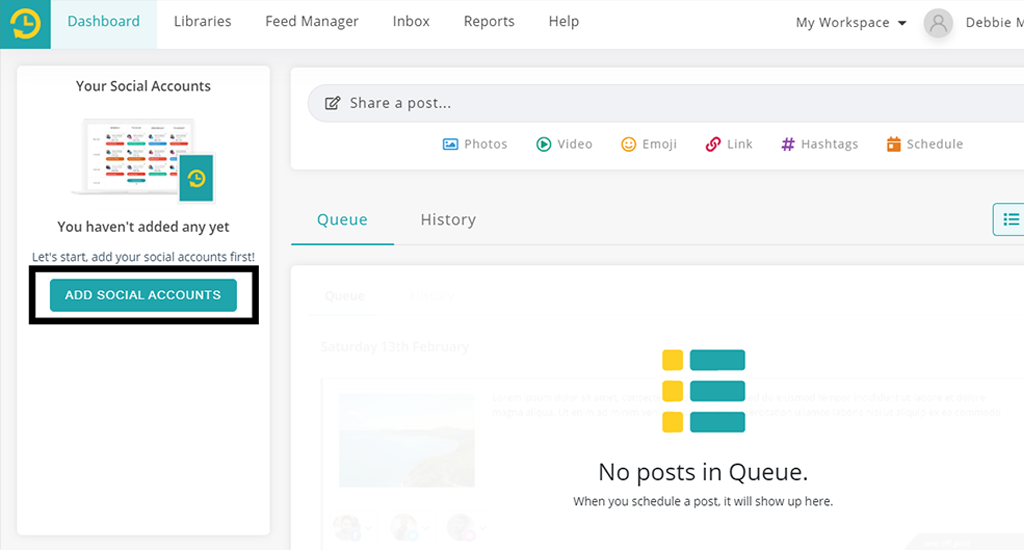 3. Connect Your Instagram Profile
Since you want to schedule a post on Instagram in particular, the upcoming step would be to connect your Instagram profile with the RecurPost interface. Moreover, you should know how to share a post on Instagram. This window will appear on your screen when you click on the "Add social account" option: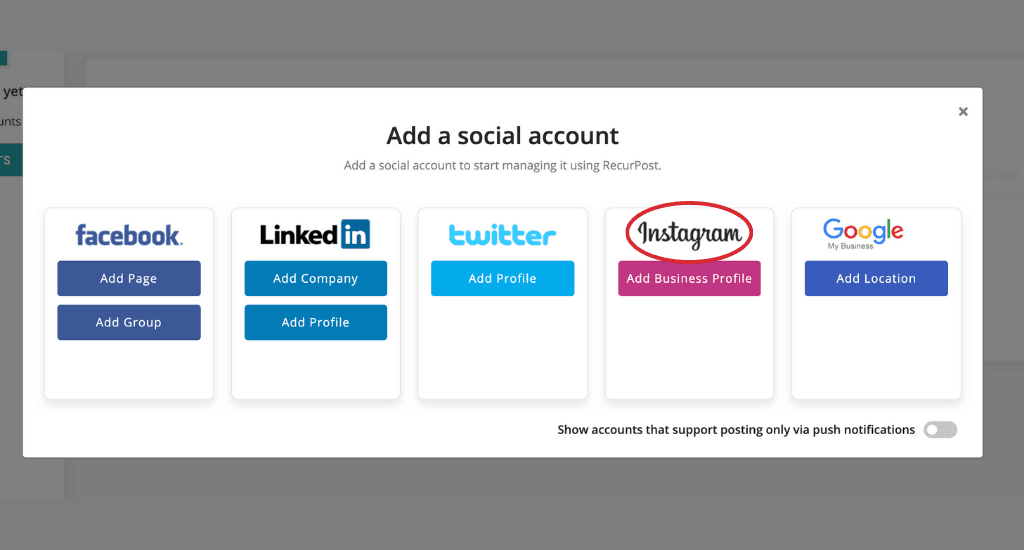 From all the given options, you need to choose the one that falls under the Instagram category. Choose the option saying "Instagram business profile". Once you click on that, you will be taken to the Facebook login screen since Instagram and Facebook accounts are connected. Enter your username and password there. After this, you need to grant certain permissions to the RecurPost app for operating your account.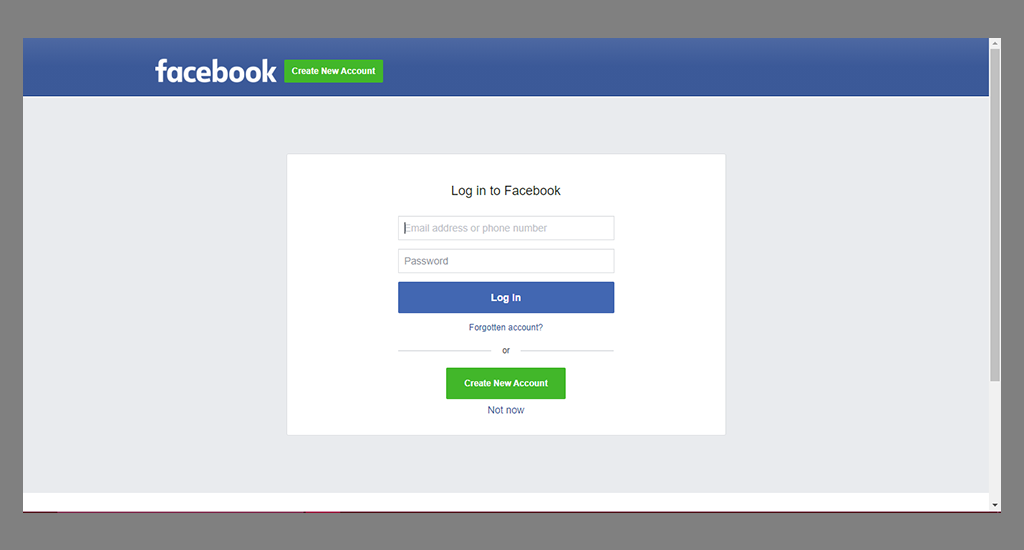 You do not have to worry about the privacy of your personal information because RecurPost guarantees the safety of your details. Select the option "Allow" and your account will be ready for scheduling and posting.
4. Add Content Libraries
In order to source content for scheduling Instagram posts, you will have to start with creating content libraries.
You get three libraries by default when you get started. It is upon you to continue with them or make fresh ones. If you are looking to create a new library, you will have to go to the libraries menu and select the option that says "Add new library".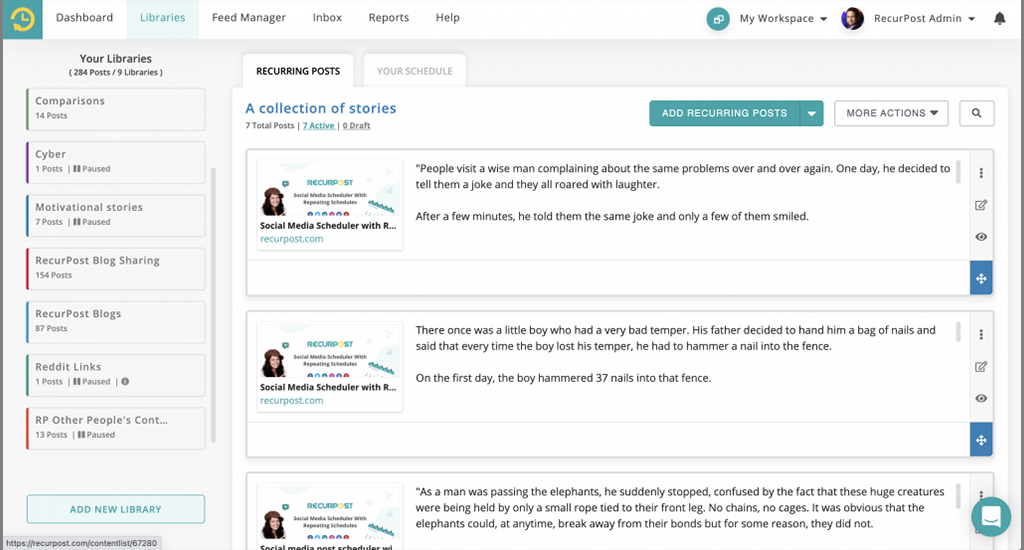 While creating the new library, you will have to fulfill the following requirements:
Name – You need to assign a name to your library. It can be anything you want but assure that it is distinct and symbolic of the type of content that goes in it.
Color code – You will have the ability to add a distinct color code to your library. You can choose the color based on the content type or on the social media platform you want to use it for.
Create one-off or recurring updates – If you do not want to create updates that get published in a repeating cycle, you can create a one-time use library.
It should be noted that all updates in the one-time library will be stored until the time of posting. They will not go out again once they get posted.
After filling in all the details, you can choose the option that says "add library" and your library will be ready to store some amazing content.
5. Start Adding Fresh Content
Once your account is set up and ready for functioning along with the libraries, you will have the option of adding either one-off posts or repeating posts. One-off posts are the updates that get published only once and repeating posts are the ones that get published multiple times in the future.
On the RecurPost main dashboard, there is an option saying "share a post" in a box. To create a one-off post, you must click on that.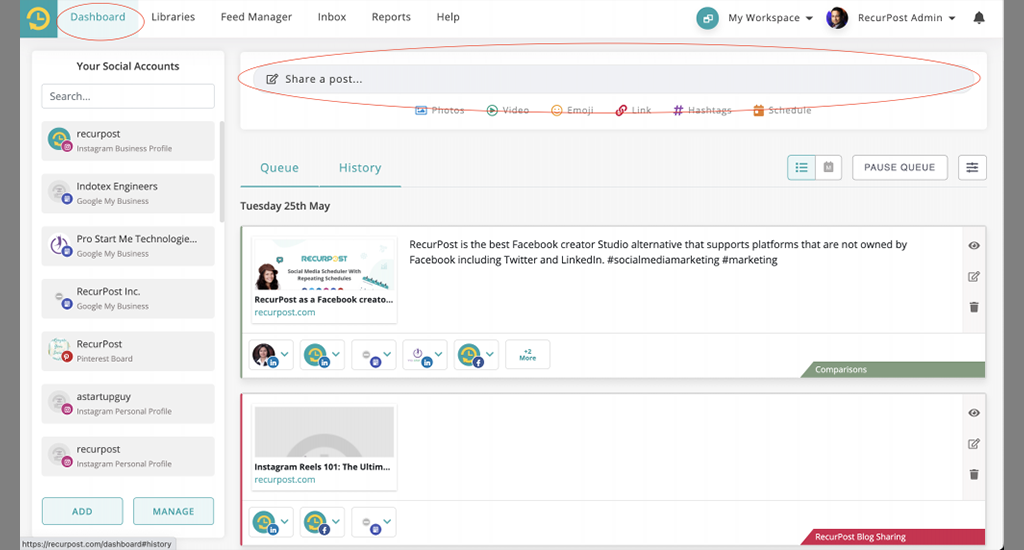 Once you do that, a box will open up wherein you can add all the details about your post. The main content which will be in the form of a message or description needs to be added. It can either be a link or text. There is also the option of adding media like GIFs, images, or videos.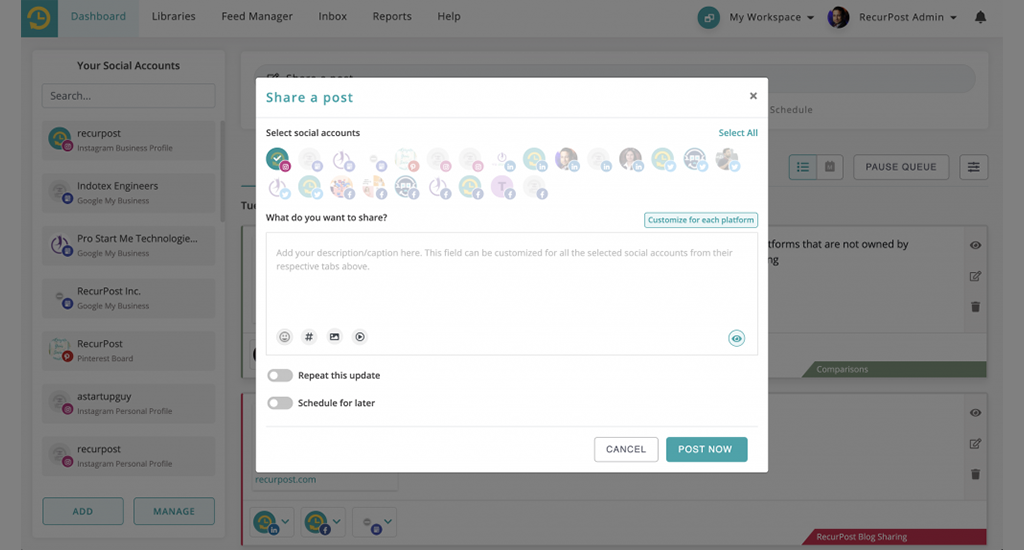 After you design your post and fulfill all requirements, choose the social accounts on which you want to release the content. You can even get a preview of how your content will look on the feed by clicking on the eye icon in the bottom right corner of the box.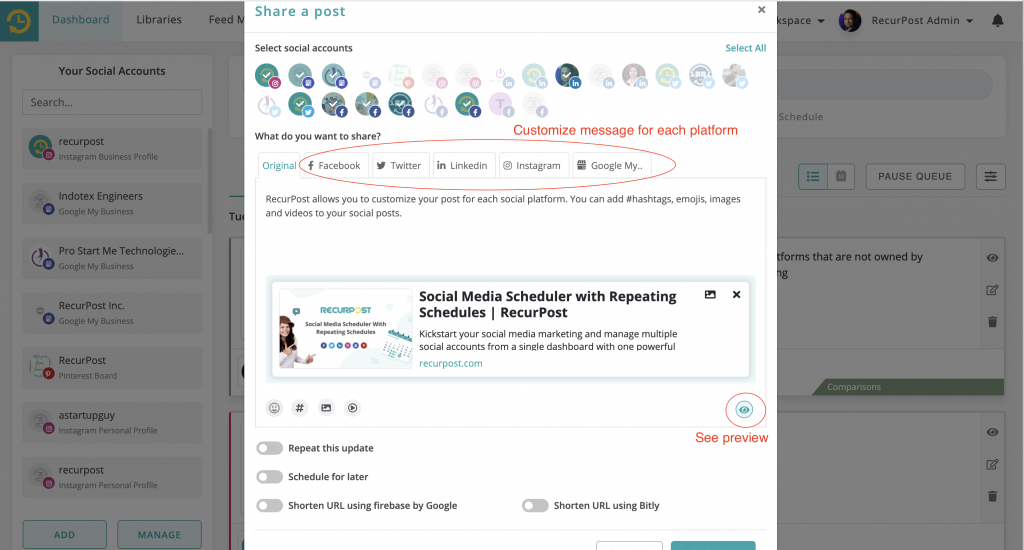 When all these steps are attained, it is time to put your post on a schedule. This can be done by choosing the "schedule update" button and then adding the preferred date and time for posting. All your posts will then get published on Instagram as per the chosen schedules.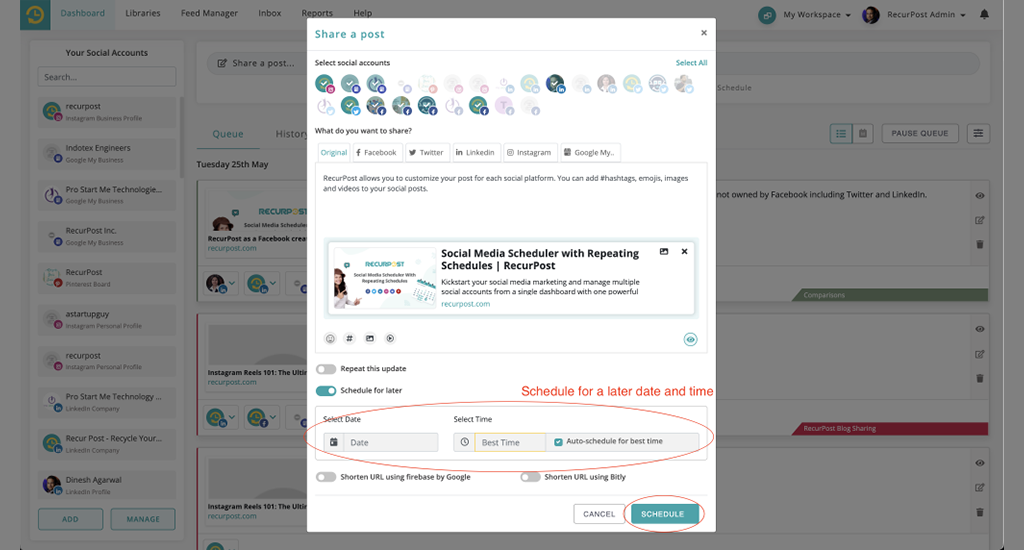 Why Schedule Instagram Posts?
For every single business owner out there, time is a very critical resource. Time well spent is money well earned. Hence, an Instagram scheduling app is the most obvious choice.
Think of creating and executing a viral marketing strategy, what tasks will you have to fulfill? Probably going through a million photos, designing a caption, putting hashtags? All of this can eat up hours from your daily schedule. When you choose Instagram automation, you will take out a day and schedule posts for the entire week or month, saving you the hours that can be used for other important activities.
If you aren't already convinced, here are reasons why you should schedule Instagram posts:
1. Save Time by Automating
When you choose to automate Instagram posts with RecurPost, you will be able to add all media to the library from where you can put everything on schedule. This is going to save you a lot of time since you won't have to manually add media every time you want to create a post.
Whether you want to schedule Instagram stories, Instagram reels, and posts, or you want to increase your reach, grow engagement, and more, a social media scheduling tool with a smart feature such as social media bulk scheduling like RecurPost can be resourceful. 
2. Scheduling Will Help You Create Better Captions
The caption of your post can make or break its engagement rate. It would be like a representation of what you want to convey with your post. Therefore, it is extremely important to have good captions in your posts. It is a challenge though, to come up with creative captions every time.
To be able to come up with a stellar caption right when you have to post might be difficult at times. Therefore, you should design all captions in advance and put them on schedule.
With RecurPost, you can customize your captions for each platform. So, if you want to post the same content on different platforms, you can do so very easily with customized captions for each platform.
Another very important part of the caption is the hashtags to go with it. Researching and picking out the best hashtags for your SEO can be a handful of tasks. Lucky for you, RecurPost allows you to create a bag of hashtags that you can use for every post you design. You simply have to insert that set of hashtags whenever you schedule a post.
3. Scheduling Instagram Posts For an Aesthetically Pleasing Feed
What's the first thing a user would notice when they visit your page? Maybe your Instagram bio? You can optimize that and make sure you have a crisp and captivating bio to keep the users coming. Look for Instagram bio ideas online to help you out.
After going through the bio, another important thing they will notice is how your feed looks overall. The feel of your Instagram feed should be aesthetically pleasing. Make sure your feed is planned well and posts are curated as per the planned design.
When you schedule everything in advance, you will be able to synchronize the color scheme and the overall look of your feed effortlessly. When all of it comes together after publishing, you will get the most amazingly curated Instagram vs Facebook feed on your profile.
Conclusion
Instagram is a massively popular platform, and it has the power to catapult your brand to success and fame. In the right hands, an Instagram marketing strategy can shake up the market and bring in huge returns on investment.
With that kind of power, you need to be careful with what you publish on behalf of your brand. If you want to be successful with your content marketing efforts, you must remain consistent in posting and creating automated schedules.
If you're wondering "how to schedule Instagram posts without third-party app", manual methods are available. However, third-party apps often offer a more efficient and streamlined process for scheduling, saving you even more time and effort.
A social media scheduling tool like RecurPost can take you miles ahead on this road. You can choose a plan that suits your business needs and get started with the scheduling services. 
Frequently Asked Questions
Can you schedule automatic Instagram posts?
Yes, you can schedule Instagram posts automatically. You can do so with the help of a third-party tool like RecurPost. With its social media scheduling services, you can pre-plan your content and set it on schedule for posting. The app will take care of the rest, and everything will get published automatically on the date and time you choose. 
Is there a free way to schedule Instagram posts?
If you want to schedule Instagram posts for free, you can use Facebook's Creator Studio. You can manage, post, and schedule your posts from here for Instagram as well as Facebook. 
What's the best Instagram scheduler?
RecurPost is the best choice for Instagram scheduling. It offers content planning, hashtag management, and in-depth analytics to enhance your social media strategy.
What is the best time to post on Instagram?
Here are the best times to post on Instagram in a day:
– Monday: 5 AM
– Tuesday: 6 AM
– Wednesday: 6 AM
– Thursday: 5 AM
– Friday: 6 AM
– Saturday: 6 AM
– Sunday: 6 AM
How do you schedule posts on Instagram 2022?
The best way to schedule Instagram posts in 2022 would be by using a social media scheduler like RecurPost.
Here are the steps you need to follow
– Create an account with RecurPost
– Add your social media profiles
– Connect your Instagram profile
– Add content libraries
– Start adding content and hit the schedule button!
What are the worst days to post on Instagram?
The worst days to post on Instagram would be Wednesday between 10 AM to 4 PM and Thursday 9 PM to 11 PM. It was observed that posts received the lowest amount of engagement during these times.
What is the impact of scheduling Instagram posts on engagement?
Scheduling Instagram posts can indeed affect engagement positively. It allows you to post content at optimal times when your target audience is most active on the platform. This can lead to increased interaction and better engagement rates. So, to answer the question, "Does scheduling Instagram posts affect engagement?" NO, it can have a significant and beneficial impact on engagement.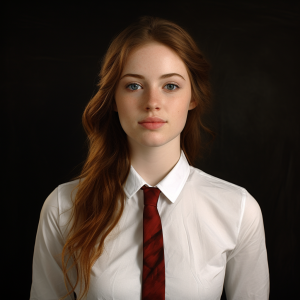 Debbie Moran is a Digital marketing strategist with 5+ years of experience producing advertising for brands and helping leaders showcase their brand to the correct audience. She has been a part of RecurPost since 2019 and handles all the activities required to grow our brand's online presence.