LinkedIn is the king when it comes to marketing platforms for businesses. Learning how to post on LinkedIn as a business, will benefit you in ways you can't imagine. This is because over 55 million companies actively operate here, there are over 10,000 B2B software product pages, and 33% of B2B decision makers use LinkedIn to research purchases. Imagine the kind of business exposure you can rake here.
Schedule LinkedIn posts with the help of an apt social media scheduler and add up to the benefits of posting on LinkedIn. With the help of such services, you can pre-plan your content and put it on auto-schedule for maximum engagement on your posts.
With over 740 million active users, you should definitely learn how to use LinkedIn for B2B marketing activities. Lucky for you, this blog will be your complete guide on how to post something on LinkedIn along with tips to enhance your B2B marketing strategy.
Your guide on how to post on LinkedIn:
How to Post a Story on LinkedIn
The LinkedIn story is a feature that one must get acquainted with due to their enormous engagement potential. Perhaps one of the most crucial parts of a LinkedIn content marketing strategy or Christmas marketing campaign ideas would be this. Also, you should know that LinkedIn stories can be posted only from the LinkedIn mobile app. Here is how to post a story on LinkedIn:
Look for the Stories section at the top of your homepage.
Choose the "Add" Symbol attached to your Profile picture right above Your story.
Tap on the circle at the bottom of the screen and a photo will be taken.
If you need the flash, click on the lightning bolt Flash icon.
Press and hold on to the circle to take a video of up to 20 seconds.
Click the image icon if you want to post from your photo gallery
How to Post a Recommendation on LinkedIn
If as a company you have benefitted greatly due to the service of a professional you hired via LinkedIn, you might want to leave a great recommendation on his/her profile. You can also learn how to post a recommendation on LinkedIn via mobile for convenience. Follow these steps to go forward:
Go to the "Companies" link from the top navigation bar and select the "Find Companies" link from the menu that will appear on your screen. On the Companies page, choose the "Service Providers" link.
On the Service Providers page that appears next on your screen, select the "Make a Recommendation tab."
Enter the first name, last name, and e-mail address of the person that you are recommending, or choose the "Select from Your Connections List" link if you want to find someone in your network.
Tap on the "Continue" button.
Now choose the position this person had when you hired him/her, an option from the Service Category drop-down list, and the year in which the person was first hired by you.
Scroll down to the bottom of your screen and pick the top attributes that best describe the person you are recommending.
How to Post a Job on LinkedIn
LinkedIn gives you the ability to post a job directly to the site, being an extremely useful resource for someone who is looking to fill a job opening. You can learn how to post a job on LinkedIn using a desktop and start attracting top talent from the platform. This is also where using LinkedIn for B2B marketing strategy comes into the picture. Here are the steps to follow:
Firstly, go to linkedin.com and log into your account, if necessary.
Now select the Work icon from the top-right corner of your screen and choose "Post a job" – this will open a new tab.

Fill out the text box at the top of the new tab and then choose "Start job post"
Sign-in to LinkedIn Talent Solutions by using your regular LinkedIn login information, if asked for.

Select the apt job and company industries (you can pick up to three).
Add in the remaining job information, including a description, employment type, and seniority level, required skills, and your preferred application submission option.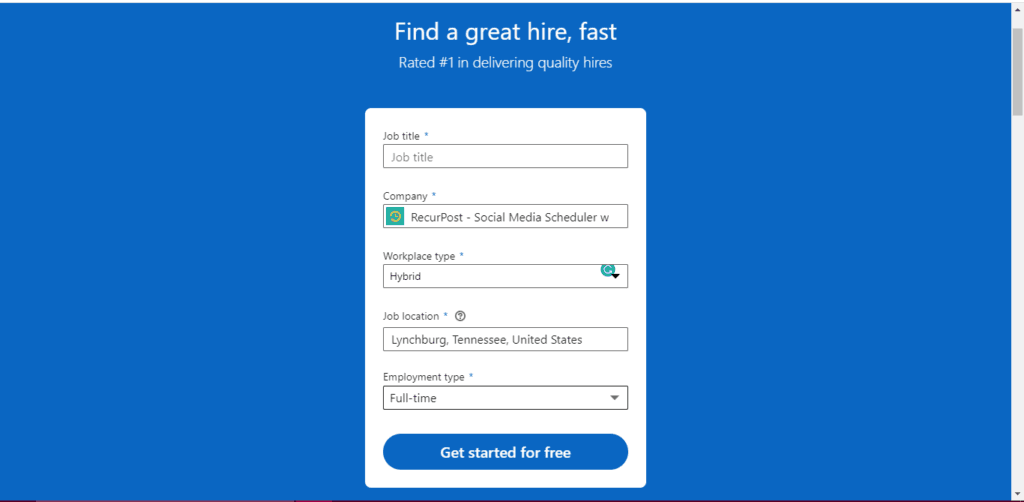 How to Post Your Resume on LinkedIn
LinkedIn can represent you as an entity that can be viewed and scanned by recruiters. So, if you are looking for places hiring near you and want recruiters get hold of your entire work history and pattern through this platform, you should add your resume to your LinkedIn profile and highlight your hard and soft skills with detail-oriented qualities. Here is how you can post your resume on LinkedIn:
Go to your profile.
Open the "Me" dropdown menu in the top right corner and click "View profile."
Click on the pencil icon on the right-hand side of your profile picture to enable edits.
Scroll down to Media and click "Upload."
Choose the resume file you have saved to your computer and click "Open."
Add a professional name to your resume file (because the file name and description fields are blank by default.)
Click "Apply," and then "Save."
How to Post an Article on LinkedIn
By posting articles on LinkedIn, you can share your knowledge with your connections and even bag followers on the platform, all of this while you grow your network. Here is where B2B content marketing strategy comes in, and how to post an article on LinkedIn:
First, Go to linkedin.com and log into your account.
Select "Write an article" from in the post-creation box in the middle of your homepage.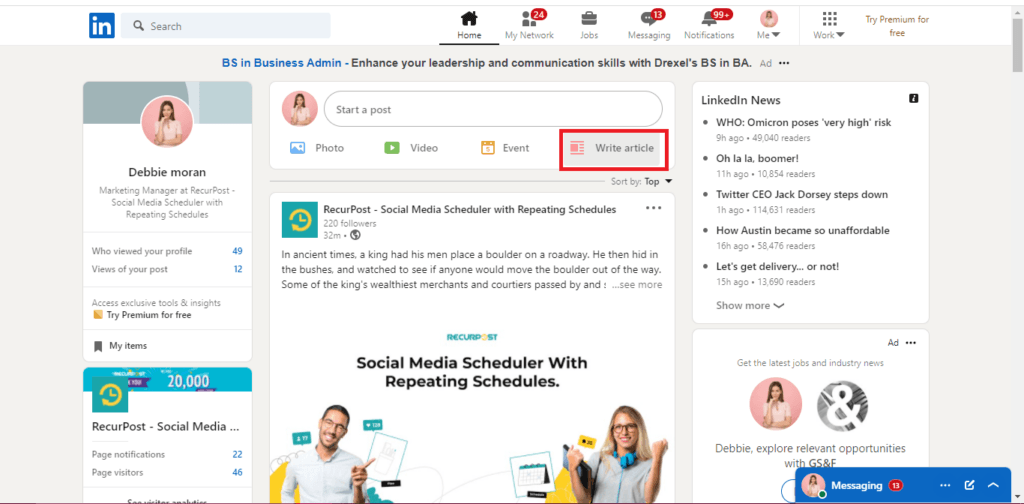 Write your article or paste in your article, add a headline, image, and format as desired, then click on the "Publish" button from the top-right corner of the screen.
Confirm your choice by selecting "Publish" in the pop-up window.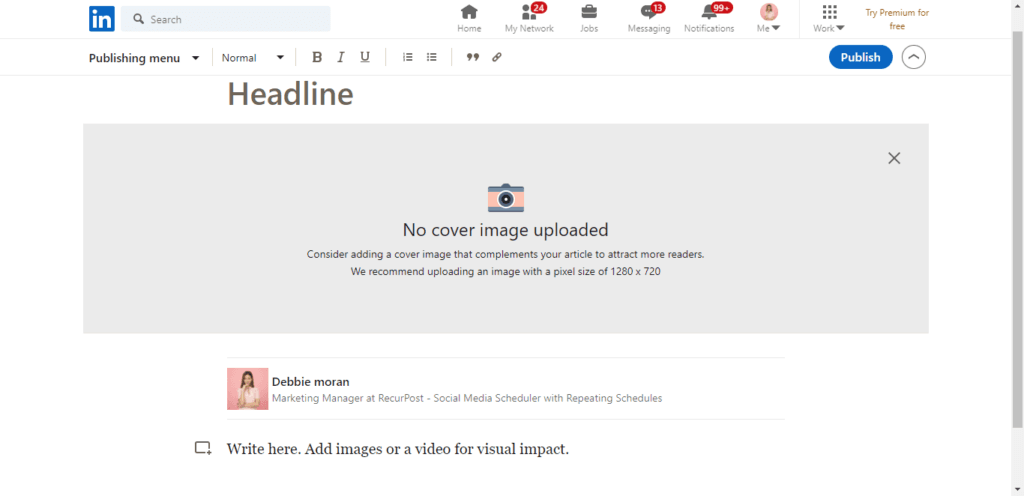 How to Post on LinkedIn For High Engagement
We looked at how you can post different content types on LinkedIn for LinkedIn marketing. Now, let us go through some tips that will help you get better engagement on your posts:
1. Post at Best The Times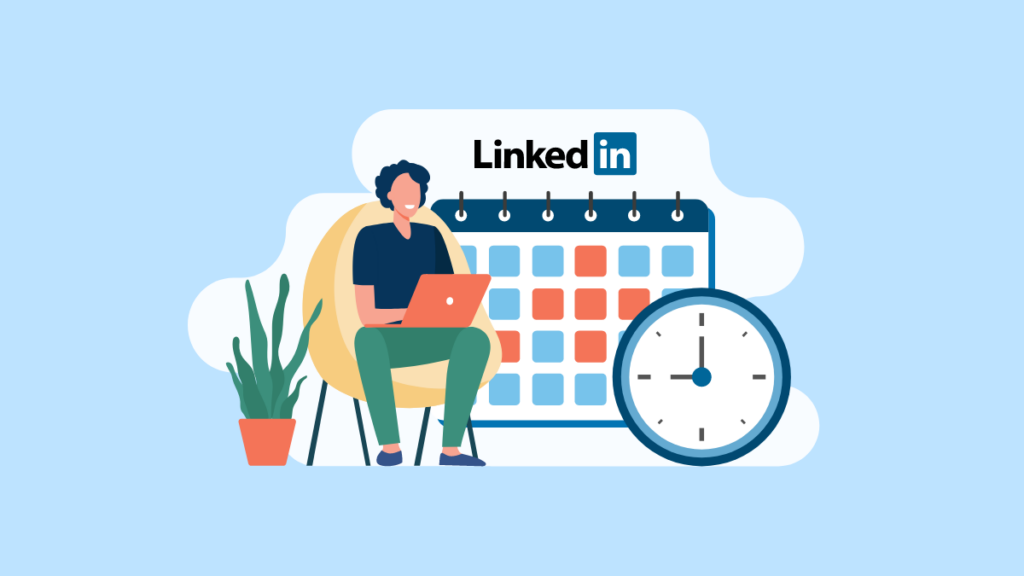 Perhaps the most important tip to keep in mind when posting on LinkedIn is to post at the best time to post on LinkedIn. This is because LinkedIn is a global platform and millions of people use it actively. In order to be able to reach your target audience, you must share posts when they are online. You have to get the timing right with your posts.
Here are the best times to post on LinkedIn:
3 and 5 p.m. on Wednesday
10 a.m. and 12 p.m. on Wednesday
8 and 10 a.m. on Tuesday
1 and 3 p.m. on Thursday
The most practical way to understand these timings is that business professionals would be most active on the platform out of their business hours. So, if you update your posts in the morning, you will have a higher chance of getting more views. Again, the times for posting would differ for every company. You should study your posts and find the best times that work for you and you can even schedule LinkedIn posts at the best times. RecurPost will let you schedule all your posts to go out at the best times to post on LinkedIn by studying all your previous content performance.
2. Post Consistently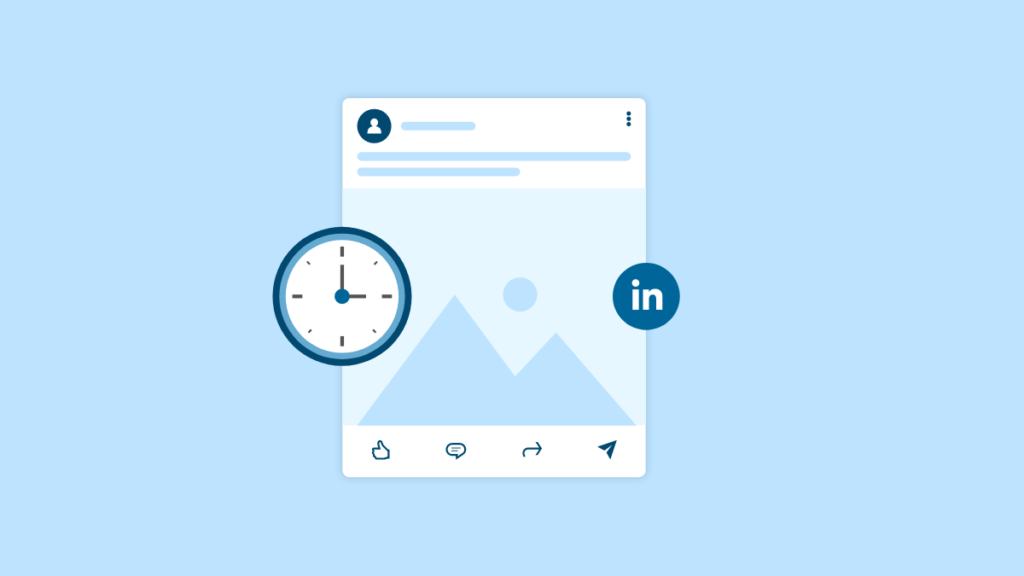 Another very useful tip to boost the engagement levels on your B2B posts is to post consistently and invariably. Since LinkedIn has a very active audience, it is likely that they will expect regular content flow from your company page. If you keep giving them something they can hold onto, they will hold on to your brand for a long time. Hence, you can post at the best times consistently on LinkedIn and achieve a greater engagement figure on your posts in no time. A social media scheduling tool like RecurPost can help you achieve this efficiently and at an economical price point.
3. Optimize Your Profile And Descriptions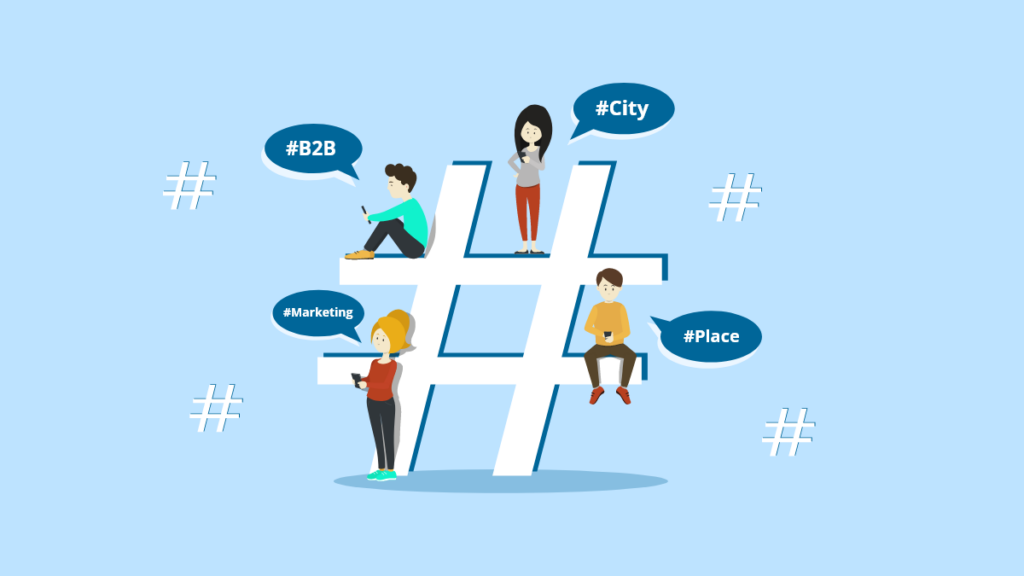 You should not ignore the power of SEO when it comes to getting spotted on LinkedIn. The right hashtags and keywords will exponentially increase your chances of getting discovered by employers. And as a business, adding the right keywords in your job description will attract the best-fitting candidates to your company & will help you to boost your LinkedIn profile.
4. Maintain Conversations Through Comments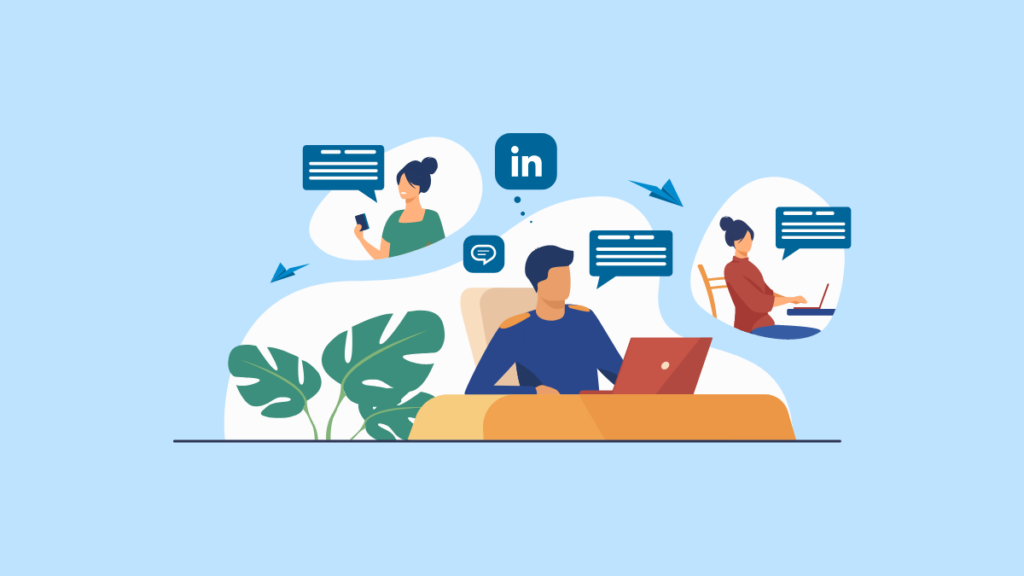 When you post content as a company on LinkedIn, you should always try to reply to users in the comment section. This will make them feel that their opinions are valued and that their views matter. You will end up building strong loyalty towards your brand authentically here. If the users think of your business as a standard and ethical company, they will choose to remain associated with you for a longer time.
How RecurPost helps to manage posts on platforms other than LinkedIn?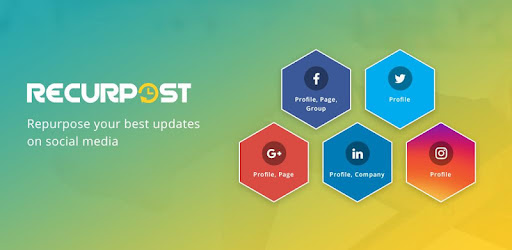 RecurPost helps you extend your post's reach by sharing it on multiple platforms in just a few clicks. You can schedule Facebook posts on personal profiles, pages, and groups.
You can schedule Instagram posts on personal and business profiles to share stories, images, and reels. RecurPost allows you to schedule tweets on your Twitter account to reach out to people connected to your business.
You can schedule pins with the help of a Pinterest scheduler to attract visual media lovers to visit your site. A great way to attract local buyers is to schedule Google Business profile posts with a call to action button. RecurPost is among a few social media tools that allow posting on Google Business profiles and personal profiles of various platforms.
Conclusion
Here was everything you needed to arm yourself for successful posting on LinkedIn or to use LinkedIn as a B2B lead generation. You must remember that consistency is important, and at the same time, the quality of your content should also be maintained. Also, you can learn how to post on Linkedin for different content types and eliminate room for errors.
You can always use a social media scheduler like RecurPost to automate LinkedIn posting by scheduling posts in advance with social media bulk scheduling. It provides all the automation features you can think of at an amazing price point, making it one of the best free Hootsuite alternatives and napoleoncat alternatives.
Know more about its services and learn about RecurPost pricing to make a wise choice.
Frequently Asked Questions
1. How do I post on LinkedIn 2023?
To begin posting on LinkedIn, sign in to your account and head towards the top of your home feed. Select "start a post" and then click on the camera icon.  This will let you attach an image that you can post along with your content with your LinkedIn connections.
2. How do you hashtag on LinkedIn?
When you craft an update to share with your network on LinkedIn, you can add your own hashtag by typing # and the word or phrase directly into your post. You can also click on add hashtag at the bottom of your share box.
3. How do I post an article on LinkedIn?
Here are the steps you can follow to share an article on LinkedIn:
– Click on start a post
– Paste the link or type in the URL into the text field
– You will have the option of adding text to your post
– Choose who you want to share the post with
– Click on Post
4. How do I share a post on my LinkedIn company page?
For doing this, you can click on the three dots underneath "Publish a post" and select "recent updates". Scroll down until you see your company post and click on "share".
5. Should I write an article or post on LinkedIn?
You should always make LinkedIn posts your priority. And when you do publish an article, you can promote it with LinkedIn posts. Posts will attract users to your article.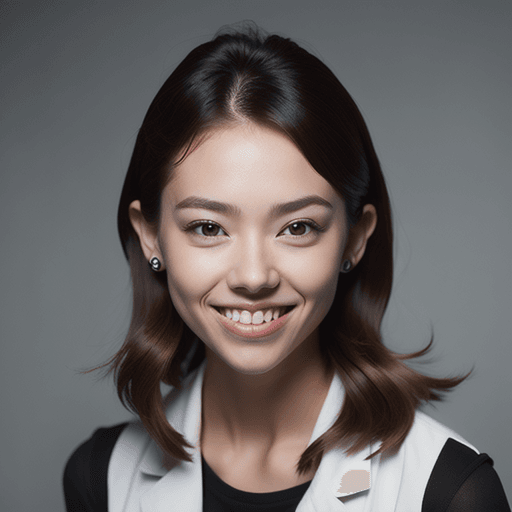 Debbie Moran is a Digital marketing strategist with 5+ years of experience producing advertising for brands and helping leaders showcase their brand to the correct audience. She has been a part of RecurPost since 2019 and handles all the activities required to grow our brand's online presence.