On the hunt to find out how to post on Instagram from a PC or Mac?
To the disappointment of people worldwide, Instagram does not allow us to upload images or videos to our feed directly from a desktop or laptop. This is a strategic move by Instagram to promote mobile app usage and interactions with other users. But the process of sending anything from laptop to mobile to post manually can be very time-consuming for many photographers, influencers, or businesses! After adding a social media scheduler to their strategy, they can now easily ace the game!
Fortunately, there are a few options around this problem by using third-party software or smart desktop hacks. We've gathered plenty of knowledge from the web about how to post on Instagram from any laptop, PC, or Mac, which resulted in the below guide!
Let's get started!
How to post on Instagram from a Desktop
PC or Mac
Precisely, there are 4 broad ways using which you can post on Instagram from a PC or Mac. 
1. Social media scheduling tool
2. Inspect mode on Browser
3. Other Third-party tools
4. Facebook creator studio
Let's see all of these options one by one.
1. How to post on Instagram from a PC using RecurPost
RecurPost is a social media scheduling tool that allows you to schedule your posts in advance. It is probably the easiest way to post on Instagram from a PC. Not only that, it allows you to do social media bulk scheduling and prepare detailed editorial content calendars. Scheduling Instagram content saves you a lot of time and helps teams and people plan about what and when to post on Instagram. 
Click here to read our in-depth guide on how to post on Instagram from PC using RecurPost.
Using RecurPost, you can schedule Instagram posts and do the following things besides being able to post from a PC or Mac:
Upload content at the best times
If you are worried about the best times to post on Instagram, worry no more! RecurPost's AI-based share time optimization studies the engagement level of your posts and suggests you the best time to post content on your Instagram accounts.
RecurPost's Instagram planner lets you create bags of tags that you can store and use while creating posts. Thus, you don't need to manually add them every time while uploading content.
Post on an Instagram business account with Zapier automation
RecurPost supports posting on Instagram directly so you no longer need to create a Zap.
RecurPost does far more than enabling you to post from a PC or Mac. It was designed to assist people to handle Instagram at a scale and continuously adds more features to enhance the process. Try it out for your own by signing up for the 14-days free trial!
2. How to post on Instagram from PC using Chrome
To post on your Instagram account using Google Chrome, follow the below steps: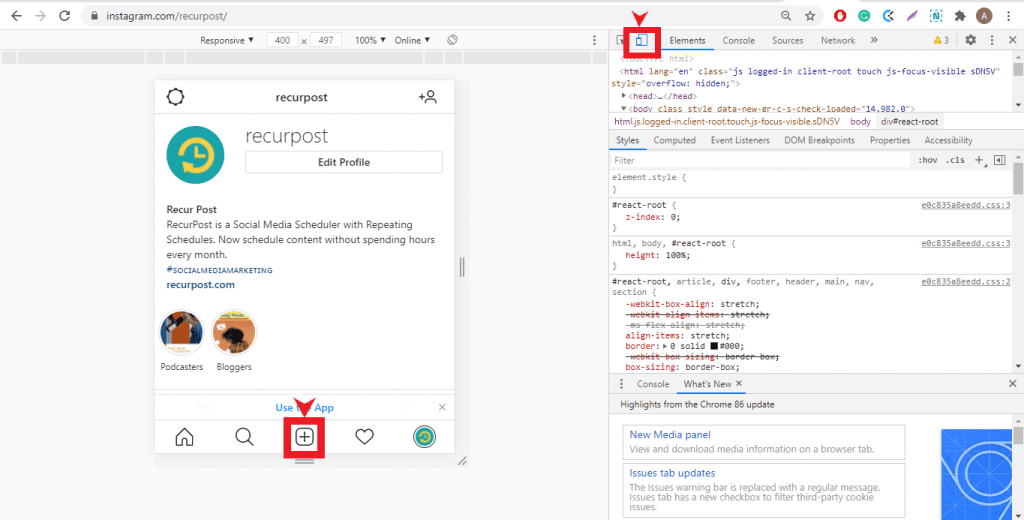 Go to Instagram.com and sign in to your account.

Now right-click anywhere on the page and select 'Inspect' from the list.

On the opened Inspector window, there will be

a small icon of a tablet and a phone in

the top-left corner. Click on the phone icon. 

Now, refresh the page.

Once refreshed, you should see the + icon to create a post on Instagram at the bottom of the window.

In case you don't see the icon, try zooming out the page from 100% to 75%.

When you are done posting and want to go to the normal version of desktop Instagram, click on the tablet icon again and refresh the page. As simple as that!
3. How to post on Instagram from a PC using Safari
To post on Instagram using Safari, follow the below steps:
On the top menu of Safari, go to Safari > Preferences > Advanced.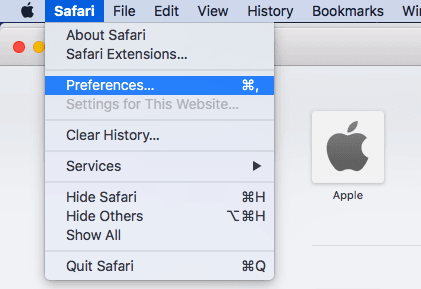 Select the checkbox at the bottom that says "Show Develop menu in menu bar."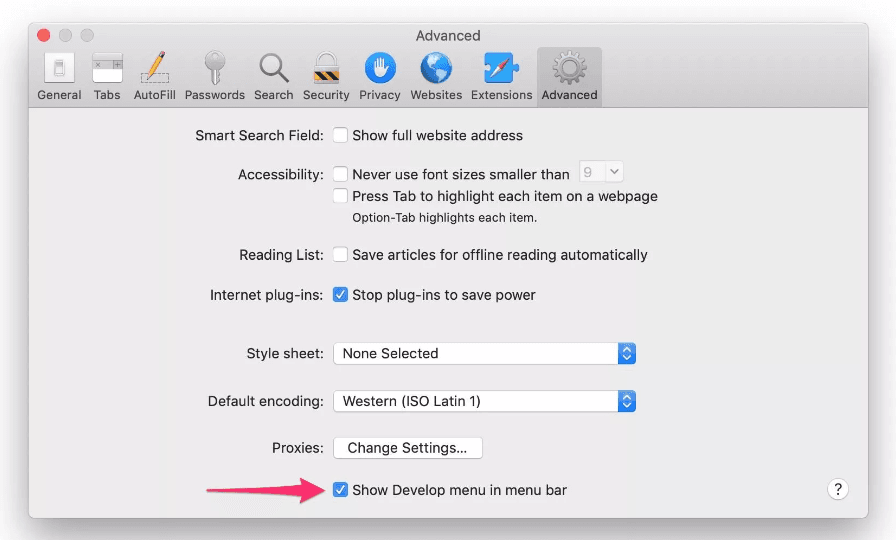 Next, open a new Safari tab and click on Develop > User Agent > Safari — iOS — iPhone in the menu bar.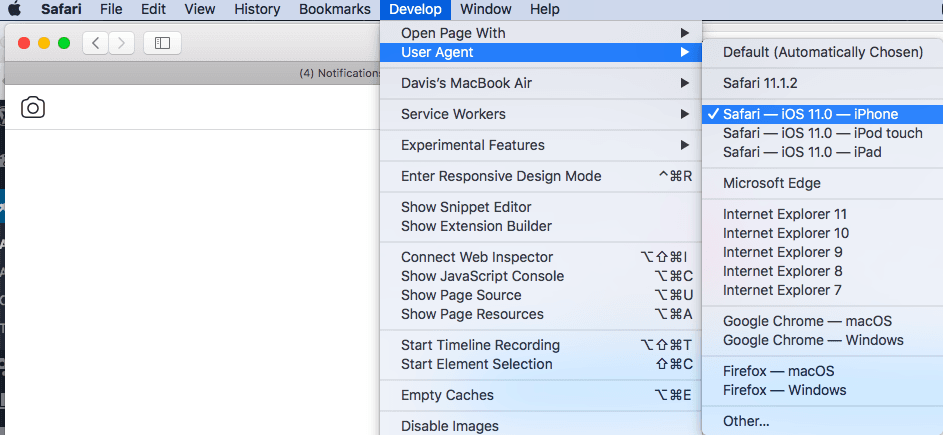 Now, go to Instagram.com and sign in to your account.

At the bottom of the screen, you will see the + icon.

Tap on it and upload any photo from your PC.

You will be able to edit the photos and apply filters just like you can do from the Instagram app.

Upon completion of the upload process, ensure to change the user agent back to the Normal Setting to prevent viewing all the sites in the mobile state.
4. How to post on Instagram from PC using Firefox
To post on Instagram from PC using Firefox, follow the below steps: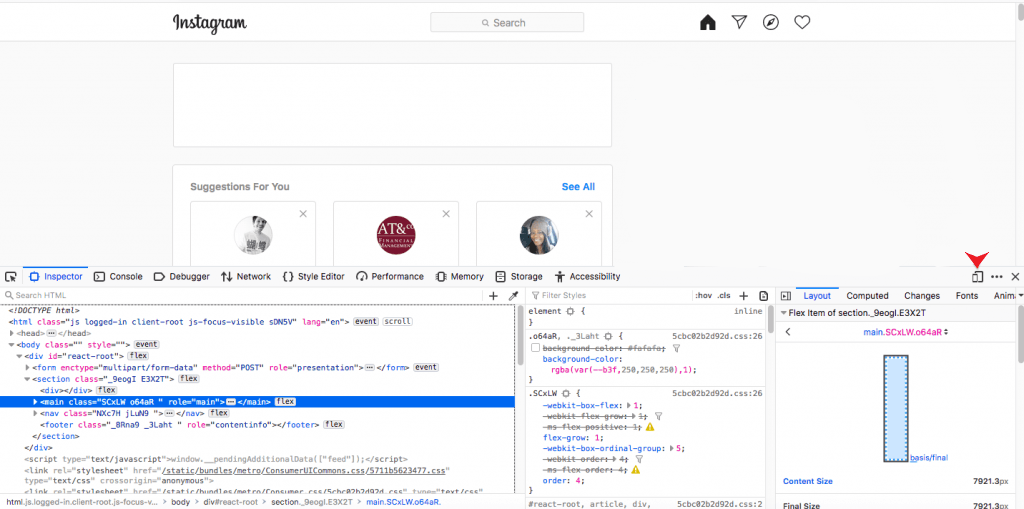 The process of posting on Instagram from Firefox is much similar to that of posting from Chrome.

Sign in to your Instagram account.

Right click anywhere on the page and select 'Inspect' from the menu.

The Inspector tool will open up.

Click on the phone icon.

Drag the inspector tool to the bottom of the page in order to see the phone view properly.

After that, refresh the page.

You will see the + icon, clicking on which you can upload your posts!

If you are not able to see the + icon, go to your Firefox setting and zoom out.
5. How to post on Instagram from PC using Deskgram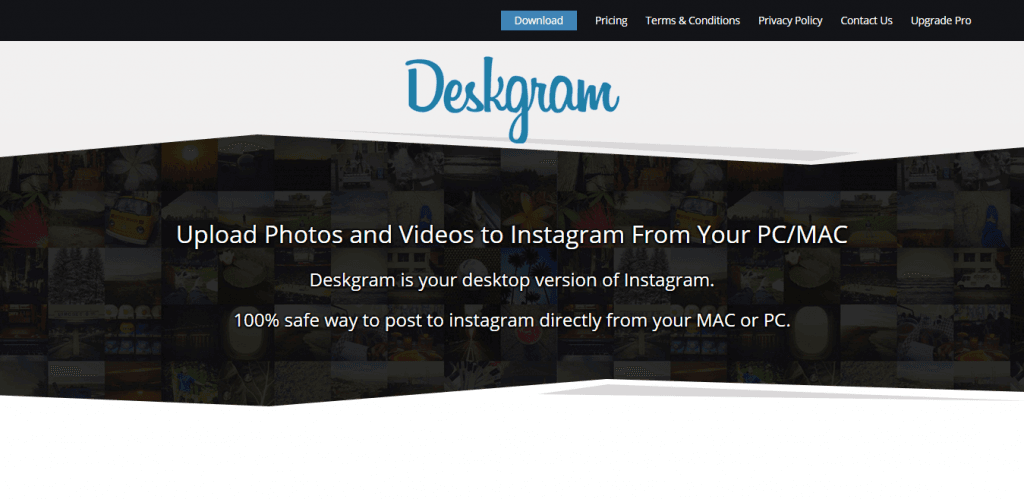 Deskgram is a web application that lets you post on Instagram with all Instagram Latest Updates from your PC or Mac and also browse, comment, and like posts just like on the mobile app. In short, it is just the exact desktop version of Instagram Post Ideas.
It allows you to upload photos and videos, crop and trim videos, apply filters, tag other people in your posts, and add hashtags. The video uploading option is not currently available for Windows.
To use it, simply download the app. Enter your Instagram surname and password, and you'll be ready to post photos and videos. It also has a Google Chrome extension available.
The pricing of this tool starts from $2.99/month. It is a useful but basic tool to post pictures on Instagram from a PC or Mac. The lack of features to upload videos from Windows is surely a downside, and you also can't upload photos in bulk as you can do using RecurPost.
6. How to post on Instagram from PC using Uplet (For Mac)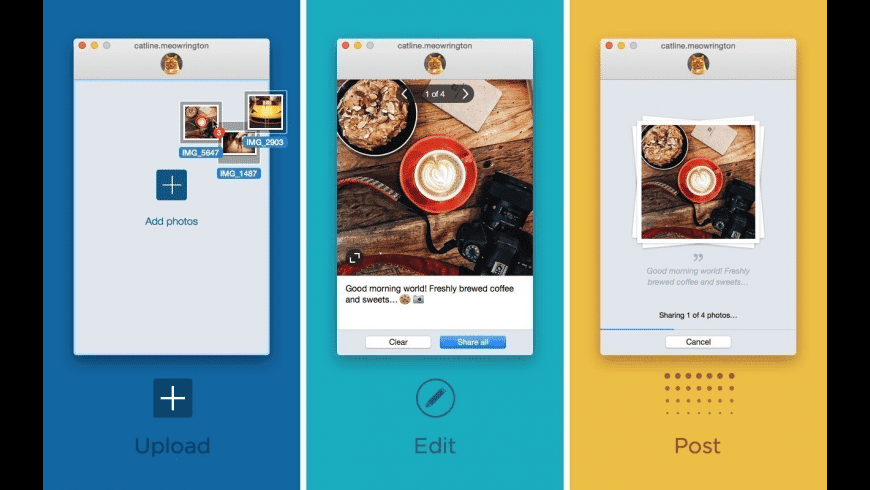 Uplet is an Instagram uploader which can be download and used by Mac users only. You can upload images and videos from your Mac and post them directly to your Instagram feed along with a caption. To use it, you simply need to download the application and sign in using your Instagram account credentials.
The app allows you to upload several high-resolution images without losing their original quality and add original captions from the comfort of your Mac keyboard. You can also drag and drop photos and share them in one go. It provides in-app editing tools, using which you can crop and adjust your images according to the desired ratios.
It currently doesn't provide posting on multiple accounts together but is planning to do so sometime in the future. The pricing of this app starts from $20 and goes up to $50, varying according to the number of Mac users that'll be using the account. This is a one-time fee to use the product. It is a useful application when you always use Mac to manage and upload your photos.
7. How to post on Instagram from PC using Facebook creator studio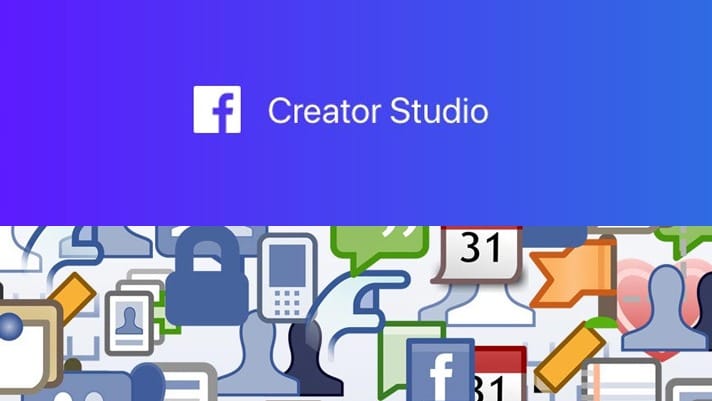 Back in August 2019, Facebook introduced native Instagram scheduling on its Creator Studio platform, which means that users with an Instagram business account linked to a Facebook page can post on Instagram using their PC.
The interesting thing about Facebook's Creator Studio is that you can schedule posts on Instagram and upload IGTV videos using it, which was their initial feature aimed at influencers and creators. This is a decent free option to post to Instagram from PC or Mac, but it's limited if you're handling Instagram content on a mass basis, as they don't provide a bulk uploading feature to create multiple posts at once. You can also see a detailed comparison of how RecurPost is one of the best free Hootsuite Alternatives and napoleoncat alternatives.
To extend the reach of your posts, you can create content once and schedule it on multiple social media platforms in a few clicks using the RecurPost. Schedule Facebook posts on personal profiles, pages and groups. Schedule tweets on your Twitter account and schedule LinkedIn posts on your personal and business pages for connecting to more people relevant to your business. Schedule pins on Pinterest for sharing images, GIFs and Infographics. Schedule Google My Business posts to iprove business ranking on Google and attract local audience.
One more significant drawback of the tool is the inability to edit scheduled posts — so if you need to do any changes to the captions or hashtags, you would need to delete the original post and upload a new one. Such limitations might completely defeat the point of being able to upload content on Instagram through PC.
To sum up,
"Why Can't I Schedule Posts on Instagram?" is a common question among Instagram users, especially those who manage accounts professionally. Instagram has designed its platform with a mobile-first approach, primarily promoting user interactions and mobile app usage. As a result, the ability to schedule posts directly from a desktop is not available for personal accounts.
However, businesses and creators with professional Instagram accounts can harness Instagram's scheduling features to plan their content meticulously. While this limitation may seem frustrating for personal users, it encourages businesses and creators to utilize Instagram's mobile capabilities, keeping content engaging and relevant to a mobile audience.
For users seeking more advanced scheduling options, including managing multiple accounts and accessing analytics, using a social media scheduling tool is recommended. So, while the browser method works for occasional posts, a scheduling tool becomes invaluable for handling multiple posts, especially in a business or coaching context.
Frequently Asked Questions
Can you post on Instagram from a PC or Mac?
Yes, you can post to Instagram from your web browser, whether you're using a Mac or a PC. Instagram's web version allows you to upload and post a photo or video, just like you would on the mobile app.
What's the difference between scheduling and auto-publishing Instagram posts?
Scheduling allows planning post times but requires manual confirmation while auto-publishing posts automatically without confirmation.
How to schedule Instagram posts without the third-party app?
To schedule Instagram posts without a third-party app, you must have a professional account on Instagram. For businesses and creators with these account types, planning ahead is easy. Simply use Instagram's built-in scheduling feature to schedule Reels, photos, and carousel posts directly from the Instagram app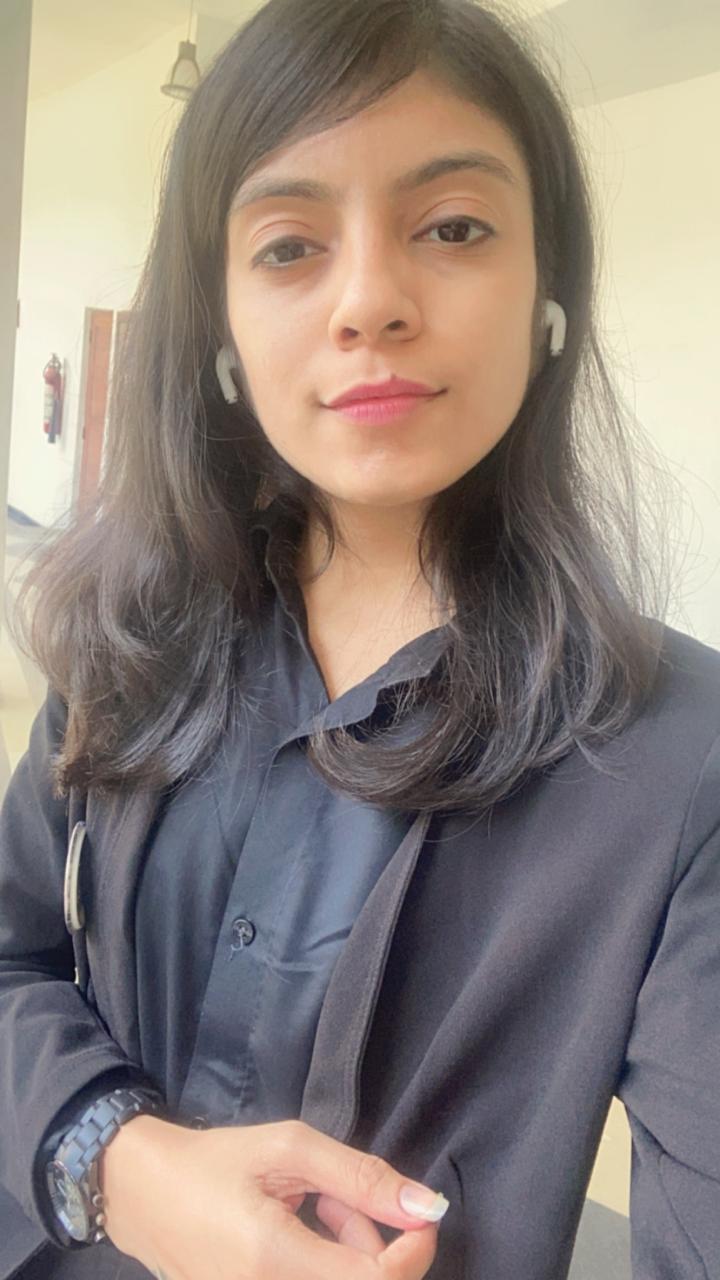 Amaiya Rathi is a Senior Content Writer at RecurPost. She helps RecurPost communicate with their readers in their own language. Whether it is the web copy, social media posts or blogs, Amaiya has worked on all aspects of copywriting. You can reach out to her at [email protected].