Google My Business, popularly known as GMB, is a free tool provided by Google that business owners can use to manage their online presence across Google's platform and its growing portfolio of utilities. It offers the greatest influence for businesses that are seeking local exposure. An equally important tool for business people remains the google sheets tool, where you can easily import CSV into google sheets. It makes work much easier and saves time
Your Google my business listing is your most valuable asset for a local search strategy. The local and organic search results will give your business the greatest return on investment compared to other digital marketing tactics. Especially when your business largely depends on local customers, a great google business listing should be your first priority.
Around the world, only a few people search the internet because most of us just 'Google' our queries while searching online. This equation of 'internet search = Google' has benefited both customers and businesses.
The introduction of tools like Google Analytics, Google search console, and Google trends has completely changed how digital marketing looks. Google has given you control over what people see when they search for your business (or a business similar to yours). It has allowed you to rank higher in the search results.
Thus, if you are serious about increasing your visibility and targeting local customers, you will have to take out some time to optimize your Google my business listing for your own good by scheduling your content using social media scheduler that allows you to schedule Google My Business posts. Before we dive into the tips to improve your local listing, let's understand the importance of doing so.
Along with that, If you need to be visible to your audience & want to increase results immensely, then you can opt for Social media scheduler.
Why is Google my Business optimization necessary for your business?
Simply speaking, each and every business requires a Google local business listing. It will provide loads of information about your business to Google as well as to your potential customers. Whatever information you fill in your Google my business listing is used in several ways:
To decide the details of the knowledge panel, which appears on the right side of the search result page.

To decide the listings of Google local pack.

Providing accurate voice search results.

Filling in Google maps results.

Assisting with Google app search results.
When you optimize your Google my business listing, you let Google know all the information it needs to list your business at the right time and at the right place. By doing so, your profile will show up when any person searches for a product or service your business provides.
Every year, the influence of Google my business has been continuously increasing. It is changing the way people find and interact with local businesses. It is now one of the defining factors in the success of local search results. Thus, knowing how to optimize your local listing could make all the difference that your business needs to thrive in the market.
The basics of Google my business
The first step is to set up your Google my business listing, obviously. Go to Google my business page and click on the 'Manage now' button in the right-hand upper corner.

On the next screen, click on 'Add your business to Google'.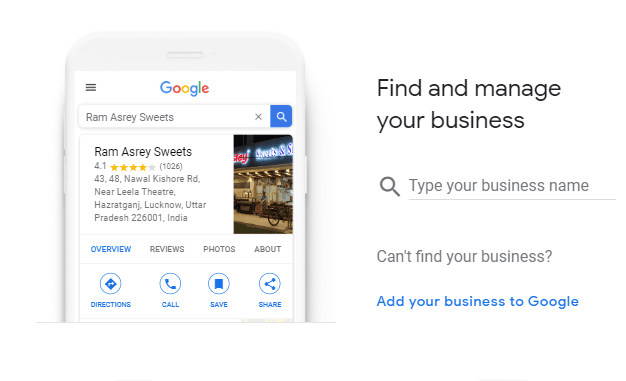 Enter your Google my business logo, business name, category, business location, service areas, and contact details, and submit the request for verification.
Note: Even if you do not have a physical store from where you operate, you can still have your Google my business listing. You can just select 'no' option when it asks for a location that customers can visit. You can then set up service areas to indicate the cities that you cover.
Optimizing the Google my Business listing
1. Double-check your NAP
NAP stands for your Business Name, Address, and Phone number. These are very crucial pieces of information for any business listed on Google. Ensure they are entered correctly and coherently with your other business citations.
Citations help in finding businesses – they will enable customers to search for your business. To make your business rank higher, citations help feed Google the information it needs. If any one of your name, address, or phone number is wrong, your local search accuracy will deteriorate, and people will not be able to find you. The overall success of your local business listing majorly depends on the accuracy of these details.
The consistency of NAP is very important to appear in the Google Local Pack. To check your NAP, go to your Google my business dashboard. On the left-hand side, click on the 'Info' section and verify all the details.
2. Craft out the perfect description for your business

Google my business allows you to add a description of your business with a limit of 750 characters. But, only the first 250 characters are shown in the knowledge panel. Whatever you write in this section should make your business stand out from the others.
Be upfront and honest about your business and write what makes customers understand your business better. You can talk about your experience in the industry, your vision, mission, products, and services that you offer, and your unique selling points.
Pick up one or two keywords and build your description using them. Also, ensure you use the keyword in the first 250 characters. This will help in making your business rank higher. You can edit your business description as many times as you want to.
3. Set your custom short name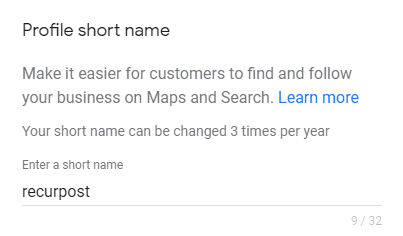 After verifying your Google my business account, make sure you 'set up your businesses' short name. The custom short name makes it easier for people to find you in the search results. According to Google, the short name must represent your business – something that customers commonly use to refer to your business.
The short name has a limit of 32 characters, and it needs to be unique to your business – which means that no other business listed on Google should have that name. Once you have claimed your custom name, you can start using 'g.page/[your-short-name]' in the browser to go directly to your business profile. Sharing your profile with people becomes easier this way.
4. Choose a relevant and specific category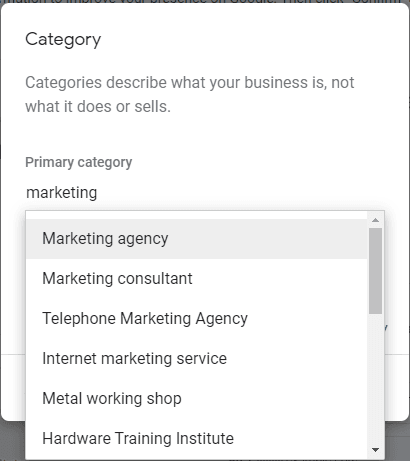 When you sign up for a Google my business listing, you enter one business category. But after the verification, you can add more related categories to your business. The categories you select are one of the most important things in optimizing your listing because it helps Google decide when to show your profile to searchers.
Google lets you choose up to 10 categories for one listing from its pre-set category list (you can not create your own category) to start online store. If you cannot find a category that describes your business, you can settle with a more general one that accurately describes your business.
For example, if you have a grocery store, you can select "Gourmet grocery store" or "Indian grocery store" as your sub-categories. The more specific you are, the better the search results will be.
5. Upload high-resolution photos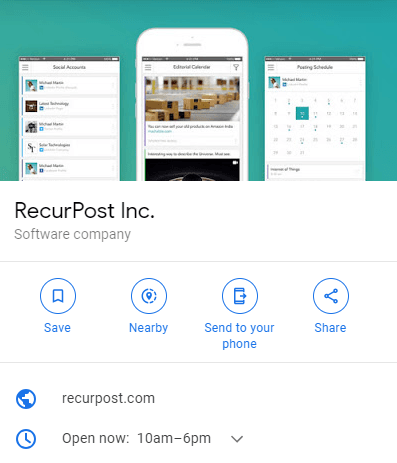 60% of Google my business listings received more views in search results because of good images that captured people's attention. If you have a physical shop, upload a variety of images including interior and exterior shots, pictures of products, photos of staff working inside the store, customers checking out your products, etc.
Do not use stock photographs in your Google my business listing. Google will recognize them and remove them from your profile. All the images should be your own. Also, avoid overly professional photography. Keep a real touch to all your images so that people can relate to them.
The ideal Google my business post image size is 1200 x 900 pixels, with a 4:3 image ratio. You can also add 360-degree photos to give your audience a wider perspective of your store. Add videos, if you can, to maximize your visibility even more. The more regular you are in your posting, the more frequently a user will come to your profile, & it will be more beneficial for your google reviews for the business. To accomplish this, you can use RecurPost, a social media scheduler, to automatically schedule google my business posts for you. It is one of the best free Hootsuite alternatives, which offers Unlimited Content Libraries for your business.
Google's search engine research report says, "Businesses with photos receive 35% more clicks to their websites and 42% more requests for driving directions than businesses that don't have photos."
6. Make sure your information is similar everywhere else
Another thing Google's algorithm looks at to check the validity of a listing is the accuracy of how it is listed across multiple websites. This sounds simple to maintain, but when entering your address, little difference may slip in. For example, you may have written your street name as "XYZ Road" on one website and "XYZ Rd" on another. This will make all the difference.
Fix a standard way to write your address and use it everywhere you register your business. Have a consistent phone number, and make sure it is local. Using a phone number with a local area code assures Google that you are actually targeting local customers. In addition, mention that number on your website's homepage or any other landing page you will link on your Google business listing.
This is where a Google my business post scheduler comes to the benefit of your business. With this tool, you will be able to maintain consistency of information across platforms & listings. Another useful tool for business folks is Google Sheets, which allows you to simply import CSV files into google sheets which makes life easier and saves time.
7. Use the Google posts feature to boost conversions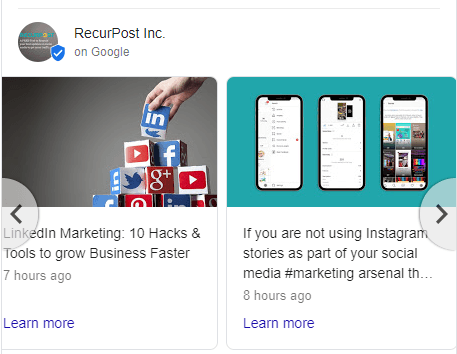 This is indeed an amazing feature provided for Google my business users. It is very crucial to use this to raise your optimization efforts. Want to give a news update? Want to share a discount coupon or offer with your viewers? Wish to disclose details of an upcoming event? Whatever you want to tell your audience, publish a post to do so. Along with an image or video, you can add up to 1500 characters as the caption content. When you continuously post on your profile, your visibility in the search results increases immensely.
Google my business posts have an expiry period of 7 days. If you find it troublesome to create and publish weekly posts, you can create many of them and schedule them using a Google my business post scheduler. RecurPost is a social media scheduling tool that will help you schedule posts to your Google business listing; even with this, you can schedule posts on Facebook groups. To check it out for free, click here.
8. Focus on your business listing reviews
Remember the last time you searched for a business and looked at its reviews to decide whether you would visit the place or not? It's natural. For local businesses, the beauty of reviews is their persuasion on buying behavior. On average, a user reads 10 reviews on a Google my business listing before trusting a local business. Thus, having positive reviews will have a direct impact on your lead generation and sales.
Half of the consumers will interact with a business only if it has a minimum of 4 stars. See how reviews impact the actions of people:
50% of consumers visit the business website after reading positive reviews on Google business listing.

15% of people visit the local store after reading the reviews.

13% of consumers will directly contact the business after reviewing the reviews.
Whenever someone leaves a review on your profile, make sure to reply to it. If it is positive, leave a thank you message. If it is negative, address the issue raised. This will make your business more trustworthy in the eyes of viewers.
RecurPost promoted social platforms in addition to Google Business Profile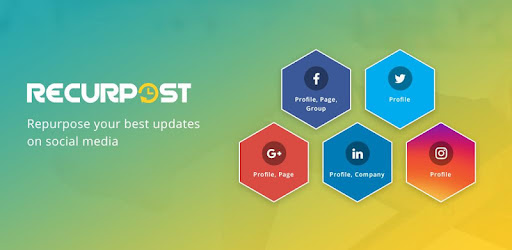 As a social media marketing agency, you must manage multiple accounts and meet your client's expectations. It is only possible by working with an efficient social media scheduler like RecurPost.
Using RecurPost, you can schedule Facebook posts on your profiles, multiple groups, and company pages. It is possible to schedule Instagram posts on your business and personal profiles for sharing achievements through images, reels, and stories.
RecurPost is also a Pinterest scheduler for an audience that relies on a visual platform. It enables you to schedule tweets at the best time to help your clients to create a Twitter community. You can schedule LinkedIn posts on personal and business pages to put your clients' businesses on a professional network.
In a nutshell,
Having a Google my business listing is inevitable in today's times. Implementing the above tips will keep your business a step ahead of your competitors. After your listing is optimized completely, you can even run google ads to gain maximum visibility in the search results.
Local SEO takes some time and work, but the results obtained pays off for the efforts made. While some actions, such as setting the category and operating hours, need to be done only once, others, such as uploading the latest photos and posts, need to be done continuously. To make things easier, use google my business scheduler such as RecurPost, one of the top meetedgar alternatives that allow you to manage your social media accounts and schedule posts in bulk with social media bulk scheduling & schedule repeating updates using recurring schedules.
So, what are you lingering for? Go ahead, add your business to Google, and start unlocking the power of GMB!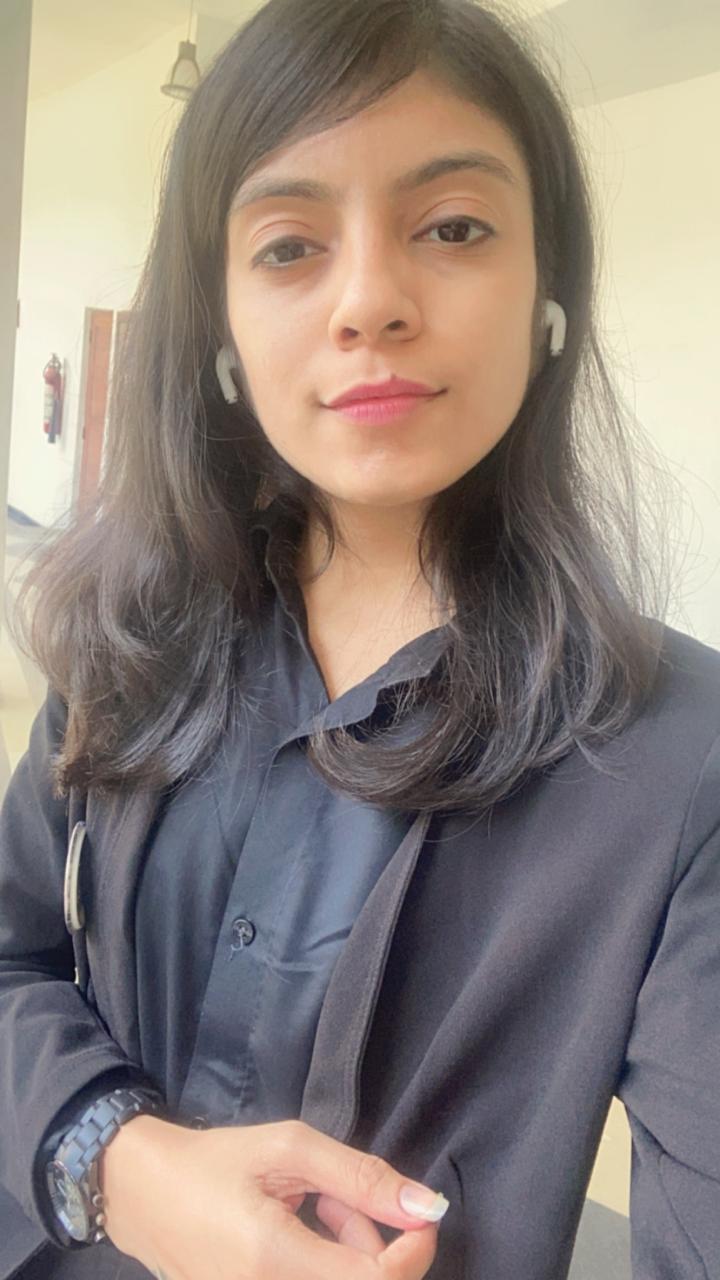 Amaiya Rathi is a Senior Content Writer at RecurPost. She helps RecurPost communicate with their readers in their own language. Whether it is the web copy, social media posts or blogs, Amaiya has worked on all aspects of copywriting. You can reach out to her at [email protected].