As a content creator or social media manager, you've likely explored various tools to efficiently manage your Facebook presence. One popular option is "Facebook Creator Studio" – a powerful tool designed to streamline your social media efforts. In this article, we will delve into the features of Facebook Creator Studio and compare them with RecurPost, a leading social media management software that stands as the ultimate solution for content creators like yourself.
Facebook Creator Studio is suitable for: Content Creators, Small Business Owners, Solopreneurs.
Facebook Creator Studio Ratings
While Facebook Creator Studio has been a longstanding social media tool, the market has recently witnessed the emergence of several new and improved alternatives that offer more advanced functionalities compared to Facebook Creator Studio.
One of these alternatives is RecurPost, which not only provides users with advanced features but also comes at an affordable price. RecurPost offers a plethora of robust resources, including recurring schedules, an AI assistant to craft engaging social media posts and captions, customizable reports, and various other valuable features. These capabilities surpass what Facebook Creator Studio can offer, making RecurPost an attractive choice for social media management.
Before we delve into the specifics, let's compare Facebook Creator Studio and RecurPost in terms of features and performance. The table below highlights the key aspects of both tools side by side:
| Feature | Facebook Creator Studio | RecurPost |
| --- | --- | --- |
| Star Rating (Out of 5) | 4 | 4.5 |
| Meets Requirements (1-10) | 8 | 9 |
| Ease of Use (1-10) | 8.1 | 9.1 |
| Ease of Setup (1-10) | 9 | 9.2 |
| Ease of Admin (1-10) | 9 | 9.7 |
| Quality of Support (1-10) | 8 | 8.3 |
| Platforms Supported | Facebook pages, Instagram business accounts | Facebook, Instagram, LinkedIn, Twitter, YouTube, Pinterest, GMB |
| Bulk Scheduling | No | Yes |
| RSS Feeds | No | Yes |
| Recurring Posts | No | Yes |
| Social Inbox | No | Yes |
| AI Content Generation | No | Yes |
| Hashtag Storage | No | Yes |
| Caption Customization | No | Yes |
| AI Images | No | Yes |
| Advanced Analytics | No | Yes |
| White Label Reports | No | Yes |
| URL Shortener | No | Yes |
| Unlimited Workspaces | No | Yes |
| Team Management | No | Yes |
| Price | Free | Starts at $25 per month |
Facebook creator studio user ratings compared with RecurPost
Facebook Creator Studio Reviews
Positive Reviews
Facebook Creator Studio can help businesses solve common problems related to managing their social media presence, such as scheduling and publishing content, tracking performance metrics, and collaborating with team members. By providing a centralized platform for managing social media accounts and content, Facebook Creator Studio can help improve efficiency, accuracy, and productivity. The benefits that businesses can realize from using Facebook Creator Studio can include increased engagement with their audience, improved content performance, better collaboration and communication within teams, and streamlined social media management.

~ Khalid E. (Capterra link)
Our favorite features of the Creator Studio is how seamlessly we're managing over 40+ pages for businesses and public figures with advanced collaboration tools to easily approve posts and create tasks for our team members and to show our scheduled posts to clients before publishing them, We love the easy and deep reporting to create visual informative reports and to even set up scheduled reports for keeping clients up to date with the performance, Also the ability to respond to customers messages and comments across Facebook and Instagram from one dashboard is the best time-saving feature overall.

~ Maya G. (Capterra link)
I liked it a lot because it makes it easy to edit clips and with the ability to control and manage clips on the Facebook page.

~ Ziad C. (Capterra link)
As usually one of the best things about the Creator Studio is the ease of use, The interface and user experience is flawless with the features and capabilities every business needs to easily manage their Facebook pages and Instagram profiles, I do like the document management system they built and the collaboration tools too for previewing my scheduled posts to my clients before publishing them, They built the easiest scheduling system to seamlessly publish, schedule and edit published posts. Also the one-for-all inbox for maximizing customer satisfaction score with a fast response to their messages, comments and reviews across Instagram and Facebook, that's what we really needed and other social media management services couldn't offer a seamless experience like what Meta offers, even with paid subscriptions.

~ Abeer M. (Capterra link)
it really the tool we have all been waiting for. before it was a constant juggling between outdated or paid tools with the usual privacy and data management problems. With Facebook Creator Studio the management of work on Facebook and Instagram becomes simpler and much more functional which allows an optimization of everyone's time and work in the face of greater goals achieved.

~ Mattia M. (Capterra link)
Negative Reviews
Creator studio had limitations in the formats you could load files in: Videos had to be saved in .mp4 otherwise they would not be read by the platform and this is a shame since most video editing tools save in .mov by default. Sometimes this forced me to re-export a video in a different format in order to make it viable for the platform.

~ Gaia B. (Capterra link)
The UX was unexpected to find that it's not possible to drag-and-drop images into the upload form directly and must pick an option to upload from File Uploader or from the Facebook page and this makes it unfriendly-interface, Also the disability to edit scheduled and existing posts or the rescheduled time, So deleting the scheduled post and recreating it is the only option to change the reschedule date/time. The latest and the worst con for us is that it's not possible to schedule Reels at all this is the most frustrating con ever with no reason explained from Facebook.

~ Yasser A. (Capterra link)
You can oversee Facebook and Instagram, so assuming that you truly do have other social profiles you will in any case have to either login into those locales to deal with your substance or still utilize a device that permits you to deal with every single social stage.2. Not an over the top con however Experiences can a little overpower from the start. Be that as it may, when you become accustomed to the graphs and how to channel, it's all's really fair.

~ Rohit R. (Capterra link)
I don't like the lack of features and capabilities in the mobile application, Especially the insights which is the most important thing we need on the go but it's not functional as the desktop, Also being unable to post/schedule reels is very annoying and it's time-consuming for us when there's over 20 daily posts and most of them are in reels and we just have to do it manually, I don't get the reason why they're doing this but I really hope they change it soon and listen to their community as we've seen there are many creators and business are asking for it.

~ Rania S. (Capterra link)
We hate the fact that we're not able to schedule Instagram reels, And when we're scheduling multiple photos we meet an issue with naming them and it's not possible to do it after uploading them and this leads to avoiding multi-image posts, We have been wishing to have automated reports to send them to clients, I hope they consider adding this soon.

~ Mohamed H. (Capterra link)
Facebook Creator Studio: Pros and Cons
Pros
1. Audience Insights: Facebook Creator Studio provides valuable audience insights, allowing content creators to understand their audience demographics, interests, and behavior. This data empowers creators to tailor their content to better resonate with their audience, leading to increased engagement and loyalty.
2. Time Efficiency: By centralizing content management for Facebook and Instagram, Facebook Creator Studio saves time and effort for creators. They can schedule and publish posts in advance, making it easier to maintain a consistent posting schedule and freeing up more time for other creative tasks.
3. Performance Tracking: With in-depth analytics, content creators can track the performance of their posts over time. This feature helps them identify trends, discover which types of content are most effective, and make data-driven decisions to optimize their content strategy for better results.
4. Post Customization: Facebook Creator Studio allows creators to customize their posts with various formats, including images, videos, carousels, and more. This versatility enables content creators to showcase their creativity and storytelling skills while catering to different preferences of their audience.
5. Monetization Opportunities: The platform offers various monetization features, such as in-stream ads and fan subscriptions, enabling eligible creators to turn their passion into a viable income stream. This incentivizes creators to continue producing valuable content and grow their online presence.
Cons
1. Limited Platform Support: While Facebook Creator Studio is designed for managing content on both Facebook and Instagram, it may not be compatible with other social media platforms. Content creators who manage multiple accounts on different platforms may need to use additional tools or dashboards, leading to a more fragmented workflow.
2. Learning Curve: For new users, especially those who are not familiar with social media marketing or content management tools, Facebook Creator Studio may have a learning curve. Understanding all the features and analytics might take time, and creators may need to invest effort in getting acquainted with the platform's functionalities.
3. Features Subject to Change: Facebook regularly updates its platform, and certain features of Facebook Creator Studio may be altered or even discontinued over time. Creators need to stay updated on these changes to ensure they can adapt their strategies accordingly.
4. Limited Monetization Eligibility: While Facebook Creator Studio does offer monetization opportunities, not all creators may be eligible to participate in these programs. Eligibility criteria, such as follower count, content quality, and compliance with platform policies, might restrict some creators from accessing monetization features.
5. Dependence on Facebook Ecosystem: Using Facebook Creator Studio ties content creators more closely to the Facebook ecosystem. If they wish to diversify their presence across other platforms, they might find it less convenient to manage content on platforms outside of Facebook and Instagram through this centralized tool.
Facebook Creator Studio Features
1. Content Calendar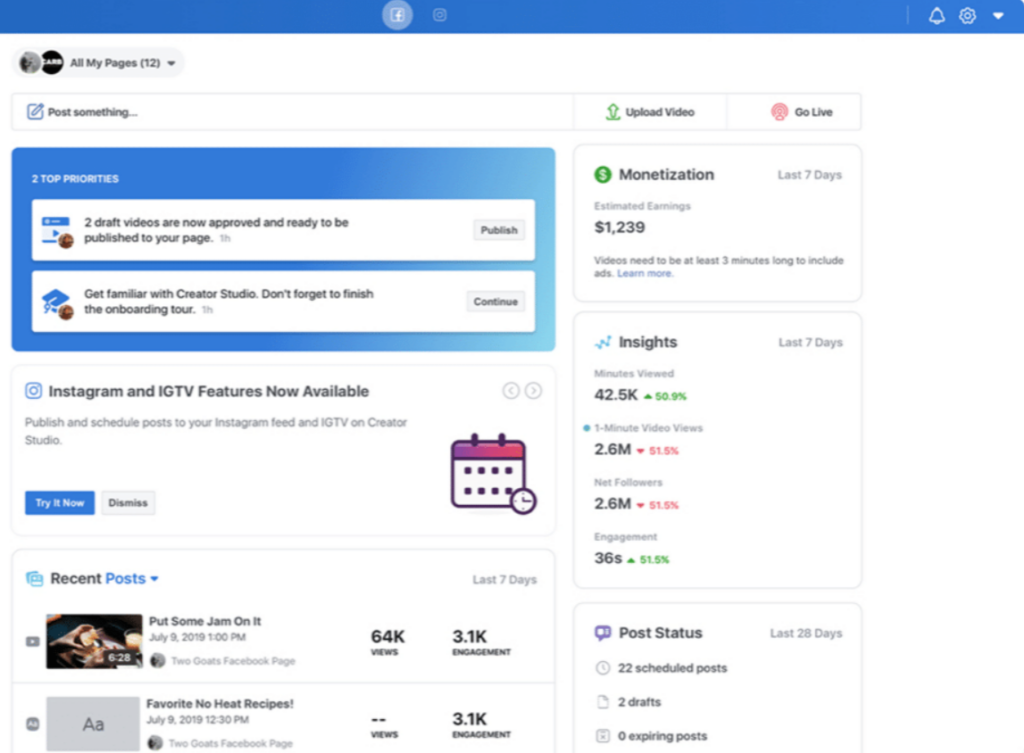 The content calendar in Facebook Creator Studio serves as a valuable organizational tool for content creators. It presents a visual overview of all scheduled and published posts, allowing creators to plan and strategize their content effectively.
With a clear timeline of upcoming posts, creators can maintain a consistent posting schedule, avoid content gaps, and prevent overloading their audience with too much content in a short period. The calendar also helps creators coordinate their content with specific events, holidays, or marketing campaigns, ensuring that their posts align with their broader objectives.
2. Post Scheduling
The post scheduling feature in Facebook Creator Studio empowers content creators to exercise precise control over their publishing process. Creators can prepare and schedule posts well in advance, which is particularly beneficial when they want to maintain a consistent presence on their channels but might not have the time or resources to post manually every day.
This functionality ensures that content is published at optimal times, considering the audience's activity and engagement patterns. By automating the posting process, creators can focus more on creating high-quality content and engaging with their audience, while also reaching users in different time zones.
3. Creator Studio Mobile App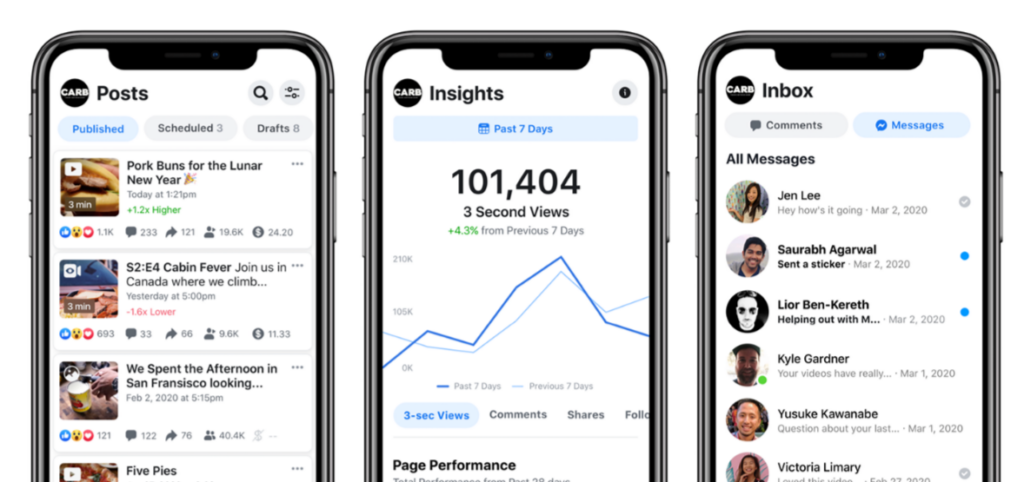 The mobile app for Facebook Creator Studio extends content creators' accessibility and control beyond the confines of their desktop. With the mobile app, creators can manage their content on the go, enabling them to respond to real-time audience interactions promptly.
Whether they are attending events, traveling, or simply away from their desk, creators can make quick updates, engage with comments, and monitor content performance conveniently from their mobile devices. The app's user-friendly interface ensures a seamless transition from desktop to mobile, giving creators the flexibility to adapt their content strategy and respond to emerging trends or opportunities promptly.
4. Instagram Direct Publishing
The integration of Instagram Direct Publishing within Facebook Creator Studio streamlines content management for creators managing both Facebook and Instagram accounts. Creators can prepare and schedule their Instagram posts directly from the Creator Studio dashboard, eliminating the need to switch between platforms or rely on third-party tools.
This seamless experience ensures consistent branding and messaging across both social media channels, fostering a unified and cohesive online presence. By consolidating content creation and publishing in one platform, creators can save time, avoid potential errors from manual posting, and enjoy a more efficient content management process.
5. Rights Manager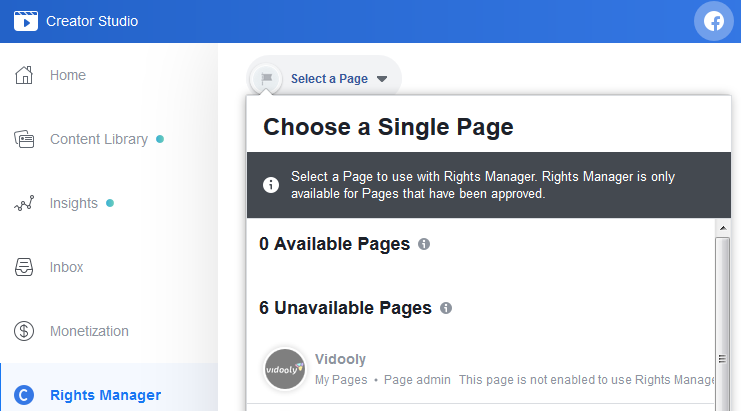 The Rights Manager feature in Facebook Creator Studio empowers content creators to protect their intellectual property and manage copyright violations proactively. By creating a reference library of their original content, creators can monitor and identify instances of unauthorized use across the Facebook and Instagram platforms.
If someone tries to upload or share content that matches the reference library, creators can choose to block the content, claim ad revenue from it, or allow it with specific conditions. This level of content control not only safeguards creators' work from misuse but also encourages a more respectful and ethical use of their content by others.
Conclusion
While Facebook Creator Studio provides valuable features for social media management, RecurPost emerges as the ultimate tool for content creators. With its competitive pricing, user-friendly interface, and advanced features like AI content generation and unlimited workspaces, RecurPost caters to your unique needs as a content creator, making it the best choice for social media management.
Embrace RecurPost and experience a seamless journey in managing your social media presence with excitement and anticipation! Take the free trial today.
Frequently Asked Questions
1. What social media platforms does Facebook Creator Studio support?
Facebook Creator Studio supports publishing on Instagram business accounts and Facebook pages.
2. What are some alternatives to Facebook Creator Studio?
RecurPost is a great alternative to Facebook Creator Studio. It offers support for multiple social media platforms and provides you with robust scheduling and automation features.
3. Is Facebook Creator Studio free to use?
Yes, Facebook Creator Studio is free to use. However, the tool has a lot of limitations