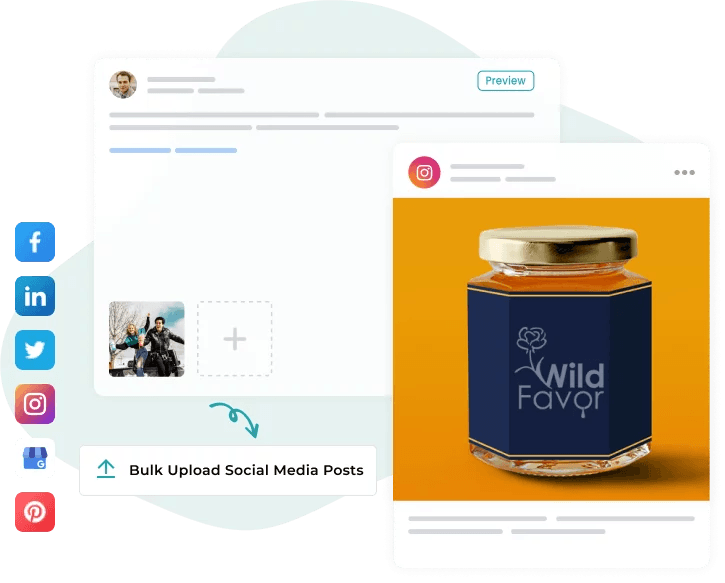 Bulk Upload posts for social media bulk scheduling
Creating mass updates with just a few clicks sounds like a great deal
Creating mass updates with just a few clicks sounds like a great deal. Our bulk scheduling feature will let you schedule multiple updates in advance.
"Images, GIFS, videos, link posts." You name it; we let you schedule it with our bulk uploader.
Social media bulk scheduling is now possible for all social media platforms like Twitter, Facebook, Google My Business listings, Instagram, Pinterest, and LinkedIn.
Social Media Bulk Scheduling With Images And Links
When it comes to bulk scheduling for social media, we set no limits!
With RecurPost you can upload any media as much as you like as opposed to other social media scheduling tools like Buffer and Hootsuite.

All you have to do is go to the content library, pick the option of adding content in bulk and begin adding your updates. Two kinds of content can be added: image updates or text/link updates.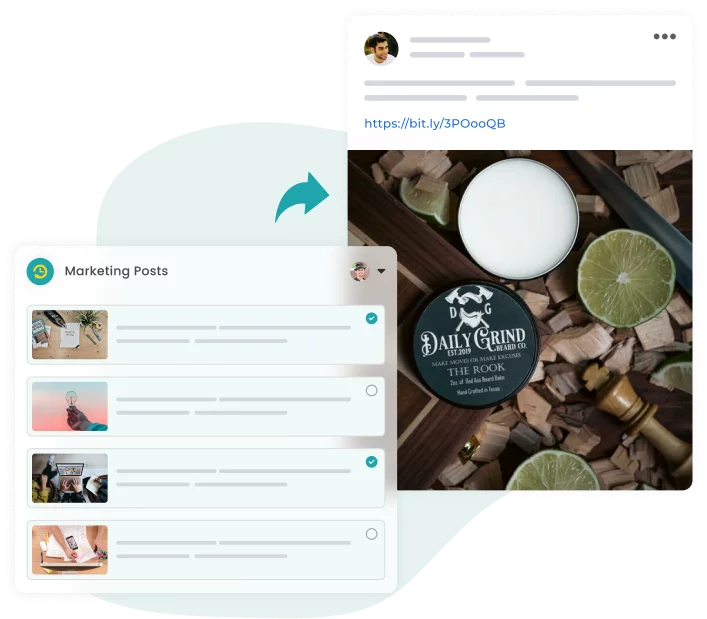 " I've used many scheduling tools over the years and RecurPost is the one that saves me the most time. I can load it up with posts for clients and my own blog content and then not have to touch it again for weeks. I also love having the ability to stop and start libraries at the touch of a button, which is so important in an ever changing news environment. "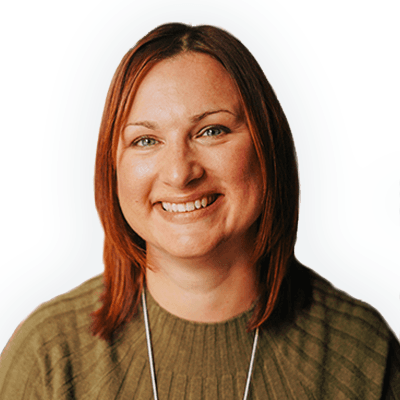 Claire Hall
Freelance PR Consultant and Travel Blogger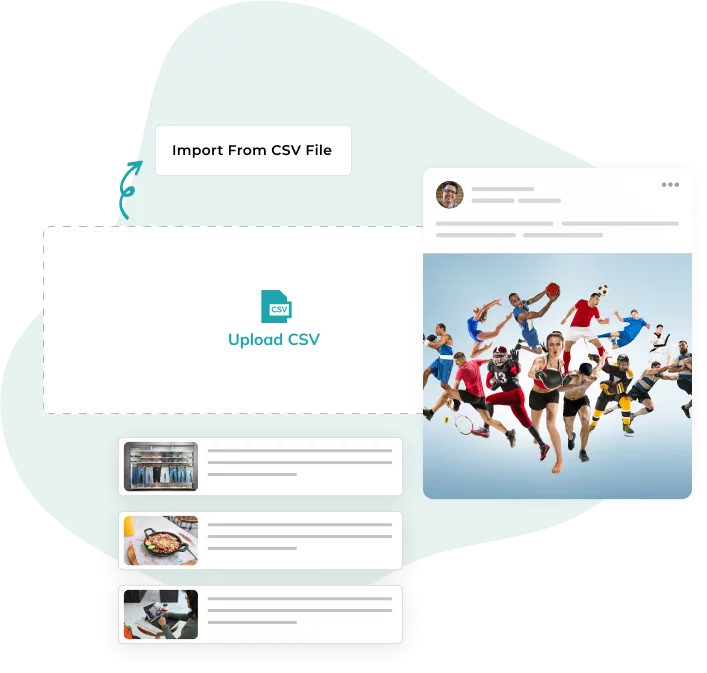 Bulk Upload Through CSV Files
Another amazing feather on our cap of features is bulk uploading content via Excel files or CSV files.
For example, you have to schedule LinkedIn posts, if you have a file where all your content information is stored, simply upload it and RecurPost will fetch all the data and create updates according to it for you to preview. The same applies when you use RecurPost as a Pinterest scheduler.

Once the file is uploaded, we will generate a preview where you will be able to edit individual updates as per your requirements and add them to your library
Import Content Through RSS Feeds
Another quick treat for you!
With this option, you can do bulk social media posting by easily uploading multiple posts from your own blog or the blogs followed by you. It is very good if you want to republish evergreen content that you would want to re-share regularly.

For social media bulk scheduling, RecurPost will pull a list of posts that it will find from the RSS feed. You will then have the choice of accepting or rejecting the updates that you want to release on your social media accounts.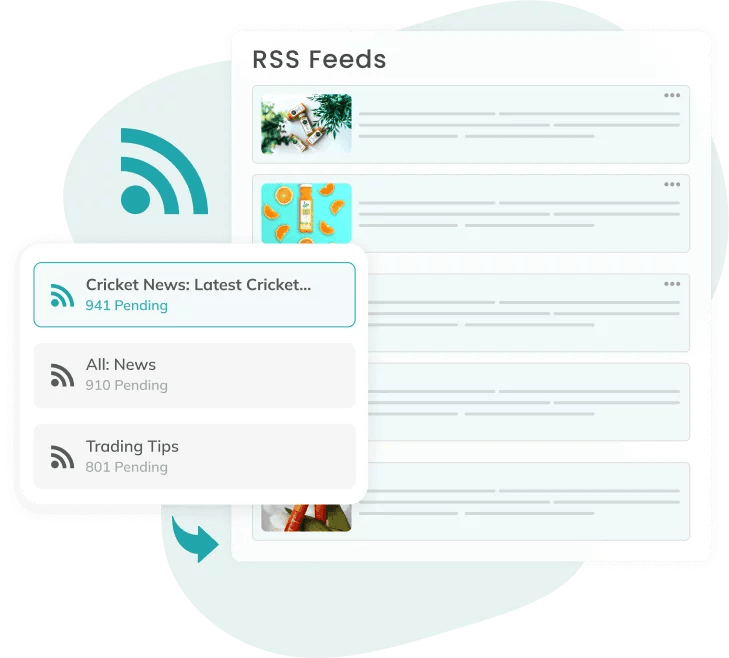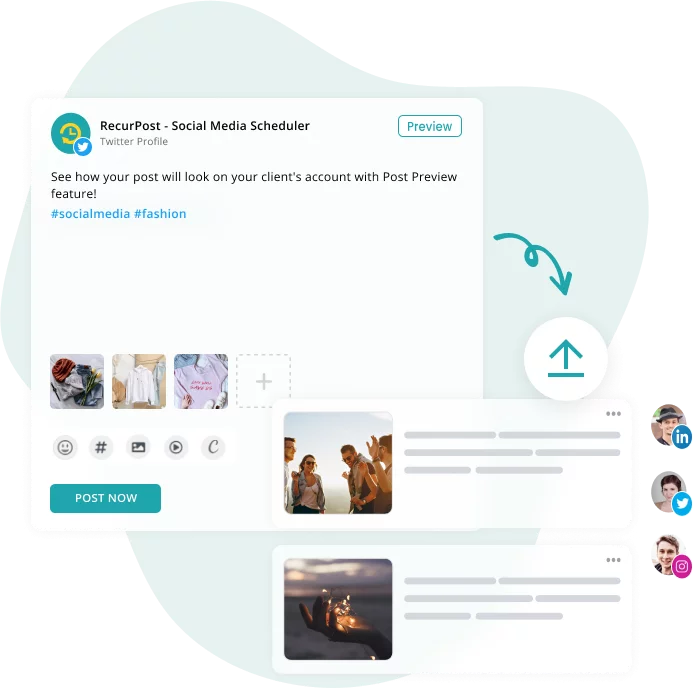 Import Content Through Social Media
Social media bulk scheduling is made easier with RecurPost.
Because it lets you import content from your social media accounts. From your end, you need to connect the relevant social media account to RecurPost, and Voila, you're done!

The tool will fetch all the posts and display the entire list of available posts. Then simply pick the ones that you want to add to your content library.
Preview Your Content For Social Media Bulk Scheduling
Get a glimpse of what you will be posting.
Once you're done writing or adding your content, you can preview it before adding it to your library to see how your posts will appear when you schedule Facebook posts, schedule Instagram posts, schedule Tweets, LinkedIn, and schedule Google My Business posts.

If you add link updates, RecurPost will fetch an image preview and it will be posted on your accounts.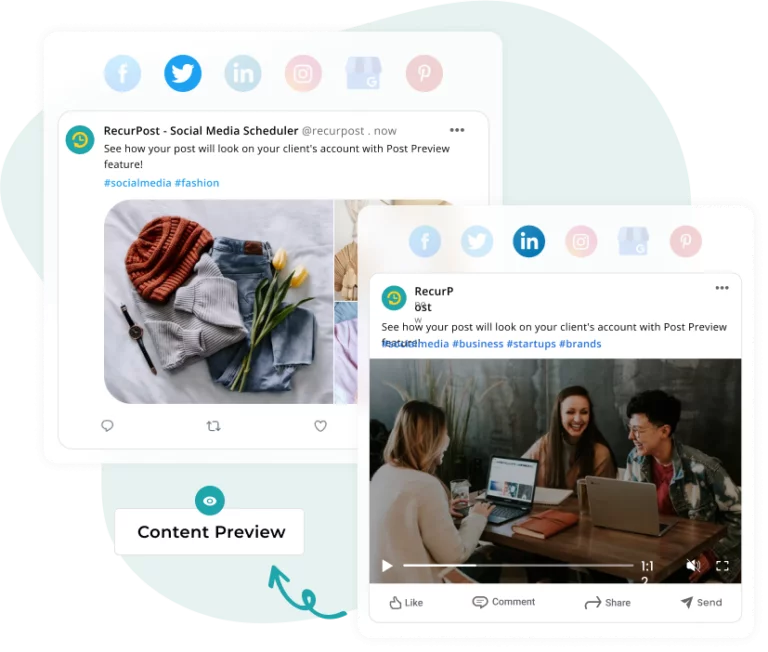 Easy Editing On Your Fingertips
Short horror story - damn I uploaded the wrong image! There's a typo! This needs changing, now! Not so horrifying with us!
With our social media scheduler, you can change the social accounts on which you want to post the image, video, update, link, text, or time of scheduling.

You can practically alter the entire update anytime you want to. Social media bulk scheduling never looked so easy!
Gone are the days when we were stuck copying and pasting content!
With RecurPost, you will be able to copy your schedules in bulk with one click of a button via the "Your schedule" screen.

After you're done uploading all your bulk posts, you can choose to keep them as drafts until a specific date.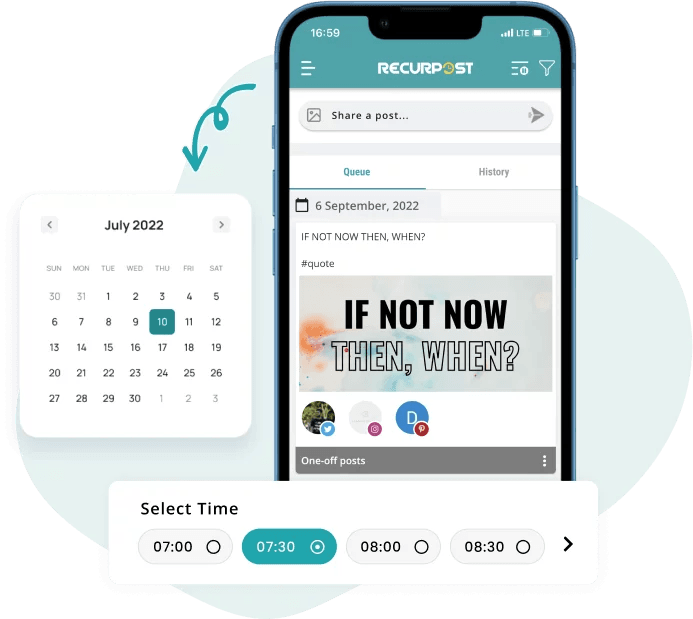 Scheduling modes offered by us
We offer 3 social media bulk scheduling options for you to choose from:
The social media scheduler by RecurPost is undoubtedly the best you can get if you want to schedule bulk updates on all major social media platforms. It is easy, functional, and effective.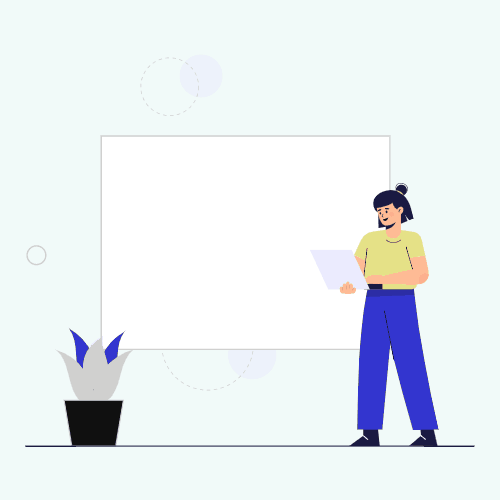 Increase your productivity with bulk scheduling!
Use RecurPost's bulk scheduling feature to schedule posts in bulk and save time!
Social media bulk scheduling made easy with RecurPost
With RecurPost, you can manage your presence on multiple social media networks at once. This tool will allow you to schedule Facebook posts on personal profiles, pages, and groups. You can also schedule Instagram posts on business profiles and personal profiles, and schedule LinkedIn posts on company and profile pages both. For Twitter, there is a rule that will not let you post the same content more than once and that is why RecurPost lets you create variations and schedule tweets. In case your business has a GMB listing, RecurPost will let you schedule Google my business posts along with a CTA. To top it all off, if your business is operating on Pinterest, you can schedule pins with RecurPost to make the most out of this visual platform.
Frequently Asked Questions