Every successful inbound marketing effort requires branded content marketing. It enables you to form deep bonds with your target audience and convert them into long-term consumers. Furthermore, it provides long-term effects and a significant return on investment (ROI).
Using well-written articles, social media posts, podcasts, and videos, you can capture the attention of your target audience, create trust, and emotionally connect with your customers.
For scheduling posts, you will need a social media scheduler such as RecurPost, which can help you upload your branded social media posts without hassle. However, branded content isn't just this much. Instead, successful branded content marketing requires a strategic approach to harness your audience's emotions.
To put it another way, if you want to increase brand awareness and authority, you'll need a solid branded content strategy. This is especially important given that 70% of firms regularly invest in content marketing. Therefore, the only way to cut through this clutter and grab eyeballs is to utilize branded content marketing judiciously. This blog delves deeper into branding and content marketing to identify the best-branded content marketing strategies.
Table of Contents for Branded Content:
What is Branded Content Marketing?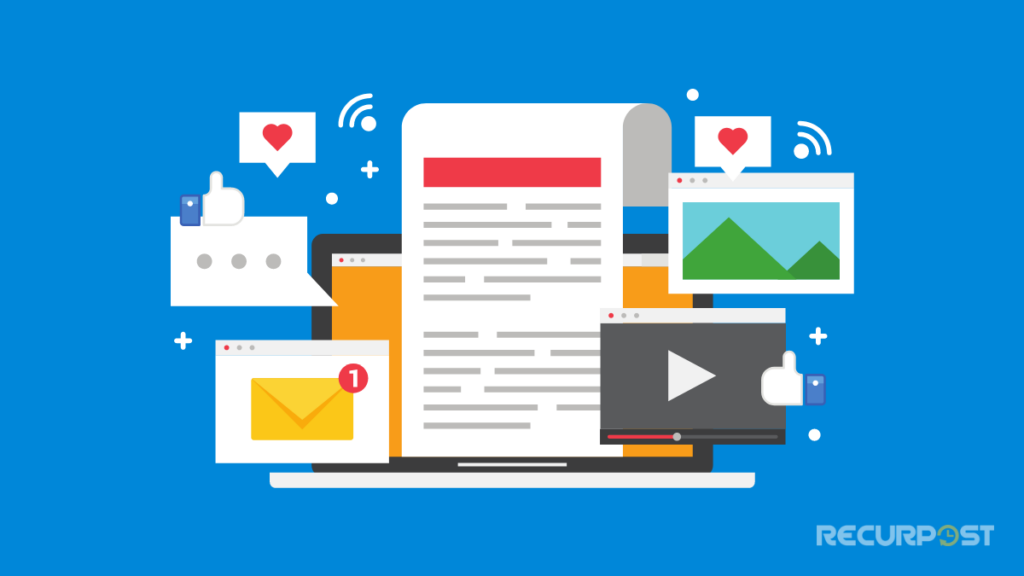 The technique of providing amusing, instructive, or informative material sponsored by a certain brand is known as branded content marketing. Unlike traditional advertising, the content is not used to sell the brand's products or services. On the other hand, branded content marketing tries to emotionally engage with target consumers by emphasizing a company's essential values.
Your company's name, products, and services are merely referenced in passing in branded material. Instead, it engages your audience through storytelling and organically highlights the intangible parts of your brand. These are some of them:
The mission, values, and standards of the brand.
The social reasons that are most important to your company.
Branded content builds a story around the values and issues you want to promote. As a result, your brand never shouts for attention or shoves a product or service in the audience's face.
Branded content can be created in various media, including web series, podcasts, talk shows, and articles. The most important thing is to put entertainment and emotional appeal first. In addition, branded content is usually created and launched in partnership with well-known content creators, such as:
Filmmakers and video producers
YouTubers
Podcasters
Authors and bloggers
Sports personalities
A decent social media bulk scheduling tool makes daily posting for your branded content more efficient and removes the stress of staying on top of your content calendar. Bulk scheduling also allows you to schedule a huge volume of content simultaneously, freeing up your time for other tasks. The bulk scheduling option in RecurPost makes your content approach more integrated with your audience.
What is considered branded content?
Branded content isn't for profit. It is not a sales pitch and does not directly promote a product or service. It can, however, be beneficial to your readers if it isn't overtly selling to them. Branded content is an excellent choice if you want to engage your audience and build a relationship, albeit it isn't as effective as native advertising.
Branded content is a fantastic way to promote your products and services. It can be engaging and amusing and help you build a rapport with your audience. The fundamental distinction between branded and original content is that the former is more obvious. Consumers are more likely to respond to content that provides value rather than content that simply sells product information. Furthermore, branded content that has subject matter expertise is more likely to be consumed.
Keep these suggestions in mind when creating a branded content strategy. The idea is to create a bond with your intended audience. You can make the information as simple or as complex as you want. Owned content hubs are required for branded material to be evaluated.
The idea is to develop a link between the brand and the audience, which will increase the possibility of a purchase. Consumers who have formed a link with a brand are more inclined to purchase a product. They're not trying to sell you anything, but they want to promote them.
Branded Content Marketing vs. Content Marketing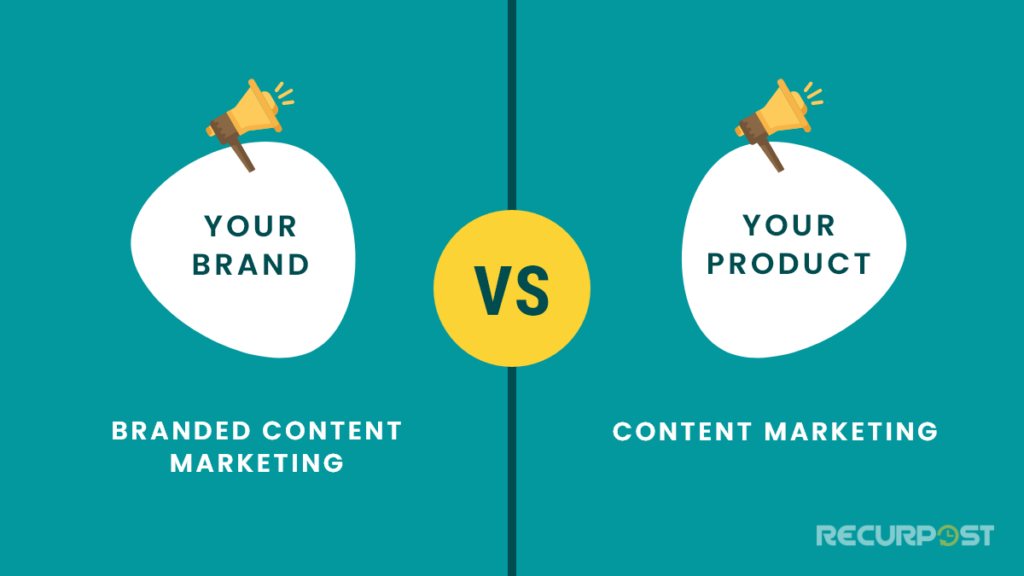 Branded content is an excellent strategy to boost customer loyalty. The branded content of a company begins with a significant story for its target audience. Then, by providing a human connection to the tale, the brand generates a memorable one. As a result, the brand's message is reinforced, and the user is more likely to trust it.
Branded material is frequently confused with sponsored content, however, the two are identical. The former is non-intrusive and doesn't try to sell you anything, while the latter is meant to start a dialogue about a brand and establish a connection with the audience.
Emotions are evoked by branded material. It might be anything from an infographic to a newsletter about customer service trends. In a nutshell, branded content appeals to customers' emotions. It also employs narrative techniques such as protagonists, a beginning, middle, and end. In the end, branded content and traditional marketing are two separate types of marketing; the difference is in how they approach the same audience.
Branded content is developed by a company and is associated with it. It communicates its principles to the audience, increasing brand awareness and loyalty. Its success is determined by the consumer's perception of the brand's trustworthiness and reputation. Branded content, whether a blog, a news piece or a YouTube video, helps a company develop a stronger relationship with its customers. Its goal is to increase organic traffic to the company's website. Brands can use this to post both branded and non-branded articles.
Related Article: How To Effectively use #Hashtags for Online Branding: 11 best practices
How to Develop a Branded Content Strategy for your brand on social media?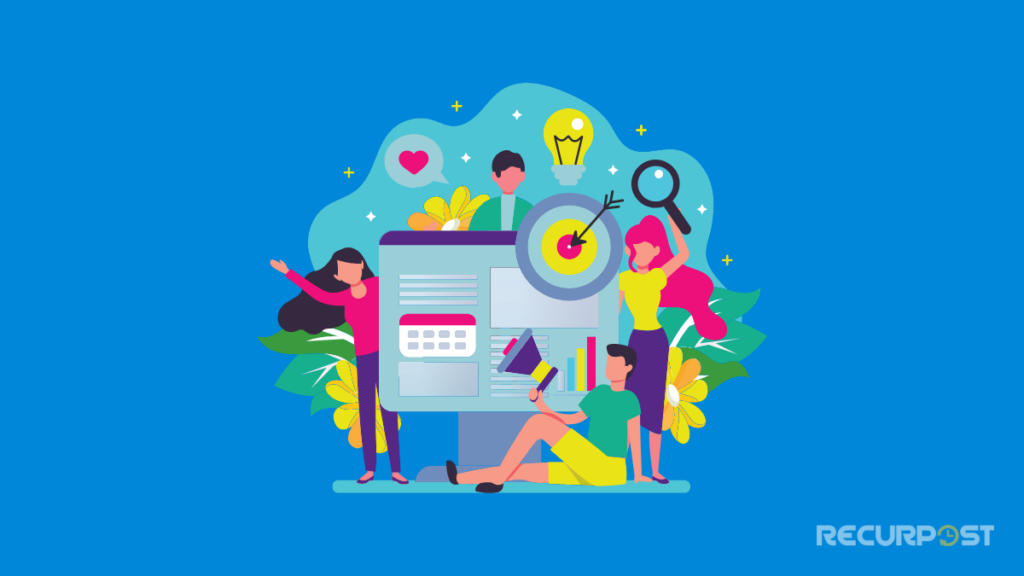 Developing and promoting branded content takes time, effort, and money. As a result, you should carefully assess the benefits of branded content marketing against the cost. It will assist you in determining whether this is the best decision for your company. It also puts your brand in a position to focus on offering value to customers. As a result, you'll be able to:
Increase brand loyalty.
Increase brand recognition and recall.
Create a position of thought leadership.
Gain the trust and loyalty of your customers.
When your material resonates with the audience, they'll likely share it on social media with their friends and family as social media is important for business. They might also recommend it to their contacts. Your post will then be seen by a larger audience and may even become viral.
But before that, one most important thing about social media is that it requires daily updates to grab user attention. Only posting once or twice a week won't let your social media account boost.
You will need a social media scheduling tool such as RecurPost to post your branded content at the best time without any hassle. RecurPost is one of the best post planner alternatives and free Hootsuite Alternatives. Let's understand how to build your brand on social media. RSS Feed for social feature of RecurPost helps you add new posts directly to the Library & works excellent to schedule content.
Social media profiles like Instagram branded content are intended to make collaboration between brands and creators more visible and frictionless.
Related Article: 33 FREE Content Marketing Tools to level up online Branding
Create Your Brand Personality
This process entails determining the basic beliefs and vision of your company. First, consider how your brand would act if it were a living, breathing individual. Next, decide on the tone, voice, and language you'll use to communicate with your target audience.
Do you want your brand to be known as an authority figure or friend? What characteristics and ideals do you want to emphasize in your content? Is there anything your company won't talk about? Your responses to these questions will determine the brand's personality.
This is also a great opportunity to consider whether your company will take a stand on social issues or politics. Define the visual components you'll utilize, such as the color palette, font, etc. It's exemplary to create official brand guidelines to share with your employees. It will ensure that all your branded content and marketing assets are consistent with your chosen image.
Understand Your Audience
Knowing who your target audience is the cornerstone of any branded content marketing strategy. To better understand your potential clients, you may use various tools, such as social media analytics and polls, as well as market research and surveys. Your study, on the other hand, should not be restricted to demographics and pain concerns.
Investigate the many emotions that your audience is likely to experience. Determine which social concerns are important to them, then observe their online behavior to determine their preferred material forms and communication channels.
Set Your Budget
Without a fixed budget, it's impossible to develop branded content. You'll have to spend money developing the material in-house or hiring someone to do it for you. You'll also need money to advertise the branded content across several platforms.
Identify a Traction-Worthy Topic
The topic you choose will determine the effectiveness of your branded content campaign. First, choose a topic or theme that will appeal to your target audience. Don't merely concentrate on their difficulties and hardships. Instead, attempt to figure out what topics and causes they care about. Branded material can also address societal issues, such as:
Stereotypes about men and women
Discrimination based on race
Empowerment of women
Changes in the climate
Child safety is paramount.
The theme must match your company's image. However, don't try to profit from a cause just because it's popular.
Select the Right Content Format
Don't be afraid to try out other forms, such as events or webinars. Volvo India, for example, held a night stroll in Mumbai to promote awareness about women's safety. Make Your City Safe was the name of the campaign, which included a branded YouTube video that has received over 3.4 million views.
Choose Your Distribution Channels
It's not enough to create shareable content. Make sure your material is distributed and promoted across numerous channels if you want it to go viral. You can use a variety of distribution channels, including:
Platforms for social media
OTT platforms for television and radio
Publications and websites that report on current events
Depending on your marketing budget, you can even use other platforms, such as movie theaters or Hulu. The trick is to make sure your material is available on channels your target audience uses often.
Collaborate with Influencers
Most successful branded content marketing examples involve creative collaborations between a business and well-known influencers, content creation, and movie stars. As a result, don't limit your search to industry influencers and authority figures. Instead, look for content producers, directors, actors, and other celebrities who are already well-known to your target audience.
Don't Ignore Storytelling.
The goal of any branded content marketing campaign should ultimately be to harness the power of human tales. Use the power of storytelling to elicit powerful emotions such as:
Happiness
Grief
Fear\sShock
Disgust\sAnger
Every piece of effective branded content, from Volvo's night stroll in Mumbai to Dove's Real Beauty campaign, leverages storytelling to promote company values and traits.
How would you decide what new forms of content your brand needs?
Any piece of branded content should aim to establish a connection with your target audience. As a result, the first step is to choose the greatest content for your goals and ideal customer. This improves your chances of catching a potential customer's attention and generating leads. Here are some of the most common types of content that can assist your company in converting initial interest in your brand into sales.
Blog Posts/Articles
Detailed written content may attract a lot of organic traffic to your website while informing customers about your products, brand, and industry experience. Furthermore, by answering questions or explaining concepts, the long-form range allows marketers to match common queries and searches relevant to their target.
Furthermore, blog sections provide an excellent opportunity for keyword optimization and obtaining inbound links, which significantly improve SEO and visitor growth. Writers can use many targeted keywords, especially long-tail ones, in this form of online material to improve link ratings on the SERPs.
In addition, blog postings frequently increase organic traffic by providing the material relevant to their audience's regular queries. WordPress and Blogger are two platforms that can assist you in gaining a following and driving traffic. However, for SEO purposes, you should also publish blog content on your website. While blog posts and articles can be lengthy, they should be between 300 and 2,000 words in length, with 1,600 being the ideal amount.
Video
Unsurprisingly, branded video content marketing tools is quite popular, and studies show that it is a very successful form of interaction. For example, studies show that when people watch a video, they recall 95% of the material, compared to 10% when they read it in print.
Consequently, videos are an excellent way to convey complex information in a more digestible format, allowing clients to absorb information more quickly and successfully interact with your company. They also have SEO benefits.
Another example is when a business utilizes video to demonstrate the more physical aspects of a technology product, such as a weighing machine or a car!
The user will be able to watch the product in operation and learn about its features and benefits without traveling to see the firm and product in person. This is extremely important when a buyer is comparing your brand to a shortlist of others throughout the decision-making process. Videos that are well-made and appealing are frequently shared, reaching a larger audience. InVideo is an online video editing (Web-based) tool that allows businesses across all industries to create videos with custom content & branding and share them across social platforms and websites. It has 5000+ pre-made video templates which marketers can easily use to create content smoothly.
Infographics and visuals
Infographics and images function in the same way as the video does. They may break down difficult material into simply digestible, easy morsels of knowledge that your audience will want to view. Infographics have been shown to improve website traffic by up to 12%. This style is frequently used to express statistical data and brief facts.
Visual material is critical on some sites, such as Instagram. On the other, more text-centric networks, such as Facebook, Twitter, Linked In, and even blogs, however, integrating pictures is a great method to increase interaction and exposure.
If you're making infographics or images, make sure they're powerful. This entails the use of vibrant colors and eye-catching graphics. Furthermore, you should stick to your brand rules; any graphics you develop should match how you want to be perceived by the public.
You should also concentrate on producing high-quality visuals, however, there are several tools available to businesses that make this possible. Canva or Picsart will be the best options to use for making any kind of visuals using free templates. You may be familiar with Canva, a simple, drag-and-drop visual design tool that allows you to create eye-catching designs in minutes using pre-made themes.
And as of right now, Canva is a proud part of the RecurPost family. You may now utilize Canva directly from RecurPost (and make rapid changes if anything doesn't seem good). You can use Canva to design, create, and schedule your social media graphics without ever leaving RecurPost.
Social media post
A social media post is a short-form piece of material. Because each social media outlet has its own 'best practices' for delivering interesting content, the exact format and duration will vary depending on the platform you're posting to.
Users are frequently scrolling aimlessly through a sea of stuff, some of which is irrelevant to them but all of which is vying for their attention. So, if you want to draw in your audience, make sure your material causes them to pause. And to do so, you must regularly share your material on your social media platforms. However, managing on your own might be dangerous at times. RecurPost comes in handy in this situation. A 14-day free trial is available.
Using high-impact graphics or videos, hashtags, or shareable content, such as memes, are all creative ways to get people's attention on social media. RecurPost allows you to submit high-quality photographs and videos while also allowing you to use hashtag baggage.
The social media landscape is constantly shifting, with new trends emerging regularly. As a result, your material must evolve, and trying new and unique ways to keep your business current and relevant is critical.
These branded content types will fill your calendar & help you decide which new form of content your brands need. In addition, you can use these standard content types and make your own custom content types within your RecurPost dashboard.
Read More: Color Psychology in Marketing & Branding
Branded Content Marketing: Success Stories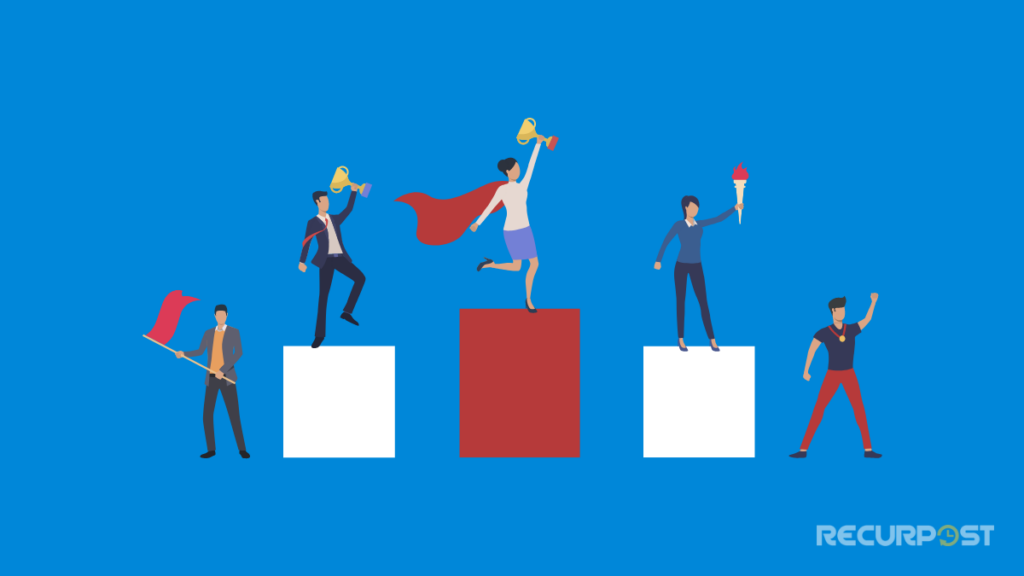 When creating and promoting branded content, it's challenging to outline a universal formula for success. So instead, the best approach is to learn from the top-performing strategies established brands use. We'll discuss compelling branded content marketing examples in the following sections.
Ikea
Let's face it, very few people care about how the sofa was constructed. Even so, everyone has one in their home. So, how do furniture manufacturers promote their products?
Look at the success story of Ikea, one of the world's largest furnishing retailers. Ikea's famed brick-and-mortar locations are a small component of their overall marketing strategy and the effective sales pitch.
The corporation prints about 200 million copies of its catalog in other sectors each year. That's more than double the amount of Bibles printed in the same amount of time. Furthermore, the brand introduces creative marketing methods to extend its marketing platforms.
Ikea's content marketers understand that furniture isn't always the most interesting topic. As a result, they take advantage of technological advancements that assist them in reaching out to their target audience and attracting attention.
Ikea is acutely aware of our world and, as a result, of its consumers' demands. For example, Ikea developed the "Square Meter Challenge" in response to the fact that living in large cities is connected with high housing expenses.
A series of YouTube videos and blog postings are part of the campaign. They demonstrate how to organize even the tiniest of spaces for maximum functionality.
Netflix and Orange Is the New Black
Netflix employed branded visual content marketing to promote its successful drama's second season of Orange Is the New Black. However, rather than encouraging consumers to watch the show, Netflix released a well-researched and thought-provoking sponsored post in The New York Times.
With the exception of the paid post designation, the piece appeared to be just like any other newsworthy article in The New York Times. It's a thoughtful portrayal of the challenges that female detainees face in correctional facilities, written by Melanie Diezel.
It underlines the importance of measures that favor women in prison. Unfortunately, neither Netflix nor the show is referenced clearly in the content. Rather, it reflects the principles and perspectives that the show's writers addressed in the series. The show gained traction as a result and piqued viewer interest in the topic of female convicts.
What platforms does RecurPost support?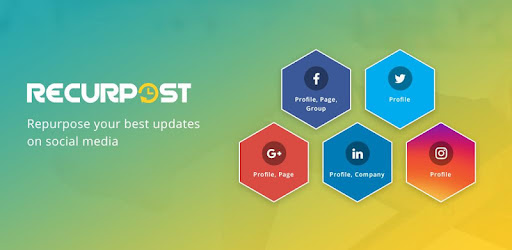 Manage your content marketing strategy effectively by investing in an excellent social media tool like RecurPost. It enables you to plan for a scheduled posting on major platforms in a few easy steps.
RecurPost lets you schedule Facebook posts and schedule Instagram posts to increase your brand awareness. RecurPost allows scheduled posting on profiles, pages, and groups on Facebook. You can create fun with reels and short stories while scheduling posts on Instagram.
Promote your brand where industry professionals are active. Schedule LinkedIn posts on personal and business pages and connect with them. Utilizing this tool, you can schedule tweets at the best times of the day.
Additionally, RecurPost is a fantastic Pinterest scheduler for the visual-heavy marketer. It enables you to schedule Google Business Profile posts to share coupon codes or inform about an event to call your local customers on the party floor.
Conclusion
To increase website traffic, it's not enough to create relevant and informative content. You must use branded content marketing if you want your company to stand out from the crowd. Branded content can be created in various forms, from web series and podcasts to sponsored essays and feature films. However, choose a topic that will quickly pique your audience's interest and elicit an emotional response.
We at RecurPost use recurring posts to help businesses increase engagement and client loyalty. We enable you to schedule your branded content postings in advance and across numerous social media channels from a single dashboard.
As a result, it can improve your company's web rankings and get you to the position you deserve. Meanwhile, you should look at RecurPost's services and check out RecurPost pricing & plans today to get a free trial for 14 days.
Did the strategies discussed in this article prove to be beneficial to you? Please tell us in the comments section below.
Frequently Asked Question
What is an example of branded content?
Branded content never involves traditional advertising, such as TV commercials and banner ads. Instead, branded content includes articles, YouTube videos, podcasts, and films in most cases.
Is branded content good?
As much as 65% of your revenue is coming from existing customers. Branded content deepens relationships and improves loyalty with your repeat customers because it's more emotional. Since 80% of emotionally loyal customers will promote your products to their friends and family, this is an ROI goldmine.
What is branded content on Instagram?
We define branded content as a creator or publisher's content that features or is influenced by a business partner for an exchange of value (for example, where the business partner has paid the creator or publisher).
What is brand-generated content?
Any piece of data, information, or material freely developed and supplied by regular people who are consumers of a specific brand that comes across as informative or entertaining to other consumers is referred to as brand-related user-generated content.
What is Facebook branded content?
Branded content Facebook defines any post—including text, photos, videos, Instant Articles, links, 360 videos, and Live videos—from media companies, celebrities, or other influencers that feature a third-party product, brand, or sponsor.
How do you announce a rebrand on social media?
You'll need to produce, gather, and agree on deliverables such as logos, images, and color schemes for your visual identity when rebranding social media posts. Your brand name, @brand social accounts, and hashtags should be included. Taglines, slogans, and your mission statement are all good ideas. Copy for your announcements and posts for your numerous social media channels.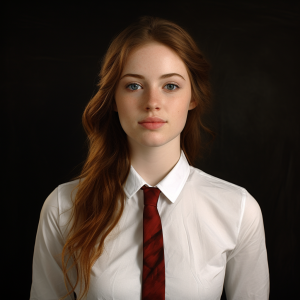 Debbie Moran is a Digital marketing strategist with 5+ years of experience producing advertising for brands and helping leaders showcase their brand to the correct audience. She has been a part of RecurPost since 2019 and handles all the activities required to grow our brand's online presence.